Friends and family of singer Cliff Allen Liberty, known simply as Cliff Allen to habitués of jams and karaoke shows across the GTA, are still coming to grips with his sudden death on the morning of December 11 in Niagara Falls, where he had been living.
For reasons either not yet determined or not made public, he appears to have lost control of his car at the top of a hill, hitting a tree and rolling over the side of the hill until it finally crashed into the side of a building, killing him.  He was 51 years of age.
My enduring memories of Cliff are when he would get up at the Sunday jam at Southside Johnny's or others in the area to sing what to me was his signature tune, "Save A Horse, Ride A Cowboy."  Legs spread wide, his trademark black leather cowboy hat would bob and sway as he confidently delivered the song with good humour, vocal power and stage moves that showed he was in command.  It always roused the audience to enthusiastically sing along on the punch line chorus.  I recall that he also loved doing Elvis tunes like "Suspicious Minds," another audience favourite whenever he took to the stage.  Cliff was a true entertainer who knew how to get a crowd livened up and as such was always eagerly welcomed by jam hosts.
He had in fact a wide range of hundreds of GTA area musical acquaintances and pals representing diverse musical genres from Rock to Country, Pop and Blues.   He was comfortable singing a wide variety of styles but always with his own unique twist of showmanship and aplomb.
But friends and fellow players also remember him for more than his enthusiastic performances and love of all things musical.
Alana Edwards, who hosted many jams at which he participated in the Mississauga area, recalls that he and her drummer, Derick Lindo, were "brothers not by DNA but by the love and respect they had for one another as friends" going back about 15 years.
"Cliff always called me his sis," Alana wrote when we asked her to share some memories.  He also, she told me, was a songwriter who authored the song "Party Party Party" and in the 1980s apparently had some commercial success with a tune he penned then.
But Alana mourns the loss of him as a person even more than his musical absence.
"He always had a kind smile and nice things to say.  He was a ray of light on a bad day and somehow always knew how to make you laugh or smile.  Cliff was an awesome gentle soul who never had a bad word to say about anyone or anything.  He loved his Mom Ivy, His wife Lisa, his step daughter Danica, his dogs, music and life.  As a brother he will be missed dearly."
Other local musicians, such as Susie Grooves, wrote similar sentiments on his Facebook timeline (now a memorial page).  Susie recalled that "myself and many have many good fun memories of always good laughter and fun!"
A friend, Tammy Snell. wrote that "he was a great friend and all around cool guy. i loved to watch him sing and hang out with him.  We met at Cheers almost 18 years ago [and] I have been talking with him all this time. My heart breaks."
Cliff's wife Lisa. in making the sad announcement of his passing, wrote that "he was a loving stepfather to Danika, a cherished son of Ivy and Loriel, a faithful brother and best friend to Derick, and a close friend to Alana.
"He shared his passion of music and life with many good friends and kindred spirits from all around the world. Cliff was a gentle soul and a kind, selfless human being who went out of his way to help people.  He took great pleasure in making everyone smile and feel good about themselves.  He was an avid storyteller who had a wonderful sense of humour. I  am forever thankful and grateful to have been part of his life and I know that he will always watch over all of us from beyond," Lisa wrote.
Cliff was also an ardent supporter of progressive causes such as equal rights, having promoted a petition against "carding" of black citizens by police, one for tougher animal cruelty laws and another for laws cracking down on violence against women.  And he wasn't afraid to put his actions where his beliefs were.
Singer and jam host Al Reilly recalled "how he jumped in to prevent a girl being raped and took a bad beating for it but that was just Cliff Allen."  The incident, which happened in Toronto in July of 2012, was described in some detail in a blog post called simply "Cliff Allen, Local Hero" written by Tracey Q. Loxley that summer.  After driving off the girl's three attackers, she wrote, Cliff accompanied her to hospital but passed out on the way and ended up spending a day there himself.  At the end of her interview with him he spoke passionately about the need for better support systems for victims of sexual assault.
As an ardent advocate of love and kindness in everyday life, Cliff was also a big fan of Christmas.  Often over the years he posted many Christmas songs, videos and even cartoons on social media and would frequently count down how many days were left until the special day in his posts —sometimes even starting in the summer!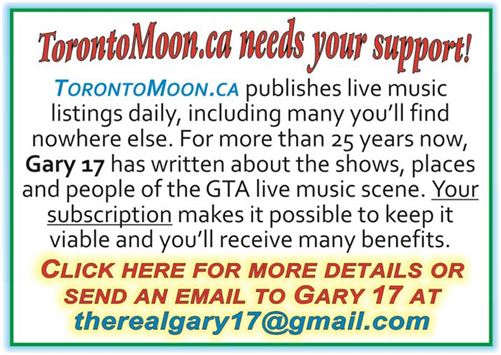 According to Lisa's post on his Facebook timeline a memorial/life celebration event will be organized at some point early this year.  Naturally TorontoMoon.ca will share the details.
R.I.P. Cliff —we've lost us a good 'un.
-By Gary 17, www.TorontoMoon.ca
[email protected] * [email protected]