\ ETOBICOKE/PORT CREDIT \
Just ten days shy of the 15th anniversary of The Meteors band he founded becoming the Saturday jam hosts at Timothy's Pub in Etobicoke, singer and trumpet/flugelhorn/coronet player Joe Reynolds passed away suddenly overnight the morning of Monday January 1, 2019, bandmates and family report.
No details of the cause of death have yet been made available but one source familiar with the mercurial front man said he passed away at home in Port Credit after battling influenza since around Christmas.  He was 61 according to a memorial page on the Turner Porter Funeral Home website, which is handling arrangements for January 3 visitations and January 4 funeral.
It was a depressing start to the year for a legion of fellow players and fans who have followed the charismatic R&B "bad boy" through a 30-year career of ups and downs that seemed to be taking a turn for the better over the past year.
Although no longer a member of The Meteors when it hosts the Saturday jams since being asked to leave the band over five years ago at a time when his demons had the upper hand, in recent months that rift had apparently healed, as Reynolds had begun to appear on the roster of weekly special guests for the group's matinées.
In fact he had just performed at Timothy's as the special guest of The Meteors to much acclaim on December 8, with group sax player Jim Lawlis posting on social media that "we had a blast and he sounded great."
He almost certainly would have been asked to perform Jan. 12 at the 15th anniversary installment of the run that began on January 11 of 2004.  Now, any such celebration seems to have been deferred or muted, with a tribute to Joe instead planned for the afternoon and evening of Sat. February 2, according to club co-owner Robin Brem.
"He was starting to get his life back together," said a fellow musician and scenester who is a regular attendee at the Saturday shows and others in the area.
Reynolds also appeared on December 15 as the featured guest with The Essentials at nearby Southside Johnny's and returned there the following Saturday, Dec. 22, to give some vocal help to the featured guitarist-singer Kat Lovett, who had come down with laryngitis.
Recalling the Dec. 22 show, which appears to have possibly been his last public appearance, Lovett posted yesterday that she was "devastated right now.
"Joe just saved my butt at a gig last week as I had laryngitis.  I am so very upset and sad," she wrote.
"He was an icon in the business," said Southside Johnny's owner John Theodore, who noted that "he packed the place every time people knew he was going to be there.  He always drew a crowd."
He had also been a fixture for many years at now-defunct The Harp pub in Port Credit before having a falling out with its owner around the same time he left the Meteors.  It's no secret that for many years Joe battled alcoholism and for a time earlier in this decade it seemed the bottle was more important to him than anything.  But he finally seemed to making real progress in that struggle over the past year.
Recently he had formed a group, Joe Reynolds and Friends, comprised largely of various Meteors alumni and friends, a panoply of all-star musicians with whom he's performed in one form or another over the years including members of The Meteors.  In its heyday during the first decade of the century with Joe at the helm, The Meteors were performing several shows a week all over the GTA and the group was rightly regarded as one of the primo Rock/Soul acts on the circuit in the province.
Fellow Meteors players were "all in shock" yesterday, band drummer Jim Casson posted on the band's Facebook group.  On his own timeline he elaborated what his "soul brother" had meant to him:
"Joe really was like a brother because I loved him unconditionally. He inspired me, he drove me nuts, I envied him, I pitied him, he made me happy, he made me angry. He always made me smile and greeted me with a hug and a loud "Cassohhhhhn!". He was my band mate for over 10 years and my friend for so much longer. I will miss him immensely," he posted.
Sax player Lawlis expressed similar sentiments:
"Joe was a beautiful human being with a heart of gold and boundless talent. He was hilarious and he shared his unique gift with so many.  I love you Joey, thanks for the great memories and God rest your sweet soul," he wrote.
I last saw him perform four years ago this month, at the memorial wake for the late Buddy "The Bear" Armstrong, at Southside Johnny's, where despite a couple of rough years his star appeal and talent were still dazzling.
His sense of humour was always in evidence as well, no matter the situation or his condition.  When they talk about someone having a "twinkle in their eye" the phrase could well be illustrated by a picture of Joe.
Sober or two sheets to the wind, the talent of Joe Reynolds never seemed to waver or wane.  And if he could be disorderly at times, it wasn't because he was irascible by nature.  Quite the opposite: he was at heart a sweet, playful, in some ways almost childlike soul.
His sister-in-law, Donna Allman, well expressed that aspect of Joe's nature in her own poignant post:
"We lost a beautiful, talented, kind and gentle soul last night but heaven gained an angel. My brother in law Joe Reynolds left us unexpectedly. I don't have the words so I will just quote my favourite song he always dedicated to me:
Rise up this mornin,
Smiled with the risin sun,
Three little birds
Pitch by my doorstep
Singin sweet songs
Of melodies pure and true,
Sayin, (this is my message to you-ou-ou:)
Don't worry about a thing,
Cause every little thing gonna be all right.
Ty Joe I will think of you whenever I hear the birds sing."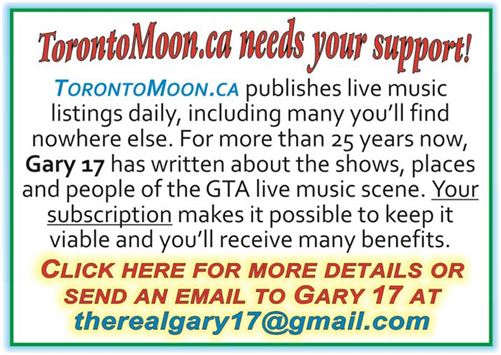 The visitation for Joe will take place at Turner Porter, 2180 Hurontario St. in Mississauga on Thursday January 3 from 2-4 and 6-9 in the evening.
The funeral will be held in the Turner Porter chapel on Friday January 4th at 11:00 a.m. with a reception to follow at the Port Credit Legion, 35 Front Street in Port Credit.
-By Gary 17, www.TorontoMoon.ca
[email protected] * [email protected]