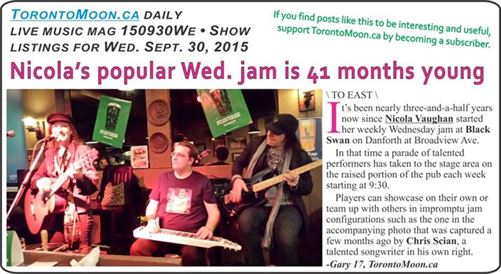 \ TO EAST \
It's been nearly three-and-a-half years now since Nicola Vaughan started her weekly Wednesday jam at Black Swan on Danforth at Broadview Ave.
In that time a parade of talented performers has taken to the stage area on the raised portion of the pub each week starting at 9:30.
Players can showcase on their own or team up with others in impromptu jam configurations such as the one in the accompanying photo that was captured a few months ago by Chris Scian, a talented songwriter in his own right.
-Gary 17, TorontoMoon.ca
SHOW LISTINGS for Wednesday, September 30, 2021
Listings are organized by area in which the shows occur and within each area field shows are listed chronologically.
Listings preceded by an asterisk (*) are repeating weekly events. (Double asterisk indicates repeating event with different hosts/guest/etc.) Admission prices followed by a slash and minus (/-) after the amount indicates door charge with availability of cheaper rates for some purchases. /+ indicates stated price is minimum.
Names of subscribers appear in bold and underlined and, where applicable, include a live link to their websites. Advertisers' listings are in larger, highlighted type, include live link to website and also have ad icon included in listings.
416 – Toronto Central
1:30> Julian Taylor Band; Treble Charger; 54-40; Attica Roots; DueceNDip for Canada's Walk of Fame Festival @ Yonge & Dundas Square, 281 Yonge St., TO ~eclectic Rock/Blues
6> Angie Gunn @ Cameron House (front), 408 Queen St. W., TO ~Rockabilly
6:30> Richard Whiteman Group @ The Rex, 194 Queen St. W., TO ~Jazz; $
7> Brownman's tribute to Freddie Howard @ Monarchs Pub (Eaton Chelsea Hotel), 33 Gerrard St. W., TO ~Jazz
7:30> Tom Richards Quartet @ Tranzac Club (Southern Cross), 292 Brunswick Ave. TO ~Jazz
**8 (7 p.m. sign-up)> open stage with 9 p.m. feature by Robert Priest @ Fat Albert's, 25 Cecil St. (Steelworkers Hall), TO ~Roots
8> Toronto Folk Singers Club @ Tranzac Club (Tiki Room), 292 Brunswick Ave. TO ~Folk
*8-1> open jam with Wednesday's Child feat. Johnny Bootz Hutt @ Lola, 40 Kensington Ave., TO
8> The Districts; Sun Club @ Lee's Palace, 529 Bloor St. W., TO ~Rock; $15
8> Ha!Man @ Musideum, 401 Richmond St. W., #133, TO ~eclectic World Fuison duo; $20
8> Franc'open mic @ Free Times Cafe, 320 College St., TO ~free
*8:30> Crazy Strings host High Lonesome Wednesdays with opening acoustic act @ Silver Dollar 486 Spadina Ave., TO ~Bluegrass
8:30> Lower Dens; Abdu Ali @ Horseshoe Tavern, 370 Queen St. W., TO ~$15
*8:45> The Digs @ Reservoir Lounge, 52 Wellington St. E., TO ~Jazz/Blues/R&B; $
9> Dennis Ellsworth; Bill Wood & The Woodies; J.D. Edwards @ Cameron House (rear), 408 Queen St. W., TO ~$
9> VOODOO @ Cherry Colas, 200 Bathurst St., TO ~Rock; $
*9-2> What's Poppin' indie jam @ Sneaky Dee's, 431 College St., TO
*9> open mic with Sean Barker @ Monarch Tavern, 12 Clinton St., TO
9:30> Oliver Pigott; Danka Scepanovic @ C'est What, 67 Front St. E., TO ~indie; pwyc
9:30> Danjam Orchestra @ The Rex, 194 Queen St. W., TO ~New York Jazz; $
10> Johnson Creek @ Cameron House (front), 408 Queen St. W., TO
10> Nick Fraser Presents @ Tranzac Club (Southern Cross), 292 Brunswick Ave. TO
*10-2> Blues-Rock jam with Bruce Domoney @ Grossman's, 379 Spadina Ave. TO
10:30> The Northern Roads @ The Hideout, 484 Queen St. W., TO ~indie Rock
*10:30> The LMT Connection @ Orbit Room, 580 College St. TO ~Funk/R&B; $10
416 – Toronto East

*7:30-10:30> The BTBs @ Relish, 2152 Danforth Ave., TO East ~Jazz
8> Destroyer @ The Danforth Music Hall, 147 Danforth Ave., TO East ~$30.75+
8:30-10:30> Jazz Money @ Castro's, 2116 Queen St. E., TO East ~Jazz
*9:30> open stage with Nicola Vaughan @ Black Swan (downstairs), 154 Danforth Ave., TO East
416 – Toronto Etobicoke
7:30> Havana Nights @ Old Mill Inn, 21 Old Mill Rd., Etobicoke ~Jazz; min table charge
8-1> Phil & John featuring Phil Naro @ Timothy's Pub, 344 Brown's Line, Etobicoke South ~acoustic Pop
416 – Toronto Scarborough
* 7> jam with Tommy Rocker's Classic Rock Band @ Fox at Scarborough Junction, 646 Danforth Rd., Scarborough
*8:30> Al Reilly's Catalyst @ Centro Pizza, 3408 Kingston Rd., Scarborough ~classic Rock
*8:30> open mic with Jadzia Skye & Michael Oesch @ Chez Helene's, 1437 Kingston Rd., Scarborough
416 – Toronto West
5-8> The Ault Sisters @ Gate 403, 403 Roncesvalles Ave., TO West ~Jazz
8> miKEYS; Kunle @ The Painted Lady, 218 Ossington Ave., TO West
8> Eli & The Strawman with guests @ Dakota Tavern, 249 Ossington Ave., TO West ~$10
9> Unlikely Story @ The Tennessee, 1554 Queen St. W., TO West
9-12> Blues Night with Julian Fauth & guests @ Gate 403, 403 Roncesvalles Ave., TO West ~original Juno-winning Blues
9> Freeman Dre & The Kitchen Party @ The Local, 396 Roncesvalles Ave., TO West ~indie Pop
*10-1> Michael Keith @ The Hole In The Wall, 2867 Dundas St. W., TO West ~Blues/Rock/Jazz
519
8> Annette Haas @ Fionn MacCool's Kitchener, 4287 King St. E., Kitchener ~original & cover Root-Pop
705
*7-11> open jam with Wayne Buttery Band @ The Beacon, 146 45th St., Wasaga Beach
10> Old Cabin & guests @ The Garnet, 231 Hunter St. W., Peterborough
905 East
*8> Howard Ross & Full Count Blues hosts "Big Mojo" Blues jam with guest performer tba @ Corner Pocket, 45 Prince St., Oshawa
7> Big Wind @ Simcoe Blues & Jazz, 926 Simcoe St. N., Oshawa
8-12> open mic night @ Fionn MacCool's Ajax, 32 Kingston Rd. E. Ajax
*8-11> open mic @ Frank's Pasta, 426 King St. E., Cobourg
*9-12> jam with Damage Control @ St. Louis Bar & Grill Ajax, 11 Harwood Ave. S., Ajax
905 North
*7> open mic night with Tanya Joy Senior @ Col. McGrady's Pub, 44 Brock St. W., Uxbridge
*8:45> open mic jam with Matt Zady @ Magnums, 21 McMurchy Ave. N., Brampton
*9-1> open mic jam with Whiskey Birds @ Sweetz Lounge, 5289 Hwy 7, Woodbridge-Vaughan
*9:30> open mic with The Villagers @ Main's Mansion, 144 Main St., Markham
905 South
*7> open mic night @ Donnelley's Pub, 54 Front St., Thorold ~Blues
7:30> Jacob Moon album release party for 20 Years of Jacob Moon @ Casbah Lounge, 306 King St. W., Hamilton ~indie; $20
**8-1> "Country Pubkin" Night with Country artists tba @ Corktown Pub, 175 Young St., Hamilton
8> Tom Wilson; Terra Lightfoot; Mark Sasso; many more @ This Ain't Hollywood, 345 James St. N., Hamilton ~indie showcases; $7
*8:30> Something Country @ The Endzone, 1900 King St. E., Hamilton ~Country
905 West
*8-12> All-ages jam with band & host Kevin Reid @ Sixth Line Pub, 1500 Sixth Line, Oakville
9-1> Maxine Young @ Roc'n Doc's, 105 Lakeshore Rd. E., Port Credit ~Rock/Pop; $
8-1> Danielle Donville & Friends @ Moonshine Café, 137 Kerr St., Oakville ~songwriter; $5
8:30> The Carson Freeman Diversion @ Shore Grill, 71 Lakeshore Rd. E., Port Credit ~Pop Rock
*9> open mic jam with Jack B Nimble @ Blarney's Gate, 1151 Dundas St. W., Mississauga
*9?> jam with Michael Zane or Pat Dowds @ Shakers, 580 Kerr St., Oakville