\ TO EAST \
The last time we wrote about Funk/Soul/Rock super-band Graffiti Park was almost exactly a year ago when they performed a show out in Etobicoke on the pro-calibre stage at Southside Johnny's.
I mentioned in that piece that the singer of the group, which originally hails from Toronto but is based in Bermuda for the past decade or so, was vivacious Suzi Stephenson, who's also been mentioned in this publication for her connection to Old Nick Pub in east TO, where she was a server for several years.
Tonight's edition of the weekly songwriters showcase in the room at 123 Danforth Ave., a spit east of Broadview, will be a bit of a homecoming for her, then, since incredibly this powerhouse band will be the feature act for the 7:30-10:30 no cover show.
I suspect this could have been planned in part as a fundraiser for the room, since the owner was recently hit with a huge fine after a rapscallion ejected patron pulled the fire alarm at the doorway —the City of Toronto has a new, Draconian policy about false alarms that should raise concern in any club or business owner and really should be modified so that victims of such "pranks" don't suffer the double injury of the fine on top of lost business.
However, if this show, hosted by personable songwriter Maria Ryan (who can be expected to open with a few originals) is intended to raise funds for owner Christine, then it's rather peculiar that there appears to be no "event" for it or any other mention on social media that I can find. Maybe they're trying to keep it quiet so the club doesn't get overrun by crowds hoping to find a raised stage and dance floor; but nevertheless, it should be a kickass show for those that are there.
Moreover, with Suzi and partner/bass player Kojo Ferguson on tap, you can almost certainly expect to see our good friend Julian Taylor popping by —he and Suzie and Kojo go way back to TO's midtown music scene in the 90s, when J.T. was just starting out performing, and he also worked for several years at nearby Dora Keogh while Suzie was bartending at the Nick.
J.T. was also, of course, the founder of the weekly open mic at Dora, which is still going strong every Monday under the stewardship of songwriter Tyler Ellis these days, so I'd be shocked if Julian doesn't also pop in there while in the 'hood.
This area, in fact, is a hotbed of live music Mondays even when, like tonight, the nearby Danforth Music Hall is dark. In addition to Tyler's Riverboat Mondays open mic at Dora from 8:45 till midnight, always entertaining and immeasurably talented veteran songwriter. Sebastian Agnello hosts his weekly Monday open stage across the street at Black Swan, 154 Danforth Ave., from 9:30 till close, as we've told you on many occasions (such as, in August of 2017, the 50th anniversary of a song he played on hitting Number One on the CHUM Chart and his hosting of a celebration for the 70th birthday of music biz icon James Ratch in July of 2018).
Both these open mic events are welcoming to players of all levels and styles and guaranteed to always include sets by some exquisitely talented pro-level songwriters.
-By Gary 17, TorontoMoon.ca
[email protected] * [email protected]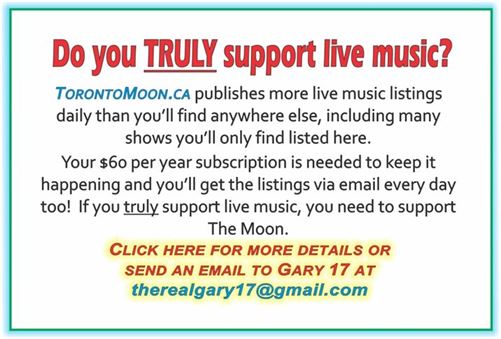 SHOW LISTINGS for Monday, March 09, 2022
Listings are organized by area in which the shows occur and within each area field shows are listed chronologically. For KEY to listings codes and schemata see note at end of shows list.
Names of subscribers appear in bold, are underlined and, where applicable, include a live link to their Home or Event url. FOR SUBSCRIPTION DETAILS VISIT: https://www.torontomoon.ca/subscribe/
Advertisers' listings are in larger, highlighted type, include live link to website and also have ad icon included in listings. FOR ADVERTISING INFO VISIT:
https://www.torontomoon.ca/advertise-with-toronto-moon/
ON AIR/ONLINE
3-7> Julian Taylor hosts @ 106.5 ELMNT FM in Toronto & www.elemntfm.ca ~eclectic music 25% indigenous, 35% CanCon
*5-6> "Out of The Bassment" with host Keiko Gutierrez @ 93.3 CFMU Hamilton and online at http://cfmu.ca/shows/21-out-of-the-bassment ~music featuring bass players
*6> "Underplayed and Underpaid" interviews and performances by Guelph area bands on CFRU 93.3 FM broadcast and online
6> "Soundcheck with Sabrina" with Sabrina Fallah @ Jungle 77.3 & online at http://www.jungle773.com/ ~eclectic tracks, interviews etc.
416 – TORONTO CENTRAL -Broadview/Bayview to Ossington
*5-9> Jim Heineman Trio @ Mirto Italian Restaurant, 25 Toronto St. ~Jazz
6> Heavy On The Willie @ Cameron House (front), 408 Queen St. W. ~Country
6:30> U of T Jazz Ensembles @ The Rex, 194 Queen St. W. ~Jazz; $
**7-1 (sign-up at 7, show starts 7:30)> open stage with host D'Arcy Wickham @ Free Times Café, 320 College St.
*7-11> "Middle of Nowhere" open mic (recorded live for podcast) with Kat Steeves; Nick Fernandes; Zen Cohen; Keith Barry; John Shiltz; James Watanabe; Barbara Aufgang @ Alchemy, 890 College St.
*7-10> open stage with Brad Scott @ Lola, 40 Kensington Ave.
7> Deca Joins; Alex Nicol @ Radio (Adelaide Hall), 250 Adelaide St. W. ~contemporary original; $
7> Ally Brooke @ Mod Club, 722 College St. ~contemporary original; $
*7-9:30> UkeZac ukulele jam & workshop @ Tranzac Club (Main Hall), 292 Brunswick Ave.; $10
7:30-10:30> Orange Devils @ Monarch Tavern, 12 Clinton St. ~indie; $10
8> Nathaniel Rateliff; Courtney Marie Andrews@ Roy Thomson Hall, 60 Simcoe St.~contemporary original; $
**8> open mic (2 songs; sign-up starts 8 p.m.) with host Bob Wiseman @ Tranzac Club (Southern Cross), 292 Brunswick Ave.
8> The Bruce & Tom Show @ Cameron House (front), 408 Queen St. W.
8> Balfolk @ Drom Taberna, 458 Queen St. W. ~folk dancing to live music fiddlers etc.
**8:30-1:30> open mic/jam with host Sam Sundar-Singh @ Grossman's, 379 Spadina Ave.
8:30> Zatiq; The Hatchbacks; Jean-Paul De Roover @ Horseshoe Tavern, 370 Queen St. W. ~indie; $0
*9-2> open mic @ The Grapefruit Moon, 968 Bathurst St.
*9> open mic @ Lou Dawgs Ryerson, 76 Gerrard St. E.
*9:30> open mic @ Amsterdam Bicycle Club, 54 The Esplanade
9:30> Toronto Jazz Orchestra @ The Rex, 194 Queen St. W. ~Jazz; $
10> Jordan John @ The Orbit Room, 580 College St. ~Jazz-Rock fusion; $
10> Sugar Brown @ Cameron House (front), 408 Queen St. W. ~Blues/R&B
416 - TORONTO EAST -Broadview/Bayview to Victoria Park
7-10> Smokey Folk @ Relish, 511 Danforth Ave. ~Bluegrass; 0$
7:30> songwriters showcase with host Maria Ryan & guest feature Graffiti Park @ The Old Nick, 123 Danforth Ave. ~songwriters; 0$
7:30> Wintergarten Orchestra @ The Duke Live, 1225 Queen St. E. ~big band Swing Jazz/Soul; $10
*8:30-11:30> Gareth Parry's Book Club @ Sauce on Danforth, 1376 Danforth Ave. ~Blues/Jazz
*8:45-12> acoustic open stage jam with Tyler Ellis @ Dora Keogh, 141 Danforth Ave.
*9:30-2> Sebastian Agnello & friends open stage @ Black Swan Tavern, 154 Danforth Ave.; 0$
416 – TORONTO ETOBICOKE
416 – TORONTO SCARBOROUGH
7:30> Uke jam/workshop or Uke Circle jamalong @ Stone Cottage Pub, 3750 Kingston Rd. ~amateur ukulele players welcome; $5
416 – TORONTO WEST -Ossington to Etobicoke
6:30 -8> open mic night @ Golden Gecko Coffee, 282 Jane St.
7> Klager/Kriel @ The Emmet Ray, 924 College St. ~Jazz; pwyc
7> Ali Barter @ Drake Hotel, 1150 Queen St. W. ~contemporary original; $
7:30> Jana Luksts @ Bunker Lane Press, 1001 Bloor St. W., TO West ~piano; $
8> Fucked & Bound; Haunted Horses @ The Baby G, 1608 Dundas St. W. ~Metal/Hard Rock/Punk; $
8:30> Casey Abrams @ Hugh's Room Live, 2261 Dundas St. W. ; $25
*9> open mic with host Alun Piggins @ The Wicket, 1671 Bloor St. W.
*9-1> Hamstrung Stringband @ The Local, 396 Roncesvalles Ave. ~Bluegrass
*9-1> eclectic open stage/jam with host Nelson Sobral @ The Painted Lady, 218 Ossington Ave.
9:30> Songs Of The Doomed @ The Emmet Ray, 924 College St. ~Jazz; pwyc
*10-11> The Skyliners @ Skyline Restaurant, 1426 Queen St. W. ~low-fi Soul/Blues
*10> open mic with host Liam Kearney @ The Hole In The Wall, 2867 Dundas St. W.
519 EAST -Guelph, K-W & vicinity
7-11> open mic night hosted by Gregory Michael Schwan @ Kings Sports Bar, 468 Woodlawn Rd. E., Guelph
*7> open mic with John Stuart @ Rhapsody Barrel Bar, 179 King St. W., Kitchener
*7> Causerie Voices @ The Causerie, 165 Victoria St. S., Kitchener ~choral
*7:30-12> open mic with Anthony Schmanthony @ The Cornerstone, 1 Wyndham St. N., Guelph
9:30> Hunter Sheridan @ McCabe's Irish Pub, 9 Wyndham St. N., Guelph ~acoustic Pop covers & originals
9:30> Turk and the Hobbits @ Duke of Wellington, 33 Erb St. W., Waterloo
705
*7-11> Rick & Gailie's Crash & Burn @ Black Horse Pub, 452 George St. N., Peterborough ~acoustic Pop covers & originals; $0
7> Andrea Ramolo; Sara Romano @ Gilmour Street Music Hall, 590 Gilmour St., Peterborough ~smooth Pop/Jazz/Rock (English & Italian); $
905 EAST -Pickering to Cobourg
7-9> Fiona Milner @ Arthur's Pub, 930 Burnham St., Cobourg
8-11> open mic with John Hellyer @ Simcoe Blues & Jazz, 926 Simcoe St. N., Oshawa ~spoken word & music
905 SOUTH -Hamilton & vicinity
6> The Repeatles @ Innsville, 1141 Highway 8, Stoney Creek ~Beatles covers
6:30>> Greensville Guitar Pickers jam @ Greensville Branch Library, 59 Kirby Ave., Hamilton
*6:30> Choir Nation with guest Alex Kadet @ Staircase, 27 Dundurn St. N., Hamilton
*9:30> The New Rebel Westerners @ Cat N Fiddle, 174 John St. S., Hamilton ~Country
905 WEST -south Peel, Halton
*8-12> jam with Tom Barlow @ Shore Grill, 71 Lakeshore Rd. E., Port Credit-Mississauga
**8-12> jam night with Catherine Harrison @ Moonshine Café, 137 Kerr St., Oakville
LISTINGS KEY
Listings preceded by an asterisk (*) are repeating weekly events. (Double asterisk indicates repeating event with different hosts/guest/etc.). Events preceded by question mark (?) usually take place but have not been confirmed. Admission prices followed by a slash and minus (/-) after the amount indicates door charge with availability of cheaper rates for some purchasers (eg. students, seniors, members, etc.). /+ indicates stated price is minimum.
-Copyright © 2020 by Gary "17" Webb-Proctor & TorontoMoon.ca. All Rights Reserved