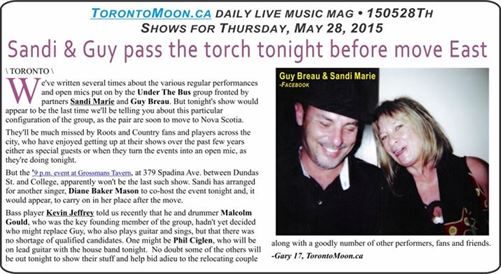 \ TORONTO \
We've written several times about the various regular performances and open mics put on by the Under The Bus group fronted by partners Sandi Marie and Guy Breau. But tonight's show would appear to be the last time we'll be telling you about this particular configuration of the group, as the pair are soon to move to Nova Scotia.
They'll be much missed by Roots and Country fans and players across the city, who have enjoyed getting up at their shows over the past few years either as special guests or when they turn the events into an open mic, as they're doing tonight.
But the 9 p.m. event at Grossman's Tavern, at 379 Spadina Ave. between Dundas St. and College, apparently won't be the last such show. Sandi has arranged for another singer, Diane Baker Mason to co-host the event tonight and, it would appear, to carry on in her place after the move.
Bass player Kevin Jeffrey told us recently that he and drummer Malcolm Gould, who was the key founding member of the group, hadn't yet decided who might replace Guy, who also plays guitar and sings, but that there was no shortage of qualified candidates. One might be Phil Ciglen, who will be on lead guitar with the house band tonight.  No doubt some of the others will be out tonight to show their stuff and help bid adieu to the relocating couple along with a goodly number of other performers, fans and friends.
-Gary 17, TorontoMoon.ca
SHOW LISTINGS for Thursday, May 28, 2022
Listings are organized by area in which the shows occur and within each area field shows are listed chronologically.
Listings preceded by an asterisk (*) are repeating weekly events. (Double asterisk indicates repeating event with different hosts/guest/etc.). Admission prices followed by a slash and minus (/-) after the amount indicates door charge with availability of cheaper rates for some purchases. /+ indicates stated price is minimum.
Names of subscribers appear in bold and underlined and, where applicable, include a live link to their websites or event page. Advertisers' listings are in larger type and highlighted, include a live link to their website and also have a copy of the ad included in listings.
416 - Toronto Central
6> Corin Raymond @ Cameron House (front), 408 Queen St. W., TO
6:30> Kevin Quain @ The Rex, 194 Queen St. W., TO ~moody Blues
7> Songtown presents Honouring Our Own concert toasting Steve Sherman, with Pete Otis, Harpin' Norm Lucien, Mike Bar, Drew Winters, Mike Neill, Pat Little & many more @ Seven44, 744 Mount Pleasant Road, TO North ~eclectic Pop; $15
*7> open mic with Derek Mok @ Kensington Lodge, 21 Kensington Ave., TO
*7:30-9:30> Bluegrass Thursdays with Houndstooth @ Tranzac Lounge (Southern Cross), 292 Brunswick Ave., TO
*8-1> open mic with Alicia Porter @ The Local Gest, 424 Parliament St., TO
8-12> R&B/Blues @ Nawlin's, 299 King St. W. TO
8:30> Christopher Thompson & Friends @ Free Times Café, 320 College St. TO ~songwriters
8:30> Brendon Gomez @ Fionn MacCool's Uptown, 1867 Yonge St., TO North
8:30> William Fitzsimmons; Denison Witmer @ Horseshoe Tavern, 370 Queen St. W., TO; $18.50
9> Under The Bus featuring Kevin Jeffrey hosts Sandi Marie & Guy Breau's last open mic, Diane Baker Mason's first @ Grossman, 379 Spadina Ave., TO
9-1> Jack de Keyzer Band @ Monarchs Pub (Eaton Chelsea Hotel), 33 Gerrard St. W., TO ~Blues
9> Jeanine Mackie @ The Jazz Bistro, 251 Victoria St., TO ~Jazz/R&B; $15
*9-1> Blackburn @ Jo Mamas, 317 King St. W., TO ~Blues
9:30> Michael Herring's Way North @ The Rex, 194 Queen St. W., TO ~Jazz
9:30> Jay Swinnerton @ C'est What, 67 Front St. E., TO ~songwriter
*9:45> Mary Mckay @ Reservoir Lounge, 52 Wellington St. E., TO ~Jazz/Blues
10> Jean on Gene @ Cameron House (front), 408 Queen St. W., TO
10> Pete Johnston's See Through Music @ Tranzac Lounge (Southern Cross), 292 Brunswick Ave., TO
10> Pretzel Logic @ Orbit Room, 480 College St. TO ~Steely Dan tribute; $
10:30> Drew Leith @ The Hideout, 484 Queen St. W., TO ~indie Rock
416 - Toronto East
7> Bonfire jam @ Eton House, 710 Danforth Ave., TO East
7:30-9:30> Mark Ripp @ Relish, 2152 Danforth Ave., TO East ~songwriter
8> Trace Minerals @ The Only Café, 972 Danforth Ave., TO East
8:30-10:30> Communism with Don Kerr @ Castro's, 2116 Queen St. E., TO East ~Folk-Rock/Country
9> The Morning Bells; The Go No's; Black Suit Devil @ Linsmore Tavern, 1298 Danforth Ave., TO East ~indie bands; $0
*10-2> karaoke with Shane Taylor @ Relish, 2152 Danforth Ave., TO East
416 - Toronto West
5-8> G Street Jazz Trio @ Gate 403, 403 Roncesvalles Ave., TO West ~Jazz
*8-11> Tinderbox Thursdays open stage with Michael Keith @ La Revolucion, 2848 Dundas St. W., TO West ~eclectic
8:30> Benefit concert for Regeneration Community Services with Toronto All-Star Big Band @ Hugh's Room, 2261 Dundas St. W., TO West ~$35
*9-1:30> open stage with Jay Pennell @ Dave's On St. Clair, 730 St. Clair West, TO West ~eclectic
9-12> Cyndi Carleton's At Eas Music @ Gate 403, 403 Roncesvalles Ave., TO West ~Jazz
9> Of The Bear Booking showcase @ The Painted Lady, 218 Ossington Ave., TO West
9> Sean Pinchin @ The Local, 396 Roncesvalles Ave., TO West ~Blues
9> Freeman Dre & The Kitchen party @ Dakota Tavern, 249 Ossington Ave., TO West ~indie Roots-Pop; $7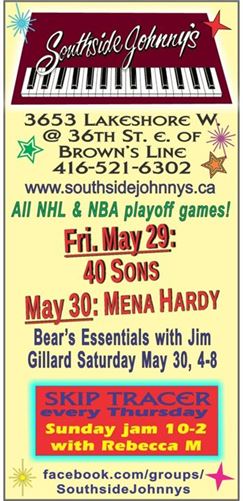 416 - Etobicoke
9> jam with Kimberley Wetmore Band featuring Dave Girdlestone on guitar @ Timothy's Pub, 344 Brown's Line, Etobicoke South ~Pop Rock
*9:30-2> Skip Tracer @ Southside Johnny's, 3653 Lakeshore Blvd., Etobicoke South ~Rock/Pop
416 – Scarborough
*9> Tommy Rocker's Classic Rock Band host jam @ Centro Pizza, 3406 Kingston Rd., Scarborough
519
*7:30-12> open mic with K.M. Smith @ Molly Bloom's Guelph, 91 Wyndham St. N., Guelph
*8-11> open mic with Sandy MacDonald @ Williamsburg Arms, 1187 Fischer Hallman Rd., Kitchener
705
*7:30> Rob Phillips Band and Chelsea Bennett @ Black Horse Pub, 452 George St. N., Peterborough
*9> jam with Ted Rusk @ The Sauble Dunes, 11 Southampton Parkway, Sauble Beach
10> Swedish Septet @ The Garnet, 231 Hunter St. W., Peterborough
905 - East
*5-8> Nelson Denis @ Frank's Pasta, 42 King Street E., Cobourg ~eclectic mix (Folk, Jazz, soft Rock, Latin)
8-12> David Leask @ Fionn MacCool's Ajax, 32 Kingston Rd. E. Ajax ~Pop
8> April Wine @ Regent Theatre, 50 King St. E., Oshawa ~Can-Pop icons; $various
*9> jam @ The Wee Pub, 371 Wilson Rd. South, Oshawa
9> Paper Bags @ Simcoe Blues & Jazz, 926 Simcoe St. N., Oshawa ~Blues
*9:30> jam with Billick @ Harp & Crown, 300 Kingston Rd., Pickering
905 - North
*8> open mic with Kevin Ker @ Duchess of Markham, 53 Main St., Markham
8> Jerome Godboo Band @ Col. Mustard's Newsmarket, 16925 Yonge St., Newmarket ~Blues
905 - South
*9> Pet Sun @ This Ain't Hollywood, 345 James St. N., Hamilton ~indie
*9> open mic night with rotating hosts @ 384 Wilson St E., Hamilton
10> Adam Cook @ Slainte Irish Pub, 33 Bowen St., Hamiltoon ~acoustic Pop
905 – West
8-12> Freedom Train @ Roc'n Doc's, 105 Lakeshore Rd. E., Port Credit ~Rock/Pop
*8-12> open mic & jam @ Black Swan Pub Burlington, 4040 Palladium Way, Burlington
*8-12> jam hosted by The Personics @ Carrigan Arms, 2025 Upper Middle Rd., Burlington
8:30> Rodney CeCroo with Great Aunt Ida & Mark Haney @ Moonshine Café, 137 Kerr St. Oakville ~Roots; $7/pwyc
9:30> Glenn Groves @ Shore Grill, 71 Lakeshore Rd. E., Port Credit ~Pop Rock
*9:30> jam with Jack B Nimble @ Abbey Road Pub, 3200 Erin Mills Parkway, Mississauga
Copyright © 2015 Toronto Moon Magazine. All Rights Reserved