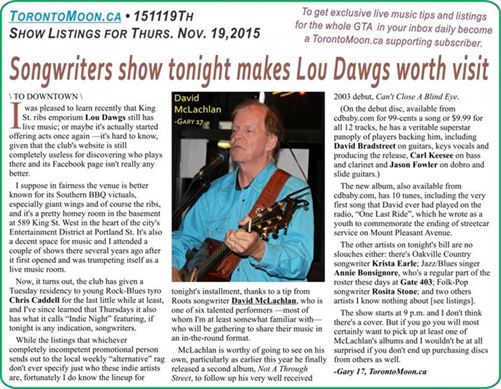 \ TO DOWNTOWN \
I was pleased to learn recently that King St. ribs emporium Lou Dawgs still has live music; or maybe it's actually started offering acts once again —it's hard to know, given that the club's website is still completely useless for discovering who plays there and its Facebook page isn't really any better.
I suppose in fairness the venue is better known for its Southern BBQ victuals, especially giant wings and of course the ribs, and it's a pretty homey room in the basement at 589 King St. West in the heart of the city's Entertainment District at Portland St. It's also a decent space for music and I attended a couple of shows there several years ago after it first opened and was trumpeting itself as a live music room.
Now, it turns out, the club has given a Tuesday residency to young Rock-Blues tyro Chris Caddell for the last little while at least, and I've since learned that Thursdays it also has what it calls "Indie Night" featuring, if tonight is any indication, songwriters.
While the listings that whichever completely incompetent promotional person sends out to the local weekly "alternative" rag don't ever specify just who these indie artists are, fortunately I do know the lineup for tonight's installment, thanks to a tip from Roots songwriter David McLachlan, who is one of six talented performers —most of whom I'm at least somewhat familiar with— who will be gathering to share their music in an in-the-round format.
McLachlan is worthy of going to see on his own, particularly as earlier this year he finally released a second album, Not A Through Street, to follow up his very well received 2003 debut, Can't Close A Blind Eye.
(On the debut disc, available from cdbaby.com for 99-cents a song or $9.99 for all 12 tracks, he has a veritable superstar panoply of players backing him, including David Bradstreet on guitars, keys vocals and producing the release, Carl Keesee on bass and clarinet and Jason Fowler on dobro and slide guitars.)
The new album, also available from cdbaby.com, has 10 tunes, including the very first song that David ever had played on the radio, "One Last Ride", which he wrote as a youth to commemorate the ending of streetcar service on Mount Pleasant Avenue.
The other artists on tonight's bill are no slouches either: there's Oakville Country songwriter Krista Earle; Jazz/Blues singer Annie Bonsignore, who's a regular part of the roster these days at Gate 403; Folk-Pop songwriter Rosita Stone; and two others artists I know nothing about [see listings].
The show starts at 9 p.m. and I don't think there's a cover. But if you go you will most certainly want to pick up at least one of McLachlan's albums and I wouldn't be at all surprised if you don't end up purchasing discs from others as well.
-Gary 17, TorontoMoon.ca
SHOW LISTINGS for Thursday, November 19, 2021
Listings are organized by area in which the shows occur and within each area field shows are listed chronologically.
Listings preceded by an asterisk (*) are repeating weekly events. (Double asterisk indicates repeating event with different hosts/guest/etc.). Admission prices followed by a slash and minus (/-) after the amount indicates door charge with availability of cheaper rates for some purchases. /+ indicates stated price is minimum.
Names of subscribers appear in bold and underlined and, where applicable, include a live link to their websites or event page. Advertisers' listings are in larger type and highlighted, include a live link to their website and also have a copy of the ad included in listings.
416 - Toronto Central
6> Corin Raymond @ Cameron House (front), 408 Queen St. W., TO

6-8> Ori Dagan @ 120 Diner, 120 Church St., TO ~Julie Christie Jazz
6:30> Kevin Quain @ The Rex, 194 Queen St. W., TO ~moody Blues
*7> open mic with Derek Mok @ Kensington Lodge, 21 Kensington Ave., TO
*7:30-9:30> Bluegrass Thursdays with Houndstooth @ Tranzac Lounge (Southern Cross), 292 Brunswick Ave., TO
*8-1> open mic with Alicia Porter @ The Local Gest, 424 Parliament St., TO
8-12> R&B/Blues @ Nawlin's, 299 King St. W. TO
8> Marilyn Lerner; Andrew Downing @ Musideum, 401 Richmond St. W., #133, TO ~innovative Jazz; $20
8> Laura Kelsey; Downtown Shimmy @ Free Times Café, 320 College St. TO ~songwriter/eclectic
8:30> Jesse Parent @ Fionn MacCool's Uptown, 1867 Yonge St., TO North ~Pop Rock
8:30> Retrievers; Big Frasier; Wesley James; Hello Harvard @ Lee's Palace, 529 Bloor St. W., TO ~indie $6
8:30> The Fallers; Mountain of Wolves @ Rivoli, 334 Queen St. W., TO ~$5
9> Songwriters In The Round with Rosita Stone; Annie Bonsignore; Joshua David; Krista Earle; Imogen Bel; David McLachlan @ Lou Dawgs, 589 King St. W., TO ~songwriters
9> The Mohrs; Bad Girls; Chris Cresswell; more @ Sneaky Dee's, 431 College St., TO ~indie; $10
9> Still Sound; Wylde Honey; Freewing @ Cameron House (rear), 408 Queen St. W., TO
9> Overplay: Top 40 "overplayed" hits covered by local indie bands @ The Cavern Bar, 76 Church St., TO; $5
9> Christina Martin Band; Taylor Knox; Lcon @ Horseshoe Tavern, 370 Queen St. W., TO ~indie; $13.50
9> Dixie Chicken @ Orbit Room, 480 College St. TO ~Little Feat tribute; $
9-1> Michael Schatte @ Monarchs Pub (Eaton Chelsea Hotel), 33 Gerrard St. W., TO ~Blues/Pop
9> Sate; Little Foot Long Foot; The Silence Factory @ Cherry Cola's, 200 Bathurst St., TO ~Rock; $
*9-1> Blackburn @ Jo Mamas, 317 King St. W., TO ~Blues
9:30> Hogtown Circle @ C'est What, 67 Front St. E., TO ~$5
9:45> Greg Osby with Luis Deniz Quintet @ The Rex, 194 Queen St. W., TO ~NYC Jazz
*9:45> Stacey Kaniuk @ Reservoir Lounge, 52 Wellington St. E., TO ~Jazz/Blues; $
10> Callan Furlong @ Cameron House (front), 408 Queen St. W., TO
10> U of T Skule Stage Band @ Grossman's, 379 Spadina Ave., TO
10> The Special Interest Group @ Tranzac Lounge (Southern Cross), 292 Brunswick Ave., TO
10:30> Music City North showcases @ The Hideout, 484 Queen St. W., TO ~indie Rock

416 - Toronto East
7-9> Dom De Luca @ Relish, 2152 Danforth Ave., TO East ~songwriter
7> Guster; The Bends @ The Danforth Music Hall, 147 Danforth Ave., TO East; $39
*8:30-10:30> Jerry Leger & The Situation @ Castro's, 2116 Queen St. E., TO East ~Folk-Rock/Country
8:30> James Downham; Mighty Lopez; Jonathan Leon; Johnny Nocash @ Linsmore Tavern, 1298 Danforth Ave., TO East ~indie; free
*9:30> open jam @ Sportsters, 1430 Danforth Ave., TO East
*10-2> karaoke with Shane Taylor @ Relish, 2152 Danforth Ave., TO East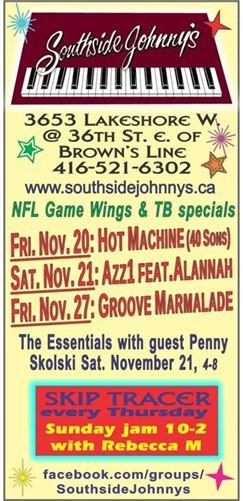 416 – Toronto Etobicoke
7:30> The Satin Dolls @ Old Mill Inn, 21 Old Mill Rd., Etobicoke ~Jazz; min table charge
9> Oakland Stroke @ Timothy's Pub, 344 Brown's Line, Etobicoke South ~Tower of Power tribute; $10
*9:30-2> Skip Tracer @ Southside Johnny's, 3653 Lakeshore Blvd., Etobicoke South ~Rock/Pop
416 – Toronto Scarborough
7-11> jam night @ The Birchmount, 462 Birchmount Rd., Scarborough
*9> Tommy Rocker's Classic Rock Band host jam @ Centro Pizza, 3406 Kingston Rd., Scarborough
9:30> Greg Wyard @ Black Dog Pub, 87 Island Rd., Scarborough ~Pop Rock
416 - Toronto West
5-8> John Nicholson Trio @ Gate 403, 403 Roncesvalles Ave., TO West ~Jazz
7-9> Lee Watson with Chris Coole @ Dakota Tavern, 249 Ossington Ave., TO West ~Roots/Country; $7
*8-11> Tinderbox Thursdays open stage with Michael Keith @ La Revolucion, 2848 Dundas St. W., TO West ~eclectic
8> International Pop Overthrow Toronto: Christine Leakey; Darling Cora; The Jeremy Band; James Clark Institute; The Dreamboats; The Wormwood Studios @ The Tennessee, 1554 Queen St. W., TO West ~indie; $10
8:30> The East Pointers; Megan Bonnell opens @ Hugh's Room, 2261 Dundas St. W., TO West ~traditional Celtic/Roots; $22.50/-
*9-12> open mic night @ DeSoto's, 1079 St. Clair Ave. W., TO West
*9-1:30> open stage with Jay Pennell @ Dave's On St. Clair, 730 St. Clair West, TO West ~eclectic
9-12> Annie Bonsignore Duo or Trio @ Gate 403, 403 Roncesvalles Ave., TO West ~Jazz
9> Balance @ Burdock, 1184 Bloor St. W., TO West
9> ONO Fest @ Smiling Buddha, 961 College St., TO West
9> The Bellys; Bruce Domoney; The Responsibles @ The Painted Lady, 218 Ossington Ave., TO West ~indie; $
9> Mark Crissinger @ The Local, 396 Roncesvalles Ave., TO West ~original Blues/Pop
9:30> Robin Banks @ Fat City Blues, 890 College St., TO West ~Blues/Jazz
10> Sun Parlour Players; Copper Lassie @ Dakota Tavern, 249 Ossington Ave., TO West ~$
519
*7:30-12> open mic with K.M. Smith @ Molly Bloom's Guelph, 91 Wyndham St. N., Guelph
7:30> Ryan Hancock @ Fionn MacCool's Orangeville, 75 Fourth Ave., Orangeville
*8-11> open mic with Sandy MacDonald @ Williamsburg Arms, 1187 Fischer Hallman Rd., Kitchener
705
*7:30> Rob Phillips Jazz/Blues Trio and Marsi @ Black Horse Pub, 452 George St. N., Peterborough
*9> jam with Ted Rusk @ The Sauble Dunes, 11 Southampton Parkway, Sauble Beach
9:30> The Reed Effect; Last Bullet @ Red Dog Tavern, 189 Hunter St. W., Peterborough
10> Glory Glory; Repartee @ The Garnet, 231 Hunter St. W., Peterborough
905 - East
*5-8> Nelson Denis @ Frank's Pasta, 42 King Street E., Cobourg ~eclectic mix (Folk, Jazz, soft Rock, Latin)
7> Brian Lee Richardson @ Simcoe Blues & Jazz, 926 Simcoe St. N., Oshawa
*?> jam with Darren Smith & Shayne Thomas @ The Corner Pocket, 45 Prince St., Oshawa
*9> jam @ The Wee Pub, 371 Wilson Rd. South, Oshawa
*9:30> jam with Billick @ Harp & Crown, 300 Kingston Rd., Pickering
*10> Karaoke with Rob MacArthur @ St. Louis Ajax, 11 Harwood Ave., Ajax
905 - North
*8> open mic with Kevin Ker @ Duchess of Markham, 53 Main St., Markham
*9> open stage jam night @ Memphis North, 18947 Woodbine Ave., East Gwillimbury
9> Steve Peconi @ Fionn MacCool's Newmarket, 17315 Leslie St., Newmarket
905 - South
8> Sun K @ Doc Magilligan's Irish Pub, 6400 Lundy's Lane, Niagara Falls
*9> Lee Aaron @ This Ain't Hollywood, 345 James St. N., Hamilton ~Can Rock icon; $
*9> open mic night with rotating hosts @ Coach & Lantern, 384 Wilson St E., Hamilton
9> Evening Hymns; The Acorn; Basement Revolver @ Casbah Lounge, 306 King St. W., Hamilton ~emo art Rock; $12.50
905 – West
*7-11> Michael Keys "7-Piece" Trio & Sing Along With The Live Band Karaoke @ Black Bull Burlington, 1124 Guelph Line, Burlington ~Boogie-Woogie Blues/Pop Rock
8-12> Freedom Train @ Roc'n Doc's, 105 Lakeshore Rd. E., Port Credit ~Rock/Pop
*8-12> open mic & jam @ Black Swan Pub Burlington, 4040 Palladium Way, Burlington
*8-12> jam hosted by The Personics @ Carrigan Arms, 2025 Upper Middle Rd., Burlington
*8> Celtic Night @ Fionn MacCool's Burlington, 2331 Appleby Line
8:30> Galen Weston Band @ Moonshine Café, 137 Kerr St. Oakville ~original Rock; $10
8:30> Tyler Schwende @ Fionn MacCool's Britannia, 825 Britannia Rd. W., Streetsville Mississauga
*8:45> open mic with Matt Zady @ Failte, 201 City Centre Dr., Mississauga
9> Brendon Gomez @ Fionn MacCool's Clarkson, 970 Southdown Rd., Mississauga
9:30> Glenn Groves @ Shore Grill, 71 Lakeshore Rd. E., Port Credit ~Pop Rock
*9:30> jam with Jack B Nimble @ Abbey Road Pub, 3200 Erin Mills Parkway, Mississauga
Copyright © 2015 Toronto Moon Magazine. All Rights Reserved