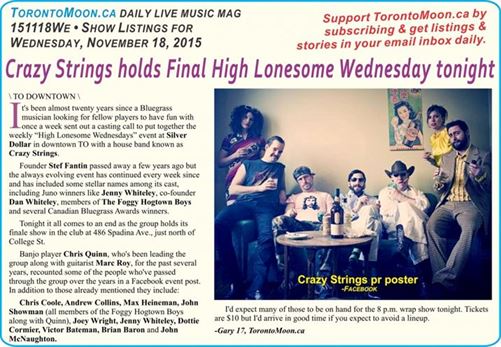 \ TO DOWNTOWN \
It's been almost twenty years since a Bluegrass musician looking for fellow players to have fun with once a week sent out a casting call to put together the weekly "High Lonesome Wednesdays" event at Silver Dollar in downtown TO with a house band known as Crazy Strings.
Founder Stef Fantin passed away a few years ago but the always evolving event has continued every week since and has included some stellar names among its cast, including Juno winners like Jenny Whiteley, co-founder Dan Whiteley, members of The Foggy Hogtown Boys and several Canadian Bluegrass Awards winners.
Tonight it all comes to an end as the group holds its finale show in the club at 486 Spadina Ave., just north of College St.
Banjo player Chris Quinn, who's been leading the group along with guitarist Marc Roy, for the past several years, recounted some of the people who've passed through the group over the years in a Facebook event post. In addition to those already mentioned they include:
Chris Coole, Andrew Collins, Max Heineman, John Showman (all members of the Foggy Hogtown Boys along with Quinn), Joey Wright, Jenny Whiteley, Dottie Cormier, Victor Bateman, Brian Baron and John McNaughton.
I'd expect many of those to be on hand for the 8 p.m. wrap show tonight. Tickets are $10 but I'd arrive in good time if you expect to avoid a lineup.
-Gary 17, TorontoMoon.ca
SHOW LISTINGS for Wednesday, November 18, 2021
Listings are organized by area in which the shows occur and within each area field shows are listed chronologically.
Listings preceded by an asterisk (*) are repeating weekly events. (Double asterisk indicates repeating event with different hosts/guest/etc.) Admission prices followed by a slash and minus (/-) after the amount indicates door charge with availability of cheaper rates for some purchases. /+ indicates stated price is minimum.
Names of subscribers appear in bold and underlined and, where applicable, include a live link to their websites. Advertisers' listings are in larger, highlighted type, include live link to website and also have ad icon included in listings.
416 – Toronto Central
*5:30> Kama House Band @ Kama, 214 King St. W., TO ~Jazz
6-8> Kevin Barrett with Julie Daniela Nardi @ 120 Diner, 120 Church St., TO ~Jazz
6> Copper Lassie @ Cameron House (front), 408 Queen St. W., TO
6:30> Ryan Oliver Trio @ The Rex, 194 Queen St. W., TO ~Jazz; $
7> Cara Matthew @ Monarchs Pub (Eaton Chelsea Hotel), 33 Gerrard St. W., TO ~Jazz/Blues
7> Astronomy On Tap @ Tranzac Club (Main Hall), 292 Brunswick Ave. TO ~folk dancing
*7> Jim Heineman Trio @ Nawlins, 299 King St. W., TO ~Jazz
7:30> Peter Youngtree @ Tranzac Club (Southern Cross), 292 Brunswick Ave. TO
**8 (7 p.m. sign-up)> open stage with 9 p.m. feature by Peter Lafferty & Sarah Rambaran @ Fat Albert's, 25 Cecil St. (Steelworkers Hall), TO ~Roots
8-1> open jam with Wednesday's Child feat. Johnny Bootz Hutt @ Lola, 40 Kensington Ave., TO
8> Larry Bond Group @ Musideum, 401 Richmond St. W., #133, TO ~Jazz; $10
8> Michelle McAdorey Band album release for Into Her Future @ Monarch Tavern, 12 Clinton St., TO ~indie; $10/pwyc
*8> Series Finale: Crazy Strings host High Lonesome Wednesdays with opening acoustic act @ Silver Dollar 486 Spadina Ave., TO ~Bluegrass
8> Shakura S'Aida @ Jazz Bistro, 251 Victoria St., TO ~Jazz
8:30> Sue & Dwight; Michelle Rumball @ Free Times Cafe, 320 College St., TO ~Folk
8:30> Flaming Groovies; Sam Coffee & The Iron Lungs @ Horseshoe Tavern, 370 Queen St. W., TO ~$25.50
9> The Stray Bullets; Orangabang; Electicus Band @ Rivoli, 334 Queen St. W., TO ~$5
9> The Digs @ Reservoir Lounge, 52 Wellington St. E., TO ~Funk/Jazz/neo-Soul; $
9> Black Unicrn @ 120 Diner, 120 Church St., TO ~Jazz; pwyc
9> Naming The Twins @ Cameron House (rear), 408 Queen St. W., TO
*9-2> What's Poppin' indie jam @ Sneaky Dee's, 431 College St., TO
9> NUBS; Cale Crow; Black Suit Devil @ The Cavern Bar, 76 Church St., TO
*9> open mic with Sean Barker @ Monarch Tavern, 12 Clinton St., TO
9:30> Greg Osby with Luis Deniz Quintet @ The Rex, 194 Queen St. W., TO ~NYC Jazz; $
10> Joe Nolan @ Cameron House (front), 408 Queen St. W., TO
10> Josh Cole and friends @ Tranzac Club (Southern Cross), 292 Brunswick Ave. TO
*10-2> Blues-Rock jam with Bruce Domoney @ Grossman's, 379 Spadina Ave. TO
10:30> The Undercovers @ The Hideout, 484 Queen St. W., TO ~indie Rock
*10:30> The LMT Connection @ Orbit Room, 580 College St. TO ~Funk/R&B; $10
416 – Toronto East
*7:30-10:30> The BTBs @ Relish, 2152 Danforth Ave., TO East ~Jazz
8> Sawdust City's Mid-Movember Mighty Moustache Mayhem @ The Only Café, 972 Danforth Ave., TO East
8:30-10:30> Mediterranean Stars @ Castro's, 2116 Queen St. E., TO East
*9:30> open stage with Nicola Vaughan @ Black Swan (downstairs), 154 Danforth Ave., TO East
416 – Toronto Etobicoke

8-1> Three Dads @ Timothy's Pub, 344 Brown's Line, Etobicoke South ~Pop; $
416 – Toronto Scarborough
* 7> jam with Tommy Rocker's Classic Rock Band @ Fox at Scarborough Junction, 646 Danforth Rd., Scarborough
*8:30> Al Reilly's Catalyst @ Centro Pizza, 3408 Kingston Rd., Scarborough ~classic Rock
*8:30> open mic with Jadzia Skye & Michael Oesch @ Chez Helene's, 1437 Kingston Rd., Scarborough
416 – Toronto West
5-8> Concord Jazz Quintet @ Gate 403, 403 Roncesvalles Ave., TO West ~Jazz
**8-10:30> Hump Night Blues with Dave McManus & Cleave Anderson + special guest The All-Nighters duo @ On Cue Billiards, 349 Jane St., TO West ~Blues
8> 9th Annual International Pop Overthrow Toronto: Neil Traynor; Sarah Siddiqui; Kensington Prairie; Before The Flood; Field Study; The Naked Wild @ The Tennessee, 1554 Queen St. W., TO West ~indie; $10
8> Whiskey Legs; Johanna Paivia & Soul Drive; Ménage @ The Painted Lady, 218 Ossington Ave., TO West ~indie
8:30> The Mercenaries @ Fat City Blues, 890 College St., TO West ~Rock/Soul revival
8:30> Eric Andersen presented by Mariposa Folk Foundation @ Hugh's Room, 2261 Dundas St. W., TO West ~Roots icon; $32.50/-
9-12> Blues Night with Julian Fauth & guests @ Gate 403, 403 Roncesvalles Ave., TO West ~original Juno-winning Blues
9> Adam Finchler; Bob Wiseman; Bert Sugar @ Burdock, 1184 Bloor St. W., TO West ~$10
9> Nerd Girl showcase @ Smiling Buddha, 961 College St., TO West
9> Lotus Wight @ The Local, 396 Roncesvalles Ave., TO West ~Country Blues
9> Rocket Surgery & guests @ Dakota Tavern, 249 Ossington Ave., TO West ~$10
519
8> John Tayles @ Fionn MacCool's Kitchener, 4287 King St. E., Kitchener
9> The Phil & John Show feat. Phil Naro @ Molly Bloom's Waterloo, 170 University Ave., Waterloo ~acoustic Pop Rock
705
*7-11> open jam with Wayne Buttery Band @ The Beacon, 146 45th St., Wasaga Beach
7> Christine Artrill Band @ Black Horse Pub, 452 George St. N., Peterborough
9> Calla Durose-Moya; Victuals; Of Doom; Laura Klinduch & Jake Ryan; Luuucccca @ The Spill, 414 George St. N., Peterborough
10> Petunia @ The Garnet, 231 Hunter St. W., Peterborough
905 East
5-8> Wolfgang Brothers @ Great Blue Heron Casino, 21777 Island Rd., Port Perry ~Blues
7> Bruce G @ Simcoe Blues & Jazz, 926 Simcoe St. N., Oshawa
*8-11> open mic @ Frank's Pasta, 426 King St. E., Cobourg
*9-12> jam with Damage Control @ St. Louis Bar & Grill Ajax, 11 Harwood Ave. S., Ajax
905 North
*7> open mic night with Tanya Joy Senior @ Col. McGrady's Pub, 44 Brock St. W., Uxbridge
*8-12> jam with Rebel Jo Band featuring Dave Girdlestone of Soul Funkshun on guitar @ Fionn MacCool's Brampton, 11 Ray Lawson Blvd. Brampton
*8:45> open mic jam with Matt Zady @ Magnums, 21 McMurchy Ave. N., Brampton
*9-1> open mic jam with Whiskey Birds @ Sweetz Lounge, 5289 Hwy 7, Woodbridge-Vaughan
*9:30> open mic with The Villagers @ Main's Mansion, 144 Main St., Markham
905 South
*7> open mic night @ Donnelley's Pub, 54 Front St., Thorold ~Blues
**8-1> "Country Pubkin" Night with Country artists tba @ Corktown Pub, 175 Young St., Hamilton
*8:30> Something Country @ The Endzone, 1900 King St. E., Hamilton ~Country
9> tba @ Casbah Lounge, 306 King St. W., Hamilton
9> NLX album release for The Luxury of Failure with special guest Amy Campbell @ This Ain't Hollywood, 345 James St. N., Hamilton ~indie; $10
905 West
8-1> Woodshed Session @ Moonshine Café, 137 Kerr St., Oakville
8:30> The Carson Freeman Diversion @ Shore Grill, 71 Lakeshore Rd. E., Port Credit ~Pop Rock
*9> open mic jam with Jack B Nimble @ Blarney's Gate, 1151 Dundas St. W., Mississauga
*9?> jam with Michael Zane or Pat Dowds @ Shakers, 580 Kerr St., Oakville