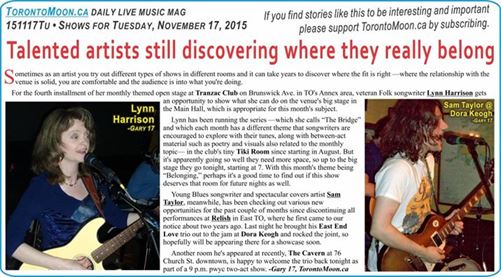 \ TORONTO DOWNTOWN \
Sometimes as an artist you try out different types of shows in different rooms and it can take years to discover where the fit is right —where the relationship with the venue is solid, you are comfortable and the audience is into what you're doing.
For the fourth installment of her monthly themed open stage at Tranzac Club on Brunswick Ave. in TO's Annex area, veteran Folk songwriter Lynn Harrison gets an opportunity to show what she can do on the venue's big stage in the Main Hall, which is appropriate for this month's subject.
Lynn has been running the series —which she calls "The Bridge" and which each month has a different theme that songwriters are encouraged to explore with their tunes, along with between-act material such as poetry and visuals also related to the monthly topic— in the club's tiny Tiki Room since starting in August. But it's apparently going so well they need more space, so up to the big stage they go tonight, starting at 7. With this month's theme being "Belonging," perhaps it's a good time to find out if this show deserves that room for future nights as well.
Young Blues songwriter and spectacular covers artist Sam Taylor, meanwhile, has been checking out various new opportunities for the past couple of months since discontinuing all performances at Relish in East TO, where he first came to our notice about two years ago. Last night he brought his East End Love trio out to the jam at Dora Keogh and rocked the joint, so hopefully will be appearing there for a showcase soon.
Another room he's appeared at recently, The Cavern at 76 Church St. downtown, is happy to welcome the trio back tonight as part of a 9 p.m. two-act pwyc show.
-Gary 17, TorontoMoon.ca
SHOW LISTINGS for Tuesday, November 17, 2021
Listings are organized by area in which the shows occur and within each area field shows are listed chronologically.
Listings preceded by an asterisk (*) are repeating weekly events. (Double asterisk indicates repeating event with different hosts/guest/etc.). Admission prices followed by a slash and minus (/-) after the amount indicates door charge with availability of cheaper rates for some purchases. /+ indicates stated price is minimum.
Names of subscribers appear in bold, are underlined and, where applicable, include a live link to their websites. Advertisers' listings are in larger highlighted type, include live link to website and also have ad icon included in listings.
416 – Toronto Central
6> Ryan O'Shaughnessy @ Cameron House (front), 408 Queen St. W., TO
6:30> Jordana Talsky's Mixed Bag @ The Rex, 194 Queen St. W., TO ~Jazz; $
*7-11> Girls Night Out Jazz singers' Jazz jam with Lisa Particelli, Peter Hill et al @ 120 Diner, 120 Church St., TO
7> Jenna Glatt & Frederico Lulu @ Jazz Bistro, 251 Victoria St., TO ~Jazz
7:30> Three Ring Circus with Bob Cohen @ Tranzac Club (Southern Cross), 292 Brunswick St., TO
7:30 (sign-up at 7)> The Bridge on "Belonging" open stage on "Belonging" theme and between-set showcase music, poetry, etc.; hosted by Lynn Harrison @ Tranzac Club (Main Hall), 292 Brunswick St., TO ~pwyc
8> Jen Lane & John Antoniuk @ Cameron House (front), 408 Queen St. W., TO
8> Mike Gennaro @ Musideum, 401 Richmond St. W., #133, TO ~experimental multi-genre; $10
8> Recording Arts Canada showcase @ Rivoli, 334 Queen St. W., TO; $
8> Wesley Attew; Sara Johnson @ Free Times Café, 320 College St., TO ~
*8:45> Tyler Yarema & His Rhythm @ Reservoir Lounge, 52 Wellington St. E., TO ~Jazz/Blues; $
8:45> Parlour Tricks; Step Echo; Goodnight Sunrise; Glory Glory @ Horseshoe Tavern, 370 Queen St. W., TO ~indie; free
9> Aaron Andrews; Sam Taylor & The East End Love @ The Cavern Bar, 76 Church St., TO ~indie/Blues-Rock
9> Andy White @ Cameron House (rear), 408 Queen St. W., TO
*9> Chris Caddell Blues Band @ Lou Dawgs, 598 King St. W., TO ~Blues
*9:30> open mic @ The Paddock, 178 Bathurst St., TO
9:30> Jazz jam @ The Rex, 194 Queen St. W., TO ~Jazz; $
*10-2> The Sattalites @ Orbit Room, 580 College St., TO ~original & cover Reggae/Funk; $
10> Ken McDonald Quartet @ Tranzac Club (Southern Cross), 292 Brunswick St., TO ~Jazz
*10> The Hit Pickers @ Cloak & Dagger, 294 College St., TO
10> The Sinners Choir @ Cameron House (front), 408 Queen St. W., TO ~Rockabilly
10> King Khan & BBQ; Milk Lines @ Lee's Palace, 529 Bloor St. W., TO; $
10:30> Phil Hood & John Bridges @ The Hideout, 484 Queen St. W., TO ~indie Rock

416 – Toronto East
*6-9> Julian Fauth solo @ Sauce, 1376 Danforth Ave., TO East ~original Blues piano
7-9> Mark Ripp @ Relish, 2152 Danforth Ave., TO East ~songwriter
8> FingerStyleGuitar.ca open stage @ Hirut, 2050 Danforth Ave., TO East ~Roots
8> Belle Matthews; Collette Andrea @ Linsmore Tavern, 1298 Danforth Ave., TO East ~indie; free
8:30-10:30> Johnson Crook @ Castro's, 2116 Queen St. E., TO East
9> open mic @ Groove Bar, 1952 Danforth Ave., TO East
*9-1> jam with Frank Wilks @ The Duke Live, 1225 Queen St. E., TO East
9> The Laughing Monkey @ The Only Café, 972 Danforth Ave., TO East ~comedy
*9:30> Peter Verity @ Black Swan, 154 Danforth Ave., TO East ~Folk Roots
**9:30-12> open stage hosted by Jay Pennell or Kyle Duffin @ The Old Nick, 123 Danforth Ave., TO East
416 – Toronto Etobicoke
7> Death of an Ear; Brightwell; White Fox Society @ The Rockpile, 5555 Dundas St. W., Etobicoke; $
416 – Toronto Scarborough
*9:30> karaoke with The English Rose & The Mad Scotsman @ The Fossil & Haggis, 790 Military Trail, Scarborough
416 – Toronto West
5-8> Sarah Kennedy & Matt Pines duo @ Gate 403, 403 Roncesvalles Ave., TO West ~Jazz
8:30> Dione Taylor album release for Born Free @ Hugh's Room, 2261 Dundas St. W., TO West ~gospel Pop/Blues' $22.50/-
8:30> Bad Luck Woman & Her Misfortunes @ Fat City Blues, 890 College St., TO West ~Blues
8:30> Alex Bleeker & The Freaks @ Smiling Buddha, 961 College St., TO West
9> Towers for Indie Tuesdays @ The Piston, 937 Bloor St. W., TO West ~indie; pwyc
9> Se'lah Genesis @ The Local, 396 Roncesvalles Ave., TO West ~urban/World
9> Vivia Kay & Kevin Barrett Duo @ Gate 403, 403 Roncesvalles Ave., TO West ~Jazz
9> Practice @ Burdock, 1184 Bloor St. W., TO West
9> jam night with host band & backline @ The Tennessee, 1554 Queen St. W., TO West
*9:30> jam with Derek Downham or Cody McMillan @ Axis, 3048 Dundas St. W., TO West ~eclectic
10> Beams & guests @ Dakota Tavern, 249 Ossington Ave., TO West
705
7> Tom Batton @ Black Horse Pub, 452 George St. N., Peterborough
10> Racoon Bandit @ The Garnet, 231 Hunter St. W., Peterborough
905 East
5-8> Howard Ross @ Great Blue Heron Casino, 21777 Island Rd., Port Perry ~Blues
*6:30-11> The Woodshed jam with Don Niblett & Frank Zochodne @ Simcoe Blues & Jazz, 926 Simcoe St. N., Oshawa
9> James Cameron @ The Corral, 433 Simcoe St. S., Oshawa ~Country Rock
*10> open mic with Josh Beaven @ The Atria, 59 King St. E., Oshawa
905 North
*8-11> jam with Matthew Kane & The Brews Brothers @ The Crown, 9580 Yonge St., Richmond Hill
*8:30> open mic @ Falcon & Firkin, 10300 Yonge St., Richmond Hill
*9> open mic with Manny D, Andy Earle & Dave Breckels @ Big Chris BBQ, 17380 Yonge St., Newmarket
905 South
*9> Flamin' Groovies with Gord Lewis & Dave Rave @ This Ain't Hollywood, 345 James St. N., Hamilton ~retro Pop
*9:30-1> Traditional Irish jam @ Corktown Pub, 175 Young St., Hamilton
905 West
*8> The Phil & John Show feat. Phil Naro @ Shore Grill, 71 Lakeshore Rd. E., Port Credit ~acoustic Pop Rock
*8-12> Groovestone @ Roc'n Doc's, 105 Lakeshore Rd. E., Port Credit ~Rock/Funk; $
*8 (sign up at 7:30)> open stage with host Neil McNaughton @ Moonshine Café, 137 Kerr St., Oakville; $2
*8:45> open mic with Matt Zadkovich @ Culchain's Irish Pub, 158 Queen St. S., Streetsville-Mississauga
*10> open mic @ The Dickens, 423 Elizabeth St., Burlington
Copyright © 2015 Toronto Moon Magazine. All Rights Reserved