\ TORONTO EAST 150609 \
Energetic and charismatic east-Toronto drummer and poet Steve Hunt passed away in his sleep overnight on the morning of June 8, family and friends have reported. According to a knowledgeable source he had been visiting a friend and stayed over, slipping away during the night.
Steve, who started playing drums when he was 14 and would have been 45 on the 26th of this month, performed with several east-TO and Scarborough Rock bands over the years, including Nocturnal Demise, Murder One, Gorilla Soup, The Excretions, Plastic Sally and Two Fingers.
He was also a regular attendee of various jams, where his talent was highly regarded by fellow players, but also wasn't above improvising to add percussion fills when attending acoustic open stages, which he often did to support fellow players.
He was also known by many friends for a rather wicked and irreverent sense of humour. He had a way of twisting concepts into absurdities that made you laugh even as you wondered "what is going on in that head of his?" Despite a body replete with tattoos, a fondness for sunglasses and rocker attire that could combine to make him look a little fearsome if he so chose, he was also known as a gentle, giving and considerate soul.
While not known as a composer, he had a lyrical gift that many recognized in his poetry and that can be seen in some posts on his Facebook account, including the following one from July of last year that also reflects his philosophy and shows how passionate he was about life:
"It matters not where you come from. Nor your religion. All that matters is that we all realise that we are of the same race. The human race. Let's celebrate our differences and take the time to embrace. Life is too short for all this hate. The whole world's problems can be solved with just two things. Love and compassion. It's so simple yet we always convolute everything. Fuck money!! It's all about shelter, food and love that's it. Let's not complicate everything. That alone is the ticket to life. Along with a few good hugs from friends, family and strangers for that matter. Love to all of you. Let's quit fighting !!!!"
A month later he wrote, in a similar vein:
"I just want to see a world where we can all hold hands. Not look at our neighbour with contempt. And feel like they are trying to take something from us. It's such a shame when you are all in the same game. Stuck with bills, looking for thrills. Wrapped so tight in similar pain. We must realise with open eyes. Our problems they are quite the same. We must be the Sunshine, not the rain. A little tickle for your brain……………Peace and good stuff to you all!!"
Steve's long brown hair, alternatively piercing or beguiling blue eyes and classically handsome facial features also made him a favourite with the ladies.
Cause of death has not been determined but if there was a pre-existing medical condition it was not evident to the many who knew him –just the week before he had attended a jam where he impressed the host with his versatility and energy.
He leaves former wife Carmela Spadafora, children Danielle, Malina and Jade and four grandchildren as well as several nieces and nephews.
Visitations will be at Giffen-Mack Funeral Home at 2570 Danforth Ave. on Thurs., June 11 from 2-4 and 6-8 p.m., with a funeral to be held in the home's chapel on Friday, June 12 at 1 p.m. and a reception afterwards at St. John's Norway Church, 470 Woodbine Ave.
Online condolences can be left at: http://obits.dignitymemorial.com/dignity-memorial/obituary.aspx?n=stephen-hunt&lc=3778&pid=175043584&mid=6476805
-Gary 17, TorontoMoon.ca
Please support this project to help keep the memory of departed musical talents alive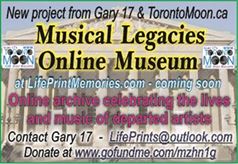 Donate at GOFUNDME.com or contact Gary 17