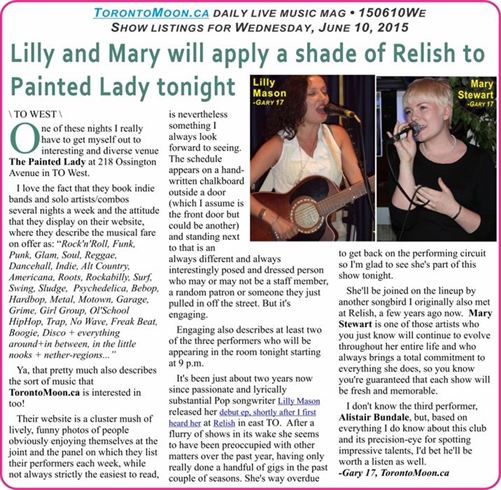 \ TO WEST \
One of these nights I really have to get myself out to interesting and diverse venue The Painted Lady at 218 Ossington Avenue in TO West.
I love the fact that they book indie bands and solo artists/combos several nights a week and the attitude that they display on their website, where they describe the musical fare on offer as: "Rock'n'Roll, Funk, Punk, Glam, Soul, Reggae, Dancehall, Indie, Alt Country, Americana, Roots, Rockabilly, Surf, Swing, Sludge,  Psychedelica, Bebop, Hardbop, Metal, Motown, Garage, Grime, Girl Group, Ol'School HipHop, Trap, No Wave, Freak Beat, Boogie, Disco + everything around+in between, in the little nooks + nether-regions…"
Ya, that pretty much also describes the sort of music that TorontoMoon.ca is interested in too!
Their website is a cluster mush of lively, funny photos of people obviously enjoying themselves at the joint and the panel on which they list their performers each week, while not always strictly the easiest to read, is nevertheless something I always look forward to seeing. The schedule appears on a hand-written chalkboard outside a door (which I assume is the front door but could be another) and standing next to that is an always different and always interestingly posed and dressed person who may or may not be a staff member, a random patron or someone they just pulled in off the street. But it's engaging.
Engaging also describes at least two of the three performers who will be appearing in the room tonight starting at 9 p.m.
It's been just about two years now since passionate and lyrically substantial Pop songwriter Lilly Mason released her debut ep, shortly after I first heard her at Relish in east TO.  After a flurry of shows in its wake she seems to have been preoccupied with other matters over the past year, having only really done a handful of gigs in the past couple of seasons. She's way overdue to get back on the performing circuit so I'm glad to see she's part of this show tonight.
She'll be joined on the lineup by another songbird I originally also met at Relish, a few years ago now.  Mary Stewart is one of those artists who you just know will continue to evolve throughout her entire life and who always brings a total commitment to everything she does, so you know you're guaranteed that each show will be fresh and memorable.
I don't know the third performer, Alistair Bundale, but, based on everything I do know about this club and its precision-eye for spotting impressive talents, I'd bet he'll be worth a listen as well.
-Gary 17, TorontoMoon.ca
SHOW LISTINGS for Wednesday, June 10, 2022
Listings are organized by area in which the shows occur and within each area field shows are listed chronologically.
Listings preceded by an asterisk (*) are repeating weekly events. (Double asterisk indicates repeating event with different hosts/guest/etc.) Admission prices followed by a slash and minus (/-) after the amount indicates door charge with availability of cheaper rates for some purchases. /+ indicates stated price is minimum.
Names of subscribers appear in bold and underlined and, where applicable, include a live link to their websites. Advertisers' listings are in larger, highlighted type, include live link to website and also have ad icon included in listings.
416 – Toronto Central
6> Dave Borins @ Cameron House (front), 408 Queen St. W., TO
6:30> Brian de Lima's Bud Powell tribute @ The Rex, 194 Queen St. W., TO ~Jazz
7> The Ault Sisters @ Monarchs Pub (Eaton Chelsea Hotel), 33 Gerrard St. W., TO ~Jazz Pop
7> Five Crooked Lines; Pyramid Theorem; Black Absinthe; Run @ The Rivoli, 334 Queen St. W., TO ~indie; $11
7:30> Arnd Jurgensen with Starfires @ Tranzac Club (Southern Cross), 292 Brunswick Ave. TO
7:30> Anna Chante PIAF @ Tranzac Club (Main Hall), 292 Brunswick Ave. TO
**8> open stage with 9 p.m. feature by Mike Wiedman @ Fat Albert's, 25 Cecil St. (Steelworkers Hall), TO ~Roots
*8-1> open jam with Wednesday's Child feat. Johnny Bootz Hutt @ Lola, 40 Kensington Ave., TO
8> Suzanne Jarvie @ Cameron House (front), 408 Queen St. W., TO
8:30> Noah Pascoe & Friends @ Free Times Cafe, 320 College St., TO ~songwriter; $5
*8:30> Crazy Strings host High Lonesome Wednesdays with opening acoustic act @ Silver Dollar 486 Spadina Ave., TO ~Bluegrass
8:30> Walter Martin; Josh Rouse @ Horseshoe Tavern, 370 Queen St. W., TO ~songwriter; $20.50
*8:45> Bradley & The Bouncers @ Reservoir Lounge, 52 Wellington St. E., TO ~Jazz/Blues/R&B
*9> open mic with Sean Barker @ Monarch Tavern, 12 Clinton St., TO
*9:30-2> jam with B-Sides @ The Unicorn, 175 Eglinton Ave. E., TO North
9:45> Kirk MacDonald's Jazz Orchestra @ The Rex, 194 Queen St. W., TO ~Jazz
10> Johnson Crook @ Cameron House (front), 408 Queen St. W., TO
10> Ken Aldcroft's Convergence Ensemble @ Tranzac Club (Southern Cross), 292 Brunswick Ave. TO
*10-2> Blues-Rock jam with Bruce Domoney @ Grossman's, 379 Spadina Ave. TO
10:30> Chatty Cathy @ The Hideout, 484 Queen St. W., TO ~indie
*10:30> The LMT Connection @ Orbit Room, 580 College St. TO ~Funk/R&B; $10
416 – Toronto East
*6-11> Rock jam with Scar-Bro Pete & Lee Van Leer @ Melange, 172 Main St., TO East
*7:30-10:30> The BTBs @ Relish, 2152 Danforth Ave., TO East ~Jazz
8> Lzrszn @ The Only Café, 972 Danforth Ave., TO East ~space Jazz
8:30-10:30> WE-B3 @ Castro's, 2116 Queen St. E., TO East
*9:30> open stage with Nicola Vaughan @ Black Swan (downstairs), 154 Danforth Ave., TO East

416 – Toronto West
5-8> Michelle Rumball & friend @ Gate 403, 403 Roncesvalles Ave., TO West ~Jazz
**8-10:30> Hump Night Blues with Dave McManus & Cleave Anderson + special guest Voodoo Walters @ On Cue Billiards, 349 Jane St., TO West ~Blues
*8-12> Girls Night Out Jazz singers jam with Lisa Particelli, Peter Hill et al @ Chalkers, 247 Marlee Ave., TO North-West
8:30> Le Vent Du Nord album release @ Hugh's Room, 2261 Dundas St. W., TO West ~original Quebecois Roots-Pop; $25
9-12> Blues Night with Julian Fauth & guests @ Gate 403, 403 Roncesvalles Ave., TO West ~original Juno-winning Blues
9> Alistair Bundale; Mary Stewart; Lilly Mason @ The Painted Lady, 218 Ossington Ave., TO West ~original Pop
9> Sons Of Rhythmn @ The Tennessee, 1554 Queen St. W., TO West
9> Joey Wright @ The Local, 396 Roncesvalles Ave., TO West
9> Green and Gold; Suds @ Dakota Tavern, 249 Ossington Ave., TO West
416 – Etobicoke
8-1> Maxine 'n Christina @ Timothy's Pub, 344 Brown's Line, Etobicoke South ~Pop/Jazz duo; $
416 – Scarborough
* 7> jam with Tommy Rocker's Classic Rock Band @ Fox at Scarborough Junction, 646 Danforth Rd., Scarborough
*8:30> Al Reilly's Catalyst @ Centro Pizza, 3408 Kingston Rd., Scarborough ~classic Rock
*8:30> open mic with Jadzia Skye & Michael Oesch @ Chez Helene's, 1437 Kingston Rd., Scarborough
905 East
7> Bruce Hughes @ Simcoe Blues & Jazz, 926 Simcoe St. N., Oshawa
8-12> open mic night @ Fionn MacCool's Ajax, 32 Kingston Rd. E. Ajax
*8-11> open mic @ Frank's Pasta, 426 King St. E., Cobourg
*9-12> jam with Damage Control @ St. Louis Bar & Grill Ajax, 11 Harwood Ave. S., Ajax
905 West
*8-12> All-ages jam with band featuring Dave Girdlestone of Soul Funkshun on guitar & host Kevin Reid @ Sixth Line Pub, 1500 Sixth Line, Oakville
*8-2> Paul & Curtis @ Roc'n Doc's, 105 Lakeshore Rd. E., Port Credit ~Rock/Pop
8-1> Songbirds with host Sarah Beatty & various fem songwriters @ Moonshine Café, 137 Kerr St., Oakville ~$6 or pwyc
*9> open mic jam with Jack B Nimble @ Blarney's Gate, 1151 Dundas St. W., Mississauga
*9?> jam with Michael Zane or Pat Dowds @ Shakers, 580 Kerr St., Oakville
9:30> The Carson Freeman Diversion @ Shore Grill, 71 Lakeshore Rd. E., Port Credit ~Pop Rock
905 North
*7> open mic night with Tanya Joy Senior @ Col. McGrady's Pub, 44 Brock St. W., Uxbridge
*8-12> acoustic jam with Tony Paglia & Aaron Soloman @ Jake's Boathouse Brampton, 59 First Gulf Rd., Brampton
*8-12> open mic with Kevin Ker @ Aw Shucks, 15230 Yonge St., Aurora
*9-1> open mic jam with Whiskey Birds @ Sweetz Lounge, 5289 Hwy 7, Woodbridge-Vaughan
905 South
*8:30> Something Country @ The Endzone, 1900 King St. E., Hamilton ~Country
**8-1> "Country Pubkin" Night with Country artists tba @ Corktown Pub, 175 Young St., Hamilton
*9> Cold Water; Baby Eagle @ This Ain't Hollywood, 345 James St. N., Hamilton
519
*9> The Phil & John Show feat. Phil Naro @ Molly Bloom's Waterloo, 170 University Ave., Waterloo ~acoustic Pop Rock
705
*7-11> open jam with Wayne Buttery Band @ The Beacon, 146 45th St., Wasaga Beach
7> Art Lajambe @ Black Horse Pub, 452 George St. N., Peterborough
10> Prufrock; Shadow-Runner @ The Garnet, 231 Hunter St. W., Peterborough
Copyright © 2015 Toronto Moon Magazine. All Rights Reserved