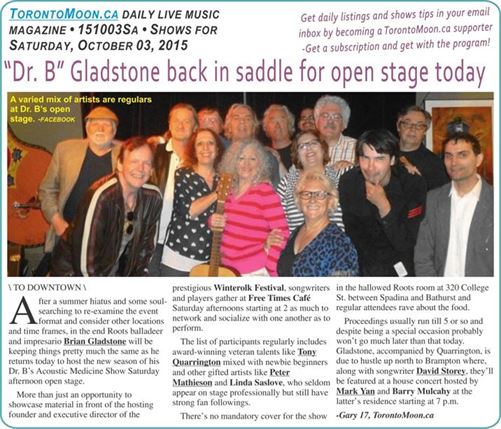 \ TO DOWNTOWN \
After a summer hiatus and some soul-searching to re-examine the event format and consider other locations and time frames, in the end Roots balladeer and impresario Brian Gladstone will be keeping things pretty much the same as he returns today to host the new season of his Dr. B's Acoustic Medicine Show Saturday afternoon open stage.
More than just an opportunity to showcase material in front of the hosting founder and executive director of the prestigious Winterolk Festival, songwriters and players gather at Free Times Café Saturday afternoons starting at 2 as much to network and socialize with one another as to perform.
The list of participants regularly includes award-winning veteran talents like Tony Quarrington mixed with newbie beginners and other gifted artists like Peter Mathieson and Linda Saslove, who seldom appear on stage professionally but still have strong fan followings.
There's no mandatory cover for the show in the hallowed Roots room at 320 College St. between Spadina and Bathurst and regular attendees rave about the food.
Proceedings usually run till 5 or so and despite being a special occasion probably won't go much later than that today. Gladstone, accompanied by Quarrington, is due to hustle up north to Brampton where, along with songwriter David Storey, they'll be featured at a house concert hosted by Mark Yan and Barry Mulcahy at the latter's residence starting at 7 p.m.
-Gary 17, TorontoMoon.ca
SHOW LISTINGS for Saturday, October 03, 2021
Listings are organized by area in which the shows occur and within each area field shows are listed chronologically.
Listings preceded by an asterisk (*) are repeating weekly events. (Double asterisk indicates repeating event with different hosts/guest/etc.). Admission prices followed by a slash and minus (/-) after the amount indicates door charge with availability of cheaper rates for some purchases. /+ indicates stated price is minimum.
Names of subscribers appear in bold, are underlined and, where applicable, include a live link to their websites. Advertisers' listings are in larger, highlighted type, include live link to website and also have ad icon included in listings.
416 - Toronto Central
*12-3> The Sinners Choir @ The Rex, 194 Queen St. W., TO ~Jazz
1:30-4:30> Words & Music with hosts Linda Stitt + guests @ Vino Rosso, 995 Bay St. TO ~eclectic original mix
*2> Dr. B's Acoustic Medicine Show open stage with Brian Gladstone @ Free Times Café, 320 College St. TO ~Roots
2-6> Greg Godovitz Band @ Hard Rock Café, 283 Yonge St., TO ~Rock
3> The Hot Five Jazzmakers @ C'est What, 67 Front St. E., TO ~traditional Jazz; $5
3> Jamzac @ Tranzac Club (Southern Cross), 292 Brunswick Ave., TO
3:30> Swing Shift Big Band @ The Rex, 194 Queen St. W., TO ~Jazz
3:30> Dave Young Quartet @ The Pilot, 22 Cumberland St., TO ~Jazz
4> The Sin City Boys featuring Kevin Jollimore @ Graffiti's, 170 Baldwin St., TO ~classic Rock with a Tex Mex twist

4-7> Fabulous Rave @ Seven44, 744 Mount Pleasant Road, TO North; $
*4-7> Climax Jazz Band @ Alleycatz, 2409 Yonge St., TO North ~Dixieland Jazz; $?
*4:40-7:30> The Happy Pals @ Grossman's, 379 Spadina Ave., TO ~New Orleans Jazz
6> Rattlesnake Choir @ Cameron House (front), 408 Queen St. W., TO ~Rockabilly
7> Toronto Improvisers Performance @ Tranzac Club (Southern Cross), 292 Brunswick Ave., TO
7> Keith Hallett @ The Rex, 194 Queen St. W., TO ~ Fredricton Jazz
7:30> Abigail Lapell & Freinds @ Tranzac Club (Southern Cross), 292 Brunswick Ave., TO
8:30> Jennis @ Free Times Café, 320 College St. TO ~cello/vocal duo; $5
8> Outside In @ May Café, 876 Dundas St. W., TO
9> Orangeman @ Seven44, 744 Mount Pleasant Road, TO North
9> Ariel Pocock Trio @ Jazz Bistro, 251 Victoria St., TO ~piano vocal Jazz standards & originals; $
9> Jeff G & The Four Heads @ Lola, 40 Kensington Ave., TO ~classic Rock
9> Decibel Dogs; 40 Proof & Friends @ Drums N Flats, 1980 Avenue Rd., TO North
9> Annette Shaffer; Gare Black; Ben Walker Project @ Cameron House (rear), 408 Queen St. W., TO
9:30> Soular @ Alleycatz, 2409 Yonge St., TO North ~Funk/Soul/R&B; $
9:45> Nancy Walker Quintet @ The Rex, 194 Queen St. W., TO ~Jazz
*9:45> Tyler Yarema & His Rhythm @ Reservoir Lounge, 52 Wellington St. E., TO ~Jazz/Blues; $
10> Ride The Tiger @ Orbit Room, 480 College St. TO ~Funk/Soul; $
10> Jack Marks @ Cameron House (front), 408 Queen St. W., TO
10> Low Country Hill @ Tranzac Club (Southern Cross), 292 Brunswick Ave., TO
10-2> Damned Neighbours @ Grossman's, 379 Spadina Ave., TO ~Blues/Rock
10> Good Riddance; Off With Their Heads; Iron Chic; Brutal Youth @ Lee's Palace, 529 Bloor St. W., TO ~indie; $22.50
10:30> Wednesday's Engine @ The Hideout, 484 Queen St. W., TO ~indie Rock
11> Shake A Tail @ Sneaky Dee's, 431 College St., TO ~indie; $
1-4 am> Ferraro @ Cameron House (front), 408 Queen St. W., TO
416 - Toronto East
*3:30-6> Johnny Wright @ Outriggers, 2232 Queen St. E., TO East ~R&B
*4-7:30> Ronnie Hayward Trio @ McQueen's, 993 Queen St. E., TO E. ~Blues/Roots
6-8> The Cosmotones @ Castro's, 2116 Queen St. E., TO East ~Blues/Roots
8> Lucas Stagg @ The Feathers, 962 Kingston Rd., TO East ~Rockabilly songwriter
8?> Alkistis Proptopsalti; Eleftheria @ The Danforth Music Hall, 147 Danforth Ave., TO East ~$86.50-$127
8> Mudpunch @ The Only Café, 972 Danforth Ave., TO East ~Blues duo
9:30-11:30> Linda Lavender Band @ Relish, 2152 Danforth Ave., TO East ~
9:30> Tyler Ellis @ Black Swan Tavern, 154 Danforth Ave., TO East ~songwriter
9:30> Erin Ford album release party @ The Duke Live, 1225 Queen St. E., TO East ~songwriter; $
9:30> Darkest Side of The Moon @ Linsmore Tavern, 1298 Danforth Ave., TO East ~Pink Floyd tribute; $10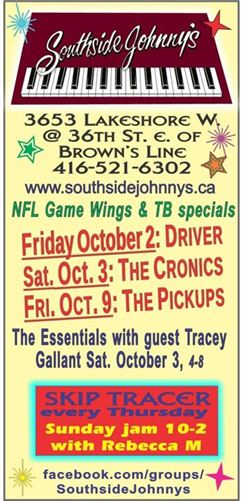 416 – Toronto Etobicoke
*3-6> Danny B Band @ Blue Goose, 1 Blue Goose St., Etobicoke South ~R&B/Blues
**4-8> The Bear's Essentials with guest singer Tracey Gallant @ Southside Johnny's, 3653 Lake Shore Blvd. W. Etobicoke South ~Rock-R&B
*4-8> The Meteors with guest Michael Zweig @ Timothy's Pub, 344 Brown's Line, Etobicoke South ~Blues/Rock/R&B
7:30> Danny Christianson Quartet @ Old Mill Inn, 21 Old Mill Rd., Etobicoke ~Jazz; minimum table charge
8> One Ugly Cowboy; Alessia Cohle @ The Rockpile, 5555 Dundas St. W., Etobicoke ~alt Country; $15
9> The O'Deadly's @ Blue Goose Tavern, 1 Blue Goose Rd., Etobicoke South ~Pop Rock
9> Cottage Brew @ Maple Leaf House, 2749 Lake Shore Boulevard West, Etobicoke ~Rock/Top 40/Blues
9:30> The Neil Young'uns @ Timothy's Pub, 344 Brown's Line, Etobicoke South ~Neil Young tribute; $
10-2> The Cronics @ Southside Johnny's, 3653 Lake Shore Blvd. W. Etobicoke South ~Rock/Top 40
416 – Toronto Scarborough
9-1> Fraser-Daley @ Black Dog Pub, 87 Island Rd., Scarborough ~acoustic Blues
9> Stone Slinger @ The Birchmount, 462 Birchmount Rd., Scarborough
*9:30-2> karaoke with The English Rose & The Mad Scotsman @ Winners, 2181 Lawrence Ave. E., Scarborough
9:30> Landing Jupiter @ Stone Cottage Pub, 3750 Kingston Rd., Scarborough ~Pop Rock
9:30> Strictly Sabbath @ Smiling Jacks, 3482 Lawrence Ave. E., Scarborough ~classic Rock
416 - Toronto West
*12-3> Julian Fauth's Blues Brunch @ Axis, 3048 Dundas St. W., TO West ~Blues
**2-6> open mic with guest host Jennifer Jodie-Brown @ Magic Oven, 347 Keele St., TO West
**5-8> Bill Heffernan's Saturday Sessions with featured guests Chris Staig & The Marquee Players @ Gate 403, 403 Roncesvalles Ave. TO West –Jazz
5-8> Cowboy Crashing @ The Local, 396 Roncesvalles Ave., TO West ~Roots/Americana
7:45> Rend; Rub; Return For Refund; Salazar; Michel Dequevedo; Rubie Magnitude @ The Painted Lady, 218 Ossington Ave., TO West
8-10> Nicole Coward @ Humble Beginnings, 3109 Dundas St. W., TO West ~acoustic Roots/Blues/Pop
9-1> S.O.A. Jazz Band @ Gate 403, 403 Roncesvalles Ave., TO West ~ Jazz
9> Alistair Cristl @ The Local, 396 Roncesvalles Ave., TO West ~Rockabilly
9:30> Greg Wyard @ Brazen Head Pub, 165 East Liberty St., TO West ~acoustic Pop Rock
10-2> The Mercenaries @ Dakota Tavern, 249 Ossington Ave., TO West ~$
519
9> The Doozies @ Fionn MacCool's Guelph, 494 Ediburgh Rd. S., Guelph
9:30> Tom Kovacs @ Fionn MacCool's Orangeville, 75 Fourth Ave., Orangeville
705
8:30> House Brand @ Black Horse Pub, 452 George St. N., Peterborough
9> Acoustic Punk Show with Wayne Kennedy; James Higgins; Kink; Sheehan D. Jordan; Rich Chris; Mitch Barber @ The Garnet, 231 Hunter St. W., Peterborough ~acoustic Punk; $2
9?> Kappa Chow, Beef Boys, Lonely Parade, Casper Skulls @ The Spill, 414 Georg St., Peterborough
9:30> Lisa Hutchinson Band @ Sticky Fingers Dunlop, 150 Dunlop St. W., Barrie ~Rock/R&B
905 East
*4> PRJ @ Simcoe Blues & Jazz, 926 Simcoe St., Oshawa ~Blues
*9-1> karaoke & Puck & Beaver 15th Anniversary Party with Rob MacArthur @ Tudor Rose, 700 Harwood Ave. S., Ajax
9> Christina Leroux @ The Corral, 433 Simcoe St. S., Oshawa ~Country
9-1> Stone House @ Simcoe Blues & Jazz, 926 Simcoe St. N., Oshawa
9:30> Midnight Jewel featuring Brian Potts on bass @ West Shore, 877 Bayly St., Pickering ~Rock/Pop
9:30> The Philcos @ The Edge, 250 Bayly St., Ajax
10-2> Cece Pastor & Word Of Mouth @ Fionn MacCool's Ajax, 36 Kingston Rd. E., Ajax ~Pop Rock
10-2> Deuce @ Whisky John's, 843 King St. W., Oshawa
905 North
7> David Storey with Brian Gladstone & Tony Quarrington with Mark Yan & Barry Mulcahy at Mulcahy residence, 31 Maidstone Cresc., Brampton ~original Roots; reservations only, 905-458-7664
7:30-11:30> Whatever Sticks featuring Sue Martin @ Cornerhouse Lounge, 6403 Main St., Stouffville
9-1> Bone-Yard @ Oscar's Roadhouse, 1785 Queen St. E., Brampton ~Pop Rock/Top 40
9> Steve Peconi @ Fionn MacCool's Newmarket, 17315 Leslie St., Newmarket
9> Plan B @ King Richard's Pub, 15570 Yonge St., Aurora ~Pop Rock
9> Darren Hancock Band @ Memphis North, 18947 Woodbine Ave., East Gwillimbury ~Country
9:30> Bad Dog with Amanda Rose on vocals @ Hogan's Inn, 12998 Keel St. N., King City
9:30> Side B Vibe @ McGibbon Hotel, 79 Main St. S., Georgetown ~Rock/Top 40
9:30> Deja Vu @ Stewart Maguire's Landing, 15 Allan Rd., Bolton
9:30> Nine Times @ Jake's Boathouse Brampton, 59 First Gulf Rd., Brampton ~Pop Rock
9:30> Switchbeat @ Aw Shucks, 15230 Yonge St., Aurora ~Pop Rock
905 South
**2> Brant Parker Band with guest tba @ Donnelley's Pub, 54 Front St., Thorold ~Blues
*2-6> jam w. Tom Finocchio @ Sam's Place, Barton-Chestnut Sts., Hamilton
**2:30> special guest with The Mighty Duck Band, The Duck, 244 Ontario St., St. Catharines ~R&B/Blues
9> Sparrow Lake @ Coach & Lantern, 384 Wilson St E., Hamilton
9> Hey Clown; Backbiters @ This Ain't Hollywood, 345 James St. N., Hamilton ~Hard Rock; $
9> tba @ Casbah Lounge, 306 King St. W., Hamilton
9> Jack de Keyzer Band @ Stonewalls, 339 York Blvd., Hamilton ~Blues; $
**9> Niagara Rhythm Section @ The Old Winery, 2228 Niagara Stone Rd., Niagara-On-The-Lake ~R&B/Blues
9:30> Lefty & The Goons @ Norfolk Tavern, 200 Main St., Port Dover ~classic Rock
10> The Hosts @ Doc Magilligan's Irish Pub, 6400 Lundy's Lane, Niagara Falls
10:30> Risky Business @ Corktown Pub, 175 Young St., Hamilton ~indie; free
905 West
**2-6> Sil Simone Band with special guest Peter Graham Misfud @ Carrigan Arms, 2025 Upper Middle Rd., Burlington ~Rock/Blues
**2-6> Saturday Blues Sermon with James Anthony & special guest John Mays @ Black Swan Pub Burlington, 4040 Palladium Way, Burlington ~Blues
*3-7> jam with Michelle Deneault & Redder @ Port Credit Legion, 35 Front St., Port Credit
*3-7> open stage jam @ Moonshine Café, 137 Kerr St., Oakville; $2
*6-9> Victoria & Bobby Keys @ Roc'n Doc's, 105 Lakeshore Rd. E., Port Credit ~soft Pop
8-12> Al Lerman solo @ Moonshine Café, 137 Kerr St., Oakville ~resophonic guitar Blues; $10
9> Cutaway @ Carrigan Arms, 2025 Upper Middle Rd., Burlington
9> Kick 'N' Strings @ Fionn MacCool's Burlington, 2331 Appleby Line, Burlington
9:30> Soul Funkshun featuring Dave Girdlestone on guitar @ Boston Manor, 4460 Fairview Ave., Burlington ~Soul/Funk/R&B
9:30> Brand New Low reunion @ Sixth Line Pub, 1500 Sixth Line, Oakville ~Rock/Blues/R&B
9:30> Dan Dyer @ Shore Grill, 71 Lakeshore Rd. E., Port Credit ~Pop Rock/Top 40
9:30> Two For The Show @ The Franklin House, 263 Queen St. S., Streetsville ~Pop Rock
9:30> Bare Blue Sea @ Gator Ted's, 1505 Guelph Line, Burlington
10-2> Project 360 @ Roc'n Doc's, 105 Lakeshore Rd. E., Port Credit ~Rock/Top 40
10> Blush @ Fionn MacCool's Britannia, 825 Britannia Rd. W., Streetsville Mississauga
10:15> Illscarlett @ Failte, 201 City Centre Dr., Mississauga
Copyright © 2015 Toronto Moon Magazine. All Rights Reserved