It was our sad duty a few weeks ago to have to report the unexpected and sudden passing of drummer/poet Steve Hunt, well known to members of TO's Rock and Metal scenes.
A funeral was held on June 12 for the amiable and sardonically witty former member of several bands and regular at east-TO jams, who would have turned 45 last week.
Early afternoons wouldn't be the most conducive time for a lot of Steve's pals to get out to honour him on such short notice, so some of them, acting on behalf of Hunt's wife Carmela Spadafora and mother Jackie, are holding a special memorial concert on Friday, July 3 that will also double as a fundraiser to help defray the family's costs of his funeral, burial and final expenses.
In a fitting twist of fate, the day is also the anniversary of the equally untimely death of singer Jim Morrison of The Doors –one of Steve's lifelong heroes.
The show takes place at The Rockpile, a large live music room at 5555 Dundas St. West in Etobicoke at West Mall Ave. It starts at 7 p.m. and features an impressive lineup of talents including various tribute acts and original Rock combos.
Here's the lineup:
7pm - 7:20pm VALKYRIE'S CRY
7:30-7:50 SLAYER'd
8:00-8:30 STRICTLY SABBATH
8:40-9:10 DISCIPLES of DIO
9:20-9:50 MUFFIN
10:00-10:30 POWERSLAVES
10:40-11:10 PARIS BLACK
11:20-12:10 BLACK DOG
12:30-1:30 DARKEST SIDE OF THE MOON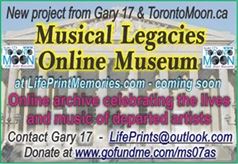 [TorontoMoon.ca, btw, will be including Steve Hunt as one of the artists who will be memorialized in the forthcoming Musical Legacies Online Museum, for which a website has been reserved, as soon as enough donations to the project have been received to allow us to launch it.]
-Gary 17, TorontoMoon.ca