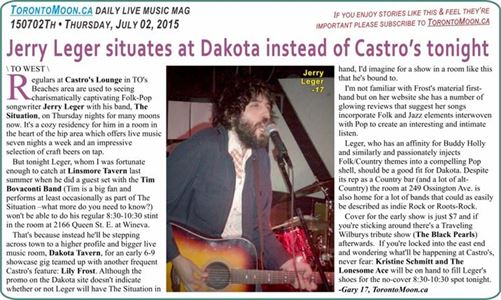 \ TO WEST \
Regulars at Castro's Lounge in TO's Beaches area are used to seeing charismatically captivating Folk-Pop songwriter Jerry Leger with his band, The Situation, on Thursday nights for many moons now. It's a cozy residency for him in a room in the heart of the hip area which offers live music seven nights a week and an impressive selection of craft beers on tap.
But tonight Leger, whom I was fortunate enough to catch at Linsmore Tavern last summer when he did a guest set with the Tim Bovaconti Band (Tim is a big fan and performs at least occasionally as part of The Situation –what more do you need to know?) won't be able to do his regular 8:30-10:30 stint in the room at 2166 Queen St. E. at Wineva.
That's because instead he'll be stepping across town to a higher profile and bigger live music room, Dakota Tavern, for an early 6-9 showcase gig teamed up with another frequent Castro's feature: Lily Frost. Although the promo on the Dakota site doesn't indicate whether or not Leger will have The Situation in hand, I'd imagine for a show in a room like this that he's bound to.
I'm not familiar with Frost's material first-hand but on her website she has a number of glowing reviews that suggest her songs incorporate Folk and Jazz elements interwoven with Pop to create an interesting and intimate listen.
Leger, who has an affinity for Buddy Holly and similarly and passionately injects Folk/Country themes into a compelling Pop shell, should be a good fit for Dakota. Despite its rep as a Country bar (and a lot of alt-Country) the room at 249 Ossington Ave. is also home for a lot of bands that could as easily be described as indie Rock.
Cover for the early show is just $7 and if you're sticking around there's a Traveling Wilburys tribute show (The Black Pearls) afterwards.  If you're locked into the east end and wondering what'll be happening at Castro's, never fear: Kristine Schmitt and The Lonesome Ace will be on hand to fill Leger's shoes for the no-cover 8:30-10:30 spot tonight.
-Gary 17, TorontoMoon.ca
SHOW LISTINGS for Thursday, July 02, 2021
Listings are organized by area in which the shows occur and within each area field shows are listed chronologically.
Listings preceded by an asterisk (*) are repeating weekly events. (Double asterisk indicates repeating event with different hosts/guest/etc.). Admission prices followed by a slash and minus (/-) after the amount indicates door charge with availability of cheaper rates for some purchases. /+ indicates stated price is minimum.
Names of subscribers appear in bold and underlined and, where applicable, include a live link to their websites or event page. Advertisers' listings are in larger type and highlighted, include a live link to their website and also have a copy of the ad included in listings.
416 - Toronto Central
2-4> live music on the patio tba @ The Hideout, 484 Queen St. W., TO ~indie Rock
6> Corin Raymond @ Cameron House (front), 408 Queen St. W., TO ~original Root-Pop
6:30> Kevin Quain @ The Rex, 194 Queen St. W., TO ~moody Blues
7> Alex Pangman & Her Alleycats featuring Peter Hill on keys @ Reservoir Lounge, 52 Wellington St. E., TO ~Jazz/Blues
*7> open mic with Derek Mok @ Kensington Lodge, 21 Kensington Ave., TO
7> Nathan DaSilva @ Drums N Flats, 1980 Avenue Rd., TO North
7:15-11> Chez Imbecile; Rachel Djazmin; Jazz Money; Linda Lavender; Hayley and Jeremy Sing Some Songs; Sideponynation for Fringe Festival @ Busker's Club, 581 Bloor St. W., TO ~eclectic
*7:30-9:30> Bluegrass Thursdays with Houndstooth @ Tranzac Lounge (Southern Cross), 292 Brunswick Ave., TO
*8-1> open mic with Alicia Porter @ The Local Gest, 424 Parliament St., TO
8-12> R&B/Blues @ Nawlin's, 299 King St. W. TO
8> Matt Epp @ Cameron House (rear), 408 Queen St. W., TO
8:30> Wordspell @ Free Times Café, 320 College St. TO ~spoken word; $6
8:30> tba @ Fionn MacCool's Uptown, 1867 Yonge St., TO North
9> Hayley Kiyoko @ The Rivoli, 334 Queen St. W., TO ~$12
9> Spells Of Vertigo; Christian Punk Band; Sedge; Acid Priest @ Horseshoe Tavern, 370 Queen St. W., TO ~indie; $8
9-1> J.W. Jones Band @ Monarchs Pub (Eaton Chelsea Hotel), 33 Gerrard St. W., TO ~Blues
*9-1> Blackburn @ Jo Mamas, 317 King St. W., TO ~Blues
9:30> Shawn Brady & Hervé Basset @ McSorley's, 1544 Bayview Ave., TO North ~Pop Rock duo
9:30> Lydia Hol; Katey Morley @ C'est What, 67 Front St. E., TO ~songwriters; $
*9:45> Mary Mckay @ Reservoir Lounge, 52 Wellington St. E., TO ~Jazz/Blues
9:45> Roddy Elias Trio @ The Rex, 194 Queen St. W., TO ~Jazz
10> Jack Marks @ Cameron House (front), 408 Queen St. W., TO
10> Robertson Quale @ Grossman's, 379 Spadina Ave., TO ~
10> Chris Scian @ Amsterdam Bicycle Club, 54 The Esplanade, TO ~indie Pop
10> Vivienne Wilder @ Tranzac Lounge (Southern Cross), 292 Brunswick Ave., TO
10> Strada Armonia; Northern Roads; Quarter Heads @ Lee's Palace, 529 Bloor St. W., TO; $6
10> Chris Cadell @ Orbit Room, 480 College St. TO ~rockin' Blues; $
10:30> tba @ The Hideout, 484 Queen St. W., TO ~indie Rock
416 - Toronto East
7:30-9:30> Hugh Wilson @ Relish, 2152 Danforth Ave., TO East ~songwriter
*8:30-10:30> Kristine Schmitt and The Lonesome Ace @ Castro's, 2116 Queen St. E., TO East
8> In Between Sounds @ The Only Café, 972 Danforth Ave., TO East ~psych soundscapes
9> Robert London & The Ragged @ Linsmore Tavern, 1298 Danforth Ave., TO East ~indie Blues-Rock
*10-2> karaoke with Shane Taylor @ Relish, 2152 Danforth Ave., TO East
416 - Toronto West
5-8> Carolyn Credico & Mim Adams Duo @ Gate 403, 403 Roncesvalles Ave., TO West ~Jazz
6> Lily Frost & Jerry Leger @ Dakota Tavern, 249 Ossington Ave., TO West; $7
*8-11> Tinderbox Thursdays open stage with Michael Keith @ La Revolucion, 2848 Dundas St. W., TO West ~eclectic
*9-1:30> open stage with Jay Pennell @ Dave's On St. Clair, 730 St. Clair West, TO West ~eclectic
9-12> Melanie Brulee Band @ Gate 403, 403 Roncesvalles Ave., TO West ~Jazz
9> David Celia @ The Local, 396 Roncesvalles Ave., TO West ~indie Pop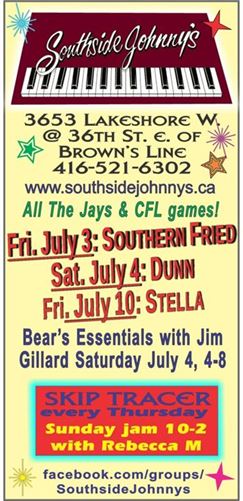 10> The Black Pearls @ Dakota Tavern, 249 Ossington Ave., TO West ~songs by The Traveling Wilburys and members; $
416 - Etobicoke
9> Elmer Ferrer Band @ Timothy's Pub, 344 Brown's Line, Etobicoke South ~Pop Rock
*9:30-2> Skip Tracer @ Southside Johnny's, 3653 Lakeshore Blvd., Etobicoke South ~Rock/Pop
416 – Scarborough
*7-11> Johnson & Cornell (Earl Johnson & Jim Cornell) on the patio @ The Loaded Dog, 1921 Lawrence Ave. E., Scarborough ~acoustic Blues-Rock duo
*9> Tommy Rocker's Classic Rock Band host jam @ Centro Pizza, 3406 Kingston Rd., Scarborough
*9-1> jam with Frank Wilks & Freedom Express @ The Birchmount, 462 Birchmount Rd., Scarborough
9:30> tba @ Black Dog Pub, 87 Island Rd., Scarborough ~Pop Rock
519
*7:30-12> open mic with K.M. Smith @ Molly Bloom's Guelph, 91 Wyndham St. N., Guelph
*8-11> open mic with Sandy MacDonald @ Williamsburg Arms, 1187 Fischer Hallman Rd., Kitchener
705
*7:30> Rob Phillips Band and Chelsea Bennett @ Black Horse Pub, 452 George St. N., Peterborough
*9> jam with Ted Rusk @ The Sauble Dunes, 11 Southampton Parkway, Sauble Beach
10> Bailin' Hey! @ The Garnet, 231 Hunter St. W., Peterborough
905 - East
*5-8> Nelson Denis @ Frank's Pasta, 42 King Street E., Cobourg ~eclectic mix (Folk, Jazz, soft Rock, Latin)
8-12> Phil Naro @ Fionn MacCool's Ajax, 32 Kingston Rd. E. Ajax ~acoustic Pop solo
*?> jam with Darren Smith & Shayne Thomas @ The Corner Pocket, 45 Prince St., Oshawa
*9> jam @ The Wee Pub, 371 Wilson Rd. South, Oshawa
9> tba @ Simcoe Blues & Jazz, 926 Simcoe St. N., Oshawa
*9:30> jam with Billick @ Harp & Crown, 300 Kingston Rd., Pickering
905 - North
*8> open mic with Kevin Ker @ Duchess of Markham, 53 Main St., Markham
905 - South
*9> Kalamalka, Gypsy Ghosts; Torque Hound @ This Ain't Hollywood, 345 James St. N., Hamilton ~Rock; $8
*9> open mic night with rotating hosts @ Coach & Lantern, 384 Wilson St E., Hamilton
10> tba @ Slainte Irish Pub, 33 Bowen St., Hamilton ~acoustic Pop
905 – West
8-12> Freedom Train @ Roc'n Doc's, 105 Lakeshore Rd. E., Port Credit ~Rock/Pop
*8-12> open mic & jam @ Black Swan Pub Burlington, 4040 Palladium Way, Burlington
*8-12> jam hosted by The Personics @ Carrigan Arms, 2025 Upper Middle Rd., Burlington
8:30> The Buddy Love Band hosts jam @ Moonshine Café, 137 Kerr St. Oakville; $5
9:30> Glenn Groves @ Shore Grill, 71 Lakeshore Rd. E., Port Credit ~Pop Rock
*9:30> jam with Jack B Nimble @ Abbey Road Pub, 3200 Erin Mills Parkway, Mississauga
Copyright © 2015 Toronto Moon Magazine. All Rights Reserved