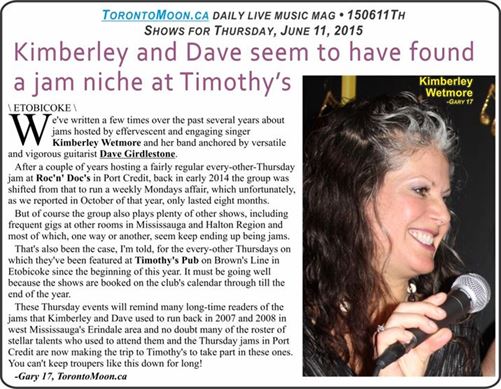 \ ETOBICOKE \
We've written a few times over the past several years about jams hosted by effervescent and engaging singer Kimberley Wetmore and her band anchored by versatile and vigorous guitarist Dave Girdlestone.
After a couple of years hosting a fairly regular every-other-Thursday jam at Roc'n' Doc's in Port Credit, back in early 2014 the group was shifted from that to run a weekly Mondays affair, which unfortunately, as we reported in October of that year, only lasted eight months.
But of course the group also plays plenty of other shows, including frequent gigs at other rooms in Mississauga and Halton Region and most of which, one way or another, seem keep ending up being jams.
That's also been the case, I'm told, for the every-other Thursdays on which they've been featured at Timothy's Pub on Brown's Line in Etobicoke since the beginning of this year. It must be going well because the shows are booked on the club's calendar through till the end of the year.
These Thursday events will remind many long-time readers of the jams that Kimberley and Dave used to run back in 2007 and 2008 in west Mississauga's Erindale area and no doubt many of the roster of stellar talents who used to attend them and the Thursday jams in Port Credit are now making the trip to Timothy's to take part in these ones. You can't keep troupers like this down for long!
-Gary 17, TorontoMoon.ca
SHOW LISTINGS for T

hursday, June 11, 2022
Listings are organized by area in which the shows occur and within each area field shows are listed chronologically.
Listings preceded by an asterisk (*) are repeating weekly events. (Double asterisk indicates repeating event with different hosts/guest/etc.). Admission prices followed by a slash and minus (/-) after the amount indicates door charge with availability of cheaper rates for some purchases. /+ indicates stated price is minimum.
Names of subscribers appear in bold and underlined and, where applicable, include a live link to their websites or event page. Advertisers' listings are in larger type and highlighted, include a live link to their website and also have a copy of the ad included in listings.
416 - Toronto Central
6> Angie Gunn @ Cameron House (front), 408 Queen St. W., TO ~Country
6:30> Kevin Quain @ The Rex, 194 Queen St. W., TO ~moody Blues
6:30> Jessica Speziale @ Magpie Taproom, 831 Dundas St. W., TO West ~original Pop
*7> open mic with Derek Mok @ Kensington Lodge, 21 Kensington Ave., TO
7> From New York with Love featuring Vladimir Cetkar @ Seven44, 744 Mount Pleasant Road, TO North
7> Queen's Players Toronto presents "The Jurassic Games" @ Tranzac Lounge (Main Hall), 292 Brunswick Ave., TO
*7:30-9:30> Bluegrass Thursdays with Houndstooth @ Tranzac Lounge (Southern Cross), 292 Brunswick Ave., TO
*8-1> open mic with Alicia Porter @ The Local Gest, 424 Parliament St., TO
8> Starsailor; Embrace @ Horseshoe Tavern, 370 Queen St. W., TO ~original Brit Pop; $27.50
8-12> R&B/Blues @ Nawlin's, 299 King St. W. TO
8> Emergency Monologues @ Cameron House (rear), 408 Queen St. W., TO ~comedy
8:30> Songwriters Circle of Jerks with Sarah Burton, more @ Free Times Café, 320 College St. TO ~indie
8:30> Ryan Casselman @ Fionn MacCool's Uptown, 1867 Yonge St., TO North
9> Philly Moves with guests @ The Rivoli, 334 Queen St. W., TO ~$12
9-1> Harpdog Brown @ Monarchs Pub (Eaton Chelsea Hotel), 33 Gerrard St. W., TO ~B.C. Blues tyrp
*9-1> Blackburn @ Jo Mamas, 317 King St. W., TO ~Blues
9:30> Kevin Crabb @ The Rex, 194 Queen St. W., TO ~Jazz
*9:45> Mary Mckay @ Reservoir Lounge, 52 Wellington St. E., TO ~Jazz/Blues
10> Luke Bill @ Cameron House (front), 408 Queen St. W., TO
10> Collette Savard & The Kissing Moon @ Tranzac Lounge (Southern Cross), 292 Brunswick Ave., TO
10> Oakland Stroke @ Orbit Room, 480 College St. TO ~Tower of Power tribute; $
10:30> Big Otter Creek @ The Hideout, 484 Queen St. W., TO ~indie Rock
416 - Toronto East

7:30-9:30> Liane Fainsinger Jazz Quartette @ Relish, 2152 Danforth Ave., TO East ~songwriter
*8-10:30> Jerry Leger & The Situation @ Castro's, 2116 Queen St. E., TO East ~Folk-Rock/Country
8> Hot Apollo; The Ending To This Story; Ginela Gonzalez; Jonathan Leon @ Linsmore Tavern, 1298 Danforth Ave., TO East ~Elysium Entertainment indie showcase
*10-2> karaoke with Shane Taylor @ Relish, 2152 Danforth Ave., TO East
416 - Toronto West
5-8> Jacqueline Brown Jazz Band @ Gate 403, 403 Roncesvalles Ave., TO West ~Jazz
6:30> Olivia Chaney with Charlotte Cornfield opening @ Dakota Tavern, 249 Ossington Ave., TO West
*8-11> Tinderbox Thursdays open stage with Michael Keith @ La Revolucion, 2848 Dundas St. W., TO West ~eclectic
8:30> Mary Gauthier @ Hugh's Room, 2261 Dundas St. W., TO West ~Nashville songwriter; $30/-
*9-1:30> open stage with Jay Pennell @ Dave's On St. Clair, 730 St. Clair West, TO West ~eclectic
9-12> Kevin Laliberté Jazz & Flamenco Trio @ Gate 403, 403 Roncesvalles Ave., TO West ~Flamenco/Jazz
9> Gillian Nicola; Beth Moore @ The Painted Lady, 218 Ossington Ave., TO West ~songwriters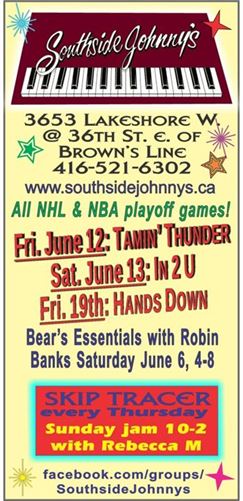 9> Swamperella Lite @ The Local, 396 Roncesvalles Ave., TO West ~Cajun
9:30> Zeppelinesque @ Dakota Tavern, 249 Ossington Ave., TO West
416 - Etobicoke
8> jam night with Kimberley Wetmore Band featuring Dave Girdlestone @ Timothy's Pub, 344 Brown's Line, Etobicoke South
*9:30-2> Skip Tracer @ Southside Johnny's, 3653 Lakeshore Blvd., Etobicoke South ~Rock/Pop
416 – Scarborough
*9> Tommy Rocker's Classic Rock Band host jam @ Centro Pizza, 3406 Kingston Rd., Scarborough
*9-1> jam with Frank Wilks & Freedom Express @ The Birchmount, 462 Birchmount Rd., Scarborough
9:30> Scott Driscoll @ Black Dog Pub, 87 Island Rd., Scarborough ~Pop Rock
519
*7:30-12> open mic with K.M. Smith @ Molly Bloom's Guelph, 91 Wyndham St. N., Guelph
*8-11> open mic with Sandy MacDonald @ Williamsburg Arms, 1187 Fischer Hallman Rd., Kitchener
705
*7:30> open stage with Rob Phillips Band and Chelsea Bennett @ Black Horse Pub, 452 George St. N., Peterborough
*9> jam with Ted Rusk @ The Sauble Dunes, 11 Southampton Parkway, Sauble Beach
10> xPrime @ The Garnet, 231 Hunter St. W., Peterborough
905 - East
*5-8> Nelson Denis @ Frank's Pasta, 42 King Street E., Cobourg ~eclectic mix (Folk, Jazz, soft Rock, Latin)
7> KLOKE Fantini Jazz Duo @ Simcoe Blues & Jazz, 926 Simcoe St. N., Oshawa ~Jazz
8-12> tba @ Fionn MacCool's Ajax, 32 Kingston Rd. E. Ajax ~Pop
8:30> Howard Ross & Full Count Blues Band with special guest Pat Carey @ 1847 Bistro, 45 Baldwin St. N., Whitby ~Blues; $5
*?> jam with Darren Smith & Shayne Thomas @ The Corner Pocket, 45 Prince St., Oshawa
*9> jam @ The Wee Pub, 371 Wilson Rd. South, Oshawa
*9:30> jam with Billick @ Harp & Crown, 300 Kingston Rd., Pickering
905 - North
7-11> tba @ Fionn MacCool's Vaughan, 6110 Hwy #7, Vaughan ~acoustic Pop
*8> open mic with Kevin Ker @ Duchess of Markham, 53 Main St., Markham
905 - South
*9> China Crisis; Ash & Bloom @ This Ain't Hollywood, 345 James St. N., Hamilton ~original Brit Pop
*9> open mic night with rotating hosts @ Coach & Lantern, 384 Wilson St E., Hamilton
10> Nathan Burke @ Slainte Irish Pub, 33 Bowen St., Hamilton ~acoustic Pop
905 – West
8-12> Freedom Train @ Roc'n Doc's, 105 Lakeshore Rd. E., Port Credit ~Rock/Pop
*8-12> open mic & jam @ Black Swan Pub Burlington, 4040 Palladium Way, Burlington
*8-12> jam hosted by The Personics @ Carrigan Arms, 2025 Upper Middle Rd., Burlington
8:30> John Marlatt & Friends @ Moonshine Café, 137 Kerr St. Oakville ~eclectic songwriters night
9:30> Glenn Groves @ Shore Grill, 71 Lakeshore Rd. E., Port Credit ~Pop Rock
*9:30> jam with Jack B Nimble @ Abbey Road Pub, 3200 Erin Mills Parkway, Mississauga
Copyright © 2015 Toronto Moon Magazine. All Rights Reserved