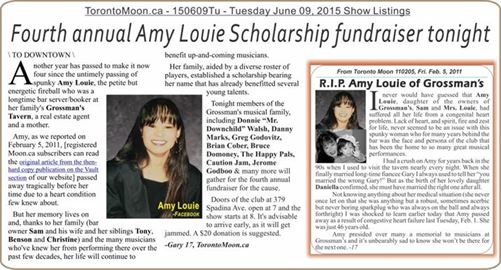 \ TO DOWNTOWN \
Another year has passed to make it now four since the untimely passing of spunky Amy Louie, the petite but energetic fireball who was a longtime bar server/booker at her family's Grossman's Tavern, a real estate agent and a mother.
Amy, as we reported on February 5, 2011, [registered Moon.ca subscribers can read the original article from the then-hard copy publication on the Vault section of our website] passed away tragically before her time due to a heart condition few knew about.
But her memory lives on and, thanks to her family (bar owner Sam and his wife and her siblings Tony, Benson and Christine) and the many musicians who've knew her from performing there over the past few decades, her life will continue to benefit up-and-coming musicians.
Her family, aided by a diverse roster of players, established a scholarship bearing her name that has already benefitted several young talents.
Tonight members of the Grossman's musical family, including Donnie "Mr. Downchild" Walsh, Danny Marks, Greg Godovitz, Brian Cober, Bruce Domoney, The Happy Pals, Caution Jam, Jerome Godboo & many more will gather for the fourth annual fundraiser for the cause.
Doors of the club at 379 Spadina Ave. open at 7 and the show starts at 8. It's advisable to arrive early, as it will get jammed. A $20 donation is suggested.
-Gary 17, TorontoMoon.ca
SHOW LISTINGS for Tuesday, June 09, 2022
Listings are organized by area in which the shows occur and within each area field shows are listed chronologically.
Listings preceded by an asterisk (*) are repeating weekly events. (Double asterisk indicates repeating event with different hosts/guest/etc.). Admission prices followed by a slash and minus (/-) after the amount indicates door charge with availability of cheaper rates for some purchases. /+ indicates stated price is minimum.
Names of subscribers appear in bold, are underlined and, where applicable, include a live link to their websites. Advertisers' listings are in larger highlighted type, include live link to website and also have ad icon included in listings.
416 – Toronto Central
6> Liam Titcomb @ Cameron House (front), 408 Queen St. W., TO
6:30> Julia Cleveland Quintet @ The Rex, 194 Queen St. W., TO ~Jazz
*7> open mic @ The Central, 603 Markham St., TO
7:30> Aurochs @ Tranzac Club (Southern Cross), 292 Brunswick St., TO ~Jazz
8> 4th Annual Amy Louie Grossman's Musical Scholarship fundraiser concert with Donnie "Mr. Downchild" Walsh, Danny Marks, Greg Godovitz, Brian Cober, The Happy Pals, Bruce Domoney, Jerome Godboo & many more @ Grossman's, 379 Spadina Ave., TO ~Blues/Rock
8> Carolyn Mark @ Cameron House (front), 408 Queen St. W., TO
8> Alma Cassels with Lobu; Jack The Lads; Do Tell; Twin Rivers @ The Rivoli, 334 Queen St. W., TO ~indie; $10
8:30> Noah Pascoe & Friends @ Free Times Café, 320 College St., TO ~songwriter; $5
*8:45> Tyler Yarema & His Rhythm @ Reservoir Lounge, 52 Wellington St. E., TO ~Jazz/Blues
9> Special Guests; Josh Bravener & The Hypochondriacs; Tor Miller; Mauno @ Horseshoe Tavern, 370 Queen St. W., TO ~indie
9:30> Mike Pelletier's Jazz At The Rex @ The Rex, 194 Queen St. W., TO ~Jazz
*10-2> The Sattalites @ Orbit Room, 580 College St., TO ~orig. & cover Reggae/Funk
10> Bedroom @ Tranzac Club (Southern Cross), 292 Brunswick St., TO ~Jazz
10> Raven Shields @ Cameron House (front), 408 Queen St. W., TO
10:30> The World Is Yours Acoustic Duo @ The Hideout, 484 Queen St. W., TO ~indie Pop
Please support this project to help keep the memory of departed musical talents alive
416 – Toronto East
*6-9> Julian Fauth solo @ Sauce, 1376 Danforth Ave., TO East ~original Blues piano
7-9> Clela Errington Duo @ Relish, 2152 Danforth Ave., TO East ~songwriter
8> FingerStyleGuitar.ca open stage @ Hirut, 2050 Danforth Ave., TO East ~Roots
8-10> Carlos Lopez @ Castro's, 2116 Queen St. E., TO East
**9> open mic with host Jody Ferrer & 10 p.m. feature by tba @ Groove Bar, 1952 Danforth Ave., TO East
*9:30> Peter Verity @ Black Swan, 154 Danforth Ave., TO East ~Folk Roots
*9:30-12> open stage hosted by Jennifer Brewer @ The Old Nick, 123 Danforth Ave., TO East
*9:30> jam with Frank Wilks & Friends @ The Duke Live, 1225 Queen St. E., TO East
416 – Toronto West
5-8> Thom Mason Band @ Gate 403, 403 Roncesvalles Ave., TO West ~Jazz
9> Mercy Flight feat. Steve York; Josh Garbe; The Fox & The Moon for Indie Tuesdays @ The Piston, 937 Bloor St. W., TO West ~indie; pwyc
9> David Celia @ The Local, 396 Roncesvalles Ave., TO West ~indie Pop
9> Lisa Patterson's Roam @ Gate 403, 403 Roncesvalles Ave., TO West ~original Roma Roots trio
**9> aBabe Music presents Family Dinner; Libby Yonge; The Naked Wild @ The Painted Lady, 218 Ossington Ave., TO West ~indie showcase; $5
*9:30> jam with Derek Downham @ Axis, 3048 Dundas St. W., TO West ~eclectic
416 – Scarborough
*9:30> karaoke with The English Rose & The Mad Scotsman @ The Fossil & Haggis, 790 Military Trail, Scarborough
705
7> Randy Dawson @ Black Horse Pub, 452 George St. N., Peterborough ~Pop Rock
10> The Wicks; Baked Goods @ The Garnet, 231 Hunter St. W., Peterborough
905 East
*6:30-11> The Woodshed jam with Don Niblett & Frank Zochodne @ Simcoe Blues & Jazz, 926 Simcoe St. N., Oshawa
9> Darren Hancock @ The Corral, 433 Simcoe St. S., Oshawa ~Country Rock
*10> open mic with Josh Beaven @ The Atria, 59 King St. E., Oshawa
905 North
*8-11> jam with Matthew Kane & The Brews Brothers @ The Crown, 9580 Yonge St., Richmond Hill
*8:30> open mic @ Falcon & Firkin, 10300 Yonge St., Richmond Hill
*9> open mic with Manny D, Andy Earle & Dave Breckels @ Big Chris BBQ, 17380 Yonge St., Newmarket
905 South
*8-11> Michael Keys & Friends @ The Ale House, 802 Upper Gage Ave., Hamilton ~Pop/Jazz
*9:30-1> Traditional Irish jam @ Corktown Pub, 175 Young St., Hamilton
*9> Hello Cat Piano hosts open stage @ This Ain't Hollywood, 345 James St. N., Hamilton
905 West
*8-12> Marshall Dane Trio @ Roc'n Doc's, 105 Lakeshore Rd. E., Port Credit ~New Country/Pop
*8> open stage with host Iain Leslie @ Moonshine Café, 137 Kerr St., Oakville; $2
*8:45> open mic with Matt Zadkovich @ Culchain's Irish Pub, 158 Queen St. S., Streetsville-Mississauga
*9:30> The Phil & John Show feat. Phil Naro @ Shore Grill, 71 Lakeshore Rd. E., Port Credit ~acoustic Pop Rock
*10> open mic @ The Dickens, 423 Elizabeth St., Burlington
 Copyright © 2015 Toronto Moon Magazine. All Rights Reserved