\ RICHMOND HILL \
Sunday jams and open mics are a longstanding tradition all over the place, including in the not-as-sleepy-as-it-seems semi-suburban burg of Richmond Hill straddling Yonge Street just north of Toronto.  It's been a few years since I've been there but back about a decade or so ago I'd make regular visits to one or another of several rooms that were regularly offering live music at the time.
There's a bit of a resurgence in the live scene up that way, at least as far as open mics and jams go.  Regular events at Big Daddy's, The Falcon & Firkin and a few other rooms provide an outlet for a surprisingly rich talent base dwelling north of Steeles and Highway 407.
One of the better established events up there is the Sunday evening open mic at King Henry's Arms, located at 9301 Yonge St. at the corner of 16th Ave./Carrville Road in a plaza across the road from the Hillcrest Mall.  It's not the easiest place to find, tucked away at the rear of a building fronted by a McDonald's and Lone Star Texas Grill, but once inside it is invitingly casual and features what you'd expect from a self-described "ale house".
Tonight is the kick-off of the sixth season of the 9 p.m. till 1 a.m. event, which is listed as being hosted by Shane Joseph, though it may have rotating artists in that role, since I've seen a number of other names associated with it on social media.
A little south of this place, below Carrville Road on the west side at 8950 Yonge, is one of Richmond Hill's oldest extant bars, Archibald's Pub, which at one time, had regular live bands every Friday and Saturday night and still has at least occasional Saturday night shows.  (I've seen some awesome talents there back when the scene on "The Hill" was really thriving, around 15 years ago, with up to seven or eight rooms offering live acts on weekends.  Ah, those truly were the good old days!)
More recently the room (known as "Archie's" to regulars) has been home to an occasional open mic Wednesday nights (it may happen every other week but it's often not very clear from social media exactly which nights and the club's website offers no specifics either) that competes with a weekly similar event taking place at The Falcon & Firkin somewhat farther north, above Major Mackenzie Drive.
Now Archibald's is also taking on the King, with a new weekly jam night kicking off tonight that takes place at exactly the same time as the KH open mic.  The social media promo suggests that while it's primarily aimed at full bands (amps, drums, keys are all provided) solo and acoustic acts are also welcome.
Interestingly, the posters for the two events are remarkably similar in style [see graphic], which would suggest either that the same local artist has been employed by both groups to make the promo or that Archie is trying to make a point by mimicking Henry's typography and colours.  Either way, the appearance of the new event is certainly likely to be a boon to area performers.
Since the two rooms are so close together and pretty everyone in the immediate area knows everyone else, I'd expect a lot of cross-traffic between the two places this evening, and, assuming they both continue, on a regular basis, going forward.   It could lead to both events struggling, or, if the quality is good, both venues could end up actually benefitting by attracting more people to Richmond Hill's version of "the strip" from areas farther afield including Brampton, Aurora, Stouffville and Markham.  Sometimes, as the development of scenes on Queen St., Ossington and other areas in TO demonstrate, having a choice or the chance to hit two places in one evening is just what it takes to motivate players and audiences to actually go to the area, which is even more of a consideration out in the urban wilds where transit is rare.
If you attend either or both of these events, feel free to share your experiences in an email!
-Gary 17, TorontoMoon.ca
[email protected]
[email protected]
SHOW LISTINGS for Sunday, January 07, 2022
For KEY to listings codes and schemata see note at end of shows list.
Names of subscribers appear in bold, are underlined and, where applicable, include a live link to their Home or Event url.
FOR SUBSCRIPTION DETAILS VISIT: http://www.torontomoon.ca/subscribe/
Advertisers' listings are in larger, highlighted type, include live link to website and also have ad icon included in listings.  FOR AD INFO VISIT:  http://www.torontomoon.ca/advertise-with-toronto-moon/
ON AIR / ONLINE
*3-5am> The Rock-A-Round with Slim Tim @ www.rockabilly-radio.net ~ Rockabilly tracks (from UK, repeat of Fri show, also runs Wednesdays 6-8am)
4> "Georgian Bay Roots" official show of Summerfolk Festival @ CFOS AM 560 (simulcast on www.560cfos.ca)
5-8> "Across The Universe" with Ken Stowar on CIUT 89.5 FM
*6, 7, 10 & 11am; 5 & 7 pm> "Sunday Morning Soul" with Johnny Max @ www.sundaymorningsoul.com ~Blues
9am> "The Hoose Radio Show" Wee Dan Hoose @  http://www.bluesandrootsradio.com/ ~ artist interviews and tracks
9pm-midnight> 60s, 70s Soul, Jazz & Funk Cape Town/UK LIVE on FM Radio & Online Worldwide @ https://m.mixcloud.com/WorldofMusicSFonMuthaFM/
416 – TORONTO CENTRAL
11am-2pm> Isaac Musika for Jewish brunch buffet @ Free Times Café, 320 College St. ; $5 (music only)
*11am-2> The Mercenaries @ Drake One Fifty, 150 York St. ~retro R&B/Soul/Funk; $0
12am-2pm> Robert Scott @ Jazz Bistro, 251 Victoria St. ~piano Jazz; $5
noon-3> Excelsior Dixieland Jazz Band @ The Rex, 194 Queen St. W. ~Jazz
1> Rachel Barton Pine @ Royal Conservatory of Music, 273 Bloor St. W. ~Classical; $
3:30-6:30> Club Django @ The Rex, 194 Queen St. W. ~Django Reinhardt style Jazz; $
*4-7> Michael Brennan @ Graffiti's, 170 Baldwin St. TO ~East Coast Rock/Blues Roots
*4> acoustic open stage with Steve Piette @ The Eagles Club, 17 Elm St.
*4:30-8> New Orleans Connection All Stars & guests @ Grossman's, 379 Spadina Ave. ~New Orleans Jazz
5> Monk's Music @ Tranzac Lounge (Southern Cross), 292 Brunswick Ave. ~vibraphone Jazz
6-7:30> Andrea Boudaud with Nathan Hiltz @ 120 Diner, 120 Church St. ~Jazz; $10/pwyc
*7-1> Freefall Sundays open stage (2 songs each -signup @ 7 or pre-sign online) @ The Supermarket, 268 Augusta St.
7> Chris & Nicole; Tay Guitard; Milan André @ C'est What, 69 Front St. E. ~songwriters; $pwyc
7-9:30> Carlo @ The Rex, 194 Queen St. W. ~Surf 'n' Soul; $
7-10> The Rhythmaturgically Syncopated Social Hour Jazz jam @ Tranzac Lounge (Tiki Room), 292 Brunswick Ave.
*7-10> Brooke Blackburn @ Nawlins, 299 King St. W. TO ~Blues/Jazz/R&B
7:30> Harrington @ Tranzac Lounge (Southern Cross), 292 Brunswick Ave. ~Jazz
**7:30-10:30> "Bam Jam" music & spoken word open mic with feature at 9:30 @ Bampot Bohemian House of Tea, 201 Harbord St.
8> open mic with feature @ The Paddock, 178 Bathurst St.
*8> jam/open mic with backline & host band Meg and the Scene @ The Antler Room, 146 Front St. W.
*8-11> open mic (sign up starts at 7:45) @ The Cavern Bar, 76 Church St.
8> The Double Cuts @ Cameron House (rear), 408 Queen St. W. ~Country
9> Kat Estacio; Homura @ Handlebar, 159 Augusta Ave. ~experimental electronica/percussion
9:30> Ilios Steryannis Quartet @ The Rex, 194 Queen St. W. ~Jazz; $
*10> Horshack feat. Chris Caddell @ Orbit Room, 580 College St. ~Bluesy contemporary & classic Rock
10> The Woodchoppers Association @ Tranzac Lounge (Southern Cross), 292 Brunswick Ave. ~Roots-Rock
10-2> Pat Wright @ The Hideout, 423 College St.
**10> Blues jam with Bill Hedefine & guests Rob Quail & Al Kavenaugh @ Grossman's, 379 Spadina Ave.
416 – TORONTO EAST
11am-2pm> Jordan Glick for Jazz brunch @ Relish, 2152 Danforth Ave. ~Jazz; 0$
2-3:30> Charlotte Abbott & Michael Pare @ St. Barnabas Church, 361 Danforth Ave. ~songwriters; $20
4> Opera Revue @ Castro's Lounge, 2116 Queen St. E. ~opera/Classical/musicals
*4:30-8:30> Rock/Blues jam with William A. Miller & The Black Bear All Stars @ Black Bear Pub, 1125 O'Connor Drive
5-8:30> Robbie Lane & The Disciples @ The Duke Live, 1225 Queen St. E. ~vintage Pop/R&B; $10
6:30> Avatar; The Brains; Hellzapoppin @ The Opera House, 735 Queen St. E. ~Metal/Grunge/Hard-core; $
7-11> Jerome Tucker @ Linsmore Tavern, 1298 Danforth Ave ~R&B/Blues; 0$
*9-1> jam with the Stir It Up Band featuring David Macmichael @ Relish, 2152 Danforth Ave.
416 – TORONTO ETOBICOKE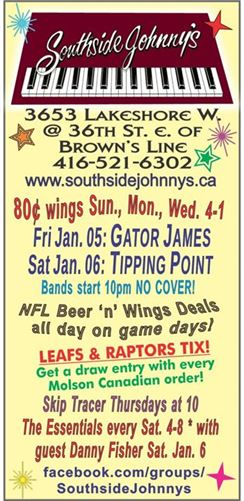 4-7:30> BG Rhythm Section featuring Gary Kendall + guests Jenie Thai & Fraser Melvin @ Blue Goose Tavern, 1 Blue Goose Rd. ~Blues/R&B
4-5> Heillig Manoeuvre Quartet for Jazz Vespers @ St. Phillip's Anglican Church, 31 St. Phillips Rd. ~Jazz
5-9> Lost Patients @ Timothy's Pub, 344 Brown's Line ~Pop Rock
6:30> Al Reilly's "Sexy One" birthday & jam part 3, featuring Al Reilly's Catalyst; Social Strife; Skeleton Lake; open jam following features @ The Rockpile, 5555 Dundas St. W.
7-10> Live-stream showcase with Jordan Milner @ Mimico Pub, 349 Royal York Blvd. ~acoustic Pop covers & originals
*10-2> jam with Rebecca Matiesen & Phoenix @ Southside Johnny's, 3653 Lake Shore Blvd. W.
416 – TORONTO SCARBOROUGH
4> Bill Craig @ Muckish Irish Pub, 74 Hymus Ave. ~Irish Roots; $0
*7-11> open jam with Tom @ McGradie's, 2167 Victoria Park Ave.
416 – TORONTO WEST
**11-2> live Jazz brunch @ DeSoto's, 1079 St. Clair Ave. W.
11-1:30> Jorge Maza & Pancho Galván @ Lula Lounge, 1585 Dundas St. W. ~Latin Jazz brunch
11-2> John MacMurchy & Dan Ionescu @ Archtop Music Bistro, 2312 Bloor St. W. ~Jazz
*noon-3> Julian Fauth & Ken Yoshioka @ Axis, 3048 Dundas St. W. ~Blues
* noon-3> The Cosmotones @ Dakota Tavern, 249 Ossington Ave. ~Bluegrass
2-4> Joel Saunders @ Golden Gecko Coffee, 282 Jane St. ~acoustic Pop covers & originals
4-7> Taxi Chain @ Cadillac Lounge, 1296 Queen St. W. ~original Celtic/Rock fusion
**5-8> John Borra & Sam Ferrara w. guest @ The Communist's Daughter, 1149 Dundas St. W. ~Country
5-8> Ivan Rosenberg & Chris Coole @ The Local, 396 Roncesvalles Ave. ~old-time Country Roots
5-8> Bruce Griffin Duo @ Gate 403, 403 Roncesvalles Ave. ~Jazz
6> Alex Lakusta Trio @ The Emmet Ray, 924 College St. ~Jazz; pwyc
*7-10> Ryan Carr @ Yellow Griffin Pub, 2202 Bloor St. W. ~Roots
8:30> The Slocan Ramblers; The Last Revel @ Burdock, 1184 Bloor St. W.
8:30> Devin Loran @ Alchemy, 890 College St.
8:30> Virginia MacDonald with Lucas Dann, Dan Fortin & Nico Dann @ The Emmet Ray, 924 College St. ~Jazz; pwyc
9-1> Steve Farrugia Trio @ Gate 403, 403 Roncesvalles Ave. ~Jazz
9> Mr. Rick's Café Americana @ The Local, 396 Roncesvalles Ave. ~Roots
*9:30> The Mercenaries @ Dakota Tavern, 249 Ossington Ave. ~retro R&B/Soul/Funk; $0
519
2:30> A Bunch of Broadway Babes @ Van Gogh's Ear, 10 Wyndham St. N. Guelph ~show tunes cabaret; pwyc
*3-7> acoustic open mic with Scott Rhodes @ The Pick and Shovel, 30 Water St., Cambridge
4> jam with Roberta Hunt @ The Boathouse, 97 Jubilee Drive, Kitchener
6:30-9> Amy Rola @ Descendants Beer & Beverage Co., 319 Victoria St. N., Kitchener ~acoustic Pop covers & originals
9:30> Romeo Sex Fighter @ Duke of Wellington, 33 Erb St. W. Waterloo
*10-2> open mic @ Jimmy Jazz, 52 Macdonnell St., Guelph
705
*2-6> open mic @ RCL (Royal Canadian Legion) #103, 34 Bridge St. W., Campbellford
3> Bluegrass Menagerie feat. Mathew Fines @ Black Horse Pub, 452 George St. N., Peterborough
5-7> Tara Williamson @ The Garnet, 231 Hunter St., W., Peterborough
8> NPNP; hutchie; Please @ The Garnet, 231 Hunter St., W., Peterborough
905 EAST
6-10> open jam with Juggernaut @ The Edge Lounge, 250 Bayly St. W., Ajax
*8> Gibran & Matt "Smokey" Wildfong @ Harwood Blues, 7 Harwood Ave., Ajax ~Blues
*10> Another Round @ Tartan Tavern, 555 Rossland Rd. E., Oshawa ~Pop Rock
905 NORTH-EAST
*1:30-4:30> Blaine Burnie, Mark Thackway & friends @ Coach House Pub, 3 Felcher Boulevard, Stouffville ~acoustic Roots
*3-7> open stage with Kevin Ker @ The Earl Of Whitchurch, 6204 Main St., Stouffville
*3-7> Daniel Davies Band hosts jam @ C.J. Barley's, 213 The Queensway S., Keswick
*6-9:30> The Andy Earle Trio @ Big Daddy's Newmarket, 446 Davis Drive, Newmarket ~Blues
*6-10> open mic with host Brian Wride @ Col. McGrady's, 44 Brock St. W., Uxbridge
*7-10> Lynn McDonald @ Jester's Court, 279 Queen St., Port Perry ~Pop/Jazz
*8> acoustic open mic with Kat Vhonda @ Wild Wing Newmarket, 340 Eagle Street, Newmarket
*9> King Henry's open mic season kick off (sign-up starts 8:45) with host Shane Joseph @ King Henry's Arms, 9301 Yonge St., Richmond Hill
*9-1> Band jam with The Bandits house band feat. Matt Groopie @ Archibald's, 8950 Yonge St., Richmond Hill
905 NORTH-WEST
*5> open mic with Crosstown Band @ Time Out, 68 Main St., Georgetown
*5:30-9:30> open jam with host band Faces For Radio & guest @ Crown and Anchor Pub, 389 Main St. N., Brampton
*9-1> jam @ Ivy Arms Pub, 201 Main Street E., Milton
905 SOUTH
12-3> Ian, Olivia & Matthew @ Rust City Brewery, 27 King William St., Hamilton ~Jazz
*3> Brother Tom Finochio hosts kitchen party jam @ Rebel's Rock, 537 King St. E., Hamilton
3-7> Jerome Godboo @ Stonewalls, 339 York Blvd., Hamilton ~original Blues; $
*4> open mic with Neon Moon @ Moose Lodge, 1860 Barton St., Hamilton
4> Blues jam & show by Wayne Janus and the Backline @ Masque Wine Bar Hamilton, 13 Hess St. S. Hamilton
4:30-7:30> Alfie Smith @ Cat 'N' Fiddle, 174 John St. S., Hamilton ~original Blues; $
9-12> Adam Ostrosser & guest @ Cat 'N' Fiddle, 174 John St. S., Hamilton
9> Shari Dunn & Jonny Kerr @ Lionshead Pub, 137 John St. S., Hamilton
9> open jam with Walker and Jamie @ The Pour House Hamilton, 1115 Fennell Ave. E., Hamilton
*10> open mic with Kim Koren @ West End House, 151 Emerson St., Hamilton
10> Chris Chambers @ Augusta House, Hamilton, 17 Augusta St.
905 WEST
2-6> Tracey Gallant @ Carrigan Arms, 2025 Upper Middle Rd., Burlington ~Country
*3-6> Chris Partland @ Cuchulainn's Irish Pub, 158 Queen St. S., Streetsville-Mississauga ~Pop Rock
3:30> James Anthony & guest Mike McCurlie @ Abbey Arms, 481 North Service Rd., Oakville ~Blues
4-7> Glenn Groves @ 5 West Brewpub, 3600 Dundas St. W., Burlington ~Country
*4:30-8> Chuck Jackson's All Stars @ Roc'n Doc's, 105 Lakeshore Rd. E., Port Credit ~Blues
*5> Sara Mills @ Max Resto Lounge, 2180 Itabashi Way, Burlington
**8-12> The Nomads with guest @ Shore Grill, 71 Lakeshore Rd. E., Port Credit ~Pop Rock
8> Folk night open stage @ Moonshine Café, 137 Kerr St., Oakville (collecting n-p goods for foodbank)
*8> open mic night with house band featuring Mike Shotton, Tim & Dave Johns @ Black Swan Burlington, 4040 Palladium Way, Burlington
*10:30> Strummers Union @ The Dickens, 423 Elizabeth St., Burlington
LISTINGS KEY
Listings are organized by area in which the shows occur and within each area field shows are listed chronologically.
Listings preceded by an asterisk (*) are repeating weekly events. (Double asterisk indicates repeating event with different hosts/guest/etc.). Events preceded by question mark (?) usually take place but have not been confirmed. Admission prices followed by a slash and minus (/-) after the amount indicates door charge with availability of cheaper rates for some purchases. /+ indicates stated price is minimum.
-Copyright © 2018 by Gary "17" Webb-Proctor & TorontoMoon.ca. All Rights Reserved