\ TORONTO WEST \
There's about to be a new live music room in TO's Junction area as The Cat (known as The Black Cat under a previous owner) starts up Saturday night shows beginning Saturday June 6.
The room at 3513 Dundas St. West, a block east of Jane St., has a dedicated stage area and has recently installed a house PA and lighting to enhance the presentations. Divided into a bar/performance area and a separate dining room, the layout makes it possible for people to rock out on one side while others eat, watch a game or enjoy the patio adjoining the other section.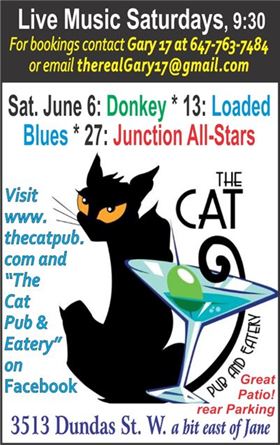 I was there for a special event back in January when popular Junction-area mainstay Dave McManus held a super show to celebrate his birthday and very much enjoyed the ambience. (He returns, along with The Junction City All-Stars band he helms, on June 27, btw.)
The service was excellent, the crowd amiable the bathrooms were clean and drink prices are very reasonable.
Tonight the new Saturday series kicks off with a veteran west-end group that has gathered many accolades from industry watchers and has a steady group of local fans who enjoy their upbeat Pop Rock repertoire.
Donkey, fronted by singer and "guitar genius" Alex Radeff, as College Music Journal writer Steve Smith describes him, has "a great way with a melody" and is "wonderfully inventive" according to legendary promoter the late Gino Empry.
With young Anton Parfenyuk on bass and another veteran, Terry Kavanaugh, on the drums and second vocals, Donkey offers a diverse lineup that also includes several catchy originals.
The show runs 9:30 till 1:30 and there's no cover.
-Gary 17, TorontoMoon.ca