SHOW LISTINGS for Saturday, June 06, 2022
Listings are organized by area in which the shows occur and within each area field shows are listed chronologically.
Listings preceded by an asterisk (*) are repeating weekly events. (Double asterisk indicates repeating event with different hosts/guest/etc.). Admission prices followed by a slash and minus (/-) after the amount indicates door charge with availability of cheaper rates for some purchases. /+ indicates stated price is minimum.
Names of subscribers appear in bold, are underlined and, where applicable, include a live link to their websites. Advertisers' listings are in larger, highlighted type, include live link to website and also have ad icon included in listings.
416 - Toronto Central
*12-3> Danny Marks & friends @ The Rex, 194 Queen St. W., TO ~Jazz
12> $5 Record Show @ Cameron House (front), 408 Queen St. W., TO ~Folk
1:30-4:30> Words & Music with hosts Linda Stitt + guests Michael Laderoute; Philomene Hoffman; Susan Helwig; more @ Vino Rosso, 995 Bay St. TO ~eclectic original mix
*2-5> Dr. B's Acoustic Medicine Show open stage with host Brian Gladstone @ Free Times Café, 320 College St. TO ~Roots; pwyc
3> The Hot Five Jazzmakers @ C'est What, 67 Front St. E., TO ~traditional Jazz; $5
3> Jamzac @ Tranzac Club (Southern Cross), 292 Brunswick Ave., TO
3:30> Chris Hunt Tentet @ The Rex, 194 Queen St. W., TO ~Jazz
3:30> Landen Vieira Quartet @ The Pilot, 22 Cumberland St., TO ~Jazz
4-7> Soulidified @ Seven44, 744 Mount Pleasant Road, TO North ~Jazz; $
*4-7> Climax Jazz Band @ Alleycatz, 2409 Yonge St., TO North ~Dixieland Jazz; $?
*4:40-7:30> The Happy Pals @ Grossman's, 379 Spadina Ave., TO ~New Orleans Jazz
6-8> Rattlesnake Choir @ Cameron House (front), 408 Queen St. W., TO
7> Queen's Players Toronto present "The Jurassic Games" @ Tranzac Club (Main Hall), 292 Brunswick Ave., TO ~theatrical?
7:30> Nick Teehan Group @ The Rex, 194 Queen St. W., TO ~ Jazz
7:30> Abigail Lapell & friends @ Tranzac Club (Southern Cross), 292 Brunswick Ave., TO
8:30> Brian Litvin and Jabulani @ Free Times Café, 320 College St. TO
9> Something Extra @ Seven44, 744 Mount Pleasant Road, TO North ~Rock; $
9> Eh440; Luke McMaster @ The Rivoli, 334 Queen St. W., TO ~indie $10
9> Sons Of Revelry; The Corner; The Control Room; Little Boxer @ Horseshoe Tavern, 370 Queen St. W., TO ~indie; $10
9:30> James King @ Alleycatz, 2409 Yonge St., TO North ~Funk/Soul/R&B
9:30> Young Running @ C'est What, 67 Front St. E., TO ~indie Pop
9:45> Ross Wooldrige's Benny Goodman tribute @ The Rex, 194 Queen St. W., TO ~Jazz
*9:45> Tyler Yarema & His Rhythm @ Reservoir Lounge, 52 Wellington St. E., TO ~Jazz/Blues
*10> karaoke with Randy Petrie @ Kramers, 1915 Yonge St., TO North
10> Andrew Fetterley @ P.J. O'Brien, 39 Colborne St., TO ~Pop Rock
10> Greg Cockerill @ Cameron House (front), 408 Queen St. W., TO ~indie
10-2> Chloe Watkinson & Park Eddy @ Grossman's, 379 Spadina Ave., TO
10> Quick Sails; Brett Nauke; I Have Eaten The City @ Tranzac Club (Southern Cross), 292 Brunswick Ave., TO ~indie
10:30> The Disco Rebels @ The Hideout, 484 Queen St. W., TO ~indie Rock
416 - Toronto East
3-7> Grown Men @ The Salty Dog, 1980 Queen St. E., TO East ~melodic vintage Rock
*3:30-6> Johnny Wright @ Outriggers, 2232 Queen St. E., TO East ~R&B
*4-7:30> Ronnie Hayward Trio @ McQueen's, 993 Queen St. E., TO E. ~Blues/Roots
6-8> The Cosmotones @ Castro's, 2116 Queen St. E., TO East ~Blues/Roots
8> tba @ The Feathers, 962 Kingston Rd., TO East ~songwriter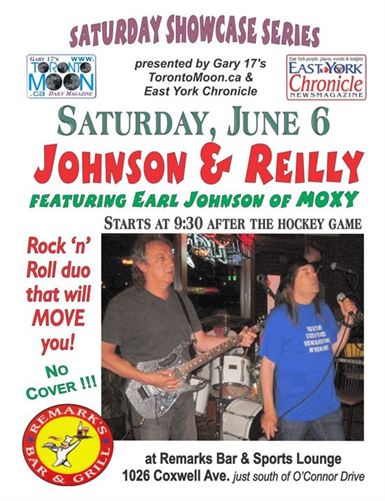 8> Mudpunch @ The Only Café, 972 Danforth Ave., TO East ~Blues-Rock
9> Want to know who played here in May? Check their online calendar! @ Dora Keogh, 141 Danforth Ave., TO East
9> Imitation of Life @ Eton House, 710 Danforth Ave., TO East ~Pop Rock
9:30-11:30> James Clark Institute also featuring Chris Bennett @ Relish, 2152 Danforth Ave., TO East ~indie Roots-Pop with bite
9:30> Acrobat @ The Duke Live, 1225 Queen St. E., TO East ~Pop Rock ~U2 tribute
9:30> The Neil Young'uns @ Linsmore Tavern, 1298 Danforth Ave., TO East ~Neil Young tribute; $15
416 - Etobicoke
*3-6> Danny B Band @ Blue Goose, 1 Blue Goose St., Etobicoke South ~R&B/Blues
**4-8> The Bear's Essentials with guest singer Robin Banks @ Southside Johnny's, 3653 Lakeshore Blvd. W. Etobicoke South ~Rock-R&B
*4-8> The Meteors with guest Donnie Meeker @ Timothy's Pub, 344 Brown's Line, Etobicoke South ~Blues/Rock/R&B
9> Stevie Ray Vaughan Show @ Blue Goose Tavern, 1 Blue Goose Rd., Etobicoke South ~tribute
9> Cottage Brew @ Maple Leaf House, 2749 Lakeshore Boulevard East, Etobicoke ~Rock/Top 40/Blues
9:30> Wild T & The Spirit @ Timothy's Pub 344 Brown's Line, Etobicoke South ~Blues; $
10-2> Vivianna @ Southside Johnny's, 3653 Lakeshore Blvd. W. Etobicoke South ~Rock/Pop/Latin
416 – Scarborough
11 a.m. – 3 p.m.> Carmen Toth & Friends with Nick Nobody @ Rouge Valley Conservation Centre, 1749 Meadowvale Rd., Scarborough ~original Pop; $10 or pwyc includes lunch
8> Laura Smith for Acoustic Harvest @ Robinson Hall, St. Nicholas Anglican Church, 1512 Kingston Rd., Scarborough ~Roots; $25
9-1> Kenny V @ Black Dog Pub, 87 Island Rd., Scarborough ~acoustic Pop/soft Rock
9> Absolute Journey @ The Birchmount, 462 Birchmount Rd., Scarborough ~Journey tribute; $15
*9:30-2> karaoke with The English Rose & The Mad Scotsman @ Winners, 2181 Lawrence Ave. E., Scarborough
9:30> Random Notes @ Stone Cottage Pub, 3750 Kingston Rd., Scarborough ~Pop Rock
416 - Toronto West
*12-3> Julian Fauth's Blues Brunch @ Axis, 3048 Dundas St. W., TO West ~Blues
**2-6> open mic with a different host Will Wall @ Magic Oven, 347 Keele St., TO West
2:30-4:30> Emily Coulston @ Humble Beginnings, 3109 Dundas St. W., TO West ~acoustic Roots/Blues/Pop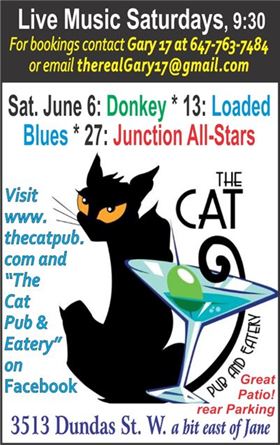 **5-8> Bill Heffernan & Friends featuring guests Terry Jones with David Woodhead & Bob Cohen @ Gate 403, 403 Roncesvalles Ave. TO West –Rootsy Pop
8:30> Skydiggers (3rd of two nights) @ Hugh's Room, 2261 Dundas St. W., TO West ~acoustic Pop icons; $32.50
9-1> Six Points Jazz Orchestra @ Gate 403, 403 Roncesvalles Ave., TO West ~ Jazz
9> Bad Luck Woman & The Misfortunes @ The Local, 396 Roncesvalles Ave., TO West ~Folk/Blues trio
9:30> Donkey @ The Cat, 3153 Dundas St. W., ~Pop Rock/Top 40
10-2> The Mercenaries @ Dakota Tavern, 249 Ossington Ave., TO West
905 East
*4> PRJ @ Simcoe Blues & Jazz, 926 Simcoe St., Oshawa ~Blues
*9-1> karaoke with Rob MacArthur @ Tudor Rose, 700 Harwood Ave. S., Ajax
9> James Cameron Band @ The Corral, 433 Simcoe St. S., Oshawa ~Country
9-1> Shane Scott Band @ Simcoe Blues & Jazz, 926 Simcoe St. N., Oshawa ~Blues
10-2> Grand City @ Fionn MacCool's Ajax, 36 Kingston Rd. E., Ajax ~Pop Rock
10-2> Hurtin' Merv @ Whisky John's, 843 King St. W., Oshawa
905 North
9-1> Afterglow @ Oscar's Roadhouse, 1785 Queen St. E., Brampton ~Pop Rock/Top 40
9:30> Skip Tracer @ Jake's Boathouse Brampton, 59 First Gulf Rd., Brampton ~Pop Rock
9:30> Switch Beat @ Aw Shucks, 15230 Yonge St., Aurora ~Pop Rock
905 South
**2:30> special guest with The Mighty Duck Band, The Duck, 244 Ontario St., St. Catharines ~R&B/Blues
**2:30> tba @ Coach & Lantern (upstairs), 384 Wilson St E., Hamilton ~Blues
8> Celebration of the life and music of Richard "King Biscuit Boy" Newell with Steve Strongman, Jerome Godboo, Trickbag (first of two nights) @ Bay City Music Hall, 50 Leander Drive, Hamilton ~Blues; $30
9> tribute to Imants Krumins @ This Ain't Hollywood, 345 James St. N., Hamilton; $
9> Third Eye Open; Evil Empire @ Corktown Pub, 175 Young St., Hamilton ~tributes to Tool and Rage Against The Machine; $
**9> Niagara Rhythm Section @ The Old Winery, 2228 Niagara Stone Rd., Niagara-On-The-Lake ~R&B/Blues
905 West
**2-6> Sil Simone Band with special guest Jerome Godboo @ Carrigan Arms, 2025 Upper Middle Rd., Burlington ~Rock/Blues
*2-6> jam w. Tom Finocchio @ Sam's Place, Barton-Chestnut Sts., Hamilton
**2-6> Saturday Blues Sermon with James Anthony & special guest Ken Whiteley @ Black Swan Pub Burlington, 4040 Palladium Way, Burlington ~Blues
*3-7> jam with Michelle Deneault & Redder @ Port Credit Legion, 35 Front St., Port Credit
*3-7> open stage jam @ Moonshine Café, 137 Kerr St., Oakville; $2
*6-9> Victoria & Bobby Keys @ Roc'n Doc's, 105 Lakeshore Rd. E., Port Credit ~soft Pop
8-12> Mississippi Bends @ Moonshine Café, 137 Kerr St., Oakville ~Americana/Southern Rock; $10
9> Steve Shelton Band @ Carrigan Arms, 2025 Upper Middle Rd., Burlington
9:30> Soul Funkshun featuring Dave Girdlestone @ Sixth Line Pub, 1500 Sixth Line, Oakville ~Funk/Soul/R&B
9:30> Ernie G & John Bride @ Shore Grill, 71 Lakeshore Rd. E., Port Credit ~Pop Rock/Top 40
9:30> The Screamin' Evil Blues Band @ The Franklin House, 263 Queen St. S., Streetsville ~Blues-Rock
9:30> Coyote Black; Look Here Junior @ Shakers, 580 Kerr St., Oakville
9:30> Remnants @ Gator Ted's, 1505 Guelph Line, Burlington ~Rock
10-2> The Wheat Kings @ Roc'n Doc's, 105 Lakeshore Rd. E., Port Credit ~Hip tribute; $
705
5> Rick & Gailie @ Black Horse Pub, 452 George St. N., Peterborough
8:30> Chelsea Bennett Band @ Black Horse Pub, 452 George St. N., Peterborough
10> I Dunno @ The Garnet, 231 Hunter St. W., Peterborough
Copyright © 2015 Toronto Moon Magazine. All Rights Reserved