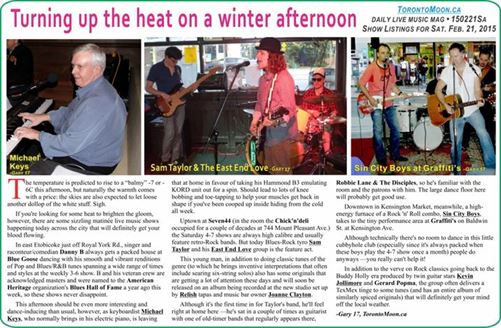 \ The temperature is predicted to rise to a "balmy" -7 or -6C this afternoon, but naturally the warmth comes with a price: the skies are also expected to let loose another dollop of the white stuff. Sigh.
If you're looking for some heat to brighten the gloom, however, there are some sizzling matinée live music shows happening today across the city that will definitely get your blood flowing.
In east Etobicoke just off Royal York Rd., singer and raconteur/comedian Danny B always gets a packed house at Blue Goose dancing with his smooth and vibrant renditions of Pop and Blues/R&B tunes spanning a wide range of times and styles at the weekly 3-6 show. B and his veteran crew are acknowledged masters and were named to the American Heritage organization's Blues Hall of Fame a year ago this week, so these shows never disappoint.
This afternoon should be even more interesting and dance-inducing than usual, however, as keyboardist Michael Keys, who normally brings in his electric piano, is leaving that at home in favour of taking his Hammond B3 emulating KORD unit out for a spin. Should lead to lots of knee bobbing and toe-tapping to help your muscles get back in shape if you've been cooped up inside hiding from the cold all week.
Uptown at Seven44 (in the room the Chick'n'deli occupied for a couple of decades at 744 Mount Pleasant Ave.) the Saturday 4-7 shows are always high calibre and usually feature retro-Rock bands. But today Blues-Rock tyro Sam Taylor and his East End Love group is the feature act.
This young man, in addition to doing classic tunes of the genre (to which he brings inventive interpretations that often include searing six-string solos) also has some originals that are getting a lot of attention these days and will soon be released on an album being recorded at the new studio set up by Relish tapas and music bar owner Joanne Clayton.
Although it's the first time in for Taylor's band, he'll feel right at home here —he's sat in a couple of times as guitarist with one of old-timer bands that regularly appears there, Robbie Lane & The Disciples, so he's familiar with the room and the patrons with him. The large dance floor here will probably get good use.
Downtown in Kensington Market, meanwhile, a high-energy furnace of a Rock 'n' Roll combo, Sin City Boys, takes to the tiny performance area at Graffiti's on Baldwin St. at Kensington Ave.
Although technically there's no room to dance in this little cubbyhole club (especially since it's always packed when these boys play the 4-7 show once a month) people do anyways —you really can't help it!
In addition to the verve on Rock classics going back to the Buddy Holly era produced by twin guitar stars Kevin Jollimore and Gerard Popma, the group often delivers a TexMex tinge to some tunes (and has an entire album of similarly spiced originals) that will definitely get your mind off the local weather.
-Gary 17, TorontoMoon.ca
SHOW LISTINGS for Saturday, February 21, 2022
Listings preceded by an asterisk (*) are repeating weekly events. (Double asterisk indicates repeating event with different hosts/guest/etc.). Admission prices followed by a slash and minus (/-) after the amount indicates door charge with availability of cheaper rates for some purchases. /+ indicates stated price is minimum.
Names of subscribers appear in bold, are underlined and, where applicable, include a live link to their websites. Advertisers' listings are in larger, highlighted type, include live link to website and also have ad icon included in listings.
*12-3> Julian Fauth's Blues Brunch @ Axis, 3048 Dundas St. W., TO West ~Blues
*12-3> Danny Marks & friends @ The Rex, 194 Queen St. W., TO ~Jazz
12> Somewhere There Festival @ Tranzac Club (Main Hall), 292 Brunswick Ave., TO
1-4> Songbird Sessions with Mary Stewart & guests Daniella Fabiano; Anthony W. Lohan; Steven Morrison @ Relish, 2152 Danforth Ave., TO East ~songwriters in the round
*2-5> Dr. B's Acoustic Medicine Show open stage with host Brian Gladstone @ Free Times Café, 320 College St. TO ~Roots; pwyc
*2-6> jam w. Tom Finocchio @ Sam's Place, Barton-Chestnut Sts., Hamilton
**2-6> Saturday Blues Sermon with James Anthony & special guest Chuckee Zehr @ Black Swan Pub Burlington, 4040 Palladium Way, Burlington ~Blues
2:30-4:30> Christine Gaidies @ Humble Beginnings, 3109 Dundas St. W., TO West ~songwriter
*3-6> Danny B's House Party Band feat. Michael Keys on NORD Hammond B3-style organ @ Blue Goose, 1 Blue Goose St., Etobicoke South ~R&B/Pop
*3-7> jam with Michelle Deneault & Redder @ Port Credit Legion, 35 Front St., Port Credit
3> The Hot Five Jazzmakers @ C'est What, 67 Front St. E., TO ~traditional Jazz; $pwyc
3> Jamzac @ Tranzac Club (Southern Cross), 292 Brunswick Ave., TO
*3-7> open stage jam @ Moonshine Café, 137 Kerr St., Oakville; $2
3:30-6:30> Loaded Blues featuring Jim Cornell of Still Sunday & special guests Mena Hardy & Cindy Jameison @ The Loaded Dog, 1921 Lawrence Ave. E., Scarborough
*3:30-6> Johnny Wright @ Outriggers, 2232 Queen St. E., TO East ~R&B
3:30> Swing Shift Band @ The Rex, 194 Queen St. W., TO ~Jazz
3:30> Sugar Daddies Sextet @ The Pilot, 22 Cumberland St., TO ~Jazz
**4-8> Bear's Band with guest singer Tracey Gallant @ Southside Johnny's, 3653 Lakeshore Blvd. W. Etobicoke South ~Rock-R&B
4-7> Sin City Boys feat. Kevin Jollimore @ Graffiti's, 170 Baldwin St., TO ~TexMex-tinged Rock 'n' Roll
4-7> Sam Taylor & The East End Love @ Seven44, 744 Mount Pleasant Road, TO North ~Jazz; $
*4-7:30> Ronnie Hayward Trio @ McQueen's, 993 Queen St. E., TO E. ~Blues/Roots
*4-8> The Meteors with guest Carmella Long @ Timothy's Pub, 344 Brown's Line, Etobicoke South ~Blues/Rock/R&B
*4> PRJ @ Simcoe Blues & Jazz, 926 Simcoe St., Oshawa ~Blues
**5-8> Bill Heffernan & Friends featuring guests The Jimmy Byron Band @ Gate 403, 403 Roncesvalles Ave. TO West –Rootsy Pop
5-8> David Meenan @ The Local, 396 Roncesvalles Ave., TO West ~Irish Sessions
6-10> Mark Yan & Barry Mulcahy @ Ray's Bistro, 1475 Queen St. W., Alton ~acoustic Pop Rock
6-8> Grier Coppins @ Cameron House (front), 408 Queen St. W., TO
6-8> The Cosmotones @ Castro's, 2116 Queen St. E., TO East ~Blues/Roots
*6-9> Victoria & Bobby Keys @ Roc'n Doc's, 105 Lakeshore Rd. E., Port Credit ~soft Pop
7:30> The Sinners Choir @ The Rex, 194 Queen St. W., TO ~ Jazz
7:30> TREO featuring Mike Burns @ The Cornerhouse, 6403 Main St., Stouffville ~acoustic Pop
8> Lucas Stagg @ The Feathers, 962 Kingston Rd., TO East ~Country/Rock songwriter
8> Whatever Sticks featuring Sue Martin @ Crabby Joe's Aurora, 125 Pederson Dr., Aurora ~Pop Rock/R&B
8> Jodye Wham Bam Birthday Jam @ Cameron House (front), 408 Queen St. W., TO
8> Toronto Songwriters Association showcase @ The Only Café, 972 Danforth Ave., TO East
8-12> Alfie Smith Workshop Series with Glen McFarlane @ Moonshine Café, 137 Kerr St., Oakville ~Blues; $10
8:30> The Music of Burt Bacharach with Kurt Swinghammer; Mia Sheard; Lori Cullen; Colleen Allan; more @ Hugh's Room, 2261 Dundas St. W., TO West ~tribute; $30
8:30> Bryce Jardine; Derek Harrison @ Free Times Café, 320 College St. TO ~songwriters; $8
*9-1> karaoke with Rob MacArthur @ Tudor Rose, 700 Harwood Ave. S., Ajax
9> Mint featuring Amanda Rose @ Maple Leaf House, 2749 Lakeshore Boulevard East, Etobicoke ~Rock/Top 40/Blues
9> Thunderfunk; Celebration Army feat. Nelson Sobral @ C'est What, 67 Front St. E., TO ~indie; pwyc
9-1> Tyler Schwende @ Black Dog Pub, 87 Island Rd., Scarborough ~acoustic Pop/soft Rock
9-1> tba @ Gate 403, 403 Roncesvalles Ave., TO West ~ Jazz
9> Whoa Nellie @ The Local, 396 Roncesvalles Ave., TO West ~Swingabilly
9> Fried Angels @ Blue Goose Tavern, 1 Blue Goose Rd., Etobicoke South ~Pop Rock
9> Paul Nathan @ The Corral, 433 Simcoe St. S., Oshawa ~Country
9-1> Last Chance @ Simcoe Blues & Jazz, 926 Simcoe St. N., Oshawa
9-1> Outshine @ Oscar's Roadhouse, 1785 Queen St. E., Brampton ~Pop Rock/Top 40
9> Jessica Speziale; The Goombas, Mellowkotzen @ The Hub, 15 Simcoe St. N., Oshawa ~indie Pop/Rock
**9> Niagara Rhythm Section @ The Old Winery, 2228 Niagara Stone Rd., Niagara-On-The-Lake ~R&B/Blues
9:30> Byrds, Byrds, Byrds @ Linsmore Tavern, 1298 Danforth Ave., TO East ~tribute to The Byrds; $5 advance, $10 door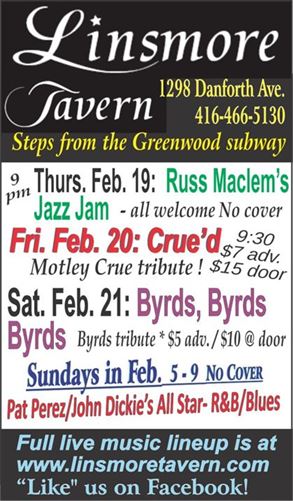 9:30-11:30> Maria Ryan & Chris Bennett @ Relish, 2152 Danforth Ave., TO East ~indie songwriter
9:30> David Love Band also featuring Darrell McNeill @ The Tin Cup, 1831 Walker's Line, Burlington ~60s Pop Rock
*9:30-2> karaoke with The English Rose & The Mad Scotsman @ Winners, 2181 Lawrence Ave. E., Scarborough
9:30> Something Extra @ Seven44, 744 Mount Pleasant Road, TO North
9:30> aBabe Music presents Dee Bronte; Ginger Grey; Red X Down @ The Paddock, 178 Bathurst St., TO ~indie; $5
9:30> Soular @ Alleycatz, 2409 Yonge St., TO North ~Funk/Soul/R&B
9:30> Imitation Of Life @ The Duke Live, 1225 Queen St. E., TO East ~Pop Rock
9:30> Loading Zone @ Stone Cottage Pub, 3750 Kingston Rd., Scarborough ~Pop Rock
9:30> Kirsten Anzelc Band @ Timothy's Pub 344 Brown's Line, Etobicoke South ~Pop Rock/Top 40; $5
9:30> Pat Hewitt @ Shore Grill, 71 Lakeshore Rd. E., Port Credit ~Pop Rock/Top 40
9:30> Table [email protected] Jake's Boathouse Brampton, 59 First Gulf Rd., Brampton ~Pop Rock
9:30> Tres Hombres @ Sixth Line Pub, 1500 Sixth Line, Oakville ~ZZ Top tribute
9:30> Tim Park Trio @ Gator Ted's, 1505 Guelph Line, Burlington
9:45> Marito Marques Group @ The Rex, 194 Queen St. W., TO ~Jazz
*9:45> Tyler Yarema & His Rhythm @ Reservoir Lounge, 52 Wellington St. E., TO ~Jazz/Blues
10-2>

Side B Vibe

@ Southside Johnny's, 3653 Lakeshore Blvd. W. Etobicoke South ~Rock/Top 40
10> Ride The Tiger @ Orbit Room, 480 College St. TO ~Funk/Soul
10> Donkey @ Dora Keogh, 141 Danforth Ave., TO East ~Pop Rock
10> Somewhere There @ Tranzac Club (Southern Cross), 292 Brunswick Ave., TO
10-2> Hot Wax Meltdown @ Dakota Tavern, 249 Ossington Ave., TO West ~Rock
10-2> Hot House @ Roc'n Doc's, 105 Lakeshore Rd. E., Port Credit ~Rock/Top 40
10-2> The Wave @ Fionn MacCool's Ajax, 36 Kingston Rd. E., Ajax ~Pop Rock
10-2> 3 Sheets To The Wind @ Whisky John's, 843 King St. W., Oshawa ~Rock/Top 40
10> Orit "Little Birdie" Shimon @ The Garnet, 231 Hunter St. W., Peterborough ~Blues
10:30> The Cover Boys @ The Hideout, 484 Queen St. W., TO ~indie Rock
Copyright © 2015 Toronto Moon Magazine. All Rights Reserved