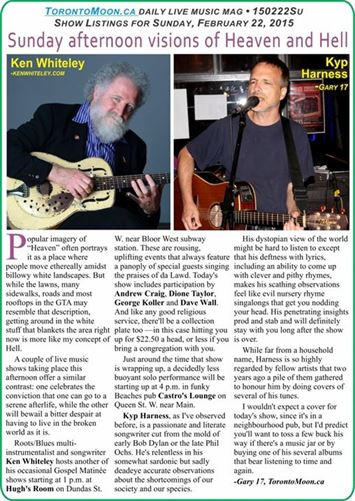 \ Popular imagery of "Heaven" often portrays it as a place where people move ethereally amidst billowy white landscapes. But while the lawns, many sidewalks, roads and most rooftops in the GTA may resemble that description, getting around in the white stuff that blankets the area right now is more like my concept of Hell.
A couple of live music shows taking place this afternoon offer a similar contrast: one celebrates the conviction that one can go to a serene afterlife, while the other will bewail a bitter despair at having to live in the broken world as it is.
Roots/Blues multi-instrumentalist and songwriter Ken Whiteley hosts another of his occasional Gospel Matinée shows starting at 1 p.m. at Hugh's Room on Dundas St. W. near Bloor West subway station. These are rousing, uplifting events that always feature a panoply of special guests singing the praises of da Lawd. Today's show includes participation by Andrew Craig, Dione Taylor, George Koller and Dave Wall.  And like any good religious service, there'll be a collection plate too —in this case hitting you up for $22.50 a head, or less if you bring a congregation with you.
Just around the time that show is wrapping up, a decidedly less buoyant solo performance will be starting up at 4 p.m. in funky Beaches pub Castro's Lounge on Queen St. W. near Main.
Kyp Harness, as I've observed before, is a passionate and literate songwriter cut from the mold of early Bob Dylan or the late Phil Ochs. He's relentless in his somewhat sardonic but sadly deadeye accurate observations about the shortcomings of our society and our species.
His dystopian view of the world might be hard to listen to except that his deftness with lyrics, including an ability to come up with clever and pithy rhymes, makes his scathing observations feel like evil nursery rhyme singalongs that get you nodding your head. His penetrating insights prod and stab and will definitely stay with you long after the show is over.
While far from a household name, Harness is so highly regarded by fellow artists that two years ago a pile of them gathered to honour him by doing covers of several of his tunes.
I wouldn't expect a cover for today's show, since it's in a neighbourhood pub, but I'd predict you'll want to toss a few buck his way if there's a music jar or by buying one of his several albums that bear listening to time and again.
-Gary 17, TorontoMoon.ca
SHOW LISTINGS for Sunday, February 22, 2022
Listings preceded by an asterisk (*) are repeating weekly events. (Double asterisk indicates repeating event with different hosts/guest/etc.). Admission prices followed by a slash and minus (/-) after the amount indicates door charge with availability of cheaper rates for some purchases. /+ indicates stated price is minimum.
Names of subscribers appear in bold, are underlined and, where applicable, include a live link to their websites. Advertisers' listings are in larger highlighted type, include live link to website and also have ad icon included in listings.
11-2> Liane Fainsinger for Jazz brunch @ Relish, 2152 Danforth Ave. TO East
11am-2pm> Mitch Smolkin & Nina Shapilsky for Jazz brunch @ Free Times Café, 320 College St., TO
*12-3> Julian Fauth's Blues brunch @ Axis, 3048 Dundas St. W., TO West ~Blues
12-4> The Vinyl Sessions presents Johnny Cash themed open stage with Hervé Basset on keys @ Hard Rock Café, 279 Yonge St., TO
noon> Excelsior Dixieland Jazz Band @ The Rex, 194 Queen St. W., TO ~Jazz
12> 1> Somewhere There Festival @ Tranzac Club (Main Hall), 292 Brunswick Ave., TO
*2-5> Lisa Particelli's Girls Night Out jam for ladies and gentlemen @ Morgan's, 1282 Danforth Ave., TO East ~Jazz
2> Ken Whiteley's Gospel Matinée @ Hugh's Room, 2261 Dundas St. W., TO West ~gospel Roots; $22.50/-
*3-6> open mic with Nicola Vaughan @ Hirut, 2050 Danforth Ave., TO East
3-5> Fraser & Girard @ Tranzac Club (Southern Cross), 292 Brunswick Ave., TO ~Roots
*3-6> Michael Brennan @ Graffiti's, 170 Baldwin St. TO ~East Coast Rock/Blues Roots
*3-7> jam at CJ Barleys, 213 The Queensway, Keswick
3> Odd Man Rush @ Black Horse Pub, 452 George St. N., Peterborough
3:30-6:30> Freeway Dixieland Band @ The Rex, 194 Queen St. W., TO ~Jazz
*3:30-7:30> jam @ Black Bear, 1125 O'Connor Drive, TO East
4-7> Roots 'n' Branches featuring Dave McManus on bass @ Cadillac Lounge, 1298 Queen St. W., TO West ~Roots/Blues
4> Negative Zero & Friends @ Cameron House (front), 408 Queen St. W., TO
4-8> Lost Patients @ Timothy's Pub, 344 Brown's Line, Etobicoke ~Pop Rock
4-8> George Kendall Band @ Blue Goose Tavern, 1 Blue Goose Rd., Etobicoke South
4> Kyp Harness @ Castro's Lounge, 2116 Queen St. E., TO East
*4:30-8> New Orleans Connection All Stars & guests @ Grossman's, 379 Spadina Ave., TO ~New Orleans Jazz
*4:30-8> Chuck Jackson's All Stars @ Roc'n Doc's, 105 Lakeshore Rd. E., Port Credit ~Blues
*5-9> John Dickie/Pat Perez Band @ Linsmore Tavern, 1298 Danforth Ave, TO East ~R&B/Blues
*5-9> All ages open jam with Juggernaut Jam Band featuring Andy Narsingh @ West Shore Bar & Grill, 877 Bayly St., Pickering
5> Steve-Paul Simms @ Tranzac Club (Southern Cross), 292 Brunswick Ave., TO ~Roots/Pop
**5-8> John Borra & Sam Ferrara w. guest @ The Communist's Daughter, 1149 Dundas St. W. TO West ~Country
5-8> Chris Coole @ The Local, 396 Roncesvalles Ave., TO West ~old time Country
5-8> Cheryl White R&B Band @ Gate 403, 403 Roncesvalles Ave., TO West ~R&B
**5-8> The Stew @ Mulligan's, 2458 Dundas St. W., Mississauga ~R&B/Rock
*5-9> open mic with feature guest @ Sgt. Pepper's Aurora, Walmart Plaza, Aurora
*6-10> jam with Tommy Rocker, John Robbie @ Scarborough Junction, 646 Danforth Rd., Scarborough
6> Bruce @ Simcoe Blues & Jazz, 926 Simcoe St. N., Oshawa ~Jazz
*7-1> Freefall Sundays open stage with hosts Steve York & Tony Rabalao (2 songs each -signup @ 7 or pre-sign online) @ The Supermarket, 268 Augusta St., TO
*7-11> Karaoke with Rob MacArthur @ The Edge, 250 Bayly St. W., Ajax
7> Meredith Shaw; Emily Reid @ Cameron House (front), 408 Queen St. W., TO
7> Lindsey Whte @ C'est What, 69 Front St. E., TO ~pwyc
7-9:30> Autobahn @ The Rex, 194 Queen St. W., TO ~Jazz
*7-11> open jam @ McGradie's, 2167 Victoria Park Ave., Scarborough
**7-11> The Nomads @ Shore Grill, 71 Lakeshore Rd. E., Port Credit
*7> open jam with Mike Shotton & The Flying Squirrels @ Black Swan Pub Burlington, 4040 Palladium Way, Burlington
7:30> Gathering Sparks: Eve Goldberg, Sam Turton & Jane Lewis @ Tranzac Club (Southern Cross), 292 Brunswick Ave., TO ~Folk
8> Chris Lord & Paul Jones @ Lola, 40 Kensington Ave., TO ~acoustic Blues
8-12> The Tonkas @ Roc'n Doc's, 105 Lakeshore Rd. E., Port Credit ~Rock 'n' Roll
8> Sarah Burton with Dave Quanbury @ Moonshine Café, 137 Kerr St., Oakville ~$10
*8:30-12:30> karaoke with The English Rose & The Mad Scotsman @ Gryphon Pub, 114 Dundas St. E., Whitby
9-1> Diablo's Dust @ Gate 403, 403 Roncesvalles Ave., TO West ~Jazz
9> Los Cabelleros del Son @ The Local, 396 Roncesvalles Ave., TO West ~Cuban traditional
*9> Public Animal; Cross Dog; Beat Cops @ Dakota Tavern, 249 Ossington Ave., TO West
*9> Rob Hiemstra solo @ The Unicorn, 175 Eglinton Ave. E., TO North ~Rock/Pop
*9-1> jam with Mike Roland and Lenny Vaccari @ Stewart Maguires Landing, 15 Allan Dr., Bolton
*9-1> jam @ Ivy Arms Pub, 201 Main Street East, Milton
*9:30-1> jam with the Stir It Up Band featuring Bryan Van Dusen & David Macmichael @ Relish, 2152 Danforth Ave., TO East
*9:30-1:30> jam with Rebecca Matiesen & Phoenix @ Southside Johnny's, 3653 Lakeshore Blvd. W., Etobicoke South
9:45> Three Blind Mice @ The Rex, 194 Queen St. W., TO ~Jazz
*10> Horshack feat. Chris Caddell @ Orbit Room, 580 College St., TO ~Bluesy contemporary & classic Rock
10> Steve Ward presents: @ Tranzac Club (Southern Cross), 292 Brunswick Ave., TO
10> J Swinnerton Band @ Cameron House (front), 408 Queen St. W., TO ~Blues
**10> Blues jam with Brian Cober, Bill Hedefine & guest bassist @ Grossman's, 379 Spadina Ave., TO
*10> jam with Groove Stone feat. Dale Harrison @ Scruffy Murphy's Uptown, 150 Eglinton Ave. E., TO North
*10> Washboard Hank @ The Garnet, 231 Hunter St., W., Peterborough ~Country
10:30> Scott Baragar @ The Hideout, 484 Queen St. W., TO ~indie Rock
Copyright © 2015 Toronto Moon Magazine. All Rights Reserved