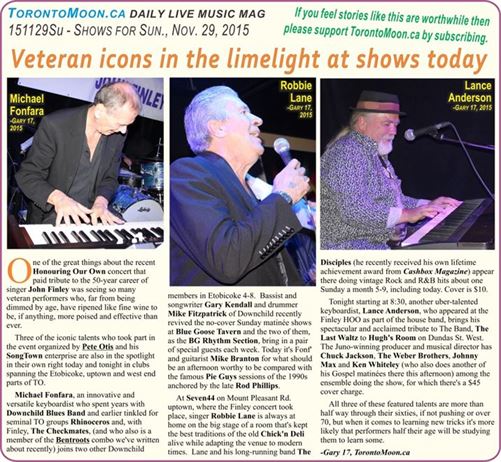 One of the great things about the recent Honouring Our Own concert that paid tribute to the 50-year career of singer John Finley was seeing so many veteran performers who, far from being dimmed by age, have ripened like fine wine to be, if anything, more poised and effective than ever.
Three of the iconic talents who took part in the event organized by Pete Otis and his SongTown enterprise are also in the spotlight in their own right today and tonight in clubs spanning the Etobicoke, uptown and west end parts of TO.
Michael Fonfara, an innovative and versatile keyboardist who spent years with Downchild Blues Band and earlier tinkled for seminal TO groups Rhinoceros and, with Finley, The Checkmates, (and who also is a member of the Bentroots combo we've written about recently) joins two other Downchild members in Etobicoke 4-8. Bassist and songwriter Gary Kendall and drummer Mike Fitzpatrick of Downchild recently revived the no-cover Sunday matinée shows at Blue Goose Tavern and the two of them, as the BG Rhythm Section, bring in a pair of special guests each week. Today it's Fonf' and guitarist Mike Branton for what should be an afternoon worthy to be compared with the famous Pie Guys sessions of the 1990s anchored by the late Rod Phillips.
At Seven44 on Mount Pleasant Rd. uptown, where the Finley concert took place, singer Robbie Lane is always at home on the big stage of a room that's kept the best traditions of the old Chick'n Deli alive while adapting the venue to modern times. Lane and his long-running band The Disciples (he recently received his own lifetime achievement award from Cashbox Magazine) appear there doing vintage Rock and R&B hits about one Sunday a month 5-9, including today. Cover is $10.
Tonight starting at 8:30, another uber-talented keyboardist, Lance Anderson, who appeared at the Finley HOO as part of the house band, brings his spectacular and acclaimed tribute to The Band, The Last Waltz to Hugh's Room on Dundas St. West. The Juno-winning producer and musical director has Chuck Jackson, The Weber Brothers, Johnny Max and Ken Whiteley (who also does another of his Gospel matinées there this afternoon) among the ensemble doing the show, for which there's a $45 cover charge.
All three of these featured talents are more than half way through their sixties, if not pushing or over 70, but when it comes to learning new tricks it's more likely that performers half their age will be studying them to learn some.
-Gary 17, TorontoMoon.ca
SHOW LISTINGS for Sunday, November 29, 2021:
Listings are organized by area in which shows take place and listed chronologically within each area field.
Listings preceded by an asterisk (*) are repeating weekly events. (Double asterisk indicates repeating event with different hosts/guest/etc.). Admission prices followed by a slash and minus (/-) after the amount indicates door charge with availability of cheaper rates for some purchases. /+ indicates stated price is minimum.
Names of subscribers appear in bold, are underlined and, where applicable, include a live link to their websites. Advertisers' listings are in larger highlighted type, include live link to website and also have ad icon included in listings.
416 – Toronto Central
11am-2pm> Michael Anklewicz for Jewish brunch buffet @ Free Times Café, 320 College St., TO
12-3> Excelsior Dixieland Jazz Band @ The Rex, 194 Queen St. W., TO ~Jazz
3-6> Ray Montford @ Musideum, 401 Richmond St. W., #133, TO ~ambient guitar; $20
*3-6> Michael Brennan @ Graffiti's, 170 Baldwin St. TO ~East Coast Rock/Blues Roots
3:30-6:30> Freeway Jazz Band @ The Rex, 194 Queen St. W., TO ~Jazz; $
*4:30-8> New Orleans Connection All Stars & guests @ Grossman's, 379 Spadina Ave., TO ~New Orleans Jazz
5-9> Robbie Lane & The Disciples @ Seven44, 744 Mount Pleasant Road, TO North ~vintage Rock/R&B; $10
*7-1> Freefall Sundays open stage with hosts Steve York & Tony Rabalao (2 songs each -signup @ 7 or pre-sign online) @ The Supermarket, 268 Augusta St., TO
7> The Double Cuts @ Cameron House (front), 408 Queen St. W., TO ~Western Swing
7-9:30> Bugaloo Squad @ The Rex, 194 Queen St. W., TO ~Jazz; $
7> Linda Ippolito presents "Preludes and Pralines" @ Jazz Bistro, 251 Victoria St., TO ~Classical/original
7:30> Ihtimanska @ Tranzac Club (Southern Cross), 292 Brunswick Ave., TO ~Turking/Bulgarian sax/accordion
8> Geary St. Groove Band; Joy Felt Analog; The Inanimates @ Rivoli, 334 Queen St. W., TO; ~indie; $5
8> Jack Walker @ Free Times Café, 320 College St., TO ~acoustic
*8> open mic @ The Cavern Bar, 76 Church St., TO
8> Brownman Duo @ Musideum, 401 Richmond St. W., #133, TO ~innovative Jazz; $15/-
9> jam with Jay Pennell @ Scruffy Murphy's, 150 Eglinton Ave. E., TO North
9:30> Sammy Jackson Group @ The Rex, 194 Queen St. W., TO ~Jazz; $
*10> Horshack feat. Chris Caddell @ Orbit Room, 580 College St., TO ~Bluesy contemporary & classic Rock
10> Steve Ward Presents @ Tranzac Club (Southern Cross), 292 Brunswick Ave., TO
10> Jack Marks @ Cameron House (front), 408 Queen St. W., TO
**10> Blues jam with Brian Cober, Bill Hedefine & guest bassist @ Grossman's, 379 Spadina Ave., TO
10:30> Don Campbell @ The Hideout, 484 Queen St. W., TO ~indie Rock
416 – Toronto East
11-2> The Pearl Motel @ Relish, 2152 Danforth Ave. TO East ~Rockabilly Roots
*2-5> Lisa Particelli's "Girls Night Out" jam for singers @ Morgan's, 1282 Danforth Ave., TO East ~Jazz
*3-6> open mic with Nicola Vaughan @ Hirut, 2050 Danforth Ave., TO East
3-5:30> last Sunday monthly Lazy Cat open stage with hosts Linda Lavender & David Shilman & feature by Outgoing Male duo @ Bain Co-op Community Centre, 100 Bain Ave. (enter off Sparkhall Ave.), TO East
*3:30-7:30> jam @ Black Bear, 1125 O'Connor Drive, TO East
4> Zakary Miller @ Castro's Lounge, 2116 Queen St. E., TO East
*5-9> John Dickie/Pat Perez Band @ Linsmore Tavern, 1298 Danforth Ave, TO East ~R&B/Blues
7> Dragonette; Dirty Radio; Young Empires @ The Danforth Music Hall, 147 Danforth Ave., TO East ~$21.50+
*9-1> jam with the Stir It Up Band featuring David Macmichael @ Relish, 2152 Danforth Ave., TO East
9> Watch This Sound @ Castro's Lounge, 2116 Queen St. E., TO East ~vintage Jamaican music
416- Toronto Etobicoke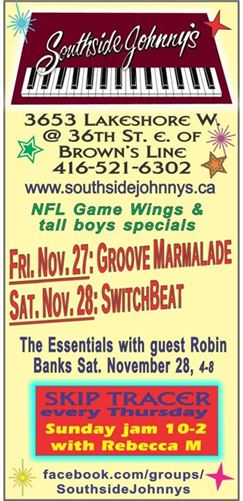 4-8> BG Rhythm Section featuring Gary Kendall + guests Mike Branton & Michael Fonfara @ Blue Goose Tavern, 1 Blue Goose Rd., Etobicoke South ~Blues/R&B
*10-2> jam with Rebecca Matiesen & Phoenix @ Southside Johnny's, 3653 Lakeshore Blvd. W., Etobicoke South
416 – Toronto Scarborough
*6-10> jam with Tommy Rocker @ Scarborough Junction, 646 Danforth Rd., Scarborough
*7-11> open jam @ McGradie's, 2167 Victoria Park Ave., Scarborough
416 – Toronto West
**11-2> live Jazz brunch @ DeSoto's, 1079 St. Clair Ave. W., TO West
*12-3> Julian Fauth's Blues brunch @ Axis, 3048 Dundas St. W., TO West ~Blues
* 12-3> The Cosmotones @ Dakota Tavern, 249 Ossington Ave., TO West ~Rockabilly
2> Ken Whiteley's Gospel Matinée @ Hugh's Room, 2261 Dundas St. W., TO West ~Gospel; $22.50/-
**5-8> John Borra & Sam Ferrara w. guest @ The Communist's Daughter, 1149 Dundas St. W. TO West ~Country
*5-8> Chris Coole @ The Local, 396 Roncesvalles Ave., TO West ~old-time Country Roots
5-8> Blues & Troubles @ Gate 403, 403 Roncesvalles Ave., TO West ~Blues
7:30> Angie Bhatia @ Smiling Buddha, 961 College St., TO West
8:30> The Last Waltz tribute to The Band with Lance Anderson & friends @ Hugh's Room, 2261 Dundas St. W., TO West ~$45
*8:30-11:30> Fraser Melvin Blues Band @ Fat City Blues, 890 College St., TO West ~Blues
9-1> Amber Leigh Jazz Trio @ Gate 403, 403 Roncesvalles Ave., TO West ~Jazz
9> Alun Pigguns @ The Local, 396 Roncesvalles Ave., TO West ~Roots-Rock
9> Queer Songbook Orchestra @ Burdock, 1184 Bloor St. W., TO West
10> The Beauties @ Dakota Tavern, 249 Ossington Ave., TO West ~alt Pop; $
519
*9-1> jam @ Ivy Arms Pub, 201 Main Street East, Milton
705
*3-7> jam at CJ Barleys, 213 The Queensway, Keswick
*7> open mic with Randy Hill @ Black Horse Pub, 452 George St. N., Peterborough
10> Toby Malloy @ The Garnet, 231 Hunter St., W., Peterborough
905 East
*3-7> Jam with hosts Paul Storm, John Huntley & Jon McCann @ West Shore Bar & Grill, 877 Bayly St., Pickering
4> Alanna Gennish & Friends @ Simcoe Blues & Jazz, 926 Simcoe St. N., Oshawa
*5-10> All-ages open jam with Juggernaut @ The Edge Lounge, 250 Bayly St. W., Ajax
*7-11> Karaoke with Rob MacArthur @ The Edge, 250 Bayly St. W., Ajax
*8:30-12:30> karaoke with The English Rose & The Mad Scotsman @ Pearson Pub, 101 Mary St. W. Whitby
905 North
**1-3> Joe & Frank with guest performer @ Lake Simcoe Arms, 21089 Dalton Rd., Jackson's Point ~Jazz
3-4:30, Tony Quarrington & Friends Trio @ McMichael Gallery, 10365 Islington Ave., Kleinburg ~Roots/Jazz/Pop
*3-7> open stage with Kevin Ker @ The Earl Of Whitchurch, 6204 Main St., Stouffville
*5-9> open mic with feature guest @ Sgt. Pepper's Aurora, Walmart Plaza (Hwy 404 & Aurora Rd.), Aurora
905 South
2-6> Bay City Blues Band & guest Ian Andrews @ Bay City Music Hall, 50 Leander Drive, Hamilton ~Blues; $5
3> The Syndrome; Poison Spur; Heart Attack Kids; Psuedo; Loss Aversion @ This Ain't Hollywood, 345 James St. N., Hamilton
905 West
**2-6> Country matinee with host Colin Connors and guest Tanya Marie Harris @ Carrigan Arms, 2025 Upper Middle Rd., Burlington ~Country
3-6> Gary White & Tyler Price @ Moonshine Café, 137 Kerr St., Oakville
*4:30-8> Christmas season launch party with Chuck Jackson's All Stars @ Roc'n Doc's, 105 Lakeshore Rd. E., Port Credit ~Blues
**5:30-8:30> The Stew @ Mulligan's, 2458 Dundas St. W., Mississauga ~R&B/Rock
**7-11> The Nomads @ Shore Grill, 71 Lakeshore Rd. E., Port Credit
*7> open jam with Mike Shotton & The Flying Squirrels @ Black Swan Pub Burlington, 4040 Palladium Way, Burlington
*7:30> open jam hosted by Troy Harmer @ The Brown Barrel, 1515 Upper Ottawa St., Hamilton
8> Oakville Improv Comedy jam @ Moonshine Café, 137 Kerr St., Oakville
*8> open mic night with house band featuring Mike Shotton, Tim & Dave Johns @ Black Swan Burlington, 4040 Palladium Way, Burlington
10-1> Jake Robinson @ Roc'n Doc's, 105 Lakeshore Rd. E., Port Credit ~Blues; $
*10:30> Adam Cooke & The Adams Family @ The Dickens, 423 Elizabeth St., Burlington
Copyright © 2015 Toronto Moon Magazine. All Rights Reserved