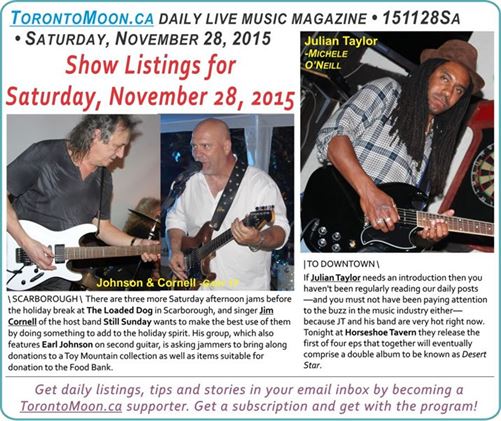 \ SCARBOROUGH \
There are three more Saturday afternoon jams before the holiday break at The Loaded Dog in Scarborough, and singer Jim Cornell of the host band Still Sunday wants to make the best use of them by doing something to add to the holiday spirit. His group, which also features Earl Johnson on second guitar, is asking jammers to bring along donations to a Toy Mountain collection as well as items suitable for donation to the Food Bank.
\ TO DOWNTOWN \
If Julian Taylor needs an introduction then you haven't been regularly reading our daily posts —and you must not have been paying attention to the buzz in the music industry either— because JT and his band are very hot right now. Tonight at Horseshoe Tavern they release the first of four eps that together will eventually comprise a double album to be known as Desert Star.
SHOW LISTINGS for Saturday, November 28, 2021
Listings are organized by area in which the shows occur and within each area field shows are listed chronologically.
Listings preceded by an asterisk (*) are repeating weekly events. (Double asterisk indicates repeating event with different hosts/guest/etc.). Admission prices followed by a slash and minus (/-) after the amount indicates door charge with availability of cheaper rates for some purchases. /+ indicates stated price is minimum.
Names of subscribers appear in bold, are underlined and, where applicable, include a live link to their websites. Advertisers' listings are in larger, highlighted type, include live link to website and also have ad icon included in listings.
416 - Toronto Central
*12-3> The Sinners Choir @ The Rex, 194 Queen St. W., TO ~Jazz
*2> Dr. B's Acoustic Medicine Show open stage with Brian Gladstone @ Free Times Café, 320 College St. TO ~Roots
3> The Hot Five Jazzmakers @ C'est What, 67 Front St. E., TO ~traditional Jazz; $pwyc
3> Jamzac @ Tranzac Club (Southern Cross), 292 Brunswick Ave., TO
3:30> George Lake Big Band @ The Rex, 194 Queen St. W., TO ~Jazz
3:30> Barry Elmes Quartet @ The Pilot, 22 Cumberland St., TO ~Jazz
4-7> York Jazz Ensemble @ Seven44, 744 Mount Pleasant Road, TO North ~Jazz; $
*4-7> Climax Jazz Band @ Alleycatz, 2409 Yonge St., TO North ~Dixieland Jazz; $?
*4:40-7:30> The Happy Pals @ Grossman's, 379 Spadina Ave., TO ~New Orleans Jazz
*5-8> Blues & Troubles @ Déjà vu Bar, 389 College St., TO ~Blues
6> Colonel Tom & The American Pour featuring Peter Hill on keys @ Cameron House (front), 408 Queen St. W., TO ~original Honky Tonk
6-8> Elizabeth Martins @ 120 Diner, 120 Church St., TO ~Jazz
6> The Stereo Division @ The Central, 603 Markham St., TO ~indie
6:30> Scott B. Sympathy @ Tranzac Club (Southern Cross), 292 Brunswick Ave., TO
7-11> Sonicapacity; JRabbit; Maybe @ Sneaky Dee's, 431 College St., TO ~indie; $5
7> The Deloraines 35th Anniversary @ Tranzac Club (Main Hall), 292 Brunswick Ave., TO
7:30> Sara Dell @ The Rex, 194 Queen St. W., TO ~ Jazz
8> Patrick Brealey @ Cameron House (front), 408 Queen St. W., TO
8> Rose Stella @ Musideum, 401 Richmond St. W., #133, TO ~Jazz; $20
9> Julian Taylor Band release for Desert Star EP 1 with guests The Commoners; Jordan Alexander @ Horseshoe Tavern, 370 Queen St. W., TO
9> The Phil & John Show featuring Phil Naro @ Drums N Flats, 1980 Avenue Rd., TO North
9> Pop Cherry @ Seven44, 744 Mount Pleasant Road, TO North ~vintage Rock/Pop
9> Colin Hunter & The Paul Novotny Quartet @ Jazz Bistro, 251 Victoria St., TO ~Jazz
9> 9th Anniversary Party hosted by Rob Mailloux & Evan Desmarais with performances by Patrick Grant; Frizzo; Lauren Richard; Kaleidoscope Horse @ The Central, 603 Markham St., TO ~eclectic

9> Chuckline Rider @ Cameron House (rear), 408 Queen St. W., TO
9:30> Cadre; Mary Stewart @ C'est What, 67 Front St. E., TO ~Roots-Rock/indie Pop; pwyc
9:30> Chobo; Weird Neighbours; Maintenance Request Form @ The Cavern Bar, 76 Church St., TO ~indie
9:45> Humber Faculty Nonet @ The Rex, 194 Queen St. W., TO ~Jazz
*9:45> Tyler Yarema & His Rhythm @ Reservoir Lounge, 52 Wellington St. E., TO ~Jazz/Blues; $
10> Ride The Tiger @ Orbit Room, 480 College St. TO ~Funk/Soul; $
10> Greg Cokerill Band @ Cameron House (front), 408 Queen St. W., TO
10> Shawn Williams Clarke & Melissa Marie @ Tranzac Club (Southern Cross), 292 Brunswick Ave., TO
10> Footprints @ Rivoli, 334 Queen St. W., TO; $10
10-2> Caution Jam @ Grossman's, 379 Spadina Ave., TO ~Grateful Dead-style jam band
10> The Paper Kites; Old Man Canyon @ Lee's Palace, 529 Bloor St. W., TO ~Australian indie band; $16.50
10:30> Soul Kicks @ Fionn MacCool's Esplanade, 70 The Esplanade
10:30> Wednesday's Engine @ The Hideout, 484 Queen St. W., TO ~indie Rock
416 - Toronto East
*3:30-6> Johnny Wright @ Outriggers, 2232 Queen St. E., TO East ~R&B
*4-7:30> Ronnie Hayward Trio @ McQueen's, 993 Queen St. E., TO E. ~Blues/Roots
6-8> The Cosmotones @ Castro's, 2116 Queen St. E., TO East ~Blues/Roots
8> David Leask @ The Feathers, 962 Kingston Rd., TO East ~songwriter with Celtic & Pop covers
8> The Watchmen @ The Danforth Music Hall, 147 Danforth Ave., TO East
9:30-11:30> The One Shot Band featuring Rory Cummings @ Relish, 2152 Danforth Ave., TO East ~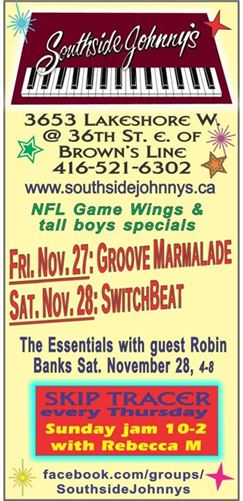 9:30> East End Comedy Revue with Scott Thompson @ The Duke Live, 1225 Queen St. E., TO East ~comedy
9:30> Mr. Pharmacist @ Linsmore Tavern, 1298 Danforth Ave., TO East ~The Fall tribute; $5
416 – Toronto Etobicoke
*3-6> Danny B Band @ Blue Goose, 1 Blue Goose St., Etobicoke South ~R&B/Blues
**4-8> The Bear's Essentials with guest singer Robin Banks @

Southside Johnny'

s, 3653 Lake Shore Blvd. W. Etobicoke South ~Rock-R&B
*4-8> The Meteors with guest Marshall Dane @ Timothy's Pub, 344 Brown's Line, Etobicoke South ~Blues/Rock/R&B
7:30> Russ Little Quartet @ Old Mill Inn Homesmith Bar, 21 Old Mill Rd., Etobicoke ~Jazz; minimum table charge
8> Retro Mix @ Old Mill Inn Dining Room, 21 Old Mill Rd., Etobicoke ~Jazz; minimum table charge
8> My Favourite Headache; Universal Juveniles @ The Rockpile, 5555 Dundas St. W., Etobicoke ~Rush/Max Webster tributes; $20
9> Classic Edge @ Blue Goose Tavern, 1 Blue Goose Rd., Etobicoke South ~Pop Rock
9> G String @ Maple Leaf House, 2749 Lake Shore Boulevard West, Etobicoke ~Rock/Top 40/Blues
9:30> Motown Mania @ Timothy's Pub, 344 Brown's Line, Etobicoke South ~Motown; $
9:30> The Northern Beard Company @ Refinery Public House, 3039 Lake Shore Blvd. W., Etobicoke
10-2> Switchbeat @ Southside Johnny's, 3653 Lake Shore Blvd. W. Etobicoke South ~Rock/Top 40
416 – Toronto Scarborough
*3-6> Still Sunday hosts Rock/Blues jam & Toy Mountain & Food Bank drive @ The Loaded Dog, 1921 Lawrence Ave. E., Scarborough
9-1> Colin Amey @ Black Dog Pub, 87 Island Rd., Scarborough ~ Pop Rock
9:30> Stone Slinger @ The Birchmount, 462 Birchmount Rd., Scarborough
*9:30-2> karaoke with The English Rose & The Mad Scotsman @ Winners, 2181 Lawrence Ave. E., Scarborough
9:30> Fat Tony @ Stone Cottage Pub, 3750 Kingston Rd., Scarborough ~Pop Rock
9:30> One Night Stand @ The Loaded Dog, 1921 Lawrence Ave. E., Scarborough ~Rock
10> The Dirty Rottens featuring Anthony Cee @ The Fox at Scarborough Junction, 646 Danforth Rd., Scarborough ~Rock
416 - Toronto West
*12-3> Julian Fauth's Blues Brunch @ Axis, 3048 Dundas St. W., TO West ~Blues
**2-6> open mic with guest host David Storey @ Magic Oven, 347 Keele St., TO West
**5-8> Bill Heffernan's Saturday Sessions with featured guests Tom Leighton & Conrad Kipping @ Gate 403, 403 Roncesvalles Ave. TO West ~Roots/Country/Pop
5-8> Chinatown banquest soundcheck @ The Local, 396 Roncesvalles Ave., TO West ~
5> Black Magic Markers @ The Tennessee, 1554 Queen St. W., TO West ~indie
7-9> Jacob Roof Top Love @ Dakota Tavern, 249 Ossington Ave., TO West
8-10> Nono Solarte @ Humble Beginnings, 3109 Dundas St. W., TO West ~Philippino singer-guitarist
8:30> The Last Waltz celebration of The Band featuring Lance Anderson @ Hugh's Room, 2261 Dundas St. W., TO West ~tribute; $45/-
9-1> Sweet Derrick Blues Band @ Gate 403, 403 Roncesvalles Ave., TO West ~Blues
9> Lyfe @ The Tennessee, 1554 Queen St. W., TO West
9> Jack de Keyzer @ Cadillac Lounge, 1298 Queen St. W., TO West ~Blues; $
9> Matthew Bailey; Animal Parts; Heavy on the Willie @ Burdock, 1184 Bloor St. W., TO West ~indie
9> Dark Blue @ Smiling Buddha, 961 College St., TO West
9> Chris Staig & The Marquee Players @ The Local, 396 Roncesvalles Ave., TO West  ~Rock 'n' Roll
9:30> Big Rude Jake @ Fat City Blues, 890 College St., TO West ~Blues
10-2> How Wax Meltdown @ Dakota Tavern, 249 Ossington Ave., TO West ~Rock; $
519
3-6> Chris Antonik @ Brando's Beach House, 135 Market St., Brantford ~Blues
9> The O'Deadlys @ Fionn MacCool's Kitchener, 4287 King St. E., Kitchener
9> Jeff Holdridge @ Fionn MacCool's Guelph, 494 Ediburgh Rd. S., Guelph
705
5> Rick & Gailie @ Black Horse Pub, 452 George St. N., Peterborough
8:30> House Brand @ Black Horse Pub, 452 George St. N., Peterborough
9:30> Zeus; Stonetrotter @ Sticky Fingers Dunlop, 150 Dunlop St. W., Barrie ~Rock; $10
9:30> Union City @ Red Dog Tavern, 189 Hunter St. W., Peterborough
10> Cougars In America @ The Garnet, 231 Hunter St. W., Peterborough
905 East
*4> Susan Latimer @ Simcoe Blues & Jazz, 926 Simcoe St., Oshawa ~Folk songwriter
*9-1> karaoke with Rob MacArthur @ Tudor Rose, 700 Harwood Ave. S., Ajax
9> James Barker Band @ The Corral, 433 Simcoe St. S., Oshawa ~Country
9> tributes to Tool & Rage Against The Machine @ The Atria, 59 King St. E., Oshawa
9> Alpha Omega @ The Moustache Club, 15 Simcoe St. N., Oshawa ~indie
9:30> Cece Pastor & The Word @ The Edge, 250 Bayly St., Ajax ~Rock/Pop; $
10-2> Tamin' Thunder @ Fionn MacCool's Ajax, 36 Kingston Rd. E., Ajax ~Rock/R&B/Dance
10-2> Spitfire Kings @ Whisky John's, 843 King St. W., Oshawa ~Rock
905 North
6-9> Dinner Jazz @ Lake Simcoe Arms, 21089 Dalton Rd., Jackson's Point ~Jazz
7-10> Mark Yan & Barry Mulcahy @ Vesuvios Ristorante, 91 George St. S., Brampton ~acoustic Pop covers & originals
9-1> Audio Taxi @ Oscar's Roadhouse, 1785 Queen St. E., Brampton ~Pop Rock/Top 40
9> The Shiny Things @ Fionn MacCool's Newmarket, 17315 Leslie St., Newmarket
9> The Chums @ King Richard's Pub, 15570 Yonge St., Aurora ~Pop Rock
9:30> Rude E Bones @ Stewart Maguire's Landing, 15 Allan Rd., Bolton
9:30> Justin Time @ Jake's Boathouse Brampton, 59 First Gulf Rd., Brampton ~Pop Rock
9:30> Michael Danckert Band @ Aw Shucks, 15230 Yonge St., Aurora ~Pop Rock
*11> DJ Ozne (Enzo Simone) @ Britannia Pub, 7359 Yonge St., Thornhill
905 South
*2-6> jam w. Tom Finocchio @ Sam's Place, Barton-Chestnut Sts., Hamilton
**2:30> special guest with The Mighty Duck Band, The Duck, 244 Ontario St., St. Catharines ~R&B/Blues
**2:30> Chris Chambers @ Coach & Lantern (upstairs), 384 Wilson St E., Hamilton ~Blues
9> MLC @ Coach & Lantern, 384 Wilson St E., Hamilton
9> Martin Verrall; Peter Arsenault; Raphael Keelan @ This Ain't Hollywood, 345 James St. N., Hamilton
9> The Dears @ Casbah Lounge, 306 King St. W., Hamilton
**9> Niagara Rhythm Section @ The Old Winery, 2228 Niagara Stone Rd., Niagara-On-The-Lake ~R&B/Blues
9:30> LVO @ Corktown Pub, 175 Young St., Hamilton ~indie; $
10> Saucy Jack @ Doc Magilligan's Irish Pub, 6400 Lundy's Lane, Niagara Falls
905 West
**2-6> Sil Simone Band with special guest Kenny V @ Carrigan Arms, 2025 Upper Middle Rd., Burlington ~Rock/Blues
**2-6> Saturday Blues Sermon with James Anthony & special guest Lou Moore @ Black Swan Pub Burlington, 4040 Palladium Way, Burlington ~Blues
*3-7> jam with Michelle Deneault & Redder @ Port Credit Legion, 35 Front St., Port Credit
*3-7> open stage jam @ Moonshine Café, 137 Kerr St., Oakville; $2
*6-9> Victoria & Bobby Keys @ Roc'n Doc's, 105 Lakeshore Rd. E., Port Credit ~soft Pop
7:30> Amanda Rose Band also featuring Josh Gordon @ Red Lion Bar, 1077 North Service Rd., Mississauga ~Rock/Pop
8> Little Peter and The Elegants & Mississauga Big Band Jazz Ensemble on two stages @ Port Credit Legion, 35 Front St. N., Port Credit ~50s/60s harmonic Rock 'n' Roll
9> The Clearing @ Fionn MacCool's Oakville, 350 Dundas St. E., Oakville
9> Time Bomb @ Fionn MacCool's Burlington, 2331 Appleby Line, Burlington
9> Rainbow Dance @ Carrigan Arms, 2025 Upper Middle Rd., Burlington
9:30> Grey So Young @ Sixth Line Pub, 1500 Sixth Line, Oakville
9:30> Matt 'n' Dave @ Shore Grill, 71 Lakeshore Rd. E., Port Credit ~Pop Rock/Top 40
9:30> Rebeljo @ The Franklin House, 263 Queen St. S., Streetsville ~Pop Rock
9:30> Tim Park Trio @ Gator Ted's, 1505 Guelph Line, Burlington
9:30> Now and Then @ Boston Manor, 4460 Fairview Ave., Burlington
10-2> Tom Barlow Band @ Roc'n Doc's, 105 Lakeshore Rd. E., Port Credit ~Rock/Top 40; $
10:15> Amy Zen @ Failte, 201 City Centre Dr., Mississauga
Copyright © 2015 Toronto Moon Magazine. All Rights Reserved