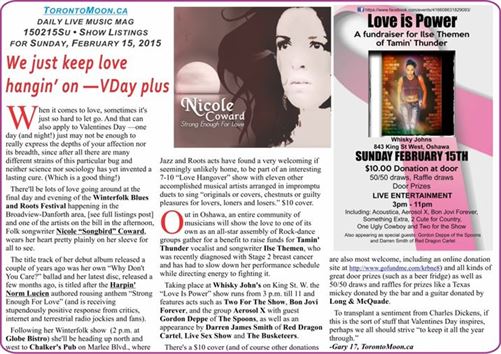 When it comes to love, sometimes it's just so hard to let go. And that can also apply to Valentines Day —one day (and night!) just may not be enough to really express the depths of your affection nor its breadth, since after all there are many different strains of this particular bug and neither science nor sociology has yet invented a lasting cure. (Which is a good thing!)

There'll be lots of love going around at the final day and evening of the Winterfolk Blues and Roots Festival happening in the Broadview-Danforth area, [see full listings post] and one of the artists on the bill in the afternoon, Folk songwriter Nicole "Songbird" Coward, wears her heart pretty plainly on her sleeve for all to see.
The title track of her debut album released a couple of years ago was her own "Why Don't You Care?" ballad and her latest disc, released a few months ago, is titled after the Harpin' Norm Lucien authored rousing anthem "Strong Enough For Love" (and is receiving stupendously positive response from critics, internet and terrestrial radio jockies and fans).
Following her Winterfolk show  (2 p.m. at Globe Bistro) she'll be heading up north and west to Chalker's Pub on Marlee Blvd., where Jazz and Roots acts have found a very welcoming if seemingly unlikely home, to be part of an interesting 7-10 "Love Hangover" show with eleven other accomplished musical artists arranged in impromptu duets to sing "originals or covers, chestnuts or guilty pleasures for lovers, loners and losers." $10 cover.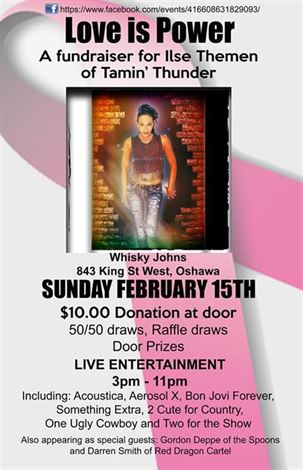 Out in Oshawa, an entire community of musicians will show the love to one of its own as an all-star assembly of Rock-dance groups gather for a benefit to raise funds for Tamin' Thunder vocalist and songwriter Ilse Themen, who was recently diagnosed with Stage 2 breast cancer and has had to slow down her performance schedule while directing energy to fighting it.
Taking place at Whisky John's on King St. W. the "Love Is Power" show runs from 3 p.m. till 11 and features acts such as Two For The Show, Bon Jovi Forever, and the group Aerosol X with guest Gordon Deppe of The Spoons, as well as an appearance by Darren James Smith of Red Dragon Cartel, Live Sex Show and The Busketeers.

There's a $10 cover (and of course other donations are also most welcome, including an online donation site at http://www.gofundme.com/krbne8) and all kinds of great door prizes (such as a beer fridge) as well as 50/50 draws and raffles for prizes like a Texas mickey donated by the bar and a guitar donated by Long & McQuade.
To transplant a sentiment from Charles Dickens, if this is the sort of stuff that Valentines Day inspires, perhaps we all should strive "to keep it all the year through."
-Gary 17, TorontoMoon.ca
SHOW LISTINGS for Sunday, February 15, 2022

:
Winterfolk XIII for Sunday, February 15, 2022
Shows are free unless indicated otherwise. For paid shows visit http://www.winterfolk.com/winterfolk-advance-ticket-sales/ to purchase advance tickets.

1 p.m. – 11 p.m. at Black Swan 2nd Floor Lounge, 154 Danforth Ave.
1: Jack de Keyzer Guitar Jamboree with Tony Quarrington; Mike McKenna; Danny Marks; more
2-4: "The Audience Writes A Blues Song" with Brian Blain & Wendell Ferguson
6-12: "They Put The Folk in Winterfolk" with David Essig; Linda McRae; Ken Whiteley; Lynn Miles ~$15 advance, $20 door

1 p.m. – 11 p.m. at Black Swan Tavern, 154 Danforth Ave.
1-3: Best Of The Moonshine Cafe with host John Marlatt
3-5: Celebration of the life of Nik Beat with host Michael Oesch & poets/songwriters
5-8 Winterfolk Open Stage with host Nicola Vaughan
8: Dan McVeigh
9: Danny Marks
10: Kitgut String Band

1 p.m. - midnight at Dora Keogh, 141 Danforth Ave.
1: Duelling Banjos
2: Winterfolk open stage with hosts Beverly Kreller & Howard Druckman of HOTCHA!
4: Sue & Dwight
5: Ben Sures
6: Laura Fernandez
8: HOTCHA!
9: Isabel and the Uncommons
10: Vivienne Wilder Band
1 p.m. - midnight at Globe Bistro, 124 Danforth Ave.
1: Brian Blain
3: Shawna Caspi
5: Jo Jo Worthington
7: Amazing Flying Fingers feat. Brian Gladstone
8: Lynn Harrison
9: Kristine Schmitt

1 p.m. - midnight at Terri O's, 185 Danforth Ave.
1-3: Hosted by Gary 17, SongTown presents artists showcase: James Sloan; Michael Bar; Paul Cross, Darwin Bruce; Harpin' Norm Lucien; Pat Little; John Romas; Pete Otis.
3: Nicola Vaughan
4: "All About That Bass" with Rachel Melas, Gary Kendall, Alastair Whitehead, Vivienne Wilder
5: Whoa Nellie
6: "Songs Of Protest and Social Change" with Lynn Harrison, Seb Agnello; Glen Hornblast
7: Mike McKenna, D'Arcy Wickham, Noah Zacharin guitar workshop
8: Mr. Rick
9: Wendell Ferguson
10: Fraser & Girard.
GTA CLUB LISTINGS for Sunday, February 15, 2022

:
Listings preceded by an asterisk (*) are repeating weekly events. (Double asterisk indicates repeating event with different hosts/guest/etc.). Admission prices followed by a slash and minus (/-) after the amount indicates door charge with availability of cheaper rates for some purchases. /+ indicates stated price is minimum.
Names of subscribers appear in bold, are underlined and, where applicable, include a live link to their websites. Advertisers' listings are in larger type, include live link to website and also have ad icon included in listings.
11-2> Evan Desaulnier for Jazz brunch @ Relish, 2152 Danforth Ave. TO East
11am-2pm> Michael Anklewicz Band for Jazz brunch @ Free Times Café, 320 College St., TO
*12-3> Julian Fauth's Blues brunch @ Axis, 3048 Dundas St. W., TO West ~Blues
noon> Excelsior Dixieland Jazz Band @ The Rex, 194 Queen St. W., TO ~Jazz
noon> Somewhere There Festival @ Tranzac Club (Main Hall), 292 Brunswick Ave., TO
*2-5> Heidi Lange, Mark Kieswetter & Ross MacIntyre @ Morgan's, 1282 Danforth Ave., TO East ~Jazz
*2-5> acoustic jam with host Bill Black @ The Working Dog Saloon, 3676 St. Clair Ave. E., Scarborough
3-5> Fraser & Girard @ Tranzac Club (Southern Cross), 292 Brunswick Ave., TO ~Folk
*3-6> Michael Brennan @ Graffiti's, 170 Baldwin St. TO ~East Coast Rock/Blues Roots
*3-7> jam at CJ Barleys, 213 The Queensway, Keswick
3-6> "Blue Valentine": Willie P. Bennett memorial @ The Garnet, 231 Hunter St., W., Peterborough ~Country
3:30-6:30> Dr. Nick & The Rollercoasters @ The Rex, 194 Queen St. W., TO ~Blues
*3:30-7:30> jam @ Black Bear, 1125 O'Connor Drive, TO East
3-11> "Love Is Power" benefit for Ilse Themen of Tamin' Thunder with One Ugly Cowboy; 2 Cute 4 Country; Something Extra; Bon Jovi Forever; Two for the Show; Aerosol X with special guest Gordon Deppe of The Spoons; Acoustica @ Whisky John's, 843 King St. W., Oshawa
4-8> The Pie Guys with special guest @ Timothy's Pub, 344 Brown's Line, Etobicoke ~Pop Rock
4-8> Tim Collins @ Blue Goose Tavern, 1 Blue Goose Rd., Etobicoke South
4> Gypsy Rebels @ Castro's Lounge, 2116 Queen St. E., TO East
*4:30-8> New Orleans Connection All Stars & guests @ Grossman's, 379 Spadina Ave., TO ~New Orleans Jazz
4> Carey Moore @ Simcoe Blues & Jazz, 926 Simcoe St. N., Oshawa ~Jazz
*4:30-8> Chuck Jackson's All Stars @ Roc'n Doc's, 105 Lakeshore Rd. E., Port Credit ~Blues
*5-9> John Dickie/Pat Perez Band @ Linsmore Tavern, 1298 Danforth Ave, TO East ~R&B/Blues
*5-9> All ages open jam with Juggernaut Jam Band featuring Andy Narsingh @ West Shore Bar & Grill, 877 Bayly St., Pickering
**5-8> John Borra & Sam Ferrara w. guest @ The Communist's Daughter, 1149 Dundas St. W. TO West ~Country
5-8> Chris Coole @ The Local, 396 Roncesvalles Ave., TO West ~old time Country
5-8> Jeff Taylor & The SLT @ Gate 403, 403 Roncesvalles Ave., TO West ~Jazz
**5-8> The Stew @ Mulligan's, 2458 Dundas St. W., Mississauga ~R&B/Rock
*5-9> open mic with feature guest @ Sgt. Pepper's Aurora, Walmart Plaza, Aurora
*6-10> jam with Tommy Rocker, John Robbie @ Scarborough Junction, 646 Danforth Rd., Scarborough
*7-1> Freefall Sundays open stage with hosts Steve York & Tony Rabalao (2 songs each -signup @ 7 or pre-sign online) @ The Supermarket, 268 Augusta St., TO
7-10> "Love Hangover" duets featuring Nicole Coward; Marcel Aucoin; Victor Bateman; Tania Gill; George Westerholm; Shelby Lamb; more @ Chalker's Pub, 247 Marlee Ave., TO North ~eclectic songs about love; $10
*7-11> Karaoke with Rob MacArthur @ The Edge, 250 Bayly St. W., Ajax
7> Meredith Shaw with Emily Reid @ Cameron House (front), 408 Queen St. W., TO
7> Song Studio @ C'est What, 69 Front St. E., TO ~
7-9:30> Autobahn @ The Rex, 194 Queen St. W., TO ~Jazz
*7-11> open jam @ McGradie's, 2167 Victoria Park Ave., Scarborough
**7-11> The Nomads @ Shore Grill, 71 Lakeshore Rd. E., Port Credit
*7> open jam with Mike Shotton & The Flying Squirrels @ Black Swan Pub Burlington, 4040 Palladium Way, Burlington
7:30> Gathering Sparks with Eve Goldberg, Sam Turton & Jane Lewis @ Tranzac Club (Southern Cross), 292 Brunswick Ave., TO ~Folk
8> Gordon's Acoustic Living Room @ Free Times Café, 320 College St., TO
8> comedy show @ Cameron House (rear), 408 Queen St. W., TO
8-12> The Tonkas @ Roc'n Doc's, 105 Lakeshore Rd. E., Port Credit ~Rock/Top 40
*8:30-12:30> karaoke with The English Rose & The Mad Scotsman @ Gryphon Pub, 114 Dundas St. E., Whitby
8:30> Jimmy Webb @ Hugh's Room, 2261 Dundas St. W., TO West ~Country icon; $50/-
9-1> The Strategy @ Gate 403, 403 Roncesvalles Ave., TO West
9> Los Cabelleros del Son @ The Local, 396 Roncesvalles Ave., TO West ~Cuban traditional
*9> Rob Hiemstra solo @ The Unicorn, 175 Eglinton Ave. E., TO North ~Rock/Pop
*9-1> jam with Mike Roland and Lenny Vaccari @ Stewart Maguires Landing, 15 Allan Dr., Bolton
*9-1> jam @ Ivy Arms Pub, 201 Main Street East, Milton
*9:30-1> jam with the Stir It Up Band featuring Bryan Van Dusen & David Macmichael @ Relish, 2152 Danforth Ave., TO East
*9:30-1:30> jam with Rebecca Matiesen & Phoenix @ Southside Johnny's, 3653 Lakeshore Blvd. W., Etobicoke South
9:45> Run Stop Run @ The Rex, 194 Queen St. W., TO ~Jazz
*10> Horshack feat. Chris Caddell @ Orbit Room, 580 College St., TO ~Bluesy contemporary & classic Rock
10> Steve Ward presents @ Tranzac Club (Southern Cross), 292 Brunswick Ave., TO
*10> Public Animal; Wrong Hole @ Dakota Tavern, 249 Ossington Ave., TO West
10> J Swinnerton Blues Band @ Cameron House (front), 408 Queen St. W., TO
**10> Blues jam with Brian Cober, Bill Hedefine & guest bassist @ Grossman's, 379 Spadina Ave., TO
*10> jam with Groove Stone feat. Dale Harrison @ Scruffy Murphy's Uptown, 150 Eglinton Ave. E., TO North
*10> Cajun Music Mardi Gras party @ The Garnet, 231 Hunter St., W., Peterborough ~Country
10:30> Geoff Willingham @ The Hideout, 484 Queen St. W., TO ~indie Rock
Copyright © 2015 Toronto Moon Magazine. All Rights Reserved