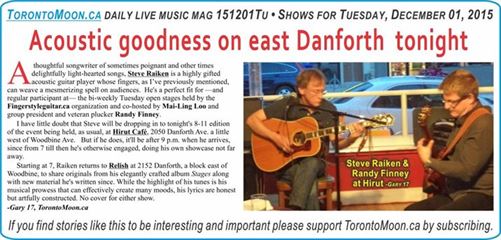 \ TO EAST \
A thoughtful songwriter of sometimes poignant and other times delightfully light-hearted songs, Steve Raiken is a highly gifted acoustic guitar player whose fingers, as I've previously mentioned, can weave a mesmerizing spell on audiences. He's a perfect fit for —and regular participant at— the bi-weekly Tuesday open stages held by the Fingerstyleguitar.ca organization and co-hosted by Mai-Ling Loo and group president and veteran plucker Randy Finney.
I have little doubt that Steve will be dropping in to tonight's 8-11 edition of the event being held, as usual, at Hirut Café, 2050 Danforth Ave. a little west of Woodbine Ave.   But if he does, it'll be after 9 p.m. when he arrives, since from 7 till then he's otherwise engaged, doing his own showcase not far away.
Starting at 7, Raiken returns to Relish at 2152 Danforth, a block east of Woodbine, to share originals from his elegantly crafted album Stages along with new material he's written since. While the highlight of his tunes is his musical prowess that can effectively create many moods, his lyrics are honest but artfully constructed. No cover for either show.
-Gary 17, TorontoMoon.ca
SHOW LISTINGS for Tuesday, December 01, 2021
Listings are organized by area in which the shows occur and within each area field shows are listed chronologically.
Listings preceded by an asterisk (*) are repeating weekly events. (Double asterisk indicates repeating event with different hosts/guest/etc.). Admission prices followed by a slash and minus (/-) after the amount indicates door charge with availability of cheaper rates for some purchases. /+ indicates stated price is minimum.
Names of subscribers appear in bold, are underlined and, where applicable, include a live link to their websites. Advertisers' listings are in larger highlighted type, include live link to website and also have ad icon included in listings.
416 – Toronto Central
6> The Distillery @ Cameron House (front), 408 Queen St. W., TO
6:30> Kieran Overs Quartet @ The Rex, 194 Queen St. W., TO ~Jazz; $
*7-11> Girls Night Out Jazz singers' Jazz jam with Lisa Particelli, Peter Hill et al @ 120 Diner, 120 Church St., TO
8> Rob Tardik @ Jazz Bistro, 251 Victoria St., TO ~Jazz
7> Scott Weiland & The Wildabouts with openers Fallen Heirs; Road Heavy; One In The Chamber; Darkstone Crows @ Adelaide Hall, 250 Adelaide St. W., TO ~former Stone Temple Pilots frontman; $
7:30> Ali Berkok @ Tranzac Club (Southern Cross), 292 Brunswick St., TO ~Jazz
8> SOA: Joel Visentin; Moïse Yawo Matey; Chrys Maechler @ Musideum, 401 Richmond St. W., #133, TO ~Jazz/Soul/African; $
8> Common Deer; Shore Thing; The Implications; These Lights @ Rivoli, 334 Queen St. W., TO ~indie; $10
8:30> Car Seat Headrest; Little Kid @ Silver Dollar, 486 Spadina Ave., TO ~indie; $
*8:45> Tyler Yarema & His Rhythm @ Reservoir Lounge, 52 Wellington St. E., TO ~Jazz/Blues; $
9> The Hope State; Reno McCarthy; Bill Wood & The Woodies; Pretty Archie @ Horseshoe Tavern, 370 Queen St. W., TO ~indie; free

*9> Chris Caddell Blues Band @ Lou Dawgs, 598 King St. W., TO ~Blues
9:30> Ms. Debbie & The Don Valley Stompers @ Grossman's, 379 Spadina Ave., TO ~Bluesabily
*9:30> open mic @ The Paddock, 178 Bathurst St., TO
**9:30> Jazz jam with Chris Gale @ The Rex, 194 Queen St. W., TO ~Jazz; $
*10-2> The Sattalites @ Orbit Room, 580 College St., TO ~original & cover Reggae/Funk; $
10> Peripheral Vision @ Tranzac Club (Southern Cross), 292 Brunswick St., TO ~Jazz
*10> The Hit Pickers @ Cloak & Dagger, 294 College St., TO
10> Run With The Kittens @ Cameron House (front), 408 Queen St. W., TO ~indie Pop
10:30> Don Campbell @ The Hideout, 484 Queen St. W., TO
416 – Toronto East
*6-9> Julian Fauth solo @ Sauce, 1376 Danforth Ave., TO East ~original Blues piano
6> August Burns Red; Wage War; Polyphia; Stick To Your Guns; Every Time I Die @ The Danforth Music Hall, 147 Danforth Ave., TO East ~original Hard Rock; $
7-9> Steve Raiken @ Relish, 2152 Danforth Ave., TO East ~Roots songwriter
8> Sam Taylor & The East End Love @ The Only Café, 972 Danforth Ave., TO East ~original & cover Blues
8 > FingerStyleGuitar.ca open stage @ Hirut, 2050 Danforth Ave., TO East ~Roots
8> EastSideWest; Hogtown Delta @ Linsmore Tavern, 1298 Danforth Ave., TO East ~Soul/R&B; Bluegrass
8:30-10:30> Tom Waits Appreciation Congregation @ Castro's, 2116 Queen St. E., TO East
9> open mic @ Groove Bar, 1952 Danforth Ave., TO East
*9-1> jam with Frank Wilks @ The Duke Live, 1225 Queen St. E., TO East
9-12> Stuart Laughton's Radio Dial @ Dora Keogh ~eclectic vintage Pop/Jazz
*9:30> Peter Verity @ Black Swan, 154 Danforth Ave., TO East ~Folk Roots
**9:30-12> open stage hosted by Jay Pennell or Kyle Duffin @ The Old Nick, 123 Danforth Ave., TO East
416 – Toronto Etobicoke
7:30> Gene Dinovi @ Old Mill Inn, 21 Old Mill Rd., Etobicoke ~Jazz; min table charge
416 – Toronto Scarborough
*9:30> karaoke with The English Rose & The Mad Scotsman @ The Fossil & Haggis, 790 Military Trail, Scarborough
416 – Toronto West
5-8> Howard Willett Duo @ Gate 403, 403 Roncesvalles Ave., TO West ~Blues
7> Jason Collett's Basement Review @ Dakota Tavern, 249 Ossington Ave., TO West ~music & literary; $
7:30-10> open mic with hosts North Of Queen @ Emmanuel Howard Park United Church, 214 Wright Ave., TO West; $2
8> Ventanas @ Lula Lounge, 1585 Dundas St. W., TO West ~Flamenco; $
8:30> Gracie & Gary @ Fat City Blues, 890 College St., TO West
8:30> Doomsquad; New Chance; Rub Out The World @ Dundas Video, 831 Dundas St. W., TO West
8:30> Alana Yorke @ Burdock, 1184 Bloor St. W., TO West
9> Katey Morley; Tree Museum; Scratch Nasy for Indie Tuesdays @ The Piston, 937 Bloor St. W., TO West ~indie; pwyc
9> Brent Diabo @ The Local, 396 Roncesvalles Ave., TO West
9> Ben Hermann & Blunt Chunks @ Holy Oak Café, 1241 Bloor St. W., TO West ~Roots
9> Grant Lyle @ Gate 403, 403 Roncesvalles Ave., TO West ~Blues
9> jam night with host band & backline @ The Tennessee, 1554 Queen St. W., TO West
**9:30> jam with Derek Downham or Cody McMillan @ Axis, 3048 Dundas St. W., TO West ~eclectic
905 East
*6:30-11> The Woodshed jam with Don Niblett & Frank Zochodne @ Simcoe Blues & Jazz, 926 Simcoe St. N., Oshawa
9> The Dukes @ The Corral, 433 Simcoe St. S., Oshawa ~Country Rock
*10> open mic with Josh Beaven @ The Atria, 59 King St. E., Oshawa
905 North
*8-11> jam with Matthew Kane & The Brews Brothers @ The Crown, 9580 Yonge St., Richmond Hill
*8:30> open mic @ Falcon & Firkin, 10300 Yonge St., Richmond Hill
*9> open mic with Manny D, Andy Earle & Dave Breckels @ Big Chris BBQ, 17380 Yonge St., Newmarket
905 South
*9> open stage @ This Ain't Hollywood, 345 James St. N., Hamilton
*9:30-1> Traditional Irish jam @ Corktown Pub, 175 Young St., Hamilton
905 West
*8> The Phil & John Show feat. Phil Naro @ Shore Grill, 71 Lakeshore Rd. E., Port Credit ~acoustic Pop Rock
*8-12> Groovestone @ Roc'n Doc's, 105 Lakeshore Rd. E., Port Credit ~Rock/Funk; $
*8 (sign up at 7:30)> open stage with host Neil McNaughton @ Moonshine Café, 137 Kerr St., Oakville; $2
*8:45> open mic with Matt Zadkovich @ Culchain's Irish Pub, 158 Queen St. S., Streetsville-Mississauga
*10> open mic @ The Dickens, 423 Elizabeth St., Burlington
Copyright © 2015 Toronto Moon Magazine. All Rights Reserved