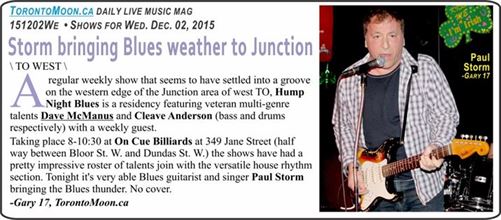 \ TO WEST \
A regular weekly show that seems to have settled into a groove on the western edge of the Junction area of west TO, Hump Night Blues is a residency featuring veteran multi-genre talents Dave McManus and Cleave Anderson (bass and drums respectively) with a weekly guest.
Taking place 8-10:30 at On Cue Billiards at 349 Jane Street (half way between Bloor St. W. and Dundas St. W.) the shows have had a pretty impressive roster of talents join with the versatile house rhythm section. Tonight it's very able Blues guitarist and singer Paul Storm bringing the Blues thunder. No cover.
-Gary 17, TorontoMoon.ca
SHOW LISTINGS for Wednesday, December 02, 2021
Listings are organized by area in which the shows occur and within each area field shows are listed chronologically.
Listings preceded by an asterisk (*) are repeating weekly events. (Double asterisk indicates repeating event with different hosts/guest/etc.) Admission prices followed by a slash and minus (/-) after the amount indicates door charge with availability of cheaper rates for some purchases. /+ indicates stated price is minimum.
Names of subscribers appear in bold and underlined and, where applicable, include a live link to their websites. Advertisers' listings are in larger, highlighted type, include live link to website and also have ad icon included in listings.
416 – Toronto Central
*5:30> Kama House Band @ Kama, 214 King St. W., TO ~Jazz
6-8> Alan Cohen with Bob Brough @ 120 Diner, 120 Church St., TO
6> Ariana Gillis @ Cameron House (front), 408 Queen St. W., TO ~original Roots-Pop
6> Comhaltas Irish Slow Session @ Tranzac Club (Tiki Room), 292 Brunswick Ave. TO ~folk dancing
7> David Rubel @ Monarchs Pub (Eaton Chelsea Hotel), 33 Gerrard St. W., TO ~Jazz
*7> Jim Heineman Trio @ Nawlins, 299 King St. W., TO ~Jazz
7:30> Troubleshooting @ Tranzac Club (Southern Cross), 292 Brunswick Ave. TO ~experimental Jazz
**8 (7 p.m. sign-up)> open stage with 9 p.m. feature by Noah Zacharin @ Fat Albert's, 25 Cecil St. (Steelworkers Hall), TO ~Roots
8> Cheryl Ockrant @ Musideum, 401 Richmond St. W., #133, TO ~new music; $20
8> Michael Schatte @ Jazz Bistro, 251 Victoria St., TO ~Blues
8> Sam Sundar-Singh @ Free Times Cafe, 320 College St., TO ~multi-genre multi-instrumentalist; $6
8:30> Stars Algonquin ep release with Buster Crabtree & Social Hysteria @ Cameron House (rear), 408 Queen St. W., TO ~original Roots-Pop
9> The Digs @ Reservoir Lounge, 52 Wellington St. E., TO ~Funk/Jazz/neo-Soul; $
*9-11> Black Unicrn @ 120 Diner, 120 Church St., TO
*9-2> What's Poppin' indie jam @ Sneaky Dee's, 431 College St., TO
9> The Town Heroes; Barbarosa; Mel Moncaco @ Horseshoe Tavern, 370 Queen St. W., TO ~indie; $8
9> AUS!FUNKT; The Databats; The Diagonikals @ The Cavern Bar, 76 Church St., TO ~neo-Punk
*9> open mic with Sean Barker @ Monarch Tavern, 12 Clinton St., TO
9:30> Blues & Troubles @ The Cloak & Dagger Irish Pub, 384 College St. ~Blues
9:30> Vincent Herring with Derek Gray Quintet @ The Rex, 194 Queen St. W., TO ~Jazz; $
10> The Heavyweights @ Cameron House (front), 408 Queen St. W., TO

10> Chronicles Dub Trio @ Tranzac Club (Southern Cross), 292 Brunswick Ave. TO ~Roots-Rock/Reggae
*10-2> Blues-Rock jam with Bruce Domoney @ Grossman's, 379 Spadina Ave. TO
10:30> The Undercovers @ The Hideout, 484 Queen St. W., TO ~indie Rock
*10:30> The LMT Connection @ Orbit Room, 580 College St. TO ~Funk/R&B; $10
416 – Toronto East
7> Whitehorse; Sun K @ The Danforth Music Hall, 147 Danforth Ave., TO East ~$35.25
*7:30-10:30> The BTBs @ Relish, 2152 Danforth Ave., TO East ~Jazz
8> Gary LaRocca hosts open stage @ The Only Café, 972 Danforth Ave., TO East
8:30-10:30> blueVenus; Civil Wray @ Castro's, 2116 Queen St. E., TO East ~indie Pop
*9:30> open stage with Nicola Vaughan @ Black Swan (downstairs), 154 Danforth Ave., TO East
416 – Toronto Etobicoke
7> Terror; Code Orange; Take Offense; Malfunction; Blind Justice @ The Rockpile, 5555 Dundas St. W., Etobicoke ~rage Rock; $
8-1> Marshall Dane @ Timothy's Pub, 344 Brown's Line, Etobicoke South ~Country Pop; $
416 – Toronto Scarborough
* 7> jam with Tommy Rocker's Classic Rock Band @ Fox at Scarborough Junction, 646 Danforth Rd., Scarborough
*8:30> Al Reilly's Catalyst @ Centro Pizza, 3408 Kingston Rd., Scarborough ~classic Rock
*8:30> open mic with Jadzia Skye & Michael Oesch @ Chez Helene's, 1437 Kingston Rd., Scarborough
416 – Toronto West
5-8> L.A. Turcotte: Sultans of Soul @ Gate 403, 403 Roncesvalles Ave., TO West
7> The Wilderness of Manitoba & guests @ Dakota Tavern, 249 Ossington Ave., TO West ~$10
**8-10:30> Hump Night Blues with Dave McManus & Cleave Anderson + special guest Paul Storm @ On Cue Billiards, 349 Jane St., TO West ~Blues
8> Oh Susanna @ The Great Hall, 1087 Queen St. W., TO West ~Rootsabilly
8:30> The Mercenaries @ Fat City Blues, 890 College St., TO West ~Rock/Soul revival
8:30> Trent Severn Trio (Emm Gryner, Dayna Manning, Lindsay Schlinder) album release @ Hugh's Room, 2261 Dundas St. W., TO West ~Roots Pop; $28.50
9-12> Blues Night with Julian Fauth & guests @ Gate 403, 403 Roncesvalles Ave., TO West ~original Juno-winning Blues
9> Gianna Lauren & Brend Randall @ Burdock, 1184 Bloor St. W., TO West
9> Pressgang Mutiny @ The Local, 396 Roncesvalles Ave., TO West
10> Sam Cash & The Romantic Dogs with guests @ Dakota Tavern, 249 Ossington Ave., TO West ~$10
*10> Kristine Schmitt & The Lonesome Ace Stringband @ The Hole In The Wall, 2867 Dundas St. W., TO West ~Pop
519

8> Danielle Todd @ Fionn MacCool's Kitchener, 4287 King St. E., Kitchener
9> The Phil & John Show feat. Phil Naro @ Molly Bloom's Waterloo, 170 University Ave., Waterloo ~acoustic Pop Rock
705
*7-11> open jam with Wayne Buttery Band @ The Beacon, 146 45th St., Wasaga Beach
7> Odd Man Rush @ Black Horse Pub, 452 George St. N., Peterborough
905 East
7> Frank Z @ Simcoe Blues & Jazz, 926 Simcoe St. N., Oshawa
*8-11> open mic @ Frank's Pasta, 426 King St. E., Cobourg
*9-12> jam with Damage Control @ St. Louis Bar & Grill Ajax, 11 Harwood Ave. S., Ajax
905 North
*7> open mic night with Tanya Joy Senior @ Col. McGrady's Pub, 44 Brock St. W., Uxbridge
*8-12> jam with Rebel Jo Band featuring Dave Girdlestone of Soul Funkshun on guitar @ Fionn MacCool's Brampton, 11 Ray Lawson Blvd. Brampton
*8:45> open mic jam with Matt Zady @ Magnums, 21 McMurchy Ave. N., Brampton
*9-1> open mic jam with Whiskey Birds @ Sweetz Lounge, 5289 Hwy 7, Woodbridge-Vaughan
*9:30> open mic with The Villagers @ Main's Mansion, 144 Main St., Markham
905 South
*7> open mic night @ Donnelley's Pub, 54 Front St., Thorold ~Blues
**8-1> "Country Pubkin" Night with Country artists tba @ Corktown Pub, 175 Young St., Hamilton
*8:30> Something Country @ The Endzone, 1900 King St. E., Hamilton ~Country
905 West
8-1> "Songsmiths" with host Lorne Allan & featured sets by Mike Gravitas and Jesse Parent, followed by open stage jam @ Moonshine Café, 137 Kerr St., Oakville ~songwriters; $5
8:30> The Carson Freeman Diversion @ Shore Grill, 71 Lakeshore Rd. E., Port Credit ~Pop Rock
9-1> Nancy Be Duo @ Roc'n Doc's, 105 Lakeshore Rd. E., Port Credit ~Rock/Pop; $
*9> open mic jam with Jack B Nimble @ Blarney's Gate, 1151 Dundas St. W., Mississauga
*9?> jam with Michael Zane or Pat Dowds @ Shakers, 580 Kerr St., Oakville
Copyright © 2015 Toronto Moon Magazine. All Rights Reserved