\ ETOBICOKE \
Although many rooms these days offer a "hump day" show that's aimed at making life in the middle of the week a little more bearable for people who work for a living (only two more days till the weekend, whee!!!) that night has been pretty slow for residents of usually fairly hopping Etobicoke.
While occasionally Old Mill has Latin Jazz dinner shows, The Rockpile —when it's not staging karaoke— sometimes has interesting acts and these days there's a Jazz jam at the room known as Placebo Space on Lake Shore Blvd., there hasn't been much choice for those whose tastes are more mainstream, leaning towards Rock, Pop and Blues.
Live entertainment staple Timothy's Pub on Brown's Line always has quality shows, of course (tonight it's Country-Pop songwriter Marshall Dane), but until a couple of weeks ago that's been about it.
But now sultry veteran singer Alana Truda Edwards and members of her Confidential Sources R&B/Soul/Rock band are hosting a weekly jam in the former Lakeside Bar & Grill at 2931 Lake Shore Blvd. West a little west of Islington Ave., thanks to the presence of a new owner.
While I haven't been out to see the new event, the vibe at the rechristened Etobicoke Local room sounds promising from what Alana has told me.  Up till now the place hasn't done much except karaoke and for a long time did a pretty poor job of promoting even that.  But Alana says the new operator, Shirley, seems pretty savvy and the room does now have an active Facebook presence and also an event page set up for the jam.
In addition to soulful, powerhouse vocalist Alana handling emceeing and getting the room revved up with her own stirring performances, the backing band (which shares the full backline with jammers) includes two veteran guitarists, Donovan Vincent, and Kevin Trefiner, Alana's longtime drummer Derick Lindo on the kit and Paul Cafarelli on bass.  In the jam hosting role the configuration is calling itself CS Eye, an obvious take-off on the main group's name.
Things get rolling around 9 and the no-cover event runs till 1 a.m.
-Gary 17, TorontoMoon.ca
SHOW LISTINGS for Wednesday, December 07, 2021

Listings are organized by area in which the shows occur and within each area field shows are listed chronologically.
Listings preceded by an asterisk (*) are repeating weekly events. (Double asterisk indicates repeating event with different hosts/guest/etc.) Events preceded by question mark (?) usually take place but have not been confirmed. Admission prices followed by a slash and minus (/-) after the amount indicates door charge with availability of cheaper rates for some purchases. /+ indicates stated price is minimum.
Names of subscribers appear in bold and underlined and, where applicable, include a live link to their websites. Advertisers' listings are in larger, highlighted type, include live link to website and also have ad icon included in listings.
416 – TORONTO CENTRAL
*5:30> Kama House Band @ Kama, 214 King St. W., TO ~Jazz
6-8> Whitney Ross-Barris @ 120 Diner, 120 Church St., TO ~Jazz; $10-20/pwyc
6> Golden Country Classics @ Cameron House (front), 408 Queen St. W., TO
6:30> Brian de Lima's Bud Powell tribute @ The Rex, 194 Queen St. W., TO ~Jazz; $
7> Stitches @ Hard Luck Bar, 772 Dundas St. W., TO
*7> Jim Heineman Trio @ Nawlins, 299 King St. W., TO ~Jazz
*7-10> Blues jam with Mark Stafford & Ken Yoshioka @ Alleycatz, 2409 Yonge St., TO North
7:30> Reckless Serenade @ Coalition, 282 Augusta Ave., TO
7:30> Thalia Zedek's "E" @ Array Space, 155 Walnut Ave., TO
7:30> Troubleshooting @ Tranzac Club (Southern Cross), 292 Brunswick Ave. TO
*7:30> Jeff Willingham @ Lou Dawgs Ryerson, 76 Gerrard St. E., TO ~acoustic Pop
**8-12> Girls Night Out Jazz singers' jam with Lisa Particelli, Peter Hill et al @ 120 Diner, 120 Church St., TO ~$10-20/pwyc
**8 (7 p.m. sign-up)> open stage with 9 p.m. feature by Peter Eastmure @ Fat Albert's, 25 Cecil St. (Steelworkers Hall), TO ~Roots
*8> open mic with host Jay Pollock & feature @ Touché Martini Bar, 669 College St., TO
8> Hanna Georgas; Uni Ika Ai @ Mod Club, 722 College St., TO
8> Scott B & Yawn Temiseva @ Graffiti's, 170 Baldwin St., TO ~songwriters
*8-11> YoYo Mama @ May Café, 876 Dundas St. W., TO Central  ~R&B group
8-9:30> Dan Dwoskin @ Jazz Bistro, 251 Victoria St., TO ~Jazz-Pop songwriter; $
8> Ben Crosby; Shari Brownstein-Tallon; Joyce Aldrich; As Waters; Chris Birkett @ Free Times Cafe, 320 College St., TO ~songwriters showcase; $10/$6 with clothing donation
8:30> "Epigraph Holiday Spectacular" @ The Central, 603 Markham St., TO
9> The Digs @ Reservoir Lounge, 52 Wellington St. E., TO ~Funk/Jazz/neo-Soul; $
*9 (signup at 8:30)> open mic with Alan Carter @ Lowdown, 276 Augusta Ave., TO
*9-2> What's Poppin' indie jam @ Sneaky Dee's, 431 College St., TO
9> Frigs; HSY; Scattered Clouds; Prom Nite @ Horseshoe Tavern, 370 Queen St. W., TO ~indie; $0
9> Karan Kumra and Black Indie @ The Cavern Bar, 76 Church St., TO ~songwriters
9:30> Blues & Troubles @ The Cloak & Dagger Irish Pub, 384 College St. ~Blues
9:30> Split Cycle @ The Rex, 194 Queen St. W., TO ~Jazz; $
10> Angie Hilts Band @ Cameron House (front), 408 Queen St. W., TO ~Roots songwriter
10> Ghostlight @ Tranzac Club (Southern Cross), 292 Brunswick Ave. TO
10-2> Blues-Rock jam with Owen's Sound @ Grossman's, 379 Spadina Ave. TO
*10:30> The LMT Connection @ Orbit Room, 580 College St. TO ~Funk/R&B; $10
416 – TORONTO EAST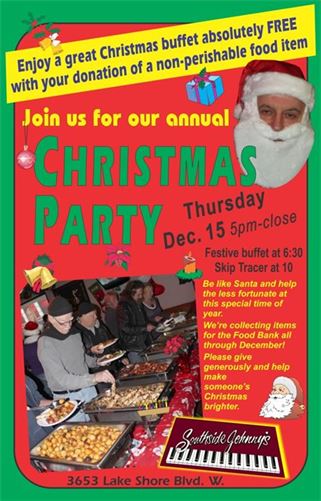 *7:30-10:30> The BTBs @ Relish, 2152 Danforth Ave., TO East ~Jazz; 0$
9-11> Civil Wray with Luke Roberts @ Castro's, 2116 Queen St. E., TO East ~original Pop; pwyc
*9:30> open stage with Nicola Vaughan @ Black Swan (downstairs), 154 Danforth Ave., TO East
416 – TORONTO ETOBICOKE
8-1> Marshall Dane @ Timothy's Pub, 344 Brown's Line, Etobicoke South ~Country/Pop originals & covers
*9-1> jam with full backline hosted by CS Eye featuring Alana Truda Edwards @ Etobicoke Local, 2961 Lake Shore Blvd. W., Etobicoke
9-12> Space Jazz jam with singer Meagan Luchko & guitarist Kevin Bolger & band with weekly guest tba @ Placebo Space, 2877 Lake Shore Blvd. W., Etobicoke ~Jazz ; $5/pwyc
416 – TORONTO WEST
5-8> Marshall Jacklin Jazz Trio @ Gate 403, 403 Roncesvalles Ave., TO West ~Jazz
6-9> Joel Stewart & The Future Hall of Famers @ Dakota Tavern, 249 Ossington Ave., TO West ~$10
7> 12th Andy Kim Christmas Show for Canadian Association for Mental Health with guests Ron Sexsmith, many more @ Queen Elizabeth Theatre, 190 Princes Blvd., TO West ~Pop; $25.50+
7:30> Electric Messiah @ Drake Hotel Underground, 1150 Queen St. W., TO West ~Classical/Electro-Pop Fusin; $20
*7:30> Lowfills; Cory Cruise; ThumbMuscle host Marty Zatzman tba @ Cadillac Lounge, 1296 Queen St. W., TO West ~indie; 0$
8> Wolf Saga; Glass Face; Violence @ The Baby G, 1608 Dundas St. W., TO West ~indie
8> The Marwills @ The Piston, 937 Bloor St. W., TO West ~Roots-Rock originals
*8> MFA open mic @ Remix Lounge, 1305 Dundas St. W., TO West
**8:30-10:30> Hump Night Blues with Dave McManus, George Baumann, Cleave Anderson + special guest Tom Robertson @ On Cue Billiards, 349 Jane St., TO West ~Blues
**9-12> Blues Night with Julian Fauth & guests @ Gate 403, 403 Roncesvalles Ave., TO West ~original Juno-winning Blues
9> Boat Culture; Camp Girls; Sportsfan; Bald Britney @ Smiling Buddha, 961 College St., TO West ~indie; $
9> Rob Piltch & Neil Swainson @ Mezzetta, 681 St. Clair Ave. W., TO West ~Jazz
9> Benj Rowland; Melissa Payne @ The Local, 396 Roncesvalles Ave., TO West ~Peterborough alt-Folk songwriters
9:30> Liam Titcomb @ Burdock, 1184 Bloor St. W., TO West ~Roots-Pop songwriter; $12
10> Rattlesnake Choir @ Dakota Tavern, 249 Ossington Ave., TO West ~Bluegrass/Rootsabilly; $10
*10:30> Luke Vajsar @ Motel Bar, 1235 Queen St. W., TO West ~Jazz
519
*6-8:30> ukulele jam @ Idea Exchange, 5 Tannery St. E., Cambridge
8-12> acoustic jam @ Anaf Club 344, 32 Gordon St., Guelph
8:30-11:30> Brian Sanchez @ Red Brick Café, 8 Douglas St., Guelph
9-11> Major/Minor; Myke Rush; more @ The Cornerstone, 1 Wyndham St. N., Guelph
705
*7-11> open jam with The Freacon Band @ The Beacon, 146 45th St., Wasaga Beach ~ Blues, Jazz; $5
8> various young bands @ Black Horse Pub, 452 George St. N., Peterborough
8> Honeymoon Phase @ The Huron Club, 94 Pine St., Collingwood
10> Brianna Gosselin @ The Garnet, 231 Hunter St. W., Peterborough
905 EAST
8-12> open mic night @ Fionn MacCool's Ajax, 32 Kingston Rd. E. Ajax
8> Frank Zirone @ Simcoe Blues & Jazz, 926 Simcoe St. N., Oshawa
*8-11> open mic @ Frank's Pasta, 426 King St. E., Cobourg
9> open mic @ The Moustache Club, 15 Simcoe St. N., Oshawa
9> tba @ The Atria, 59 King St. E., Oshawa
*10> Two For The Show @ Tartan Tavern, 555 Rossland Rd. E., Oshawa ~Pop Rock
905 NORTH
7-10> open song circle with Patti McLaughlin @ Aw Shucks, 15474 Yonge St., Aurora
*7> open mic night with Tanya Joy Senior @ Col. McGrady's Pub, 44 Brock St. W., Uxbridge
*8-12> open mic with Kevin Ker @ Unionville Arms, 189 Main St., Unionville
*8-12> jam with Rebelljo Band featuring Dave Girdlestone of Soul Funkshun on guitar @ Fionn MacCool's Brampton, 11 Ray Lawson Blvd. Brampton
*8:45> open mic jam with Matt Zady @ Magnums, 21 McMurchy Ave. N., Brampton
*9-1> open mic jam with Whiskey Birds @ Sweetz Lounge, 5289 Hwy 7, Woodbridge-Vaughan
*9:30> open mic with The Villagers @ Main's Mansion, 144 Main St., Markham
*10-2> jam night with Switchbeat Trio @ Maguires, 284 Queen St. E., Brampton
905 SOUTH
7> Daryl Gray @ Doc Magilligan's, 6400 Lundy's Lane, Niagara Falls
*7:30> open mic @ Donnelley's Pub, 54 Front St., Thorold ~eclectic
**8-1> Boogie N Blues jam with Ian Andrews & Friends @ Corktown Pub, 175 Young St., Hamilton
8> Terrie Petrie & band hosts Country Wednesdays @ Pub Fiction, 1242 Garner Rd. W., Ancaster ~Country
*8:30> Something Country @ The Endzone, 1900 King St. E., Hamilton ~Country
9> Singalong with Judy Marsales @ Coach & Lantern, 384 Wilson St E., Hamilton ~Rock/Top 40
905 WEST
8-1> Chico & Chickie's Christmas Show @ Moonshine Café, 137 Kerr St., Oakville ~seasonal songs; $10
*8:30> The Carson Freeman Diversion @ Shore Grill, 71 Lakeshore Rd. E., Port Credit ~Pop Rock
9-1> Maxine Young & Christine Melanie @ Roc'n Doc's, 105 Lakeshore Rd. E., Port Credit ~Rock/Pop; $
Copyright © 2016 Toronto Moon Magazine. All Rights Reserved