\ TO DOWNTOWN \
One of the Toronto music scenes enduring treasures and a passionate soul committed to finding a higher path, Lynn Harrison deservedly has a legion of fans who respect her quest and who also enjoy her sometimes light-hearted, humourous take on the foibles of modern life on four albums to date.
We've been telling you about her monthly "Bridges" series of multi-arts open stage and exposition events since shortly after she started them back in June of last year and most recently in October for the "Identity" edition.  But in describing the intriguing nature of the events and its conversation-prompting themes, we hope we haven't neglected to emphasize what a talented Roots-Pop songwriter the host herself is!
We have written about her performances and recorded material in the past too, of course, on several occasions as a matter of fact, but often in the context of her appearances as part of showcase events or doing guest spots such as her Fat Albert's feature in March.
But the show she's staging tonight at the Imperial Pub downtown —where lately she's also been holding her Bridge series since moving it there in the summer— is all about her own material.  From 8-11 she presents "More Songs Of Light and Darkness," a tag that sure sounds like it could be the title of a new album.
As a matter of fact, on the Facebook event page for the show Lynn comments that tonight's repertoire is "new and soon-to-be-recorded songs" and elsewhere mentions that they are "chosen especially for these times."  It suggests to me that she's getting ready to make some statements about the world and life, possibly in a very serious vein.
Her songs' lyrical themes —and for that matter also their musical moods— have sort of hopscotched between soulfully serious and giddily silly on all of her albums.  It's an interesting dialectic, this "Light and Darkness" intertwining, one that no doubt also serves her well in her other life avocation as an ordained Unitarian minister.
In that role, as also on many of her songs, social justice is also a strong concern for her.  In fact Harrison has just returned from a trip to the Standing Rock Reservation in support of the aboriginal people's protest against the Dakota Access Pipeline.  She made that excursion along with two others from her church to deliver supplies that supporters had helped fund and happily the timing enabled her to be on the reservation as the news broke on Sunday that the U.S. government had halted construction of the pipeline.
No doubt at tonight's 8-11 show in the music-friendly room at 54 Dundas St. E., a bit east of Yonge, Lynn will have a few stories to tell about her adventure there in between musical numbers and in conversation on break.
She'll be backed up musically for this show by three other talented and soulful performers as Noah Zacharin lends his sweet and intricate guitar to the mix, Ed Michael Roth chips in on digital accordion and Malcolm Gould provides percussion.
Cover charge is $15 and I'm betting you're also going to want to take home at least one of her cds with you once you've experienced this captivating songwriter in person.
-Gary 17, TorontoMoon.ca
SHOW LISTINGS for Thursday, December 08, 2021

Listings are organized by area in which the shows occur and within each area field shows are listed chronologically.
Listings preceded by an asterisk (*) are repeating weekly events. (Double asterisk indicates repeating event with different hosts/guest/etc.). Events preceded by question mark (?) usually take place but have not been confirmed. Admission prices followed by a slash and minus (/-) after the amount indicates door charge with availability of cheaper rates for some purchases. /+ indicates stated price is minimum.
Names of subscribers appear in bold and underlined and, where applicable, include a live link to their websites or event page. Advertisers' listings are in larger type and highlighted, include a live link to their website and also have a copy of the ad included in listings.
ONLINE / ON AIR
9-10am> "The Bill King Show" with host Bill King & guests @ CIUT 89.5 FM ~Blues/Jazz
Noon-2> Blues on Rock Radio UK with Carolyn Fe
416 – TORONTO CENTRAL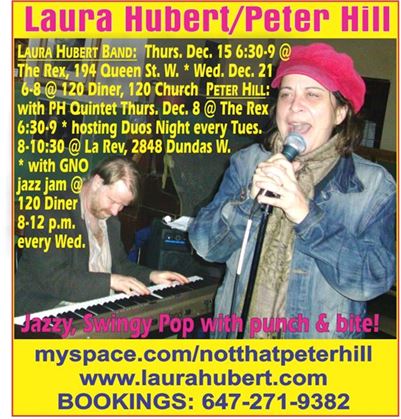 6> Lotus & Son @ Cameron House (front), 408 Queen St. W., TO
6-8> Donald Quan & Friends @ 120 Diner, 120 Church St., TO ~Jazz; $10-20/pwyc
6> Tomi Allen; Avery Florence; Sammi @ The Central, 603 Markham St., TO
6:30> Peter Hill Quintet @ The Rex, 194 Queen St. W., TO ~original & cover Jazz; $
*7> open mic with Derek Mok @ Kensington Lodge, 21 Kensington Ave., TO
7> Tokyo Police Club; Your Boy Tony Braxton @ Mod Club, 722 College St., TO ~all ages; $
7> Rumpus Room @ Tranzac Lounge (Tiki Room), 292 Brunswick Ave., TO
*7:30-9:30> Bluegrass Thursdays with Houndstooth @ Tranzac Lounge (Southern Cross), 292 Brunswick Ave., TO
7:30> Franc'open mic @ Free Times Café, 320 College St. TO ~French songwriters open stage;
8-11> "More Songs of Light and Darkness" with Lynn Harrison , Noah Zacharin; Malcolm Gould; Ed Michael Roth @ Imperial Pub, 54 Dundas St. E., TO ~original Roots; $15
*8-12> Joe Bowden @ Nawlin's, 299 King St. W. TO ~Blues
8> Barbarosa album release @ Adelaide Hall, 250 Adelaide St. W., TO ~originals; 410
8> Flatbush Zombies @ Phoenix Concert Theatre, 410 Sherbourne St., TO ~contemporary; $
8> Missy Bauman @ The Cavern Bar, 76 Church St., TO ~indie
8> Mount Farewell; Across The Board; Marlon Chaplin; Synchronized Silence @ Lee's Palace, 529 Bloor St. W., TO ~indie Rock; $
8:30> "All Paws" benefit with By Divine Right; Eamon McGrath; Lake Forest; Before The Flood; Savvie @ Horseshoe Tavern, 370 Queen St. W., TO ~$10
8:30> Uptown Soul @ Alleycatz, 2409 Yonge St., TO North ~Soul/R&B
*8:30> Organic Groove open mic with host Dylan Hennessy @ Cannabis Culture, 461 Church St., TO
9> Whaleskin; Wildcat @ Cameron House (rear), 408 Queen St. W., TO
9> Jesse Ryan's Bridges @ Poetry Jazz Café, 224 Augusta Ave., TO ~Jazz
9> Mac Miller @ Rebel, 11 Polson St., TO
*9-1> Blackburn @ Jo Mamas, 317 King St. W., TO ~Blues
9> Soundtrack Of The City festival launchparty @ The Paddock, 178 Bathurst St., TO
9> Maximum RNR; The Rotten; Fuckhawk; Death Panels; Bad Influences @ Bovine Sex Club, 542 Queen St. W., TO ~Hard Rock/Metal; $
*9:30> jam with host band The Regulators @ College St. Bar, 574 College St., TO
9:30> Split Cycle @ The Rex, 194 Queen St. W., TO ~Jazz; $
*9:45> Mary McKay @ Reservoir Lounge, 52 Wellington St. E., TO ~Jazz/Blues; $
10> Steve Marriner @ Cameron House (front), 408 Queen St. W., TO
10> Tom Robertson Band @ Grossman's, 379 Spadina Ave., TO ~Blues
10> The Collette Savard Band @ Tranzac Lounge (Southern Cross), 292 Brunswick Ave., TO
10> Oakland Stroke @ Orbit Room, 480 College St. TO ~Tower of Power tribute; $
10> The Walking West; Forest City Auror @ Ted's Collison, 573 College St., TO ~indie Rock; 0$
*10:30> Mike Barnes @ Pauper's Pub, 539 Bloor St. W., TO ~acoustic Pop
416 – TORONTO EAST
7-9> Tim Bradford & The Bandits @ Relish, 2152 Danforth Ave., TO East ~songwriter; no cover
8> Students For Change open mic fundraiser with sets by The Bakers; Frankie Moyo; more @ Linsmore Tavern, 1298 Danforth Ave., TO East ~$15
*8:30-10:30> Jerry Leger & The Situation @ Castro's, 2116 Queen St. E., TO East ~Folk-Rock/Country
9> Andrew Grady Duo @ Murphy's Law, 1702 Queen St. E., TO East ~Pop Rock
*9:30> open jam with host Kar Wong @ Sportsters, 1430 Danforth Ave., TO East
*10-2> karaoke with Shane Taylor @ Relish, 2152 Danforth Ave., TO East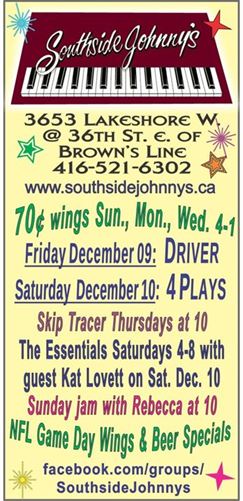 *10-1> open jam with host Michael Villamor @ Breakwall, 1910 Queen St. E.
416 - TORONTO ETOBICOKE
7-9> Chris Wilson ukulele night jam & instruction @ Montgomery's Inn, 4709 Dundas St. W., Etobicoke ~$15
7:30> Steve McDade Trio @ Old Mill Inn, 21 Old Mill Rd., Etobicoke ~Jazz; min table charge
9> Best of Both Worlds featuring singer James Alcock @ The Rockpile, 5555 Dundas St. W., Etobicoke ~Van Halen tribute; $10
9> Kimberley Wetmore Band @ Timothy's Pub, 344 Brown's Line, Etobicoke South ~Pop Rock
*9:30-2> Skip Tracer @ Southside Johnny's, 3653 Lakeshore Blvd., Etobicoke South ~Rock/Pop
416 – TORONTO SCARBOROUGH
8-12> jam night @ The Birchmount, 462 Birchmount Rd., Scarborough
9-1> The Tall Boyz featuring Tommy Rocker host acoustic open jam @ Winners, 2181 Lawrence Ave. E., Scarborough
9:30> Ice B.K. Smith @ Black Dog Pub, 87 Island Rd., Scarborough ~Pop Rock
416 – TORONTO WEST
5-8> Rosita Stone with Jazz Plasma @ Gate 403, 403 Roncesvalles Ave., TO West ~Jazz
7-11:30> Aline Morales Forró Trio @ Lula Lounge, 1585 Dundas St. W., TO West
8> Francis Farmer; Inhiatus; Norvana @ The Piston, 937 Bloor St. W., TO West ~indie; $
8> Diana, Mozart's Sister @ The Great Hall, 1087 Queen St. W., TO West ~$12.50
8-10> Anna Wiebe @ Gladstone Hotel, 1214 Queen St. W., TO West ~Folk; 0$
8:30-12> Jason Collett's 10th Annual Basement Revue @ Dakota Tavern, 249 Ossington Ave., TO West ~indie; $30
8:30> Jane Siberry album release for Angels Bend Closer; openers Gracie and Rachel @ Hugh's Room, 2261 Dundas St. W., TO West ~Can-Pop icon; $40
9> Jesse Mac Corman; En Riet opens @ Burdock, 1184 Bloor St. W., TO West  ~songwriter; $12
9> Bossa Tres @ The Emmet Ray, 924 College St., TO West ~Latin Jazz; pwyc
9> The Two Koreas; Bankruptcy @ The Baby G, 1608 Dundas St. W., TO West ~
*9-12> open mic night with Anthony Abbatangeli @ DeSoto's, 1079 St. Clair Ave. W., TO West
*9> open mic with Phil Hood @ The Roncy, 390 Roncesvalles Ave., TO West
*9-1:30> open stage with Jay Pennell @ Dave's On St. Clair, 730 St. Clair West, TO West ~eclectic
9-12> Kevin Laliberté Band @ Gate 403, 403 Roncesvalles Ave., TO West ~Jazz & Flamenco
8> Stars Algonquin; Mamahawks; Anna Leighs @ Junction City Music Hall, 2907 Dundas St. W., TO West ~original; $5
8> Mike Plume @ Cadillac Lounge, 1296 Queen St. W., TO West
9> Rogue Tenant; The Unlikely Story; Jean Daddy @ Smiling Buddha, 961 College St., TO West ~indie; $
9> James Clark Institue @ Shameful Tiki Bar, 1378 Queen St. W., TO West
9> Everlovin' Jug Band @ The Local, 396 Roncesvalles Ave., TO West ~Jug Band music
9> Slapback; Olivier Newton John @ Holy Oak Café, 1241 Bloor St. W., TO West
9:30> The Reposadists Quartet @ Reposado, 136 Ossington Ave., TO West ~Jazz
519
*6-10> Lucas Stagg @ Argyle Arms, 210 King St. E., Cambridge ~Roots-Rock
*7:30-12> open mic with K.M. Smith @ Molly Bloom's Guelph, 91 Wyndham St. N., Guelph
7:30> John McKinnon @ Fionn MacCool's Orangeville, 75 Fourth Ave., Orangeville ~Pop Rock
*8> open mic with Mandippal @ Fionn MacCool's Guelph, 494 Edinburgh Rd., S., Guelph
8> open mic night @ M&M Bar, 475 Main St., Cambridge
*8-11> open mic with Sandy MacDonald @ Williamsburg Arms, 1187 Fischer Hallman Rd., Kitchener
*8:30> acoustic jam hosted by Mike Mecher & Vic Freitas @ Kiwi Gastropub, 47 Dickson St., Cambridge
*8:30-12:30> acoustic jam night @ Fiddle & Firkin, 707 King St. E., Cambridge
8:30> Zachary Lucky Trio alum release for Everywhere A Man Can Be;  guest Rich Burnett @ The Boathouse, 97 Jubilee Drive, Kitchener ~songwriter; $10
9> Mark Crissinger @ Two Doors Down, 139 Market St., Brantford ~songwriter
*9:30> open mic night @ The Black Badger, 55 Water St., Cambridge
*10-2> Mike Something @ Royal Electric, 52 Macdonell St., Guelph ~acoustic Pop
705
7-11> The Groove Project with guest @ Harbour Street Fish Bar, 10 Keith Ave., Collingwood ~Blues
*7:30> Rob Phillips Jazz/Blues Trio and Marsala Likianchuk @ Black Horse Pub, 452 George St. N., Peterborough
*8> The Joe Huron Trio @ Sticky Fingers, 199 Essa Rd., Barrie ~Jazz/Blues
8> Derek McLean @ The Huron Club, 94 Pine St., Collingwood
8> "Concert For Socks" with Paper Shakers; Kirty; Ferraro @ The Spill, 414 George St. N., Peterborough ~indie fundraiser for socks for the homeless; $10
*9> jam with Ted Rusk @ The Sauble Dunes, 11 Southampton Parkway, Sauble Beach
9:30> Pup @ Red Dog Tavern, 189 Hunter St. W., Peterborough
10> Persons; Meolinda; Guy Madonna @ The Garnet, 231 Hunter St. W., Peterborough
905 EAST
*5-8> Nelson Denis @ Frank's Pasta, 42 King Street E., Cobourg ~eclectic mix (Folk, Jazz, soft Rock, Latin)
8-11> Mike, Amber & Neilson @ Rum Diaries, 368 Bayly St. W., Ajax ~Soul/Groove
*?> jam with Darren Smith & Shayne Thomas @ The Corner Pocket, 45 Prince St., Oshawa
*9> jam @ The Wee Pub, 371 Wilson Rd. South, Oshawa
9> Blues jam @ Simcoe Blues & Jazz, 926 Simcoe St. N., Oshawa
9> open mic with Two For The Show @ The Edge, 250 Bayly St. W., Ajax
*9:30> jam with Billick @ Harp & Crown, 300 Kingston Rd., Pickering
*10> Karaoke with Rob MacArthur @ St. Louis Ajax, 11 Harwood Ave., Ajax
905 NORTH
*6:30-10:30> jam with Faces for Radio @ Coasters, 55 Rutherford Rd. S., Brampton
*7:30-11:30> jam with house band @ 52nd St. Tap & Grill, 30 Kennedy Rd., S., Brampton
*8> open mic with host Kevin Kerr @ The Duchess of Markham, 53 Main St. N., Markham
*8-11> Jam with Jayme Lynn Reed @ Offsides Sports Bar, 200 Simcoe Ave., Keswick
9> open mic (signup starts at 8:30) @ The Barrel, 2180 Steeles Ave. W. Vaughan
905 SOUTH
8> Dwayne Gretzky @ This Ain't Hollywood, 345 James St. N., Hamilton ~indie; $10+
*9> LMT Connection @ Doc Magilligan's Irish Pub, 6400 Lundy's Lane, Niagara Falls ~R&B/Funk
*9> open mic night with rotating hosts @ Coach & Lantern, 384 Wilson St E., Hamilton
10> Strummers Union @ The Pheasant Plucker, 20 Augusta St., Hamilton
905 WEST
*6-9> Ric Jacobs @ Ivy Bar, 3330 South Service Rd., Burlington
*7-11> James Anthony Band 5th year Thursday anniversary with guest Chris Murphy @ Black Swan Pub Burlington, 4040 Palladium Way, Burlington ~Blues
*8-12> jam hosted by The Personics @ Carrigan Arms, 2025 Upper Middle Rd., Burlington
8-12> Semi Tone @ The Purple Heather, 3600 Dundas St. W., Burlington
*8> Salsa band @ The Franklin House, 263 Queen St. S., Streetsville ~Latin
*8> Celtic Night @ Fionn MacCool's Burlington, 2331 Appleby Line
8:30> Pat Robitaille @ Moonshine Café, 137 Kerr St. Oakville ~original Folk Rock; $7
9-1> Freedom Train @ Roc'n Doc's, 105 Lakeshore Rd. E., Port Credit ~Rock/Pop
9:30> Glenn Groves @ Shore Grill, 71 Lakeshore Rd. E., Port Credit ~Honky Tonk Country new & old
*9:30> jam with Jack B Nimble @ Abbey Road Pub, 3200 Erin Mills Parkway, Mississauga
9:30> Chris Partland @ Cuchulainn's Irish Pub, 158 Queen St. S., Streetsville-Mississauga ~Pop Rock
*10:30> The Killin' Time Duo @ The Dickens, 423 Elizabeth St., Burlington ~Pop Rock
Copyright © 2016 Toronto Moon Magazine. All Rights Reserved