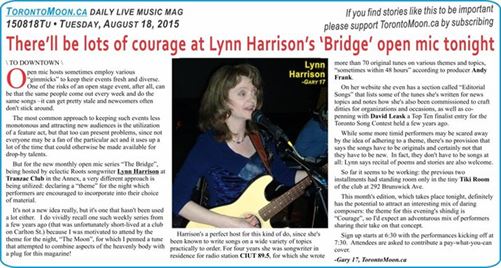 \ TO DOWNTOWN \
Open mic hosts sometimes employ various "gimmicks" to keep their events fresh and diverse. One of the risks of an open stage event, after all, can be that the same people come out every week and do the same songs –it can get pretty stale and newcomers often don't stick around.
The most common approach to keeping such events less monotonous and attracting new audiences is the utilization of a feature act, but that too can present problems, since not everyone may be a fan of the particular act and it uses up a lot of the time that could otherwise be made available for drop-by talents.
But for the new monthly open mic series "The Bridge", being hosted by eclectic Roots songwriter Lynn Harrison at Tranzac Club in the Annex, a very different approach is being utilized: declaring a "theme" for the night which performers are encouraged to incorporate into their choice of material.
It's not a new idea really, but it's one that hasn't been used a lot either.   I do vividly recall one such weekly series from a few years ago (that was unfortunately short-lived at a club on Carlton St.) because I was motivated to attend by the theme for the night, "The Moon", for which I penned a tune that attempted to combine aspects of the heavenly body with a plug for this magazine!
Harrison's a perfect host for this kind of do, since she's been known to write songs on a wide variety of topics practically to order. For four years she was songwriter in residence for radio station CIUT 89.5, for which she wrote more than 70 original tunes on various themes and topics, "sometimes within 48 hours" according to producer Andy Frank.
On her website she even has a section called "Editorial Songs" that lists some of the tunes she's written for news topics and notes how she's also been commissioned to craft ditties for organizations and occasions, as well as co-penning with David Leask a Top Ten finalist entry for the Toronto Song Contest held a few years ago.
While some more timid performers may be scared away by the idea of adhering to a theme, there's no provision that says the songs have to be originals and certainly not that they have to be new.  In fact, they don't have to be songs at all: Lynn says recital of poems and stories are also welcome.
So far it seems to be working: the previous two installments had standing room only in the tiny Tiki Room of the club at 292 Brunswick Ave.
This month's edition, which takes place tonight, definitely has the potential to attract an interesting mix of daring composers: the theme for this evening's shindig is "Courage", so I'd expect an adventurous mix of performers sharing their take on that concept.
Sign up starts at 6:30 with the performances kicking off at 7:30.  Attendees are asked to contribute a pay-what-you-can cover.
-Gary 17, TorontoMoon.ca
SHOW LISTINGS for Tuesday, August 18, 2021
Listings are organized by area in which the shows occur and within each area field shows are listed chronologically.
Listings preceded by an asterisk (*) are repeating weekly events. (Double asterisk indicates repeating event with different hosts/guest/etc.). Admission prices followed by a slash and minus (/-) after the amount indicates door charge with availability of cheaper rates for some purchases. /+ indicates stated price is minimum.
Names of subscribers appear in bold, are underlined and, where applicable, include a live link to their websites. Advertisers' listings are in larger highlighted type, include live link to website and also have ad icon included in listings.
416 – Toronto Central
6> Melissa Lauren @ Cameron House (front), 408 Queen St. W., TO
6:30> Boom For Rent @ The Rex, 194 Queen St. W., TO ~Jazz
*7> open mic @ The Central, 603 Markham St., TO
7:30> Lynn Harrison hosts The Bridge open mic on the theme "Courage" @ Tranzac Club (Tiki Room), 292 Brunswick St., TO
7:30> Beau Stocker with Sexton & West @ Tranzac Club (Southern Cross), 292 Brunswick St., TO ~improv Jazz
8> Failure; The New Regime @ Lee's Palace, 529 Bloor St. W., TO; $35
8:30> Best Of The Open Stage with Brighid Fry; Connor James; Squiggly Lines @ Free Times Café, 320 College St., TO ~songwriters; $6
*8:45> Tyler Yarema & His Rhythm @ Reservoir Lounge, 52 Wellington St. E., TO ~Jazz/Blues
9> The Bass6; Johnny Polygon; Alex Wiley @ Rivoli, 334 Queen St. W., TO; $15
9> Buffalo Storm; Innocent Guns; Lightmares; Revive The Rose @ Horseshoe Tavern, 370 Queen St. W., TO ~indie; free
9:30> Django Gypsy Jazz jam @ Grossman's, 379 Spadina Ave., TO
9:30> David Diao hosts Jazz jam @ The Rex, 194 Queen St. W., TO ~Jazz
*10-2> The Sattalites @ Orbit Room, 580 College St., TO ~orig. & cover Reggae/Funk
10> Ken McDonald Quartet @ Tranzac Club (Southern Cross), 292 Brunswick St., TO
10> Friendly Rich @ Cameron House (front), 408 Queen St. W., TO
10:30> The World Is Yours acoustic duo @ The Hideout, 484 Queen St. W., TO ~acoustic duo
416 – Toronto East
*6-9> Julian Fauth solo @ Sauce, 1376 Danforth Ave., TO East ~original Blues piano
7:30-9:30> Clela Errington @ Relish, 2152 Danforth Ave., TO East ~Folk originals & covers
8> Andy & The Fun Machine; Strada Armonia; Before The Flood @ Linsmore Tavern, 1298 Danforth Ave., TO East ~indie; free
8:30-10:30> Johnson Crook @ Castro's, 2116 Queen St. E., TO East
9> open mic @ Groove Bar, 1952 Danforth Ave., TO East
9> The Laughing Monkey @ The Only Café, 972 Danforth Ave., TO East ~comedy
*9:30> Peter Verity @ Black Swan, 154 Danforth Ave., TO East ~Folk Roots
**9:30-12> open stage hosted by Jay Pennell or Kyle Duffin @ The Old Nick, 123 Danforth Ave., TO East

416 – Toronto West
5-8> Janel Jones Duo @ Gate 403, 403 Roncesvalles Ave., TO West ~Jazz
9> Alina Libkind; Modern Space; Logan Sutherland for Indie Tuesdays @ The Piston, 937 Bloor St. W., TO West ~indie; pwyc
9> T.C. Folkpunk @ The Local, 396 Roncesvalles Ave., TO West ~original Roots
9> Emily Mac Band @ Gate 403, 403 Roncesvalles Ave., TO West ~Blues
9> Zeppelinesque @ Dakota Tavern, 249 Ossington Ave., TO West ~Zeppelin tunes
**9> tba @ The Painted Lady, 218 Ossington Ave., TO West ~indie showcase; $5
*9:30> jam with Derek Downham @ Axis, 3048 Dundas St. W., TO West ~eclectic
416 – Scarborough
*9:30> karaoke with The English Rose & The Mad Scotsman @ The Fossil & Haggis, 790 Military Trail, Scarborough
705
10> Laura Cole @ The Garnet, 231 Hunter St. W., Peterborough
905 East
*6:30-11> The Woodshed jam with Don Niblett & Frank Zochodne @ Simcoe Blues & Jazz, 926 Simcoe St. N., Oshawa
9> Jesse Clack @ The Corral, 433 Simcoe St. S., Oshawa ~Country Rock
*10> open mic with Josh Beaven @ The Atria, 59 King St. E., Oshawa
905 North
*8-11> jam with Matthew Kane & The Brews Brothers @ The Crown, 9580 Yonge St., Richmond Hill
*8:30> open mic @ Falcon & Firkin, 10300 Yonge St., Richmond Hill
*9> open mic with Manny D, Andy Earle & Dave Breckels @ Big Chris BBQ, 17380 Yonge St., Newmarket
905 South
*8-11> Michael Keys & Friends @ The Ale House, 802 Upper Gage Ave., Hamilton ~Pop/Jazz
*9:30-1> Traditional Irish jam @ Corktown Pub, 175 Young St., Hamilton
*9> open stage @ This Ain't Hollywood, 345 James St. N., Hamilton
905 West
*8> The Phil & John Show feat. Phil Naro @ Shore Grill, 71 Lakeshore Rd. E., Port Credit ~acoustic Pop Rock
*8-12> Marshall Dane Trio @ Roc'n Doc's, 105 Lakeshore Rd. E., Port Credit ~New Country/Pop
*8> open stage with host Neil MacNaughton @ Moonshine Café, 137 Kerr St., Oakville; $2
*8:45> open mic with Matt Zadkovich @ Culchain's Irish Pub, 158 Queen St. S., Streetsville-Mississauga
*10> open mic @ The Dickens, 423 Elizabeth St., Burlington
Copyright © 2015 Toronto Moon Magazine. All Rights Reserved