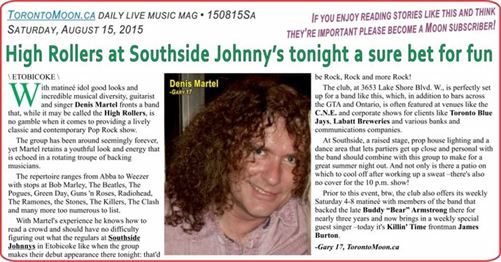 \ ETOBICOKE \
With matineé idol good looks and incredible musical diversity, guitarist and singer Denis Martel fronts a band that, while it may be called the High Rollers, is no gamble when it comes to providing a lively classic and contemporary Pop Rock show.
The group has been around seemingly forever, yet Martel retains a youthful look and energy that is echoed in a rotating troupe of backing musicians.
The repertoire ranges from Abba to Weezer with stops at Bob Marley, The Beatles, The Pogues, Green Day, Guns 'n Roses, Radiohead, The Ramones, the Stones, The Killers, The Clash and many more too numerous to list.
With Martel's experience he knows how to read a crowd and should have no difficulty figuring out what the regulars at Southside Johnny's in Etobicoke like when the group makes their debut appearance there tonight: that'd be Rock, Rock and more Rock!
The club, at 3653 Lake Shore Blvd. W., is perfectly set up for a band like this, which, in addition to bars across the GTA and Ontario, is often featured at venues like the C.N.E. and corporate shows for clients like Toronto Blue Jays, Labatt Breweries and various banks and communications companies.
At Southside, a raised stage, prop house lighting and a dance area that lets partiers get up close and personal with the band should combine with this group to make for a great summer night out. And not only is there a patio on which to cool off after working up a sweat –there's also no cover for the 10 p.m. show!
Prior to this event, btw, the club also offers its weekly Saturday 4-8 matineé with members of the band that backed the late Buddy "Bear" Armstrong there for nearly three years and now brings in a weekly special guest singer –today it's Killin' Time frontman James Burton.
-Gary 17, TorontoMoon.ca
SHOW LISTINGS for Saturday, August 15, 2021
Listings are organized by area in which the shows occur and within each area field shows are listed chronologically.
Listings preceded by an asterisk (*) are repeating weekly events. (Double asterisk indicates repeating event with different hosts/guest/etc.). Admission prices followed by a slash and minus (/-) after the amount indicates door charge with availability of cheaper rates for some purchases. /+ indicates stated price is minimum.
Names of subscribers appear in bold, are underlined and, where applicable, include a live link to their websites. Advertisers' listings are in larger, highlighted type, include live link to website and also have ad icon included in listings.
416 - Toronto Central
*12-3> The Sinners Choir @ The Rex, 194 Queen St. W., TO ~Jazz
3> Jamzac @ Tranzac Club (Southern Cross), 292 Brunswick Ave., TO
3:30> Steve Amirault Quartet @ The Pilot, 22 Cumberland St., TO ~Jazz
*4-7> Climax Jazz Band @ Alleycatz, 2409 Yonge St., TO North ~Dixieland Jazz; $?
*4:40-7:30> The Happy Pals @ Grossman's, 379 Spadina Ave., TO ~New Orleans Jazz
6-8> Grier Coppins @ Cameron House (front), 408 Queen St. W., TO
7:30> Elena Kapeleris Group @ The Rex, 194 Queen St. W., TO ~ Jazz
8> Sean Mayes & guests @ Tranzac Club (Southern Cross), 292 Brunswick Ave., TO
8> Viletones @ Phoenix Concert Centre, 410 Sherbourne St., TO ~CanPunk icons; $
8:30> Kat Leonard; Candice Sand @ Free Times Café, 320 College St. TO ~songwriters; $10
9> Groove Marmalade @ Seven44, 744 Mount Pleasant Road, TO North ~Rock/Funk/R&B
9> Alternative Peoples Choice Awards @ Lee's Palace, 529 Bloor St. W., TO; $12+
9> The Maladies of Adam Stokes @ Rivoli, 334 Queen St. W., TO; $15
9> Saishubi; Funny Funk Band @ Cameron House (rear), 408 Queen St. W., TO
9:30> Taxi @ Alleycatz, 2409 Yonge St., TO North ~Funk/Soul/R&B; $
9:45> Patrick Lehman @ The Rex, 194 Queen St. W., TO ~Montreal Jazz
*9:45> Tyler Yarema & His Rhythm @ Reservoir Lounge, 52 Wellington St. E., TO ~Jazz/Blues
10> The Sattalites @ Orbit Room, 480 College St. TO ~Funk/Soul; $
10> Combo Royale @ Cameron House (front), 408 Queen St. W., TO
10-2> The Damned Neighbours @ Grossman's, 379 Spadina Ave., TO
10:30 Rain Beat @ Fionn MacCool's Esplanade, 70 The Esplanade ~Pop Rock
10:30> The Disco Rebels @ The Hideout, 484 Queen St. W., TO ~indie Rock
416 - Toronto East
*3:30-6> Johnny Wright @ Outriggers, 2232 Queen St. E., TO East ~R&B
*4-7:30> Ronnie Hayward Trio @ McQueen's, 993 Queen St. E., TO E. ~Blues/Roots
6-8> The Cosmotones @ Castro's, 2116 Queen St. E., TO East ~Blues/Roots
8> Melanie Peterson @ The Feathers, 962 Kingston Rd., TO East ~Roots-Pop songwriter
8> G Mark @ The Only Café, 972 Danforth Ave., TO East
9> BOOM For Rent @ Morgan's, 1282 Danforth Ave., TO East ~Jazz
9> Baca @ Eton House, 710 Danforth Ave., TO East ~Rock
9:30-11:30> Sherman & Lee @ Relish, 2152 Danforth Ave., TO East ~original Roots-Blues-Pop
9:30> Carole Pope of Rough Trade @ The Duke Live, 1225 Queen St. E., TO East ~CanRock icon; $25
9:30> Tim Bovaconti Band @ Linsmore Tavern, 1298 Danforth Ave., TO East ~Pop Rock covers; $5
416 - Etobicoke
*3-6> Danny B Band @ Blue Goose, 1 Blue Goose St., Etobicoke South ~R&B/Blues
**4-8> The Bear's Essentials with guest singer James Burton @ Southside Johnny's, 3653 Lake Shore Blvd. W. Etobicoke South ~Rock-R&B
*4-8> The Meteors with guest Mike Shotton @ Timothy's Pub, 344 Brown's Line, Etobicoke South ~Blues/Rock/R&B
7:30> David Restivo Trio @ Old Mill Inn, 21 Old Mill Rd., Etobicoke ~Jazz; minimum table charge
9> Soul Condition @ Maple Leaf House, 2749 Lake Shore Boulevard West, Etobicoke ~Rock/Top 40/Blues
9:30> Groovestone @ Timothy's Pub 344 Brown's Line, Etobicoke South ~Pop Rock/Top 40; $
416 – Scarborough
9-1> Cottage Brew @ Black Dog Pub, 87 Island Rd., Scarborough ~Pop/ Rock
9:30> Still Sunday/The Loaded Blues featuring Jim Cornell @ The Loaded Dog, 1921 Lawrence Ave. E., Scarborough ~Blues
*9:30-2> karaoke with The English Rose & The Mad Scotsman @ Winners, 2181 Lawrence Ave. E., Scarborough
9:30> Heart and Soul @ Stone Cottage Pub, 3750 Kingston Rd., Scarborough ~Pop Rock
416 - Toronto West
*12-3> Julian Fauth's Blues Brunch @ Axis, 3048 Dundas St. W., TO West ~Blues
**2-6> open mic with host Michael Cuddy and set by James Sloan @ Magic Oven, 347 Keele St., TO West
2:30-4:30> Mark Texeira & Joe Spina @ Humble Beginnings, 3109 Dundas St. W., TO West ~Jazz duo
**5-8> Melissa Lauren Band @ Gate 403, 403 Roncesvalles Ave. TO West –Jazz
5-8> Sean Donald @ The Local, 396 Roncesvalles Ave., TO West ~old-time
7-9> The Cam Jam with various acts @ Dakota Tavern, 249 Ossington Ave., TO West ~indie; $10
7> Chris Scian @ Piola, 1165 Queen St. W., TO West ~covers & originals
8> PM Players; The Wednesday Experiment @ The Painted Lady, 218 Ossington Ave., TO West
8> Flash Teeter & The Men From Mars @ Hugh's Room, 2261 Dundas St. W., TO West ~~space Blues-Surfabilly; free
9> Barbie Lee Jak; The Dreadful Starlings featuring Iliya Vee; Jessica Speziale Band; Thunderfunk @ The Tennessee, 1554 Queen St. W., TO West ~indie; pwyc
9> SYmPHONIC NC; The Album Club; Sam Taylor & The East End Love; Aaron & Zach Band @ Penny's, 1306 Bloor St. W., TO West ~indie Rock; free
9-1> Sweet Derrick Blues Band @ Gate 403, 403 Roncesvalles Ave., TO West ~Blues
9> James Clark @ Axis Gallery & Grill, 3048 Dundas St. W., TO West ~acoustic indie Pop
9> Jimmy Byron @ The Local, 396 Roncesvalles Ave., TO West ~vintage Rock 'n' Roll
10-2> The Rattles @ Dakota Tavern, 249 Ossington Ave., TO West ~$10
519
4> Julian Taylor Band for the Orangeville Show Jumping Competition, 247090 Sideroad 5, Orangeville ~Funk/Rock
8> Mary 5E @ Fionn MacCool's Kitchener, 4287 King St. E., Kitchener
9> Detour @ Fionn MacCool's Guelph, 494 Ediburgh Rd. S., Guelph
9:30> M.T. Bottle @ Fionn MacCool's Orangeville, 75 Fourth Ave., Orangeville
705
3-11> SHAGG with Anthony Cee on guitar + other acts for Campers Supporting The Fight Against Cancer @ Horseshoe Lake Camp & Cottages, 55 North Sandy Plains Rd., Horseshoe Lake Parry Sound
5> Rick & Gailie @ Black Horse Pub, 452 George St. N., Peterborough
9> House Band @ Black Horse Pub, 452 George St. N., Peterborough
9:30> Charlotte and the Dirty Cowboys @ Sticky Fingers Dunlop, 150 Dunlop St. W., Barrie
10> Sean Conway & Gratia Leitch @ The Garnet, 231 Hunter St. W., Peterborough
905 East
*4> PRJ @ Simcoe Blues & Jazz, 926 Simcoe St., Oshawa ~Blues
6> BackTrack Band featuring Marty Zatzman for Taste Of Durham @ Memorial Park, Simcoe St. S., at John St. W., Oshawa ~Rock/Funk/R&B
8:30> Doyle Bramhall II for Music By The Bay Series @ St. Francis Centre, 78 Church St. S., Ajax ~guitar composer; $
9-1> BackTrack Band featuring Marty Zatzman @ Simcoe Blues & Jazz, 926 Simcoe St. N., Oshawa ~Rock/Funk/R&B
*9-1> karaoke with Rob MacArthur @ Tudor Rose, 700 Harwood Ave. S., Ajax
9> James Cameron Band @ The Corral, 433 Simcoe St. S., Oshawa ~Country; $
9:30> Prime Time @ West Shore, 877 Bayly St., Pickering ~Rock/Pop
905 North
7-11> Whatever Sticks featuring Sue Martin @ Crabby Joe's Aurora, 125 Pedersen Drive, Aurora
8-11> James Anthony with Amanda Rose @ Jovanna at Harrop Steak House, 345 Steeles Ave. E., Milton ~acoustic Blues/Pop duo
9> The Twangsters @ Memphis North, 18947 Woodbine Ave., East Gwillimbury ~Country
9:30> Davies Reyes @ Spot One, 289 Rutherford Rd. S., Brampton ~R&B/Top 40 Rock; $5
9:30> Rebelljo Band @ Stewart Maguire's Landing, 15 Allan Rd., Bolton ~Rock/Blues
9:30> Lisa Smith's Powerhaus @ Top Spot Pub, 87 High St., Sutton ~Rock
9:30> The Doubts @ Jake's Boathouse Brampton, 59 First Gulf Rd., Brampton ~Pop Rock
9:30> Pop Machine @ Aw Shucks, 15230 Yonge St., Aurora ~Pop Rock
905 South
**2:30> special guest with The Mighty Duck Band, The Duck, 244 Ontario St., St. Catharines ~R&B/Blues
**2:30> tba @ Coach & Lantern (upstairs), 384 Wilson St E., Hamilton ~Blues
9> Jonny Kerr Band @ Coach & Lantern, 384 Wilson St E., Hamilton
9> Kirby & guests @ This Ain't Hollywood, 345 James St. N., Hamilton
9> Sinburn; Road Heavy; Psychotic Authority @ Corktown Pub, 175 Young St., Hamilton ~hard Rock; $
**9> Niagara Rhythm Section @ The Old Winery, 2228 Niagara Stone Rd., Niagara-On-The-Lake ~R&B/Blues
905 West
**2-6> Sil Simone Band with special guest Laura Mattson @ Carrigan Arms, 2025 Upper Middle Rd., Burlington ~Rock/Blues
*2-6> jam w. Tom Finocchio @ Sam's Place, Barton-Chestnut Sts., Hamilton
**2-6> Saturday Blues Sermon with James Anthony & special guest Amanda Rose @ Black Swan Pub Burlington, 4040 Palladium Way, Burlington ~Blues
*3-7> jam with Michelle Deneault & Redder @ Port Credit Legion, 35 Front St., Port Credit
*3-7> open stage jam @ Moonshine Café, 137 Kerr St., Oakville; $2
*6-9> Victoria & Bobby Keys @ Roc'n Doc's, 105 Lakeshore Rd. E., Port Credit ~soft Pop
8-12> The Neil Young'uns @ Moonshine Café, 137 Kerr St., Oakville ~Neil Young tribute; $10
9> Tone Deaf @ Carrigan Arms, 2025 Upper Middle Rd., Burlington
9> Ladyshake @ Fionn MacCool's Burlington, 2331 Appleby Line, Burlington
9:30> Soul Funkshun featuring Dave Girdlestone on guitar @ Boston Manor, 4460 Fairview Ave., Burlington
9:30> Pat Hewitt @ Shore Grill, 71 Lakeshore Rd. E., Port Credit ~Pop Rock/Top 40
9:30> Michael Schatte Band @ The Franklin House, 263 Queen St. S., Streetsville ~Blues
10-2> Material Men @ Roc'n Doc's, 105 Lakeshore Rd. E., Port Credit ~80s Rock/Top 40; $
10:15> Orangeman @ Failte, 201 City Centre Dr., Mississauga ~Rock/Top 40
Copyright © 2015 Toronto Moon Magazine. All Rights Reserved