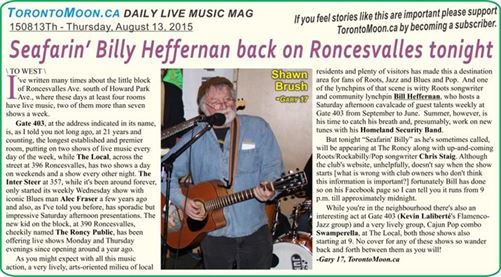 \ TO WEST \
I've written many times about the little block of Roncesvalles Ave. south of Howard Park Ave., where these days at least four rooms have live music, two of them more than seven shows a week.
Gate 403, at the address indicated in its name, is, as I told you not long ago, at 21 years and counting, the longest established and premier room, putting on two shows of live music every day of the week, while The Local, across the street at 396 Roncesvalles, has two shows a day on weekends and a show every other night. The Inter Steer at 357, while it's been around forever, only started its weekly Wednesday show with iconic Blues man Alec Fraser a few years ago and also, as I've told you before, has sporadic but impressive Saturday afternoon presentations. The new kid on the block, at 390 Roncesvalles, cheekily named The Roncy Public, has been offering live shows Monday and Thursday evenings since opening around a year ago.
As you might expect with all this music action, a very lively, arts-oriented milieu of local residents and plenty of visitors has made this a destination area for fans of Roots, Jazz and Blues and Pop.  And one of the lynchpins of that scene is witty Roots songwriter and community lynchpin Bill Heffernan, who hosts a Saturday afternoon cavalcade of guest talents weekly at Gate 403 from September to June.  Summer, however, is his time to catch his breath and, presumably, work on new tunes with his Homeland Security Band.
But tonight "Seafarin' Billy" as he's sometimes called, will be appearing at The Roncy along with up-and-coming Roots/Rockabilly/Pop songwriter Chris Staig. Although the club's website, unhelpfully, doesn't say when the show starts [what is wrong with club owners who don't think this information is important?] fortunately Bill has done so on his Facebook page so I can tell you it runs from 9 p.m. till approximately midnight.
While you're in the neighbourhood there's also an interesting act at Gate 403 (Kevin Laliberté's Flamenco-Jazz group) and a very lively group, Cajun Pop combo Swamperella, at The Local, both those shows also starting at 9. No cover for any of these shows so wander back and forth between them as you will!
-Gary 17, TorontoMoon.ca
SHOW LISTINGS for Thursday, August 13, 2021
Listings are organized by area in which the shows occur and within each area field shows are listed chronologically.
Listings preceded by an asterisk (*) are repeating weekly events. (Double asterisk indicates repeating event with different hosts/guest/etc.). Admission prices followed by a slash and minus (/-) after the amount indicates door charge with availability of cheaper rates for some purchases. /+ indicates stated price is minimum.
Names of subscribers appear in bold and underlined and, where applicable, include a live link to their websites or event page. Advertisers' listings are in larger type and highlighted, include a live link to their website and also have a copy of the ad included in listings.
416 - Toronto Central
5-10> Jessica Speziale with Iliya Vee of The Dreadful Starlings accompanying; Melanie Frade for Minto West block party @ Scadding Court Community Centre, 25 Bathurst St. at Front St., TO ~indie Pop
6> Tracy Mcneill @ Cameron House (front), 408 Queen St. W., TO
6:30> Kevin Quain @ The Rex, 194 Queen St. W., TO ~moody Blues
7-9:30> Signe Miranda hosts Free Song Creation Sample Workshop @ 402-720 Bathurst St., TO ~workshop; free
7> Speck Brothers @ Drums N Flats, 1980 Avenue Rd., TO North ~Rock
*7> open mic with Derek Mok @ Kensington Lodge, 21 Kensington Ave., TO
*7:30-9:30> Bluegrass Thursdays with Houndstooth @ Tranzac Lounge (Southern Cross), 292 Brunswick Ave., TO
*8-1> open mic with Alicia Porter @ The Local Gest, 424 Parliament St., TO
8-11> Piper Hayes with Neil Bennett; Haley Zee Gee @ No One Writes To The Colonel, 460 College St., TO ~indie
8-12> R&B/Blues @ Nawlin's, 299 King St. W. TO
8:30> Songwriters Circle of Jerks with Marcus Walker, Nelson Sobral, Hugh Wilson, Nick Verona @ Free Times Café, 320 College St. TO ~songwriters; $6
8:30> Birds Of Bellwoods; Bamboo; Bombadils @ Lee's Palace, 529 Bloor St. W., TO ~$8
8:30> Brendon Gomez @ Fionn MacCool's Uptown, 1867 Yonge St., TO North
9> SATE @ The Rivoli, 334 Queen St. W., TO ~$10
9> Lindsay Foote @ Cameron House (rear), 408 Queen St. W., TO
9> Mumbai Standstill; Marlon Chaplin; 1990 Future; Eli & The Strawman @ Horseshoe Tavern, 370 Queen St. W., TO
9-1> The Distillery @ Monarchs Pub (Eaton Chelsea Hotel), 33 Gerrard St. W., TO ~Blues
*9-1> Blackburn @ Jo Mamas, 317 King St. W., TO ~Blues
9:30> Paul DeLong's Bucket of Fish Orchestra @ The Rex, 194 Queen St. W., TO ~Jazz
*9:45> Mary Mckay @ Reservoir Lounge, 52 Wellington St. E., TO ~Jazz/Blues
10> Stonetrotter @ Cameron House (front), 408 Queen St. W., TO
10> The Responsibles @ Grossman's, 379 Spadina Ave., TO
10> Oakland Stroke @ Orbit Room, 480 College St. TO ~Tower Of Power tribute; $
10:30> Slamboni; SPokeshave; Goodnight Sunrise @ The Hideout, 484 Queen St. W., TO ~indie Rock
416 - Toronto East
7-9> Liane Fainsinger Quartet @ Relish, 2152 Danforth Ave., TO East ~Jazz
*8:30-10:30> Jerry Leger & The Situation @ Castro's, 2116 Queen St. E., TO East ~Folk-Rock/Country
9> karaoke with Randy Petrie @ King's Belly Pub, 429 Donlands Ave., TO East
9> Tom Waits Appreciation Society @ Linsmore Tavern, 1298 Danforth Ave., TO East ~tribute; free
*10-2> karaoke with Shane Taylor @ Relish, 2152 Danforth Ave., TO East
416 - Toronto West
5-8> Tina Nodwell Band @ Gate 403, 403 Roncesvalles Ave., TO West ~Jazz
*8-11> Tinderbox Thursdays open stage with Michael Keith @ La Revolucion, 2848 Dundas St. W., TO West ~eclectic
8:30> Albert Lee with Cindy Cashdollar + opening set by Lynne Hanson @ Hugh's Room, 2261 Dundas St. W., TO West ~Rockabilly icon; $47.50
9> Bill Heffernan with Chris Staig accompanying @ The Roncy, 390 Roncesvalles Ave., TO West
*9-12> open mic night @ DeSoto's, 1079 St. Clair Ave. W., TO West
*9-1:30> open stage with Jay Pennell @ Dave's On St. Clair, 730 St. Clair West, TO West ~eclectic
9-12> Kevin Laliberté Jazz & Flamenco Trio @ Gate 403, 403 Roncesvalles Ave., TO West
9> TWM/iM: Kojo "Easy" Damptey; Mike Whissell Band; Cadelliac Hearse @ The Tennessee, 1554 Queen St. W., TO West
9> Swamperella @ The Local, 396 Roncesvalles Ave., TO West ~Cajun swamp Pop
10> The Mercenaries @ The Painted Lady, 218 Ossington Ave., TO West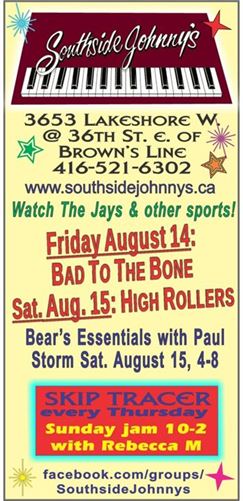 416 - Etobicoke
9> jam with Kimberley Wetmore band featuring Dave Girdlestone on guitar @ Timothy's Pub, 344 Brown's Line, Etobicoke South ~Pop Rock
*9:30-2> Skip Tracer @ Southside Johnny's, 3653 Lakeshore Blvd., Etobicoke South ~Rock/Pop
416 – Scarborough
*7-11> Johnson & Cornell (Earl Johnson & Jim Cornell) on the patio @ The Loaded Dog, 1921 Lawrence Ave. E., Scarborough ~acoustic Blues-Rock duo
*9> Tommy Rocker's Classic Rock Band host jam @ Centro Pizza, 3406 Kingston Rd., Scarborough
9:30> Scott Driscoll @ Black Dog Pub, 87 Island Rd., Scarborough ~Pop Rock
519
*7:30-12> open mic with K.M. Smith @ Molly Bloom's Guelph, 91 Wyndham St. N., Guelph
7:30> Melyssa Kerr @ Fionn MacCool's Orangeville, 75 Fourth Ave., Orangeville
8> Tyler Young @ Fionn MacCool's Kitchener, 4287 King St. E., Kitchener
*8-11> open mic with Sandy MacDonald @ Williamsburg Arms, 1187 Fischer Hallman Rd., Kitchener
705
*7:30> open stage with Rob Phillips Band and Chelsey Bennett @ Black Horse Pub, 452 George St. N., Peterborough
*9> jam with Ted Rusk @ The Sauble Dunes, 11 Southampton Parkway, Sauble Beach
9:30> In Dying Days @ Red Dog Tavern, 189 Hunter St. W., Peterborough
905 - East
*5-8> Nelson Denis @ Frank's Pasta, 42 King Street E., Cobourg ~eclectic mix (Folk, Jazz, soft Rock, Latin)
7> Johnny Cox & the Magnetic Line @ Simcoe Blues & Jazz, 926 Simcoe St. N., Oshawa
8-12> Andrew Fetterley @ Fionn MacCool's Ajax, 32 Kingston Rd. E. Ajax ~Pop
*?> jam with Darren Smith & Shayne Thomas @ The Corner Pocket, 45 Prince St., Oshawa
*9> jam @ The Wee Pub, 371 Wilson Rd. South, Oshawa
*9:30> jam with Billick @ Harp & Crown, 300 Kingston Rd., Pickering
905 - North
**7-11> Rebelljo Band & guests @ Fionn MacCool's Brampton, 11 Ray Lawson Blvd., Brampton ~Pop Rock
*8> open mic with Kevin Ker @ Duchess of Markham, 53 Main St., Markham
905 - South
*9> open mic night with rotating hosts @ Coach & Lantern, 384 Wilson St E., Hamilton
10> tba @ Slainte Irish Pub, 33 Bowen St., Hamilton ~acoustic Pop
905 – West
8-12> Freedom Train @ Roc'n Doc's, 105 Lakeshore Rd. E., Port Credit ~Rock/Pop
*8-12> open mic & jam @ Black Swan Pub Burlington, 4040 Palladium Way, Burlington
8> Celtic Thursday @ Fionn MacCool's Burlington, 2331 Appleby Line, Burlington
*8-12> jam hosted by The Personics @ Carrigan Arms, 2025 Upper Middle Rd., Burlington
8:30> Wayne Cheddie & Jason Sheehan @ Moonshine Café, 137 Kerr St. Oakville ~eclectic
8:30> Ragwax @ Fionn MacCool's Britannia, 825 Britannia Rd. W., Streetsville Mississauga
*8:45> open mic with Matt Zady @ Failte, 201 City Centre Dr., Mississauga
9> Jay LeRoux @ Fionn MacCool's Clarkson, 970 Southdown Rd., Mississauga
9:30> Glenn Groves @ Shore Grill, 71 Lakeshore Rd. E., Port Credit ~Pop Rock
*9:30> jam with Jack B Nimble @ Abbey Road Pub, 3200 Erin Mills Parkway, Mississauga
Copyright © 2015 Toronto Moon Magazine. All Rights Reserved