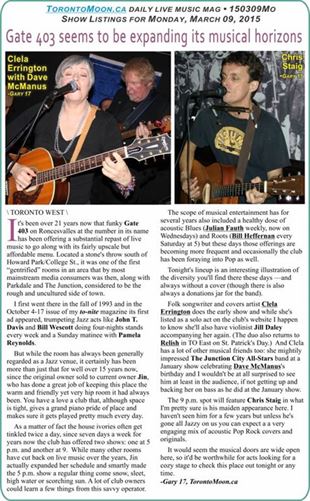 \ TORONTO WEST \
It's been over 21 years now that funky Gate 403 on Roncesvalles at the number in its name has been offering a substantial repast of live music to go along with its fairly upscale but affordable menu. Located a stone's throw south of Howard Park/College St., it was one of the first "gentrified" rooms in an area that by most mainstream media consumers was then, along with Parkdale and The Junction, considered to be the rough and uncultured side of town.
I first went there in the fall of 1993 and in the October 4-17 issue of my to-nite magazine its first ad appeared, trumpeting Jazz acts like John T. Davis and Bill Wescott doing four-nights stands every week and a Sunday matinee with Pamela Reynolds.
But while the room has always been generally regarded as a Jazz venue, it certainly has been more than just that for well over 15 years now, since the original owner sold to current owner Jin, who has done a great job of keeping this place the warm and friendly yet very hip room it had always been. You have a love a club that, although space is tight, gives a grand piano pride of place and makes sure it gets played pretty much every day.
As a matter of fact the house ivories often get tinkled twice a day, since seven days a week for years now the club has offered two shows: one at 5 p.m. and another at 9.  While many other rooms have cut back on live music over the years, Jin actually expanded her schedule and smartly made the 5 p.m. show a regular thing come snow, sleet, high water or scorching sun. A lot of club owners could learn a few things from this savvy operator.
The scope of musical entertainment has for several years also included a healthy dose of acoustic Blues (Julian Fauth weekly, now on Wednesdays) and Roots (Bill Heffernan every Saturday at 5) but these days those offerings are becoming more frequent and occasionally the club has been foraying into Pop as well.
Tonight's lineup is an interesting illustration of the diversity you'll find there these days —and always without a cover (though there is also always a donations jar for the band).
Folk songwriter and covers artist Clela Errington does the early show and while she's listed as a solo act on the club's website I happen to know she'll also have violinist Jill Daley accompanying her again. (The duo also returns to Relish in TO East on St. Patrick's Day.)  And Clela has a lot of other musical friends too: she mightily impressed The Junction City All-Stars band at a January show celebrating Dave McManus's birthday and I wouldn't be at all surprised to see him at least in the audience, if not getting up and backing her on bass as he did at the January show.
The 9 p.m. spot will feature Chris Staig in what I'm pretty sure is his maiden appearance here. I haven't seen him for a few years but unless he's gone all Jazzy on us you can expect a a very engaging mix of acoustic Pop Rock covers and originals.
It would seem the musical doors are wide open here, so it'd be worthwhile for acts looking for a cozy stage to check this place out tonight or any time.
-Gary 17, TorontoMoon.ca
SHOW LISTINGS for Monday, March 09, 2022
Listings preceded by an asterisk (*) are repeating weekly events. (Double asterisk indicates repeating event with different hosts/guest/etc.). Admission prices followed by a slash and minus (/-) after the amount indicates door charge with availability of cheaper rates for some purchases. /+ indicates stated price is minimum.
Names of subscribers appear in bold, are underlined and, where applicable, include a live link to their websites. Advertisers' listings are in larger highlighted type, include live link to website and also have ad icon included in listings.
5-8> Clela Errington @ Gate 403, 403 Roncesvalles Ave., TO West ~Folk
6> Pat Maloney @ Cameron House (front), 408 Queen St. W., TO
*6-9> Calliope's Nest open stage/jam for women @ Lola Pub, 40 Kensington Ave., TO
*6-8> Communi-Kitch with Steve Hancock @ The Garnet, 231 Hunter St. W., Peterborough
6:30> U of T Jazz Ensembles @ The Rex, 194 Queen St. W., TO ~Jazz
*7> Hard Time Mondays with Rick & Gailie @ Black Horse Pub, 452 George St. N., Peterborough
**7:30> M Factor Mondays with host Elana Harte & features Katey Morley; Megan Lane @ The Old Nick, 123 Danforth Ave., TO East
7:30> Happy Hour feat. Chris Banks @ Tranzac Lounge (Southern Cross), 292 Brunswick Ave., TO
7:30> Bob Cary Big Band @ Seven44, 744 Mount Pleasant Road, TO North ~R&B/Swing
8-11> Music Of The Mediterranean Stars @ Relish, 2152 Danforth Ave., Toronto East ~Gypsy/Zydeco Jazz/Blues
8-12> open stage with Julian Taylor & 9:30 feature by Dora's Explorers @ Dora Keogh, 141 Danforth Ave. TO East
8> comedy @ Cameron House (rear), 408 Queen St. W., TO
**8-1> open stage with host Jeff Kahl @ Free Times Café, 320 College St., TO
*8-11> open stage @ McGradie's, 2167 Victoria Park Ave., Scarborough
8-12> Chris Plock & Stevie G @ Roc'n Doc's, 105 Lakeshore E., Port Credit ~Blues-Rock duo
**8-12> BBQ & jam night with Catherine Harrison @ Moonshine Café, 137 Kerr St., Oakville; ($8.95 with BBQ dinner special starts at 6)
*8-12> open stage @ Simcoe Blues & Jazz, 926 Simcoe St. N., Oshawa
8:30> Fraser & Daley @ Castro's, 2116 Queen St. E., TO East ~Rootsy Blues
*9-1> eclectic open stage/jam with host Nelson Sobral @ The Painted Lady, 218 Ossington Ave., TO West
**9-1:30> jam with No Band Required @ Grossman's, 379 Spadina Ave., TO
*9-1> Hamstrung Stringband @ The Local, 396 Roncesvalles Ave., TO West ~Bluegrass
9-1> Chris Staig Trio @ Gate 403, 403 Roncesvalles Ave., TO West
*9-1> jam with Tom Barlow @ Shore Grill, 71 Lakeshore Rd. E., Port Credit
*9:30-2> Sebastian Agnello & friends @ Black Swan (ground floor), 154 Danforth Ave., TO East
*9:30> open mic night at Amsterdam Bicycle Club, 54 The Esplanade, TO
9:30> Humber College Jazz Ensembles @ The Rex, 194 Queen St. W., TO ~Jazz
10> Jordan John @ The Orbit Room, 580 College St., TO ~R&B/Blues
*10> open mic (2 songs; signup starts 8p.m.) @ Tranzac Lounge (Southern Cross), 292 Brunswick Ave., TO
10> Bad Seeds @ Cameron House (front), 408 Queen St. W., TO
10:30> Dam Gagnon & Jake Saenz @ The Hideout, 484 Queen St. W., TO ~Rockabilly duo
Copyright © 2015 Toronto Moon Magazine. All Rights Reserved