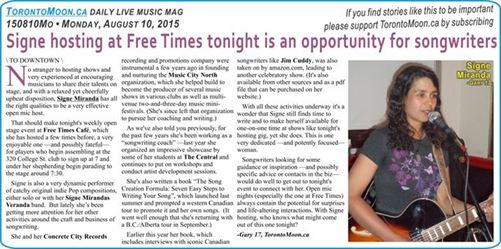 \ TO DOWNTOWN \
No stranger to hosting shows and very experienced at encouraging musicians to share their talents on stage, and with a relaxed yet cheerfully upbeat disposition, Signe Miranda has all the right qualities to be a very effective open mic host.
That should make tonight's weekly open stage event at Free Times Café, which she has hosted a few times before, a very enjoyable one —and possibly fateful— for players who begin assembling at the 320 College St. club to sign up at 7 and under her shepherding begin parading to the stage around 7:30.
Signe is also a very dynamic performer of catchy original indie Pop compositions, either solo or with her Signe Miranda's Veranda band.  But lately she's been getting more attention for her other activities around the craft and business of songwriting.
She and her Concrete City Records recording and promotions company were instrumental a few years ago in founding and nurturing the Music City North organization, which she helped build to become the producer of several music shows in various clubs as well as multi-venue two-and-three-day music mini-festivals. (She's since left that organization to pursue her coaching and writing.)
As we've also told you previously, for the past few years she's been working as a "songwriting coach" —last year she organized an impressive showcase by some of her students at The Central and continues to put on workshops and conduct artist development sessions.
She's also written a book "The Song Creation Formula: Seven Easy Steps to Writing Your Song", which launched last summer and prompted a western Canadian tour to promote it and her own songs.  (It went well enough that she's returning with a B.C./Alberta tour in September.)
Earlier this year her book, which includes interviews with iconic Canadian songwriters like Jim Cuddy, was also taken on by amazon.com, leading to another celebratory show. (It's also available from other sources and as a pdf file that can be purchased on her website.)
With all these activities underway it's a wonder that Signe still finds time to write and to make herself available for one-on-one time at shows like tonight's hosting gig, yet she does. This is one very dedicated —and potently focused— woman.
Songwriters looking for some guidance or inspiration —and possibly specific advice or contacts in the biz— would do well to get out to tonight's event to connect with her. Open mic nights (especially the one at Free Times) always contain the potential for surprises and life-altering interactions. With Signe hosting, who knows what might come out of this one tonight?
-Gary 17, TorontoMoon.ca
SHOW LISTINGS for Monday, August 10, 2021
Listings are organized by area in which the shows occur and within each area field shows are listed chronologically.
Listings preceded by an asterisk (*) are repeating weekly events. (Double asterisk indicates repeating event with different hosts/guest/etc.). Admission prices followed by a slash and minus (/-) after the amount indicates door charge with availability of cheaper rates for some purchases. /+ indicates stated price is minimum.
Names of subscribers appear in bold, are underlined and, where applicable, include a live link to their websites. Advertisers' listings are in larger highlighted type, include live link to website and also have ad icon included in listings.
416 - Toronto Central
6> Ariana Gillis @ Cameron House (front), 408 Queen St. W., TO
*6-9> Calliope's Nest open stage/jam for women @ Lola Pub, 40 Kensington Ave., TO
6:30> Andres Downing's Otterville @ The Rex, 194 Queen St. W., TO ~Jazz
7:30> George Lake Big Band @ Seven44, 744 Mount Pleasant Road, TO North ~R&B/Swing
**7:30-1 (sign-up starts at 7)> open stage with host Signe Miranda (signup starts at 7) @ Free Times Café, 320 College St., TO
8> comedy @ Cameron House (rear), 408 Queen St. W., TO
8> Ukulele jam @ Tranzac Lounge (Main Hall), 292 Brunswick Ave., TO
8:30> Alt Dot Comedy Lounge @ Rivoli, 334 Queen St. W., TO; $5
8:40> Diego Deville; Shy Harry' Victor Martin @ Horseshoe Tavern, 370 Queen St. W., TO ~indie Rock; free
**9-1:30> jam with No Band Required @ Grossman's, 379 Spadina Ave., TO
*9-1> Hamstrung Stringband @ The Local, 396 Roncesvalles Ave., TO West ~Bluegrass
*9:30> open mic night at Amsterdam Bicycle Club, 54 The Esplanade, TO
9:30> Tim Hamel Quartet @ The Rex, 194 Queen St. W., TO ~Jazz
10> Jordan John @ The Orbit Room, 580 College St., TO ~R&B/Blues
*10> jam night hosted by Phill Hood & Jon McCann @ The Cage 292, 292 College St., TO
*10> open mic (2 songs; sign-up starts 8 p.m.) with hosts Dave Lange & John Sladek @ Tranzac Lounge (Southern Cross), 292 Brunswick Ave., TO
10> Ben Kunder @ Cameron House (front), 408 Queen St. W., TO
10:30> Big Otter Creek Unplugged @ The Hideout, 484 Queen St. W., TO ~acoustic indie Rock
416 - Toronto East
**7:30> M Factor Mondays with host Elana Harte & features Elana Harte birthday party; Alanna Matty @ The Old Nick, 123 Danforth Ave., TO East ~songwriters
8-10> Black & Blue featuring members of Bentroots @ Relish, 2152 Danforth Ave., Toronto East ~Blues
8-12> open stage with Julian Taylor @ Dora Keogh, 141 Danforth Ave. TO East
*8-12> open mic with host Chris Scian @ Breakwall, 1910 Queen St. E., TO East
8:30> iSpy @ Castro's, 2116 Queen St. E., TO East
*9:30-2> Sebastian Agnello & friends @ Black Swan (ground floor), 154 Danforth Ave., TO East
416 – Toronto West
5-8> Chris Reid Jazz Band @ Gate 403, 403 Roncesvalles Ave., TO West ~Jazz
9> Geoff Willingham @ The Roncy, 390 Roncesvalles Ave., TO West ~acoustic Pop
*9-1> eclectic open stage/jam @ The Painted Lady, 218 Ossington Ave., TO West
9-1> Chris Staig Trio @ Gate 403, 403 Roncesvalles Ave., TO West ~Jazz
416 - SCARBOROUGH
*8-11> open stage @ McGradie's, 2167 Victoria Park Ave., Scarborough
9> Uke jam @ Stone Cottage Pub, 3750 Kingston Rd., Scarborough ~Pop Rock
705
*7> Hard Time Mondays with Rick & Gailie @ Black Horse Pub, 452 George St. N., Peterborough
905 East
*8-12> open stage @ Simcoe Blues & Jazz, 926 Simcoe St. N., Oshawa
905 West
**8-12> BBQ & jam night with Catherine Harrison @ Moonshine Café, 137 Kerr St., Oakville; ($8.95 with BBQ dinner special starts at 6)
*9-1> jam with Tom Barlow @ Shore Grill, 71 Lakeshore Rd. E., Port Credit
9-1> Alexander Quail @ Roc'n Doc's, 105 Lakeshore E., Port Credit ~acoustic Pop
Online/On The Air