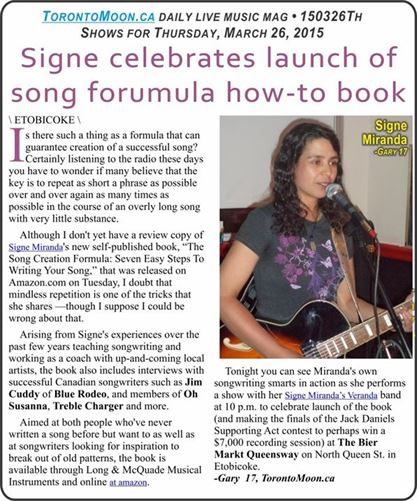 \ ETOBICOKE \
Is there such a thing as a formula that can guarantee creation of a successful song? Certainly listening to the radio these days you have to wonder if many believe that the key is to repeat as short a phrase as possible over and over again as many times as possible in the course of an overly long song with very little substance.
Although I don't yet have a review copy of Signe Miranda's new self-published book, "The Song Creation Formula: Seven Easy Steps To Writing Your Song," that was released on Amazon.com on Tuesday, I doubt that mindless repetition is one of the tricks that she shares —though I suppose I could be wrong about that.
Arising from Signe's experiences over the past few years teaching songwriting and working as a coach with up-and-coming local artists, the book also includes interviews with successful Canadian songwriters such as Jim Cuddy of Blue Rodeo, and members of Oh Susanna, Treble Charger and more.
Aimed at both people who've never written a song before but want to as well as at songwriters looking for inspiration to break out of old patterns, the book is available through Long & McQuade Musical Instruments and online at amazon.
Tonight you can see Miranda's own songwriting smarts in action as she performs a show with her Signe Miranda's Veranda band at 10 p.m. to celebrate launch of the book (and making the finals of the Jack Daniels Supporting Act contest to perhaps win a $7,000 recording session) at The Bier Markt Queensway on North Queen St. in Etobicoke.
-Gary  17, TorontoMoon.ca
SHOW LISTINGS for Thursday, March 26, 2022
Listings preceded by an asterisk (*) are repeating weekly events. (Double asterisk indicates repeating event with different hosts/guest/etc.). Admission prices followed by a slash and minus (/-) after the amount indicates door charge with availability of cheaper rates for some purchases. /+ indicates stated price is minimum.
Names of subscribers appear in bold and underlined and, where applicable, include a live link to their websites or event page. Advertisers' listings are in larger type and highlighted, include a live link to their website and also have a copy of the ad included in listings.
*5-8> Kirsten Jones @ Richtree Restaurant, Eaton Centre (14 Queen St. West), TO ~Country originals & Pop covers
5-8> G Street Jazz Trio @ Gate 403, 403 Roncesvalles Ave., TO West ~Jazz
*5-8> Nelson Denis @ Frank's Pasta, 42 King Street E., Cobourg ~eclectic mix (Folk, Jazz, soft Rock, Latin)
6> Corin Raymond @ Cameron House (front), 408 Queen St. W., TO ~Roots-Pop
6:30> Kevin Quain @ The Rex, 194 Queen St. W., TO ~moody Blues
*7> open mic with Derek Mo

k @ Kensington Lodge, 21 Kensington Ave., TO
7:30> K.C. Bower & Co. @ Linsmore Tavern, 1298 Danforth Ave., TO East ~instrumental Folk-Blues
7:30-9:30> Sean Poluk @ Relish, 2152 Danforth Ave., TO East ~songwriter
*7:30-9:30> Bluegrass Thursdays with Houndstooth @ Tranzac Lounge (Southern Cross), 292 Brunswick Ave., TO
*7:30> Rob Phillips Trio with Chelsea Bennett @ Black Horse Pub, 452 George St. N., Peterborough ~Jazz/Blues
*7:30-12> open mic with K.M. Smith @ Molly Bloom's Guelph, 91 Wyndham St. N., Guelph
*8-11> Tinderbox Thursdays open stage with Michael Keith @ La Revolucion, 2848 Dundas St. W., TO West ~eclectic
8-10:30> Alex Pangman with Peter Hill on keys @ Bloom Restaurant, 2315 Bloor St. W., Etobicoke ~Jazz

8> Kimberley & Co. featuring Dave Girdlestone on guitar @ Timothy's Pub, 344 Brown's Line, Etobicoke South ~Pop Rock
*8-10:30> Jerry Leger & The Situation @ Castro's, 2116 Queen St. E., TO East ~Folk-Rock/Country
*8-1> open mic with Alicia Porter @ The Local Gest, 424 Parliament St., TO
8-12> R&B/Blues @ Nawlin's, 299 King St. W. TO
8-12> Freedom Train @ Roc'n Doc's, 105 Lakeshore Rd. E., Port Credit ~Rock/Top 40
8-12> David Leask @ Fionn MacCool's Ajax, 32 Kingston Rd. E. Ajax ~Pop
*8> open mic with Kevin Ker @ Duchess of Markham, 53 Main St., Markham
8> The Mayflys Landline @ Simcoe Blues & Jazz, 926 Simcoe St. N., Oshawa
*8-12> open mic & jam @ Black Swan Pub Burlington, 4040 Palladium Way, Burlington
*8-12> jam hosted by The Personics @ Carrigan Arms, 2025 Upper Middle Rd., Burlington
*8-11> open mic with Sandy MacDonald @ Williamsburg Arms, 1187 Fischer Hallman Rd., Kitchener
8:30> Kunle @ Free Times Café, 320 College St. TO ~original Folk from Nigeria
8:30> Freddy Suarez @ Moonshine Café, 137 Kerr St. Oakville ~Cuban; $10
9> Fourth Tuesday open mic with Sandi Marie & Under The Bus also featuring Kevin Jeffrey @ Grossman's, 379 Spadina Ave., TO
*9> Tommy Rocker's Classic Rock Band  with Jonny Rock on bass host jam @ Centro Pizza, 3406 Kingston Rd., Scarborough
*9> jam with Ted Rusk @ The Sauble Dunes, 11 Southampton Parkway, Sauble Beach
*9-1:30> open stage with Jay Pennell @ Dave's On St. Clair, 730 St. Clair West, TO West ~eclectic
9-12> Cyndi Carleton At Ease @ Gate 403, 403 Roncesvalles Ave., TO West ~Jazz
*9-1> Blackburn @ Jo Mamas, 317 King St. W., TO ~Blues
9> Of The Bear; Food Water Shelter; Sleeping Lies; The Baragars; Red Moon Road @ The Painted Lady, 218 Ossington Ave., TO West ~indie
9> Pigeonhawk @ The Local, 396 Roncesvalles Ave., TO West ~old-timey
9-1> Jack de Keyzer Band @ Monarchs Pub (Eaton Chelsea Hotel), 33 Gerrard St. W., TO ~Blues
9> The Weber Brothers @ Dakota Tavern, 249 Ossington Ave., TO West ~Country-style Blues; $10
*9> jam @ The Wee Pub, 371 Wilson Rd. South, Oshawa
*9:30-2> Skip Tracer @ Southside Johnny's, 3653 Lakeshore Blvd., Etobicoke South ~Rock/Pop
9:30> open mic with Robbie & Mat @ Stone Cottage Pub, 3750 Kingston Rd., Scarborough ~Pop Rock
9:30> Taxi @ Black Dog Pub, 87 Island Rd., Scarborough ~Pop Rock/Funk
9:30> Glenn Groves @ Shore Grill, 71 Lakeshore Rd. E., Port Credit ~Pop Rock
*9:30> jam with Billick @ Harp & Crown, 300 Kingston Rd., Pickering
*9:30> jam with Jack B Nimble @ Abbey Road Pub, 3200 Erin Mills Parkway, Mississauga
*9:45> Mary Mckay @ Reservoir Lounge, 52 Wellington St. E., TO ~Jazz/Blues
9:45> Kiki Misumi Group @ The Rex, 194 Queen St. W., TO ~Jazz
10> Signe Miranda's Veranda celebrating launch of "The Song Creation Formula" book @ The Bier Markt Queensway, 199 Queen St. N., Etobicoke ~original Pop
10> Soozi Schlanger Band also featuring Tony Quarrington @ Tranzac Lounge (Southern Cross), 292 Brunswick Ave., TO ~original Jazzy Pop
10> Shawn Brady & Hervé Basset @ McSorley's, 1544 Bayview Ave., TO North ~acoustic Pop
*10-2> karaoke with Shane Taylor @ Relish, 2152 Danforth Ave., TO East
10> Sam Cash @ Cameron House (front), 408 Queen St. W., TO
10> Pretzel Logic @ Orbit Room, 480 College St. TO ~Steely Dan tribute; $
10> New Fries + guests @ The Garnet, 231 Hunter St. W., Peterborough
10:30> Don Campbell @ The Hideout, 484 Queen St. W., TO ~indie Rock
Copyright © 2015 Toronto Moon Magazine. All Rights Reserved