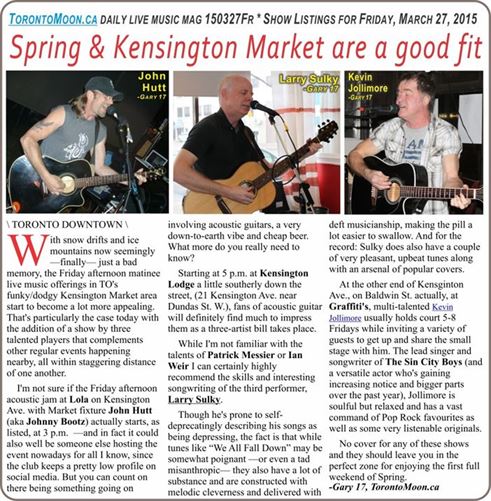 \ TORONTO DOWNTOWN \
With snow drifts and ice mountains now seemingly —finally— just a bad memory, the Friday afternoon matinee live music offerings in TO's funky/dodgy Kensington Market area start to become a lot more appealing. That's particularly the case today with the addition of a show by three talented players that complements other regular events happening nearby, all within staggering distance of one another.
I'm not sure if the Friday afternoon acoustic jam at Lola on Kensington Ave. with Market fixture John Hutt (aka Johnny Bootz) actually starts, as listed, at 3 p.m.  —and in fact it could also well be someone else hosting the event nowadays for all I know, since the club keeps a pretty low profile on social media. But you can count on there being something going on involving acoustic guitars, a very down-to-earth vibe and cheap beer. What more do you really need to know?
Starting at 7 p.m. at Kensington Lodge a little southerly down the street, (21 Kensington Ave. near Dundas St. W.), fans of acoustic guitar will definitely find much to impress them as a three-artist bill takes place.
While I'm not familiar with the talents of Patrick Messier or Ian Weir I can certainly highly recommend the skills and interesting songwriting of the third performer, Larry Sulky.
Though he's prone to self-deprecatingly describing his songs as being depressing, the fact is that while tunes like "We All Fall Down" may be somewhat poignant —or even a tad misanthropic— they also have a lot of substance and are constructed with melodic cleverness and delivered with deft musicianship, making the pill a lot easier to swallow. And for the record: Sulky does also have a couple of very pleasant, upbeat tunes along with an arsenal of popular covers.
At the other end of Kensginton Ave., on Baldwin St. actually, at Graffiti's, multi-talented Kevin Jollimore usually holds court 5-8 Fridays while inviting a variety of guests to get up and share the small stage with him. The lead singer and songwriter of The Sin City Boys (and a versatile actor who's gaining increasing notice and bigger parts over the past year), Jollimore is soulful but relaxed and has a vast command of Pop Rock favourites as well as some very listenable originals.
No cover for any of these shows and they should leave you in the perfect zone for enjoying the first full weekend of Spring.­­
-Gary 17, TorontoMoon.ca
SHOW LISTINGS for Friday, March 27, 2022

:
Listings preceded by an asterisk (*) are repeating weekly events. (Double asterisk indicates repeating event with different hosts/guest/etc.). Admission prices followed by a slash and minus (/-) after the amount indicates door charge with availability of cheaper rates for some purchases. /+ indicates stated price is minimum.
Names of subscribers appear in bold, are underlined and, where applicable, include a live link to their websites. Advertisers' listings are in larger type, highlighted, include live link to website and also have ad icon included in listings.
*3-7> acoustic jam with John Hutt @ Lola, 40 Kensington Ave., TO
*4-6> Hogtown Syncopators featuring Terra Hazelton @ The Rex, 194 Queen St. W., TO ~Jazz
*5-8> Kensington Kitchen Party with host Kevin Jollimore of Sin City Boys & guest musicians @ Graffiti's, 170 Baldwin St., TO ~Pop Rock with heart
5-9> Sean Poluk; James Clark solo; Craig Robertson @ The Central, 603 Markham St., TO ~indie
*5-7> open mic with The Foolish Things @ Tranzac Club (Southern Cross), 292 Brunswick Ave., TO ~original Pop
5-8> Ken Taylor's Fixin's Jazz Trio @ Gate 403, 403 Roncesvalles Ave., TO West ~Jazz
5:30-7:30> The Straight 8s @ Castro's, 2116 Queen St. E., TO East
5:30> Rick & Gailie @ Black Horse Pub, 452 George St. N., Peterborough
6> Mark Reeves @ Cameron House (front), 408 Queen St. W., TO
*6-9> SHE @ Roc'n Doc's, 105 Lakeshore Rd. E., Port Credit ~acoustic Pop Rock
6:30> Lester McLean Group @ The Rex, 194 Queen St. W., TO ~Jazz
7> Larry Sulky; Patrick Messier; Ian Weir @ Kensington Lodge, 21 Kensington Ave., TO ~solo guitar artists
7> Carmen Toth; Todd Cooper for Meet The Artist @ Tuneology, 145B Main St., TO East ~indie
7> Piper Hayes with Tom Savage, Jo Boudreau @ Homegrown Hamilton, 27 King William St., Hamilton ~indie Pop
7:30> Stella Walker Pop-up Art Party & Asymtote Trio @ Tranzac Club (Southern Cross), 292 Brunswick Ave., TO
8> Patrick Brealey @ Cameron House (front), 408 Queen Street West, TO
8> Alfie Smith workshop series @ Moonshine Café, 137 Kerr St., Oakville ~Blues; $10
8:30> Black Suit Devil @ Free Times Café, 320 College St., TO ~Rock/Blues
8:30> The Stellas; The Lovelocks open @ Hugh's Room, 2261 Dundas St. W., TO West ~Country Roots; $25/-
8:30> Little Fire @ Black Horse Pub, 452 George St. N., Peterborough
9-1> Julian Fauth @ Gate 403, 403 Roncesvalles Ave., TO West ~Blues
9> The Tonkas @ The Local, 396 Roncesvalles Ave., TO West ~Rock 'n Roll
9-1> Freeman Dre & the Kitchen Party @ Monarchs Pub in Eaton Chelsea Hotel, 33 Gerrard St. W., TO ~ indie Roots-Rock
9> The O'Deadleys @ Blue Goose Tavern, 1 Blue Goose Rd., Etobicoke South ~Pop Rock/Top 40
9> Ride The Tiger @ Maple Leaf House, 2749 Lakeshore Boulevard East, Etobicoke ~Rock/Top 40/Blues
9-1> PRJ @ Simcoe Blues & Jazz, 926 Simcoe St., Oshawa ~Blues
9> Cutler Boyd @ The Corral, 433 Simcoe St. S., Oshawa ~Country
9> Bad Dog @ King Richard's Pub, 15570 Yonge St., Aurora ~Pop Rock
9:30> No Quarter @ Linsmore Tavern, 1298 Danforth Ave., TO East ~Led Zeppelin tribute; $5 advance, $10 door
*9:30> David Macmichael & Dean McKinnon @ Relish, 2152 Danforth Ave., TO East ~alt Pop originals and covers
9:30> Valerie & The Dreamcatcher featuring Tony Oldland on guitar @ The Duke Live, 1225 Queen St. E., TO East ~Pop Rock
9:30> Bone-Yard @ McGradie's, 2167 Victoria Park Ave., Scarborough ~classic Rock/Top 40
9:30> Gator James @ Timothy's Pub, 344 Brown's Line, Etobicoke South ~Pop Rock/Top 40; $
9:30> Nine Times Band @ Alleycatz, 2409 Yonge St., TO North ~Funk/Soul/R&B; $10
9:30> Greg Wyard @ Stone Cottage Pub, 3750 Kingston Rd., Scarborough ~Pop Rock
9:30> John Chantry @ Shore Grill, 71 Lakeshore Rd. E., Port Credit ~Pop Rock/Top 40
9:30> Itchy & Scratchy @ Jake's Boathouse Brampton, 59 First Gulf Rd., Brampton ~Pop Rock
9:30> Ballroom Babies @ Oscar's Roadhouse, 1785 Queen St. E., Brampton ~Top 40/Rock
*9:30> open mic @ Big Daddy's, 460 Elgin Mills Rd., E, Richmond Hill
9:30> North of 7 @ Aw Shucks, 15230 Yonge St., Aurora ~Pop Rock
9:30> Jeff Pilon @ Shakers, 580 Kerr St., Oakville ~Pop Rock
9:30> Shake Street @ Black Swan Pub Burlington, 4040 Palladium Way, Burlington ~Pop Rock
9:45> Matthew Stevens album release for Woodwork @ The Rex, 194 Queen St. W., TO ~Jazz
9:45> Dee Dee and the Dirty Martinis @ Reservoir Lounge, 52 Wellington St. E., TO ~Jazz/Blues
10-2> Taxi @ Southside Johnny's, 3653 Lakeshore Blvd. W., Etobicoke South ~Rock/Funk/Pop
10> The Dirty Rottens feat. Anthony Cee @ Windjammer By The Lake, 5353 Lakeshore Rd., Burlington ~Rock
*10> karaoke with Randy Petrie @ Kramers, 1915 Yonge St., TO North
10> Dave Murphy Band @ Orbit Room, 480 College St. TO ~Rock/Funk/R&B
10> Nick Teehan @ Cameron House (front), 408 Queen Street West, TO
10-2> The Mercenaries @ Dakota Tavern, 249 Ossington Ave., TO W. ~Country Rock
10> Ryan Driver Sextet @ Tranzac Club (Southern Cross), 292 Brunswick Ave., TO ~Jazz
10-2> Fleetwood Mix @ Roc'n Doc's, 105 Lakeshore Rd. E., Port Credit ~Fleetwood Mac tribute; $
10-2> Afterglow @ Fionn MacCool's Ajax, 36 Kingston Rd., E., Ajax ~Pop Rock/Top 40
10-2> Say Uncle @ Whisky John's, 843 King St. W., Oshawa
10> I Dunno @ The Garnet, 231 Hunter St. W., Peterborough
10:30> The Cunninghams @ The Hideout, 484 Queen St. W., TO ~indie Rock
Copyright © 2015 Toronto Moon Magazine. All Rights Reserved