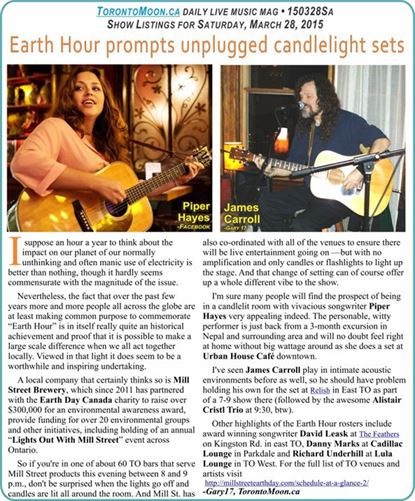 I suppose an hour a year to think about the impact on our planet of our normally unthinking and often manic use of electricity is better than nothing, though it hardly seems commensurate with the magnitude of the issue.
Nevertheless, the fact that over the past few years more and more people all across the globe are at least making common purpose to commemorate "Earth Hour" is in itself really quite an historical achievement and proof that it is possible to make a large scale difference when we all act together locally. Viewed in that light it does seem to be a worthwhile and inspiring undertaking.
A local company that certainly thinks so is Mill Street Brewery, which since 2011 has partnered with the Earth Day Canada charity to raise over $300,000 for an environmental awareness award, provide funding for over 20 environmental groups and other initiatives, including holding of an annual "Lights Out With Mill Street" event across Ontario.
So if you're in one of about 60 TO bars that serve Mill Street products this evening between 8 and 9 p.m., don't be surprised when the lights go off and candles are lit all around the room. And Mill St. has also co-ordinated with all of the venues to ensure there will be live entertainment going on —but with no amplification and only candles or flashlights to light up the stage. And that change of setting can of course offer up a whole different vibe to the show.
I'm sure many people will find the prospect of being in a candlelit room with vivacious songwriter Piper Hayes very appealing indeed. The personable, witty performer is just back from a 3-month excursion in Nepal and surrounding area and will no doubt feel right at home without big wattage around as she does a set at Urban House Café downtown.

I've seen James Carroll play in intimate acoustic environments before as well, so he should have problem holding his own for the set at Relish in East TO as part of a 7-9 show there (followed by the awesome Alistair Cristl Trio at 9:30, btw).
Other highlights of the Earth Hour rosters include award winning songwriter David Leask at The Feathers on Kingston Rd. in east TO, Danny Marks at Cadillac Lounge in Parkdale and Richard Underhill at Lula Lounge in TO West. For the full list of TO venues and artists visit Mill Street's website .
-Gary17, TorontoMoon.ca
SHOW LISTINGS for Saturday, March 28, 2022
Listings preceded by an asterisk (*) are repeating weekly events. (Double asterisk indicates repeating event with different hosts/guest/etc.). Admission prices followed by a slash and minus (/-) after the amount indicates door charge with availability of cheaper rates for some purchases. /+ indicates stated price is minimum.
Names of subscribers appear in bold, are underlined and, where applicable, include a live link to their websites. Advertisers' listings are in larger, highlighted type, include live link to website and also have ad icon included in listings.
*12-3> Julian Fauth's Blues Brunch @ Axis, 3048 Dundas St. W., TO West ~Blues
*12-3> Danny Marks & friends @ The Rex, 194 Queen St. W., TO ~Jazz
*2-5> Dr. B's Acoustic Medicine Show open stage with host Brian Gladstone @ Free Times Café, 320 College St. TO ~Roots; pwyc
**2-6> open mic with host Roger Zuraw @ Magic Oven, 347 Keele St., TO West
2> Suzie Vinnick @ Terra Cotta Community Centre, 18 High St., Caledon ~Blues
*2-6> jam w. Tom Finocchio @ Sam's Place, Barton-Chestnut Sts., Hamilton
**2-6> Saturday Blues Sermon with James Anthony & special guest Hailee Rose @ Black Swan Pub Burlington, 4040 Palladium Way, Burlington ~Blues
2:30-4:30> Ian Badger @ Humble Beginnings, 3109 Dundas St. W., TO West ~acoustic Roots/Blues/Pop
*3-6> Danny B Band @ Blue Goose, 1 Blue Goose St., Etobicoke South ~R&B/Blues
*3-7> jam with Michelle Deneault & Redder @ Port Credit Legion, 35 Front St., Port Credit
3> The Boxcar Boys @ C'est What, 67 Front St. E., TO ~traditional Jazz; $5
3> Sue & Dwight @ Cameron House (front), 408 Queen St. W., TO ~Folk
3> Jamzac @ Tranzac Club (Southern Cross), 292 Brunswick Ave., TO
*3-7> open stage jam @ Moonshine Café, 137 Kerr St., Oakville; $2
3:30-6:30> Loaded Blues featuring Jim Cornell of Still Sunday & guests Jenn LadyEvil, Tom Alexiou @ The Loaded Dog, 1921 Lawrence Ave. E., Scarborough
*3:30-6> Johnny Wright @ Outriggers, 2232 Queen St. E., TO East ~R&B
3:30> Go Freddy Go @ Eton House, 710 Danforth Ave., TO East ~vintage Pop Rock
3:30> Bob Rice Latin Big Band album release @ The Rex, 194 Queen St. W., TO ~Jazz
3:30> Turboprop @ The Pilot, 22 Cumberland St., TO ~Jazz
**4-8> Bear's Band with guest singer @ Southside Johnny's, 3653 Lakeshore Blvd. W. Etobicoke South ~Rock-R&B
4-7> Danny 11 @ Seven44, 744 Mount Pleasant Road, TO North ~Jazz; $
*4-7:30> Ronnie Hayward Trio @ McQueen's, 993 Queen St. E., TO E. ~Blues/Roots
*4-8> The Meteors with guest Marshall Dane @ Timothy's Pub, 344 Brown's Line, Etobicoke South ~Blues/Rock/R&B
*4> Susan Latimer @ Simcoe Blues & Jazz, 926 Simcoe St., Oshawa ~original Roots
**5-8> Bill Heffernan & Friends featuring guests Jerome Godboo Trio @ Gate 403, 403 Roncesvalles Ave. TO West –Rootsy Pop/Blues
5-8> David Meenan @ The Local, 396 Roncesvalles Ave., TO West ~Irish Sessions
6-8> Colonel Tom @ Cameron House (front), 408 Queen St. W., TO
6-8> The Cosmotones @ Castro's, 2116 Queen St. E., TO East ~Blues/Roots
*6-9> Victoria & Bobby Keys @ Roc'n Doc's, 105 Lakeshore Rd. E., Port Credit ~soft Pop
6:30> Scott B. Sympathy @ Tranzac Club (Southern Cross), 292 Brunswick Ave., TO ~Country/Rock
7-9> James Carroll (including 1-hour candelight unplugged set for Earth Hour) @ Relish, 2152 Danforth Ave., TO East ~Roots-Pop
7:30> The Bacchus Collective @ The Rex, 194 Queen St. W., TO ~ Jazz
8> David Leask (including 1-hour 8:30-9:30 candlelight/unplugged performance for Earth Hour) @ The Feathers, 962 Kingston Rd., TO East ~songwriter
8> Sick Kids Hospital 'Music Magic & Dance' benefit with Kristen Au; Noah & Lauren; 299 Bloor; Arnold Witt; Uneek Sounds; Ben Train; BackTrack featuring Marty Zatzman @ Cadillac Lounge, 1298 Queen St. W., TO West ~eclectic
8> Declan O'Donovan @ Cameron House (front), 408 Queen St. W., TO
8:30-9:30> Lights Out for Earth Hour with Piper Hayes acoustic by candlelight @ Urban House Café, 4 Dundonald St., TO
8:30> 70s tribute with various artists @ Hugh's Room, 2261 Dundas St. W., TO West ~tribute; $28
8:30> Robyn Dell'Unto @ Free Times Café, 320 College St. TO ~songwriter
9> Amanda Rose Trio also featuring Anthony Cee & Josh Gordon @ Flowertown Pub, 12 Flowertown Ave., Brampton ~acoustic Pop Rock
*9-1> karaoke with Rob MacArthur @ Tudor Rose, 700 Harwood Ave. S., Ajax
9-1> Tyler Schwende @ Black Dog Pub, 87 Island Rd., Scarborough ~acoustic Pop/soft Rock
9-1> Donne Roberts Band @ Gate 403, 403 Roncesvalles Ave., TO West ~ Jazz
9> Jay Swinnerton @ C'est What, 67 Front St. E., TO ~indie; pwyc
9> GTA Rollergirls Rockabilly Ball @ Tranzac Club (Main Hall), 292 Brunswick Ave., TO
9> Dylan Wickens @ Dora Keogh, 141 Danforth Ave., TO East ~Blues
9> Jay Aymar @ The Local, 396 Roncesvalles Ave., TO West ~indie Pop
9> Express & Co. @ Dakota Tavern, 249 Ossington Ave., TO West
9> Johnny Pettit & The Rhythm Rats @ Blue Goose Tavern, 1 Blue Goose Rd., Etobicoke South ~Pop Rock
9> Hurricane Hill @ Maple Leaf House, 2749 Lakeshore Boulevard East, Etobicoke ~Rock/Top 40/Blues
9> Cutler Boyd @ The Corral, 433 Simcoe St. S., Oshawa ~Country
9-1> Unlimited Brad @ Simcoe Blues & Jazz, 926 Simcoe St. N., Oshawa
9-1> Outshine @ Oscar's Roadhouse, 1785 Queen St. E., Brampton ~Pop Rock/Top 40
**9> Niagara Rhythm Section @ The Old Winery, 2228 Niagara Stone Rd., Niagara-On-The-Lake ~R&B/Blues
9:30> The Darkest Side Of The Moon @ Linsmore Tavern, 1298 Danforth Ave., TO East ~Pink Floyd tribute; $7 adv., $15 door
9:30> Plaza Ratz @ Centro Pizza, 3406 Kingston Rd., Scarborough ~classic Rock
9:30-11:30> Alistair Cristl Trio @ Relish, 2152 Danforth Ave., TO East ~Rockabilly
9:30> Valerie & The Dreamcatcher featuring Tony Oldland on guitar @ The Franklin House, 263 Queen St. S., Streetsville-Mississauga ~Pop Rock
9:30> Loaded Blues featuring Jim Cornell of Still Sunday @ Sixth Line Pub, 1500 Sixth Line, Oakville ~Blues/Rock
*9:30-2> karaoke with The English Rose & The Mad Scotsman @ Winners, 2181 Lawrence Ave. E., Scarborough
9:30> Jay Harmony & The Groove Sharks @ Seven44, 744 Mount Pleasant Road, TO North; $
9:30> Lady Kane @ Alleycatz, 2409 Yonge St., TO North ~Funk/Soul/R&B
9:30> Paul James Band @ The Duke Live, 1225 Queen St. E., TO East ~Rockabilly
9:30> Fat Tony @ Stone Cottage Pub, 3750 Kingston Rd., Scarborough ~Pop Rock
9:30> Blackboard Blues Band @ Timothy's Pub 344 Brown's Line, Etobicoke South ~bit band Blues; $
9:30> Paul & Curtis @ Shore Grill, 71 Lakeshore Rd. E., Port Credit ~Pop Rock/Top 40
9:30> Dirty Pioneers @ Gator Ted's, 1505 Guelph Line, Burlington
9:30> Fourplay @ Aw Shucks, 15230 Yonge St., Aurora ~Pop Rock
9:45> Matthew Stevens album release for Woodwork  @ The Rex, 194 Queen St. W., TO ~Jazz
*9:45> Tyler Yarema & His Rhythm @ Reservoir Lounge, 52 Wellington St. E., TO ~Jazz/Blues
10-2> Liquor Pigs with openers Sister Hyde; The Nasties @ Southside Johnny's, 3653 Lakeshore Blvd. W. Etobicoke South ~Canadian Punk
10> Dunn featuring Dee Flat @ Moe's Tap & Grill, 190 Main St. E., Port Colborne ~Rock/Top 40
*10> karaoke with Randy Petrie @ Kramers, 1915 Yonge St., TO North
10> Ride The Tiger @ Orbit Room, 480 College St. TO ~Funk/Soul
10> Greg Cockerill Band @ Cameron House (front), 408 Queen St. W., TO
10> Tasha & The Sweet Talkers; Deciduous and Featurette @ Tranzac Club (Southern Cross), 292 Brunswick Ave., TO
10-2> Smoke In The Cockpit @ Roc'n Doc's, 105 Lakeshore Rd. E., Port Credit ~Rock/Top 40
10-2> The Wave @ Fionn MacCool's Ajax, 36 Kingston Rd. E., Ajax ~Pop Rock
10-2> Bon Jovi Forever @ Whisky John's, 843 King St. W., Oshawa ~Bon Jovi tribute
10> Kill Good + guests @ The Garnet, 231 Hunter St. W., Peterborough
10:30> The Disco Rebels @ The Hideout, 484 Queen St. W., TO ~indie Rock
10:30> The Zilis @ The Dickens, 423 Elizabeth St., Burlington ~Pop Rock
Copyright © 2015 Toronto Moon Magazine. All Rights Reserved