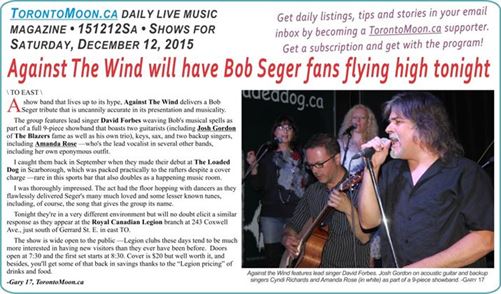 A show band that lives up to its hype, Against The Wind delivers a Bob Seger tribute that is uncannily accurate in its presentation and musicality.
The group features lead singer David Forbes weaving Bob's musical spells as part of a full 9-piece showband that boasts two guitarists (including Josh Gordon of The Blazers fame as well as his own trio), keys, sax, and two backup singers, including Amanda Rose —who's the lead vocalist in several other bands, including her own eponymous outfit.
I caught them back in September when they made their debut at The Loaded Dog in Scarborough, which was packed practically to the rafters despite a cover charge —rare in this sports bar that also doubles as a happening music room.
I was thoroughly impressed. The act had the floor hopping with dancers as they flawlessly delivered Seger's many much loved and some lesser known tunes, including, of course, the song that gives the group its name.
Tonight they're in a very different environment but will no doubt elicit a similar response as they appear at the Royal Canadian Legion branch at 243 Coxwell Ave., just south of Gerrard St. E. in east TO.
The show is wide open to the public —Legion clubs these days tend to be much more interested in having new visitors than they ever have been before. Doors open at 7:30 and the first set starts at 8:30. Cover is $20 but well worth it, and besides, you'll get some of that back in savings thanks to the "Legion pricing" of drinks and food.
-Gary 17, TorontoMoon.ca
SHOW LISTINGS for Saturday, December 12, 2021
Listings are organized by area in which the shows occur and within each area field shows are listed chronologically.
Listings preceded by an asterisk (*) are repeating weekly events. (Double asterisk indicates repeating event with different hosts/guest/etc.). Admission prices followed by a slash and minus (/-) after the amount indicates door charge with availability of cheaper rates for some purchases. /+ indicates stated price is minimum.
Names of subscribers appear in bold, are underlined and, where applicable, include a live link to their websites. Advertisers' listings are in larger, highlighted type, include live link to website and also have ad icon included in listings.
416 - Toronto Central
*12-3> The Sinners Choir @ The Rex, 194 Queen St. W., TO ~Jazz
*2> Dr. B's Acoustic Medicine Show open stage with Brian Gladstone @ Free Times Café, 320 College St. TO ~Roots
3> The Hot Five Jazzmakers @ C'est What, 67 Front St. E., TO ~traditional Jazz; $5
3> Jamzac @ Tranzac Club (Southern Cross), 292 Brunswick Ave., TO
3:30> Jazz Mechanics Big Band @ The Rex, 194 Queen St. W., TO ~Brampton Jazz
3:30> Women In Jazz @ The Pilot, 22 Cumberland St., TO ~Jazz
4-7> Downtown Jazz Band @ Seven44, 744 Mount Pleasant Road, TO North ~$

*4-7> Climax Jazz Band @ Alleycatz, 2409 Yonge St., TO North ~Dixieland Jazz; $?
*4:40-7:30> The Happy Pals @ Grossman's, 379 Spadina Ave., TO ~New Orleans Jazz
*5-8> Blues & Troubles @ Déjà vu Bar, 389 College St., TO ~Blues
6-8> Cynthia Tauro @ 120 Diner, 120 Church St., TO ~Jazz
6:30> Joe Hall @ Tranzac Club (Southern Cross), 292 Brunswick Ave., TO ~provocative Roots songwriter
6-8> Big Tobacco & The Pickers @ Cameron House (front), 408 Queen St. W., TO ~authentic original Country
7:30> Nick Teehan Group @ The Rex, 194 Queen St. W., TO ~ Jazz
8> Cheryl Ockrant @ Musideum, 401 Richmond St. W., #133, TO ~original Jazz; $20
8> 40 Years After @ Drums N Flats, 1980 Avenue Rd., TO North
8:30> Matt Cooke ep release; openers Marlon Chaplin; Dan Bonfire @ Free Times Café, 320 College St. TO ~original East Coast Folk Blues; $10
9> Cece Pastor & Word of Mouth @ Seven44, 744 Mount Pleasant Road, TO North ~Rock/Top 40
9> Midnight Vesta; Riley Szulc Band; Sam Crooks @ C'est What, 67 Front St. E., TO ~indie; $
9 (see also midnight)> The Double Cuts celebrate Frank Sinatra @ Cameron House (front), 408 Queen St. W., TO ~tribute; pwyc
9> From Fram @ Jazz Bistro, 251 Victoria St., TO ~Swing Blues/Folk/ Gypsy Jazz
9> Groovy Julia @ Cameron House (rear), 408 Queen St. W., TO
9> Tear Away; Tusa; Midday Seim; Lost Cousins; House Art @ Horseshoe Tavern, 370 Queen St. W., TO ~indie; $10
9:30> Astrocytes; Talk Show Host; Boids; School Damage @ The Cavern Bar, 76 Church St., TO ~indie; $10
9:45> Hunterones @ The Rex, 194 Queen St. W., TO ~Brooklyn Jazz
*9:45> Tyler Yarema & His Rhythm @ Reservoir Lounge, 52 Wellington St. E., TO ~Jazz/Blues; $
10> Ride The Tiger @ Orbit Room, 480 College St. TO ~Funk/Soul; $
10> New Grease Revival @ Cameron House (front), 408 Queen St. W., TO ~pwyc
10-2> Chloe Watkinson @ Grossman's, 379 Spadina Ave., TO ~Blues
9> Single Mothers; Nicole Dollangange; Sideman; Pkew Pkew Pkew @ Lee's Palace, 529 Bloor St. W., TO ~$12.50
10:30> Shawn Brady & The Northern Sons @ The Hideout, 484 Queen St. W., TO ~original contemporary Rock
10:30> Herve Basset Duo @ Fionn MacCool's Esplanade, 70 The Esplanade
Midnight (see also 9 pm)> The Double Cuts celebrate Frank Sinatra @ Cameron House (front), 408 Queen St. W., TO ~tribute; pwyc
416 - Toronto East
*3:30-6> Johnny Wright @ Outriggers, 2232 Queen St. E., TO East ~R&B
*4-7:30> Ronnie Hayward Trio @ McQueen's, 993 Queen St. E., TO E. ~Blues/Roots
4> Melanie Peterson Band @ Sauce on Danforth, 1376 Danforth Ave., TO East ~original Roots-Pop
6-8> Thelonius Hank @ Castro's, 2116 Queen St. E., TO East ~Blues/Roots
8> Against The Wind featuring David Forbes, Amanda Rose & Josh Gordon @ Royal Canadian Legion Branch #1, 243 Coxwell Ave., TO East ~Bob Seger tribute; $20
8> Strung Out; Blair Packham; guests @ The Feathers, 962 Kingston Rd., TO East ~songwriters
8> Always; Fake Palms @ The Danforth Music Hall, 147 Danforth Ave., TO East ~$26.75+
9> Soul Stack @ Dora Keogh, 141 Danforth Ave., TO East ~Soul Rock
9> Bidini Band @ Castro's, 2116 Queen St. E., TO East ~Blues/Roots
9> BACA @ The Eton House, 710 Danforth Ave., TO East ~acoustic Pop Rock trio
9:30-11:30> Tim Bradford & guests @ Relish, 2152 Danforth Ave., TO East ~Roots-ROck
9:30> The Neil Young'uns @ Linsmore Tavern, 1298 Danforth Ave., TO East ~Neil Young tribute; $

416 – Toronto Etobicoke
*3-6> Danny B Band @ Blue Goose, 1 Blue Goose St., Etobicoke South ~R&B/Blues
**4-8> The Essentials with guest singer Brooke Blackburn @ Southside Johnny's, 3653 Lake Shore Blvd. W. Etobicoke South ~Rock-R&B
*4-8> The Meteors with guest Jerome Godboo @ Timothy's Pub, 344 Brown's Line, Etobicoke South ~Blues/Rock/R&B
7:30> Gord Sheard Trio @ Old Mill Inn, 21 Old Mill Rd., Etobicoke ~Jazz; minimum table charge
9> CRUED; Psychotic Authority; Ian Kurz & annual Toys for Tots Drive @ The Rockpile, 5555 Dundas St. W., Etobicoke ~Motley Crue tribute; original Rock
9> Donnie Meeker @ Blue Goose Tavern, 1 Blue Goose Rd., Etobicoke South ~vintage Pop Rock
9> Cottage Brew @ Maple Leaf House, 2749 Lake Shore Boulevard West, Etobicoke ~Rock/Top 40/Blues
9:30> Parkside Drive @ Timothy's Pub, 344 Brown's Line, Etobicoke South ~Pop Rock/Top 40; $
10-2> Confidential Sources featuring Alana Truda Edwards @ Southside Johnny's, 3653 Lake Shore Blvd. W. Etobicoke South ~Rock/Top 40
416 – Toronto Scarborough
*3-6> Still Sunday featuring Jim Cornell hosts invite Rock/Blues jam & Toy Mountain & Food Bank drive @ The Loaded Dog, 1921 Lawrence Ave. E., Scarborough
9-1> Fat Tony @ Black Dog Pub, 87 Island Rd., Scarborough ~Pop Rock
*9:30-2> karaoke with The English Rose & The Mad Scotsman @ Winners, 2181 Lawrence Ave. E., Scarborough
9:30> Chasing Angus @ Stone Cottage Pub, 3750 Kingston Rd., Scarborough ~Pop Rock
*12-3> Julian Fauth's Blues Brunch @ Axis, 3048 Dundas St. W., TO West ~Blues
**2-6> open mic with guest host Kayt Lucas @ Magic Oven, 347 Keele St., TO West
**5-8> Bill Heffernan's Saturday Sessions with featured guests Michael O'Grady & Friends @ Gate 403, 403 Roncesvalles Ave. TO West ~Roots/Country/Pop
5-8> Clela Errington with Brian Stillar & Kevin Neal @ The Local, 396 Roncesvalles Ave., TO West ~Country/Folk
7:30-10:30> Peter Hill and Shawn Nykwiskt @ La Revolucion, 2848 Dundas St. West, TO West ~piano/sax Jazz duo; no cover
8:30> "Songs In The Key of Cree" cabaret celebrating the music of Tomson Highway with Tomson Highway; guests Micah Barnes, Laura Hubert, Jani Lauzon, John Alcorn, more @ Hugh's Room, 2261 Dundas St. W., TO West ~songwriter celebration; $25/-
9-1> Donne Roberts Band @ Gate 403, 403 Roncesvalles Ave., TO West ~ Jazz
9> "Rock For Socks: with The Commoners; The Lad Classic; tab @ Junction City Music Hall, 2907 Dundas St. W., TO West ~indie Rock; $10 + pair of socks
9> benefit for Interval House with Sigrun Stella; Brutus Begins; Selfoss; Uniter & art installation @ Burdock, 1184 Bloor St. W., TO West ~$10
9> Spectrum @ Smiling Buddha, 961 College St., TO West
9> Jake Chisholm @ The Local, 396 Roncesvalles Ave., TO West ~Blues
9> Datura Daydream; Hams; We Were Heads; Love McPherson @ Holy Oak Café, 1241 Bloor St. W., TO West ~indie; $
9:30> Pudding Band @ Fat City Blues, 890 College St., TO West ~Blues; $5
9:30> Shred Penner @ Brazen Head Pub, 165 East Liberty St., TO West ~indie
10-2> The Mercenaries @ Dakota Tavern, 249 Ossington Ave., TO West ~retro Soul Rock
519
3-6> Brant Parker Blues Band @ Brando's Beach House, 135 Market St., Brantford
8> Pocket City @ Fionn MacCool's Kitchener, 4287 King St. E., Kitchener
9> Mayhemingways @ Fionn MacCool's Guelph, 494 Ediburgh Rd. S., Guelph ~alt-Country Bluegrass
9:30> Luke Ryan @ Fionn MacCool's Orangeville, 75 Fourth Ave., Orangeville ~Pop Rock
705
5> Rick & Gailie @ Black Horse Pub, 452 George St. N., Peterborough
8> Taxi Chain @ The Spill, 414 George St., Peterborough ~Rock/Soul/R&B
8:30> Briana Cotton Band @ Black Horse Pub, 452 George St. N., Peterborough
9:30> Smokey Monaghan @ Sticky Fingers Dunlop, 150 Dunlop St. W., Barrie
9:30> Birthday Boys @ Red Dog Tavern, 189 Hunter St. W., Peterborough
10> Television Road @ The Garnet, 231 Hunter St. W., Peterborough
905 East
*9-1> karaoke with Rob MacArthur @ Tudor Rose, 700 Harwood Ave. S., Ajax
9> Darren Hancock @ The Corral, 433 Simcoe St. S., Oshawa ~Country
9> Chain Breaker; Perfect Gentlemen; Screames of Deimons; Meth Angels @ The Atria, 59 King St. E., Oshawa ~Hard Rock
9> $2 Punk Show with Wayne Kennedy; more @ The Moustache Club, 15 Simcoe St. N., Oshawa ~Punk; $2
9:30> Taxi @ The Edge, 250 Bayly St., Ajax ~Rock/Funk/Pop
9:30> Bone-Yard @ West Shore, 877 Bayly St., Pickering ~Rock/Pop
905 North
6-9> Dinner Jazz @ Lake Simcoe Arms, 21089 Dalton Rd., Jackson's Point ~Jazz
7:30-11:30> Whatever Sticks featuring Sue Martin @ Cornerhouse Lounge, 6403 Main St., Stouffville ~Rock/Pop
9-1> Princess of Sound @ Oscar's Roadhouse, 1785 Queen St. E., Brampton ~Pop Rock/Top 40
9> The Kingfishers @ Fionn MacCool's Newmarket, 17315 Leslie St., Newmarket
9:30> Jagger Tanner @ Stewart Maguire's Landing, 15 Allan Rd., Bolton
9:30> The Nomads @ Jake's Boathouse Brampton, 59 First Gulf Rd., Brampton ~Pop Rock
9:30> Pop Machine @ Aw Shucks, 15230 Yonge St., Aurora ~Pop Rock
*11> DJ Ozne (Enzo Simone) @ Britannia Pub, 7359 Yonge St., Thornhill
905 South
*2-6> jam w. Tom Finocchio @ Sam's Place, Barton-Chestnut Sts., Hamilton
**2:30> special guest with The Mighty Duck Band, The Duck, 244 Ontario St., St. Catharines ~R&B/Blues
**2:30> tba @ Coach & Lantern (upstairs), 384 Wilson St E., Hamilton ~Blues
8> Steve Strongman's 6th annual Christmas Show with Jesse O'Brien & Carlos del Junco @ Bay City Music Hall, 50 Leander Drive, Hamilton ~Blues; $30
9> Born In The Eighties @ Coach & Lantern, 384 Wilson St E., Hamilton
9> Ginger St. James with Be Bop Deville & Ian Andrews @ This Ain't Hollywood, 345 James St. N., Hamilton
**9> Niagara Rhythm Section @ The Old Winery, 2228 Niagara Stone Rd., Niagara-On-The-Lake ~R&B/Blues
9:30> Getting Strange @ Corktown Pub, 175 Young St., Hamilton ~indie; $
10> Triple Crowns @ Doc Magilligan's Irish Pub, 6400 Lundy's Lane, Niagara Falls ~Rock
905 West
**2-6> Sil Simone Band with special guest Paula T @ Carrigan Arms, 2025 Upper Middle Rd., Burlington ~Rock/Blues
**2-6> Saturday Blues Sermon with James Anthony & special guest Terry Chisholme for 4th anniversary of event @ Black Swan Pub Burlington, 4040 Palladium Way, Burlington ~Blues
*3-7> jam with Michelle Deneault & Redder @ Port Credit Legion, 35 Front St., Port Credit
*3-7> open stage jam @ Moonshine Café, 137 Kerr St., Oakville; $2
*6-9> Big Bob Hammond and the Mississauga Delta Blues Band @ Roc'n Doc's, 105 Lakeshore Rd. E., Port Credit ~Blues
8-12> Sisters Euclid @ Moonshine Café, 137 Kerr St., Oakville ~Rock-Jazz Fusion; $15
9> Rooven Maharaj @ Fionn MacCool's Clarkson, 970 Southdown Rd., Mississauga
9> Rain Beat @ Fionn MacCool's Oakville, 350 Dundas St. E., Oakville ~Pop Rock
9> Monkley Cascade @ Fionn MacCool's Burlington, 2331 Appleby Line, Burlington
9> Janis Joplin Revue @ Carrigan Arms, 2025 Upper Middle Rd., Burlington ~tribute; $
9:30> Puppetshow @ Sixth Line Pub, 1500 Sixth Line, Oakville ~Rock/Pop
9:30> The Lost Americas @ The Franklin House, 263 Queen St. S., Streetsville ~Pop Rock
9:30> Keep The Faith @ Boston Manor, 4460 Fairview Ave., Burlington
10-2> Groovestone @ Roc'n Doc's, 105 Lakeshore Rd. E., Port Credit ~Rock/Top 40; $
10:15> iHeart @ Failte, 201 City Centre Dr., Mississauga ~party Rock
Copyright © 2015 Toronto Moon Magazine. All Rights Reserved