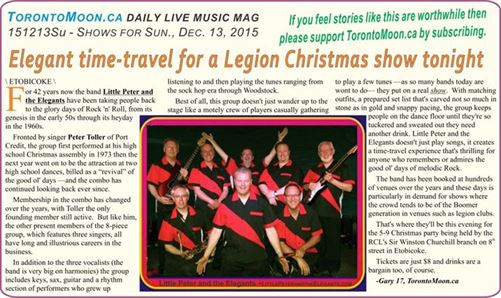 \ ETOBICOKE \
For 42 years now the band Little Peter and the Elegants have been taking people back to the glory days of Rock 'n' Roll, from its genesis in the early 50s through its heyday in the 1960s.
Fronted by singer Peter Toller of Port Credit, the group first performed at his high school Christmas assembly in 1973 then the next year went on to be the attraction at two high school dances, billed as a "revival" of the good ol' days —and the combo has continued looking back ever since.
Membership in the combo has changed over the years, with Toller the only founding member still active. But like him, the other present members of the 8-piece group, which features three singers, all have long and illustrious careers in the business.
In addition to the three vocalists (the band is very big on harmonies) the group includes keys, sax, guitar and a rhythm section of performers who grew up listening to and then playing the tunes ranging from the sock hop era through Woodstock.
Best of all, this group doesn't just wander up to the stage like a motely crew of players casually gathering to play a few tunes —as so many bands today are wont to do— they put on a real show. With matching outfits, a prepared set list that's carved not so much in stone as in gold and snappy pacing, the band keeps people on the dance floor until they're so tuckered and sweated out they need another drink. Little Peter and the Elegants doesn't just play songs, it creates a time-travel experience that's thrilling for anyone who remembers or admires the good ol' days of melodic Rock.
The band has been booked at hundreds of venues over the years and these days is particularly in demand for shows where the crowd tends to be of the Boomer generation in venues such as legion clubs.
That's where they'll be this evening for the 5-9 Christmas party being held by the RCL's Sir Winston Churchill branch on 8th street in Etobicoke.
Tickets are just $8 and drinks are a bargain too, of course.
-Gary 17, TorontoMoon.ca
SHOW LISTINGS for Sunday, December 13, 2021:
Listings are organized by area in which shows take place and listed chronologically within each area field.
Listings preceded by an asterisk (*) are repeating weekly events. (Double asterisk indicates repeating event with different hosts/guest/etc.). Admission prices followed by a slash and minus (/-) after the amount indicates door charge with availability of cheaper rates for some purchases. /+ indicates stated price is minimum.
Names of subscribers appear in bold, are underlined and, where applicable, include a live link to their websites. Advertisers' listings are in larger highlighted type, include live link to website and also have ad icon included in listings.
416 – Toronto Central
11am-2pm> The Horables for Jewish brunch buffet @ Free Times Café, 320 College St., TO
12-3> Excelsior Dixieland Jazz Band @ The Rex, 194 Queen St. W., TO ~Jazz
1> Toronto Improvisers Orchestra @ Tranzac Club (Southern Cross), 292 Brunswick Ave., TO ~improvisational
3-5> Sue & Dwight with Dave Lang @ Tranzac Club (Southern Cross), 292 Brunswick Ave., TO ~Folk

3> Sarah Teitel @ Musideum, 401 Richmond St. W., #133, TO ~songwriter; $20
*3-6> Michael Brennan @ Graffiti's, 170 Baldwin St. TO ~East Coast Rock/Blues Roots
3:30-6:30> Red Hot Ramble @ The Rex, 194 Queen St. W., TO ~Jazz; $
*4:30-8> New Orleans Connection All Stars & guests @ Grossman's, 379 Spadina Ave., TO ~New Orleans Jazz
5-9> Vigil Scott's Christmas Party with many guests @ Seven44, 744 Mount Pleasant Road, TO North ~vintage Rock/R&B; $10
5> Max Layton's More Words & Poems with guests Glen Hornblast; Robert Priest; Bob Cohen; Allan Soberman @ Tranzac Club (Southern Cross), 292 Brunswick Ave., TO ~words & music
6-7:30> Samantha Windover @ 120 Diner, 120 Church St., TO ~Jazz; $10
6:30> Song Studio showcase @ C'est What, 69 Front St. E., TO ~$10
*7-1> Freefall Sundays open stage with hosts Steve York & Tony Rabalao (2 songs each -signup @ 7 or pre-sign online) @ The Supermarket, 268 Augusta St., TO
7> The Double Cuts @ Cameron House (front), 408 Queen St. W., TO ~Western Swing
7-9:30> Autobahn @ The Rex, 194 Queen St. W., TO ~Jazz; $
7> Nathan Hiltz Trio @ Jazz Bistro, 251 Victoria St., TO ~Jazz; $
7:30> Zephyr with Brenna MacCrimmon @ Tranzac Club (Southern Cross), 292 Brunswick Ave., TO
8> Nashville Bound Songwriters Showcase with host Glen Hornblast and performances by Tony Quarrington; Laura Robinson; Bob Cohen; Lisa Garber @ Free Times Café, 320 College St., TO ~songwriters; $10/pwyc
8-9:30> Emily Steinwall @ 120 Diner, 120 Church St., TO ~Jazz; $10
*8> open mic @ The Cavern Bar, 76 Church St., TO
8> The Wendy Lands Band Christmas Special @ Musideum, 401 Richmond St. W., #133, TO ~songwriter; $20
9> jam with Jay Pennell @ Scruffy Murphy's, 150 Eglinton Ave. E., TO North
9:30> Rachel Piscione @ The Rex, 194 Queen St. W., TO ~Jazz; $
*10> Horshack feat. Chris Caddell @ Orbit Room, 580 College St., TO ~Bluesy contemporary & classic Rock
10> Lina Allemano Four @ Tranzac Club (Southern Cross), 292 Brunswick Ave., TO ~Jazz
10> New Grease Revival @ Cameron House (front), 408 Queen St. W., TO
**10> Blues jam with Brian Cober, Bill Hedefine & guest bassist Abbey Leon Sholzberg @ Grossman's, 379 Spadina Ave., TO
416 – Toronto East
11-2> Evan Desaulnier for Jazz brunch @ Relish, 2152 Danforth Ave. TO East
*2-5> Thyron Lee Whyte & David Restivo @ Morgan's, 1282 Danforth Ave., East ~Jazz
*3-6> open mic with Nicola Vaughan @ Hirut, 2050 Danforth Ave., TO East
*3:30-7:30> jam @ Black Bear, 1125 O'Connor Drive, TO East
4> Cash On Demand @ Castro's Lounge, 2116 Queen St. E., TO East ~Johnny Cash tribute
*5-9> John Dickie/Pat Perez Band @ Linsmore Tavern, 1298 Danforth Ave, TO East ~R&B/Blues
*9-1> jam with the Stir It Up Band @ Relish, 2152 Danforth Ave., TO East
9> Watch This Sound @ Castro's Lounge, 2116 Queen St. E., TO East ~vintage Jamaican music
416- Toronto Etobicoke

4-8> BG Rhythm Section featuring Gary Kendall hosts Blue Goose Christmas Party with guests The Burgess Brothers @ Blue Goose Tavern, 1 Blue Goose Rd., Etobicoke South ~Blues/R&B
5-9> 50s/60s Christmas Dance with Little Peter and the Elegants @ Winston Churchill Legion, 150 8th Street, Etobicoke ~50s & 60s harmony Rock 'n' Roll 8-piece band; $8
5-8> Pie Guys and guest @ Timothy's Pub, 344 Brown's Line, Etobicoke ~Pop Rock
*10-2> jam with Rebecca Matiesen & Phoenix @ Southside Johnny's, 3653 Lakeshore Blvd. W., Etobicoke South
416 – Toronto Scarborough
*6-10> jam with Tommy Rocker @ Scarborough Junction, 646 Danforth Rd., Scarborough
*7-11> open jam @ McGradie's, 2167 Victoria Park Ave., Scarborough
416 – Toronto West
**11-2> live Jazz brunch @ DeSoto's, 1079 St. Clair Ave. W., TO West
*12-3> Julian Fauth's Blues brunch @ Axis, 3048 Dundas St. W., TO West ~Blues
* 12-3> The Cosmotones @ Dakota Tavern, 249 Ossington Ave., TO West ~Rockabilly
**5-8> John Borra & Sam Ferrara w. guest @ The Communist's Daughter, 1149 Dundas St. W. TO West ~Country
5-8> Michael Keith hosts jam with backline @ On Cue Billiards, 347 Jane St., TO West
*5-8> Chris Coole @ The Local, 396 Roncesvalles Ave., TO West ~old-time Country Roots

5-8> Six Points Jazz Orchestra @ Gate 403, 403 Roncesvalles Ave., TO West ~Jazz
7-9> The Tres Bien Ensemble album release for Chewin' The Sun @ Dakota Tavern, 249 Ossington Ave., TO West ~$12; $20 with album
7:30> L.O.T.I.O.N. @ Smiling Buddha, 961 College St., TO West
8:30> "Songs In The Key of Cree" cabaret celebrating the music of Tomson Highway with Tomson Highway; guests Micah Barnes, Laura Hubert, Jani Lauzon, John Alcorn, more @ Hugh's Room, 2261 Dundas St. W., TO West ~songwriter celebration; $25/-
*8:30-11:30> Fraser Melvin Blues Band @ Fat City Blues, 890 College St., TO West ~Blues
9-1> Ilios Steryannis Trio @ Gate 403, 403 Roncesvalles Ave., TO West ~Jazz
9> Erika Werry & The Alphabet @ The Local, 396 Roncesvalles Ave., TO West ~songwriter
9> Hannay Epperson & OmHouse @ Holy Oak Café, 1241 Bloor St. W., TO West
9> Kevin Breit & Gregory Hoskins @ Burdock, 1184 Bloor St. W., TO West ~Rock/Country/Jazz Fusion; $
9> James Brown @ The Tennessee, 1554 Queen St. W., TO West
519
*9-1> jam @ Ivy Arms Pub, 201 Main Street East, Milton
705
*3-7> jam at CJ Barleys, 213 The Queensway, Keswick
3> Chicken Pot Pi @ Black Horse Pub, 452 George St. N., Peterborough
905 East
*3-7> Jam with hosts Paul Storm, John Huntley & Jon McCann @ West Shore Bar & Grill, 877 Bayly St., Pickering
*5-10> All-ages open jam with Juggernaut @ The Edge Lounge, 250 Bayly St. W., Ajax
*7-11> Karaoke with Rob MacArthur @ The Edge, 250 Bayly St. W., Ajax
*8:30-12:30> karaoke with The English Rose & The Mad Scotsman @ Pearson Pub, 101 Mary St. W. Whitby
905 North
**1-3> Joe & Frank with guest performer @ Lake Simcoe Arms, 21089 Dalton Rd., Jackson's Point ~Jazz
*3-7> open stage with Kevin Ker @ The Earl Of Whitchurch, 6204 Main St., Stouffville
*5-9> open mic with feature guest @ Sgt. Pepper's Aurora, Walmart Plaza (Hwy 404 & Aurora Rd.), Aurora
905 South
2-6> Bay City Blues Band & guest Mike Branton @ Bay City Music Hall, 50 Leander Drive, Hamilton ~Blues; $5
7> PRIMSMD, Sarasin; more for fundraiser for Urban Wildlife Care @ This Ain't Hollywood, 345 James St. N., Hamilton
905 West
**2-6> Country matinee with host Colin Connors and guest Laura Mattsson @ Carrigan Arms, 2025 Upper Middle Rd., Burlington ~Country
*4:30-8> Chuck Jackson's All Stars host "Twas the Bite Before Christmas Wrap Party" food bank collections @ Roc'n Doc's, 105 Lakeshore Rd. E., Port Credit ~Blues
**5:30-8:30> The Stew @ Mulligan's, 2458 Dundas St. W., Mississauga ~R&B/Rock
**7-11> The Nomads @ Shore Grill, 71 Lakeshore Rd. E., Port Credit
*7> open jam with Mike Shotton & The Flying Squirrels @ Black Swan Pub Burlington, 4040 Palladium Way, Burlington
*7:30> open jam hosted by Troy Harmer @ The Brown Barrel, 1515 Upper Ottawa St., Hamilton
8> Before The Flood; Kensington Prairie @ Moonshine Café, 137 Kerr St., Oakville ~$5
*8> open mic night with house band featuring Mike Shotton, Tim & Dave Johns @ Black Swan Burlington, 4040 Palladium Way, Burlington
*9-1> Jake Robertson @ Roc'n Doc's, 105 Lakeshore Rd. E., Port Credit ~Blues; $
*10:30> Adam Cooke & The Adams Family @ The Dickens, 423 Elizabeth St., Burlington
Copyright © 2015 Toronto Moon Magazine. All Rights Reserved