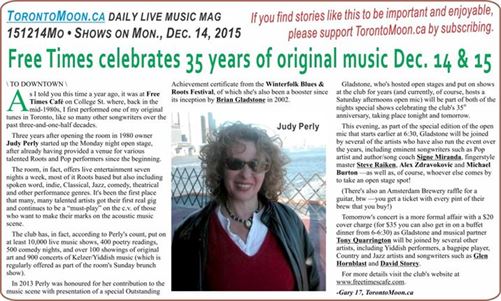 \ TO DOWNTOWN \
As I told you this time a year ago, it was at Free Times Café on College St. where, back in the mid-1980s, I first performed one of my original tunes in Toronto, like so many other songwriters over the past three-and-one-half decades.
Three years after opening the room in 1980 owner Judy Perly started up the Monday night open stage, after already having provided a venue for various talented Roots and Pop performers since the beginning.
The room, in fact, offers live entertainment seven nights a week, most of it Roots based but also including spoken word, indie, Classical, Jazz, comedy, theatrical and other performance genres. It's been the first place that many, many talented artists got their first real gig and continues to be a "must-play" on the c.v. of those who want to make their marks on the acoustic music scene.
The club has, in fact, according to Perly's count, put on at least 10,000 live music shows, 400 poetry readings, 500 comedy nights, and over 100 showings of original art and 900 concerts of Kelzer/Yiddish music (which is regularly offered as part of the room's Sunday brunch show).
In 2013 Perly was honoured for her contribution to the music scene with presentation of a special Outstanding Achievement certificate from the Winterfolk Blues & Roots Festival, of which she's also been a booster since its inception by Brian Gladstone in 2002.
Gladstone, who's hosted open stages and put on shows at the club for years (and currently, of course, hosts a Saturday afternoons open mic) will be part of both of the nights special shows celebrating the club's 35th anniversary, taking place tonight and tomorrow.
This evening, as part of the special edition of the open mic that starts earlier at 6:30, Gladstone will be joined by several of the artists who have also run the event over the years, including eminent songwriters such as Pop artist and author/song coach Signe Miranda, fingerstyle master Steve Raiken, Alex Zdravokovic and Michael Burton —as well as, of course, whoever else comes by to take an open stage spot!
(There's also an Amsterdam Brewery raffle for a guitar, btw —you get a ticket with every pint of their brew that you buy!)
Tomorrow's concert is a more formal affair with a $20 cover charge (for $35 you can also get in on a buffet dinner from 6-6:30) as Gladstone and musical partner Tony Quarrington will be joined by several other artists, including Yiddish performers, a bagpipe player, Country and Jazz artists and songwriters such as Glen Hornblast and David Storey.
For more details visit the club's website at www.freetimescafe.com
-Gary 17, TorontoMoon.ca
SHOW LISTINGS for Monday, December 14, 2021
Listings are organized by area in which the shows occur and within each area field shows are listed chronologically.
Listings preceded by an asterisk (*) are repeating weekly events. (Double asterisk indicates repeating event with different hosts/guest/etc.). Admission prices followed by a slash and minus (/-) after the amount indicates door charge with availability of cheaper rates for some purchases. /+ indicates stated price is minimum.
Names of subscribers appear in bold, are underlined and, where applicable, include a live link to their websites. Advertisers' listings are in larger highlighted type, include live link to website and also have ad icon included in listings.
On The Air / Online
*8:30> Songbird Mondays with Nicole "Songbird" Coward online live @ http://www.streetjelly.com ~Roots/Folk
416 - Toronto Central
5-8> Brian Jantzi & The Lost Mariachis; Glen Gary & Three For Five opening @ The Central, 603 Markham St., TO
**6-1> 32nd Anniversary of Free Times Café open stage with Steve Raiken; Signe Miranda; Brian Gladstone; more @ Free Times Café, 320 College St., TO
6:30> U of T Jazz Ensembles @ The Rex, 194 Queen St. W., TO ~Jazz; $
*7> Balfolk Toronto @ May Café, 876 Dundas St. W., TO ~Folk music & dance
7:30> Happy Hour with Chris Banks @ Tranzac Lounge (Southern Cross), 292 Brunswick Ave., TO
7:30> Mega City Swing Band @ Seven44, 744 Mount Pleasant Road, TO North ~R&B/Swing
8> Ukulele jam @ Tranzac Lounge (Main Hall), 292 Brunswick Ave., TO
8:30> Alt Dot Comedy Lounge @ Rivoli, 334 Queen St. W., TO; $5
9> Grass Grows Back; Augusta Ray; Holy Sexy Bastards @ Horseshoe Tavern, 370 Queen St. W., TO ~indie; free
**9-1:30> jam with No Band Required @ Grossman's, 379 Spadina Ave., TO
*9?> open mic @ Lou Dawgs Ryerson, 76 Gerrard St. E., TO
*9:30> open mic night at Amsterdam Bicycle Club, 54 The Esplanade, TO

9:30> Dave Young/Terry Promane Octet @ The Rex, 194 Queen St. W., TO ~Jazz; $
10> Jordan John @ The Orbit Room, 580 College St., TO ~R&B/Blues
*10> jam night hosted by Phill Hood & Jon McCann @ The Cage 292, 292 College St., TO
**10> open mic (2 songs; sign-up starts 8 p.m.) with host Dave Lang & John Sladek @ Tranzac Lounge (Southern Cross), 292 Brunswick Ave., TO
10:30> Big Otter Creek Unplugged @ The Hideout, 484 Queen St. W., TO ~indie
416 - Toronto East
**7:30> M Factor Mondays with host Elana Harte & features Martin Saint; Shanta Paloma @ The Old Nick, 123 Danforth Ave., TO East ~songwriters
8-11> Mediterranean Stars @ Relish, 2152 Danforth Ave., Toronto East ~Gypsy Jazz/Pop
8-12> open stage with Julian Taylor @ Dora Keogh, 141 Danforth Ave. TO East
8:30> The Wanted @ Castro's, 2116 Queen St. E., TO East
*9:30-2> Sebastian Agnello & friends @ Black Swan (ground floor), 154 Danforth Ave., TO East
416 – Toronto Scarborough
*8-11> open stage @ McGradie's, 2167 Victoria Park Ave., Scarborough
*8> jam with Cameljoe @ Centro Pizza, 3408 Kingston Rd., Scarborough
9> Uke jam/workshop @ Stone Cottage Pub, 3750 Kingston Rd., Scarborough ~Pop Rock
416 – Toronto West
5-8> Chris Wallace Jazz Quartet @ Gate 403, 403 Roncesvalles Ave., TO West ~Jazz
8> BrassAckwards @ Smiling Buddha, 961 College St., TO West
8:30> Catherine MacLellan with Chris Gauthier & Amelia Curran @ Hugh's Room, 2261 Dundas St. W., TO West ~Folk songwriter; $25/-
*9-1> Hamstrung Stringband @ The Local, 396 Roncesvalles Ave., TO West ~Bluegrass
*9-1> eclectic open stage/jam with host Nelson Sobral @ The Painted Lady, 218 Ossington Ave., TO West
9-1> Chris Staig Trio @ Gate 403, 403 Roncesvalles Ave., TO West ~original Roots-Rock
705
6-8> Lisa Dixon @ The Garnet, 231 Hunter St. W., Peterborough
*7> Rick & Gailie @ Black Horse Pub, 452 George St. N., Peterborough
905 East
*8-12> open stage @ Simcoe Blues & Jazz, 926 Simcoe St. N., Oshawa
*10> L&M Jam with host Emerson Ireland @ The Thirsty Monk, 21 Celina St., Oshawa
905 West
**8-12> BBQ & jam night with Catherine Harrison @ Moonshine Café, 137 Kerr St., Oakville; ($8.95 with BBQ dinner special starts at 6)
*8> open mic night @ Fionn MacCool's Burlington, 2331 Appleby Line, Burlington
*9-1> jam hosted by Redder featuring Michelle Deneault @ Roc'n Doc's, 105 Lakeshore E., Port Credit
*9-1> jam with Tom Barlow @ Shore Grill, 71 Lakeshore Rd. E., Port Credit
Copyright © 2015 Toronto Moon Magazine. All Rights Reserved