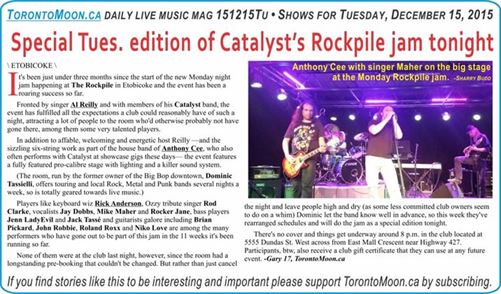 \ ETOBICOKE \
It's been just under three months since the start of the new Monday night jam happening at The Rockpile in Etobicoke and the event has been a roaring success so far.
Fronted by singer Al Reilly and with members of his Catalyst band, the event has fulfilled all the expectations a club could reasonably have of such a night, attracting a lot of people to the room who'd otherwise probably not have gone there, among them some very talented players.
In addition to affable, welcoming and energetic host Reilly —and the sizzling six-string work as part of the house band of Anthony Cee, who also often performs with Catalyst at showcase gigs these days— the event features a fully featured pro-calibre stage with lighting and a killer sound system.
(The room, run by the owner of the former Big Bop downtown, Dominic Tassielli, offers touring and local Rock, Metal and Punk bands several nights a week, so is totally geared towards live music.)
Players like keyboard wiz Rick Anderson, Ozzy tribute singer Rod Clarke, vocalists Jay Dobbs, Mike Maher and Rocker Jane, bass players Jenn LadyEvil and Jack Tassé and guitarists galore including Brian Pickard, John Robbie, Roland Roxx and Niko Love are among the many performers who have gone out to be part of this jam in the 11 weeks it's been running so far.
None of them were at the club last night, however, since the room had a longstanding pre-booking that couldn't be changed. But rather than just cancel the night and leave people high and dry (as some less committed club owners seem to do on a whim) Dominic let the band know well in advance, so this week they've rearranged schedules and will do the jam as a special edition tonight.
There's no cover and things get underway around 8 p.m. in the club located at 5555 Dundas St. West across from East Mall Crescent near Highway 427. Participants, btw, also receive a club gift certificate that they can use at any future event.
-Gary 17, TorontoMoon.ca
SHOW LISTINGS for Tuesday, December 15, 2021
Listings are organized by area in which the shows occur and within each area field shows are listed chronologically.
Listings preceded by an asterisk (*) are repeating weekly events. (Double asterisk indicates repeating event with different hosts/guest/etc.). Admission prices followed by a slash and minus (/-) after the amount indicates door charge with availability of cheaper rates for some purchases. /+ indicates stated price is minimum.
Names of subscribers appear in bold, are underlined and, where applicable, include a live link to their websites. Advertisers' listings are in larger highlighted type, include live link to website and also have ad icon included in listings.
416 – Toronto Central
6:30> Kieran Overs Quartet @ The Rex, 194 Queen St. W., TO ~Jazz; $
*7-11> Girls Night Out Jazz singers' Jazz jam with Lisa Particelli, Peter Hill et al @ 120 Diner, 120 Church St., TO
7> League of Rock Fall 2015 Showcase @ Hard Rock Café, 279 Yonge St. TO; $10
7:30> 35th Anniversary Celebration Concert with Rory Sinclair's bagpieps; Sultans of String; Gloria Valentine & Nina Shapilsky; Sue & Dwight; Laura Fernandez; Krista Earle; Freeman Dre and the Kitchen Party; Noah Zacharin; Brian Gladstone & Tony Quarrington; David Storey; Glen Hornblast @ Free Times Café, 320 College St., TO ~eclectic; $20
7:30> Three Ring Circus with Bob Cohen & guests @ Tranzac Club (Southern Cross), 292 Brunswick St., TO ~Folk
8> Mike Gennaro @ Musideum, 401 Richmond St. W., #133, TO ~art Jazz/Rock; $10
8> Jessica Verner; more @ Rivoli, 334 Queen St. W., TO; $5
8:30> The Autumn Stones; Good Lookin Dog; Collette Andrea @ Horseshoe Tavern, 370 Queen St. W., TO ~indie; free
*8:45> Tyler Yarema & His Rhythm @ Reservoir Lounge, 52 Wellington St. E., TO ~Jazz/Blues; $
*9> Chris Caddell Blues Band @ Lou Dawgs, 598 King St. W., TO ~Blues
*9:30> open mic @ The Paddock, 178 Bathurst St., TO
**9:30> Jazz jam with Chris Gale @ The Rex, 194 Queen St. W., TO ~Jazz; $
*10-2> The Sattalites @ Orbit Room, 580 College St., TO ~original & cover Reggae/Funk; $
10> Ken McDonald Quartet @ Tranzac Club (Southern Cross), 292 Brunswick St., TO ~Jazz
*10> The Hit Pickers @ Cloak & Dagger, 294 College St., TO

10:30> Phil Hood & John Bridges @ The Hideout, 484 Queen St. W., TO ~indie Rock
416 – Toronto East
*6-9> Julian Fauth solo @ Sauce, 1376 Danforth Ave., TO East ~original Blues piano
8-11> Martin Saint @ Relish, 2152 Danforth Ave., TO East
8> FingerStyleGuitar.ca open stage @ Hirut, 2050 Danforth Ave., TO East ~Roots
8> Jules Trio; Simple Damned Device; Rotten Child @ Linsmore Tavern, 1298 Danforth Ave., TO East ~indie; free
9-11> Johnson Crook @ Castro's, 2116 Queen St. E., TO East
*9-1> jam with Frank Wilks @ The Duke Live, 1225 Queen St. E., TO East
9> open mic @ Groove Bar, 1952 Danforth Ave., TO East
*9:30> Peter Verity @ Black Swan, 154 Danforth Ave., TO East ~Folk Roots
**9:30-12> open stage hosted by Jay Pennell or Kyle Duffin @ The Old Nick, 123 Danforth Ave., TO East
416 – Toronto Etobicoke
8-12> Special edition of Al Reilly's Catalyst also featuring Anthony Cee host Rock jam @ Rockpile, 5555 Dundas St. W., Etobicoke
416 – Toronto Scarborough
*9:30> karaoke with The English Rose & The Mad Scotsman @ The Fossil & Haggis, 790 Military Trail, Scarborough
416 – Toronto West
9> Liam Titcomb @ Burdock, 1184 Bloor St. W., TO West ~modern Roots-Rock songwriter; $15
5-8> Sarah Kennedy & Matt Pines Duo @ Gate 403, 403 Roncesvalles Ave., TO West ~Jazz
6> Barrel Boys Gospel Hour ep release @ Burdock, 1184 Bloor St. W., TO West
8:30> The Arrogant Worms @ Hugh's Room, 2261 Dundas St. W., TO West ~comedy & music; $35
8:30> Jazz Money @ Fat City Blues, 890 College St., TO West ~Jazz/Blues
9> Evan Bellam; Jenna Glatt; Mad Machines for Indie Tuesdays @ The Piston, 937 Bloor St. W., TO West ~indie; pwyc
9> Jordan Faye & The Grey Owls @ The Local, 396 Roncesvalles Ave., TO West ~Bluegrass/Folk
9> Open Inputs @ Holy Oak Café, 1241 Bloor St. W., TO West
9> The Ault Sisters @ Gate 403, 403 Roncesvalles Ave., TO West ~Jazz
9> jam night with host band & backline @ The Tennessee, 1554 Queen St. W., TO West
9> Snooker Emporium; Nyssa; Lester Brown @ Smiling Buddha, 961 College St., TO West
**9:30> jam with Derek Downham or Cody McMillan @ Axis, 3048 Dundas St. W., TO West ~eclectic
705
7> open mic with Randy Hill @ Black Horse Pub, 452 George St. N., Peterborough
9> Dirty & Tiny's Blues jam @ The Spill, 414 George St. N., Peterborough
905 East
*6:30-11> The Woodshed jam with Don Niblett & Frank Zochodne @ Simcoe Blues & Jazz, 926 Simcoe St. N., Oshawa
9> Kris Barclay @ The Corral, 433 Simcoe St. S., Oshawa ~Country Rock
*10> open mic with Josh Beaven @ The Atria, 59 King St. E., Oshawa
905 North
*8-11> jam with Matthew Kane & The Brews Brothers @ The Crown, 9580 Yonge St., Richmond Hill
*8:30> open mic @ Falcon & Firkin, 10300 Yonge St., Richmond Hill
*9> open mic with Manny D, Andy Earle & Dave Breckels @ Big Chris BBQ, 17380 Yonge St., Newmarket
905 South
*9:30-1> Traditional Irish jam @ Corktown Pub, 175 Young St., Hamilton
905 West
*8> The Phil & John Show feat. Phil Naro @ Shore Grill, 71 Lakeshore Rd. E., Port Credit ~acoustic Pop Rock
*8-12> Groovestone @ Roc'n Doc's, 105 Lakeshore Rd. E., Port Credit ~Rock/Funk; $
*8 (sign up at 7:30)> open stage with host Neil McNaughton @ Moonshine Café, 137 Kerr St., Oakville; $2
*8:45> open mic with Matt Zadkovich @ Culchain's Irish Pub, 158 Queen St. S., Streetsville-Mississauga
*10> open mic @ The Dickens, 423 Elizabeth St., Burlington
Copyright © 2015 Toronto Moon Magazine. All Rights Reserved