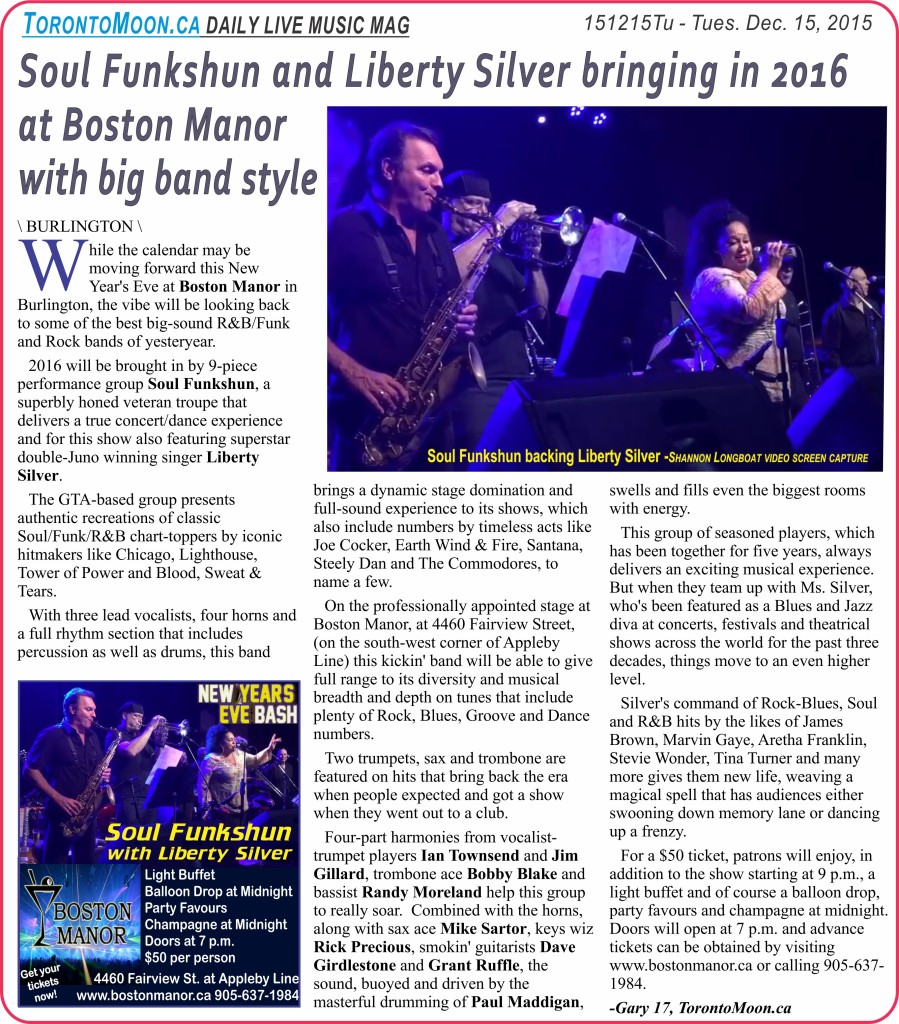 \ BURLINGTON \
While the calendar may be moving forward this New Year's Eve at Boston Manor in Burlington, the vibe will be looking back to some of the best big-sound R&B/Funk and Rock bands of yesteryear.
2016 will be brought in by 9-piece performance group Soul Funkshun, a superbly honed veteran troupe that delivers a true concert/dance experience and for this show also featuring superstar double-Juno winning singer Liberty Silver.
The GTA-based group presents authentic recreations of classic Soul/Funk/R&B chart-toppers by iconic hitmakers like Chicago, Lighthouse, Tower of Power and Blood, Sweat & Tears.
With three lead vocalists, four horns and a full rhythm section that includes percussion as well as drums, this band brings a dynamic stage domination and full-sound experience to its shows, which also include numbers by timeless acts like Joe Cocker, Earth Wind & Fire, Santana, Steely Dan and The Commodores, to name a few.
On the professionally appointed stage at Boston Manor, at 4460 Fairview Street, (on the south-west corner of Appleby Line) this kickin' band will be able to give full range to its diversity and musical breadth and depth on tunes that include plenty of Rock, Blues, Groove and Dance numbers.
Two trumpets, sax and trombone are featured on hits that bring back the era when people expected and got a show when they went out to a club.
Four-part harmonies from vocalist-trumpet players Ian Townsend and Jim Gillard, trombone ace Bobby Blake and bassist Randy Moreland help this group to really soar. Combined with the horns, along with sax ace Mike Sartor, keys wiz Rick Precious, smokin' guitarists Dave Girdlestone and Grant Ruffle, the sound, buoyed and driven by the masterful drumming of Paul Maddigan, swells and fills even the biggest rooms with energy.

This group of seasoned players, which has been together for five years, always delivers an exciting musical experience. But when they team up with Ms. Silver, who's been featured as a Blues and Jazz diva at concerts, festivals and theatrical shows across the world for the past three decades, things move to an even higher level.
Silver's command of Rock-Blues, Soul and R&B hits by the likes of James Brown, Marvin Gaye, Aretha Franklin, Stevie Wonder, Tina Turner and many more gives them new life, weaving a magical spell that has audiences either swooning down memory lane or dancing up a frenzy.
For a $50 ticket, patrons will enjoy, in addition to the show starting at 9 p.m., a light buffet and of course a balloon drop, party favours and champagne at midnight. Doors will open at 7 p.m. and advance tickets can be obtained by visiting www.bostonmanor.ca or calling 905-637-1984.
-Gary 17, TorontoMoon.ca