Today —Monday February 24— would have been Justin Haynes' 47th birthday. The prolific and much loved composer, musician, and teacher passed away suddenly last March after a dynamic life that included large measures of artistic creation and social activism.
Singer and songwriter Rebecca Campbell tells us that he had moved to Toronto from Ottawa in the late 90s to live and work with her on a musical collaboration that bore two beautiful records — TUG and the sweetest noise— along with countless tours, shows, and spinoff projects.
"He lived in this big merciless city until his untimely death last March 13, 2019," she tells us. "In between, he made a lot of music, and many, many friends.
"Justin was a brilliant musician, but he was also an activist. His activism blossomed out of the frustration and disbelief he felt as he encountered up close Toronto's affordable housing and homelessness crisis. His was a stirring and compelling voice, and he really got people talking."
His legacy includes an article he wrote about being homeless that was published in NOW magazine shortly before his death and which, in its pointedness and honesty, was both controversial and powerful.
To celebrate his life and his music tonight, Rebecca asked a stellar collection of musicians from among Justin's many friends and colleagues to join her for a special show at Hugh's Room Live to perform a repertoire from their two records.
The three-trumpet 9-piece band also includes Lina Allemano (trumpet), Andrew Downing (bass), Nick Fraser (drums), Tania Gill (piano), Craig Harley (keys), Jean Martin (drums), Justin Orok (guitar), David Travers-Smith (trumpet), and Kevin Turcotte (trumpet).
To honour Justin's activist efforts, all proceeds from this event will go to the Parkdale Neighbourhood Land Trust, which helps securing affordable housing for people who, without help, risk slipping through the cracks. Representatives of PNLT will be on hand and you can also make a donation in Justin's name at to the CanadaHelps.org "Neighbourhood Land Trust" page. (Scroll down to "Donate To This Charity Now", and click on the "Apply Your Donation To A Specific Fund" field, where you will find the "Justin Haynes Memorial Fund" option.)
Or better yet, go to Hugh's Room Live at 2261 Dundas St. West tonight to hear the group and make your donation in person. Doors are at 7:15; show starts at 8pm.
For more information, also see the Facebook event page and/or the Hugh's Room Live show page. For advance tickets you can connect via email or call the box office at 416-533-5483.
-Gary 17, TorontoMoon.ca
[email protected] * [email protected]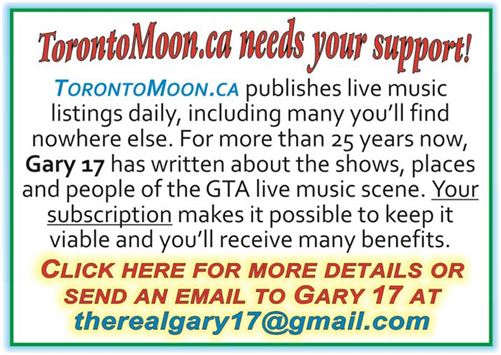 SHOW LISTINGS for Monday, February 24, 2022
Listings are organized by area in which the shows occur and within each area field shows are listed chronologically. For KEY to listings codes and schemata see note at end of shows list.
Names of subscribers appear in bold, are underlined and, where applicable, include a live link to their Home or Event url. FOR SUBSCRIPTION DETAILS VISIT: https://www.torontomoon.ca/subscribe/
Advertisers' listings are in larger, highlighted type, include live link to website and also have ad icon included in listings. FOR ADVERTISING INFO VISIT:
https://www.torontomoon.ca/advertise-with-toronto-moon/
ON AIR/ONLINE
3-7> Julian Taylor hosts @ 106.5 ELMNT FM in Toronto & www.elemntfm.ca ~eclectic music 25% indigenous, 35% CanCon
*5-6> "Out of The Bassment" with host Keiko Gutierrez @ 93.3 CFMU Hamilton and online at http://cfmu.ca/shows/21-out-of-the-bassment ~music featuring bass players
*6> "Underplayed and Underpaid" interviews and performances by Guelph area bands on CFRU 93.3 FM broadcast and online
6> "Soundcheck with Sabrina" with Sabrina Fallah @ Jungle 77.3 & online at http://www.jungle773.com/ ~eclectic tracks, interviews etc.
416 – TORONTO CENTRAL -Broadview/Bayview to Ossington
*5-9> Jim Heineman Trio @ Mirto Italian Restaurant, 25 Toronto St. ~Jazz
5:30> Andrea Kuzmich @ Drom Taberna, 458 Queen St. W. ~Jazz singer
6-9> momondays Toronto "Crazy 8" anniversary show with host Michel Neray & guest musicians/speakers Tracey McLeod; Rob Corbett; Shawn Brady; Ian Tyson; June Morrow; Claudio Marino @ Alleycatz, 2409 Yonge St.. ~eclectic networking & performance; $
6> Mike Kerr & Jason James @ Cameron House (front), 408 Queen St. W.
6-8> Triple J Takedown @ Tranzac Club (Southern Cross), 292 Brunswick St.
6> Balfolk @ Drom Taberna, 458 Queen St. W. ~folk dancing to live music fiddlers etc.
6:30> U of T Jazz Ensembles @ The Rex, 194 Queen St. W. ~Jazz; $
**7-1 (sign-up at 7, show starts 7:30)> open stage with host Russell Leon @ Free Times Café, 320 College St.
*7-11> "Middle of Nowhere" open mic (recorded live for podcast) @ Alchemy, 890 College St.
*7-10> open stage with Brad Scott @ Lola, 40 Kensington Ave.
7> Knuckle Puck; Heart Attack Man; One Step Closer @ Sneaky Dee's, 431 College St. ~indie; $
*7-9:30> UkeZac ukulele jam & workshop @ Tranzac Club (Main Hall), 292 Brunswick Ave.; $10
7> Zack Villere; Mulherin @ Velvet Underground, 508 Queen St. W. ~contemporary original; $
7> Hayley Kiyoko @ Rebel, 11 Polson St. ~contemporary original; $
**8> open mic (2 songs; sign-up starts 8 p.m.) with host Yawd Sylvester @ Tranzac Club (Southern Cross), 292 Brunswick Ave.
8> Tunesmith showcase with Caitlin Wellman & Benson Lee; John Paul Allen; Michael Thorner @ Imperial Pub, 54 Dundas St. E. ~songwriters; $15/pwyc
8> Green River Revival @ Mod Club, 722 College St. ~tribute to CCR; $
**8:30-1:30> open mic/jam with hosts Tony, Oran & Edward @ Grossman's, 379 Spadina Ave.
8:30> Durand Jones & The Indications; Kaina @ Horseshoe Tavern, 370 Queen St. W. ~indie; $
*9-2> open mic @ The Grapefruit Moon, 968 Bathurst St.
*9> open mic @ Lou Dawgs Ryerson, 76 Gerrard St. E.
*9:30> open mic @ Amsterdam Bicycle Club, 54 The Esplanade
9:30> John MacLeod's Rex Hotel Orchestra @ The Rex, 194 Queen St. W. ~Jazz; $
0> Jordan John @ The Orbit Room, 580 College St. ~Jazz-Rock fusion; $
10> Doghouse Orchestra @ Cameron House (front), 408 Queen St. W.
416 - TORONTO EAST -Broadview/Bayview to Victoria Park
7-10> Dan Walsh@ Relish, 511 Danforth Ave. ~ol' time/traditional Roots/Bluegrass; 0$
7> Eric Nam; Frenship @ The Danforth Music Hall, 147 Danforth Ave. ~contemporary original; $
7-8:30> Marc Roy hosts Bluegrass workshop & performance @ Twelfth Fret Guitarists' Shop, 2132 Danforth Ave. ~Bluegrass
7:30> Tequila Mockingbirds @ Hirut Café, 2050 Danforth Ave. ~singalong neighbourhood choir; $0
7:30> songwriters showcase with host Carrie Chesnutt & guest feature Jen Benton @ The Old Nick, 123 Danforth Ave. ~songwriters; 0$
7:30> George Lake Big Band @ The Duke Live, 1225 Queen St. E. ~big band Swing Jazz/Soul; $10
*8:30-11:30> Gareth Parry's Book Club @ Sauce on Danforth, 1376 Danforth Ave. ~Blues/Jazz
*8:45-12> acoustic open stage jam with Tyler Ellis @ Dora Keogh, 141 Danforth Ave.
*9:30-2> Sebastian Agnello & friends open stage @ Black Swan Tavern, 154 Danforth Ave.; 0$
416 – TORONTO ETOBICOKE
416 – TORONTO SCARBOROUGH
7:30> Uke jam/workshop or Uke Circle jamalong @ Stone Cottage Pub, 3750 Kingston Rd. ~amateur ukulele players welcome; $5
416 – TORONTO WEST -Ossington to Etobicoke
6-8> Nathan Warriner @ The Garrison, 1197 Dundas St. W. ~contemporary original; $
6:30-8> open mic night @ Golden Gecko Coffee, 282 Jane St.
7> Feldman/Malone Duo @ The Emmet Ray, 924 College St. ~Jazz; pwyc
7:30> Ice Cream; Sylo Nozra; Alex Bent & The Emptiness; Sabby Sousa @ Drake Hotel Lounge, 1150 Queen St. W. ~contemporary original; $
8-11> "The Sweetest Noise" birthday celebration for the late Justin Haynes and fundraiser for Parkdale Neighbourhood Land Trust with Rebecca Campbell & band (Lina Allemano, Andrew Downing, Nick Fraser, Tania Gill, Thom Gill, Craig Harley, Jean Martin, David Travers-Smith, Kevin Turcotte) @ Hugh's Room Live, 2261 Dundas St. W. ~Jazz/Pop; $20+ donation
8> "It's Not Too Late" cabaret @ Burdock, 1184 Bloor St. W. ~variety; $
9> Good Luck Mountain @ Dakota Tavern, 249 Ossington Ave. ~indie; $
*9> open mic with host Alun Piggins @ The Wicket, 1671 Bloor St. W.
*9-1> Hamstrung Stringband @ The Local, 396 Roncesvalles Ave. ~Bluegrass
*9-1> eclectic open stage/jam with host Nelson Sobral @ The Painted Lady, 218 Ossington Ave.
9:30> Woodshed Orchestra @ The Emmet Ray, 924 College St. ~Roots/Jazz; pwyc
*10-11> The Skyliners @ Skyline Restaurant, 1426 Queen St. W. ~low-fi Soul/Blues
*10> open mic with host Liam Kearney @ The Hole In The Wall, 2867 Dundas St. W.
519 EAST -Guelph, K-W & vicinity
7-11> open mic night hosted by Gregory Michael Schwan @ Kings Sports Bar, 468 Woodlawn Rd. E., Guelph
*7> open mic with John Stuart @ Rhapsody Barrel Bar, 179 King St. W., Kitchener
7> Old Dominion; Mitchell TenPenny @ The Aud, 400 East Ave., Kitchener ~contemporary original; $
*7:30-12> open mic with Anthony Schmanthony @ The Cornerstone, 1 Wyndham St. N., Guelph
9:30> Kat Steeves @ McCabe's Irish Pub, 9 Wyndham St. N., Guelph ~acoustic Pop covers & originals
9:30> Turk and the Hobbits @ Duke of Wellington, 33 Erb St. W., Waterloo
705
5:30> "Coffeehouse" open mic @ Foundry Georgian, 310 Georgian Drive, Barrie
*7-11> Rick & Gailie's Crash & Burn @ Black Horse Pub, 452 George St. N., Peterborough ~acoustic Pop covers & originals; $0
8> Tim Holehouse, Dave Rocket, Lee Resistance, Chris Walton @ The Garnet, 231 Hunter St. W., Peterborough ~songwriters; $?
8:30> open mic with Trevor James @ The Twisted Wheel, 379 Water St., Peterborough
905 EAST -Pickering to Cobourg
7-9> Rob Phillips @ Arthur's Pub, 930 Burnham St., Cobourg ~Jazz/Blues
8-11> open mic with John Hellyer @ Simcoe Blues & Jazz, 926 Simcoe St. N., Oshawa ~spoken word & music
905 SOUTH -Hamilton & vicinity
6> The Repeatles @ Innsville, 1141 Highway 8, Stoney Creek ~Beatles covers
6:30> Greensville Guitar Pickers jam @ Greensville Branch Library, 59 Kirby Ave., Hamilton
*6:30> Choir Nation with Alex Kadet @ Staircase, 27 Dundurn St. N., Hamilton
*9:30> The New Rebel Westerners @ Cat N Fiddle, 174 John St. S., Hamilton ~Country
905 WEST -south Peel, Halton
*8-12> jam with Tom Barlow @ Shore Grill, 71 Lakeshore Rd. E., Port Credit-Mississauga
8> jam night with Akin Busari @ Studio 89, 1065 Canadian Place, Mississauga
**8-12> jam night with Wayne Cheddie @ Moonshine Café, 137 Kerr St., Oakville
*9:30> Gracie @ Spice Lounge, 52 Lakeshore Rd. E., Port Credit-Mississauga ~Pop covers & originals; $0
LISTINGS KEY
Listings preceded by an asterisk (*) are repeating weekly events. (Double asterisk indicates repeating event with different hosts/guest/etc.). Events preceded by question mark (?) usually take place but have not been confirmed. Admission prices followed by a slash and minus (/-) after the amount indicates door charge with availability of cheaper rates for some purchasers (eg. students, seniors, members, etc.). /+ indicates stated price is minimum.
-Copyright © 2020 by Gary "17" Webb-Proctor & TorontoMoon.ca. All Rights Reserved