\ TO EAST \
We told you last year about Stuart Laughton's Radio Dial, a band of top-flight performers that gets together one Tuesday a month at Dora Keogh at 141 Danforth Ave. near Broadview to do a wide range of eclectic songs that truly does recreate the feeling of spinning a radio dial (back when radios actually had such apparati).
In that article we mentioned being impressed with the singing of Rebecca Campbell, whose name has popped up many times since in our show listings, including for some impressive appearances.
Campbell, who has also released two albums of her own material and been part of several acclaimed originals bands, was the vocal conductor, for example, for an album release for Out Of The Darkness that we told you about on March 8 of this year.  That project, produced by a talented group calling itself Social Mystics, was aimed at raising funds for the Creative Works Studio arts therapy program at St. Michael's Hospital and also included participation by Isabel Fryszberg, Don Kerr, Ken Whiteley and many others.
On June 3 she was one of a three-act showcase at C'est What that also included brilliant Alberta songwriter Ben Sures, and on November 6 shared billing with Canadian Folk icon Ian Tamblyn at Free Times Café.
Campbell has also done several stints as the guest singer for the Hold The Bus shows put on the first Friday of every month by Kevin Jeffrey and his crew at Grossman's, including last week's.
In addition to releasing her own well received albums The Sweetest Noise in 2002 and Tug in 1999, she came to a lot of people's notice through her collaborations with Jane Siberrry (in 1988 and '96-99) and Justin Haynes ('97-2002) as well as being a core singer and songwriter with Pop outfit Fat Man Waving, which released two of its own albums, from '87-'96.  She's also appeared in bands with and sang on albums for a raft of Canadian and international stars in genres ranging from Folk to Jazz, Country to Rock.
Campbell came to be part of Laughton's Radio Dial project through her involvement with Pork Belly Futures, the Roots-Pop/Swingabilly band led by the late Paul Quarrington in which Laughton and another Radio Dial member, guitarist Martin Worthy, were also members.
Hearing Rebecca do a Quarrington original, along with killer takes on tunes like Lesley Gore's "The End Of The World", added a lot to my enjoyment of this show, which, although it seems to have formerly been held on the first Tuesday of each month, lately, including tonight, has been taking place on the second Tuesday.  Naturally TorontoMoon.ca subscribers will always know on which nights it's taking place!
Things start up around 9 and go till midnight or a little later and there's no cover.
SHOW LISTINGS for Tuesday, December 13, 2021

Listings are organized by area in which the shows occur and within each area field shows are listed chronologically.
Listings preceded by an asterisk (*) are repeating weekly events. (Double asterisk indicates repeating event with different hosts/guest/etc.). Admission prices followed by a slash and minus (/-) after the amount indicates door charge with availability of cheaper rates for some purchases. /+ indicates stated price is minimum.
Names of subscribers appear in bold, are underlined and, where applicable, include a live link to their websites. Advertisers' listings are in larger highlighted type, include live link to website and also have ad icon included in listings.
ON AIR / ONLINE
7-9> "Unsung and On The Side" with Carolyn Fe on Rock-Fm.ca
416 – TORONTO CENTRAL
6> Zoe Sky Jordan @ Cameron House (front), 408 Queen St. W., TO
6-7:30> Leslie Huyler @ 120 Diner, 120 Church St., TO ~indie; $10-$20/pwyc
6:30> David Diao Group @ The Rex, 194 Queen St. W., TO ~Jazz; $
*6:30-9:30> Stacie McGregor @ Nawlin's, 299 King St. W. TO ~Jazz piano
7:30> Plant A Band @ Tranzac Club (Southern Cross), 292 Brunswick St., TO
8> DVSN @ Rebel, 11 Polson St., TO
8-9:30> Annie Bonsignore @ 120 Diner, 120 Church St., TO ~indie; $10-$20/pwyc
*8> eclectic open mic @ Cavern Bar, 76 Church St., TO
8> Art Bar poetry & open stage @ Free Times Café, 320 College St., TO ~spoken word
8:30> Crystal Garden; guest Boyd Tinsley of Dave Matthews Band; Munizo @ Horseshoe Tavern, 370 Queen St. W., TO ~indie; $10
*8:45> Tyler Yarema & His Rhythm @ Reservoir Lounge, 52 Wellington St. E., TO ~Jazz/Blues; $
*9> open mic with Revel York @ The Central, 603 Markham St., TO
9> Jenny Berkel; Luka; Will Kidman @ Monarch Tavern, 12 Clinton St., TO
*9:30> open mic @ The Paddock, 178 Bathurst St., TO
**9:30> Saorsa @ The Rex, 194 Queen St. W., TO ~Jazz; $
*10-2> The Sattalites @ Orbit Room, 580 College St., TO ~original & cover Reggae/Funk; $
10> Michael Davidson Combo @ Tranzac Club (Southern Cross), 292 Brunswick St., TO ~Jazz
*10> The Hit Pickers @ Cloak & Dagger, 294 College St., TO
10> The Sinners Choir @ Cameron House (front), 408 Queen St. W., TO ~Rootsabilly
10> Al Webster Combo @ Grossman's, 379 Spadina Ave., TO
10-11:30> Chris Birkett @ 120 Diner, 120 Church St., TO ~indie; $10-$20/pwyc
416 –TORONTO EAST
*6-9> Julian Fauth solo @ Sauce, 1376 Danforth Ave., TO East ~original Blues piano
7-9> Amelie et les Singes Bleus @ Relish, 2152 Danforth Ave., TO East ~French manouche/cabaret classics; 0$
8> Leanna & Majic; Imogen; tba @ Linsmore Tavern, 1298 Danforth Ave., TO East ~indie; 0$
8> The Struts; Cemetary Suns @ Opera House, 735 Queen St. E., TO East ~$25
8:30-10:30> Carlos Lopes @ Castro's, 2116 Queen St. E., TO East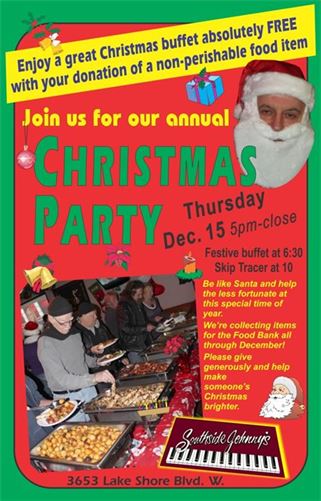 *9-1> jam with Dan Walek @ The Duke Live, 1225 Queen St. E., TO East
*9> open mic with host Asha Diaz @ Groove Bar, 1952 Danforth Ave., TO East
9-12> Stuart Laughton's Radio Dial @ Dora Keogh ~eclectic vintage Pop/Jazz
*9:30> Peter Verity @ Black Swan, 154 Danforth Ave., TO East ~Folk Roots
**9:30-12> open stage hosted by Jay Pennell or Kyle Duffin @ The Old Nick, 123 Danforth Ave., TO East
416 – TORONTO ETOBICOKE
*8> Groovestone @ Timothy's Pub, 344 Brown's Line, Etobicoke South ~Rock/Soul
416 – TORONTO SCARBOROUGH
*9:30> karaoke with The English Rose & The Mad Scotsman @ The Fossil & Haggis, 790 Military Trail, Scarborough
416 – TORONTO WEST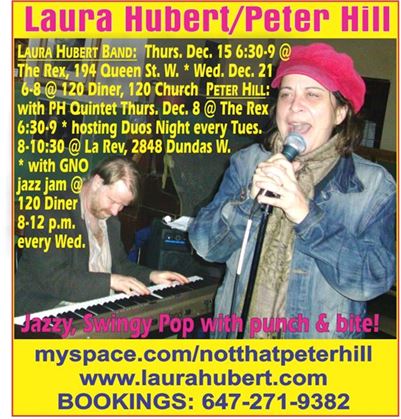 5-8> Grant Lyle @ Gate 403, 403 Roncesvalles Ave., TO West ~Blues
8-10:30> Tuesday duos with Peter Hill on keys & guest Reg Schwager on guitar @ La Rev, 2848 Dundas St. W., TO West ~Jazz/Blues
*8-11> Freeman Dre & The Kitchen Party @ The Inter Steer, 357 Roncesvalles Ave., TO West ~acoustic Folk-Rock originals & covers
8> Paper Parachutes; Sweet Tooth & Kage; The Waverlys; Syd Perry @ Smiling Buddha, 961 College St., TO West ~indie; $
8:30> Queer Songbook Orchestra holiday fundraiser for Rainbow Railroad @ Burdock, 1184 Bloor St. W., TO West ~seasonal; $15
9> Elise Legrow; Poesy @ The Piston, 937 Bloor St. W., TO West ~indie; pwyc
9> Staycation @ The Local, 396 Roncesvalles Ave., TO West ~Surf Rock & more
9> Chelsea McBride Trio @ Gate 403, 403 Roncesvalles Ave., TO West ~Jazz
9:30> The Black Pearls 5th annual inter-faith holiday party @ Dakota Tavern, 249 Ossington Ave., TO West ~$10
519
2-4> jam session at W.G. Johnson Centre, 31 Kribs St., Cambridge
*6-8:30> Ukulele jam & workshop @ Idea Exchange, 1 North Square Queen's Square, Cambridge
6-9> Mark Crissinger @ Morty's Pub, 272 King St. N., Waterloo ~songwriter
*7-10> open mic with Andy Hughes @ The Joint Café, 43 Cork St. E., Guelph
*7-11> Waterloo Wellington Bluegrass Association holds Bluegrass jam @ Galt Legion RCL #121, 4 Veterans Way, Cambridge
*7-9> Juneyt @ Easy Pour Wine Bar, 1660 Blair Rd., Cambridge ~Flamenco guitarist
*10> open jam with host Chris Brown @ Brando's Beach House, 135 Market St., Brantford
705
7> open mic with Randy Hill @ Black Horse Pub, 452 George St. N., Peterborough
9> open mic night @ Red Dog Tavern, 189 Hunter St. W., Peterborough
*10> Evangeline Gentle @ The Garnet, 231 Hunter St. W., Peterborough ~songwriter; $10/pwyc
905 EAST
*6:30-11> The Woodshed jam with Don Niblett & Frank Zochodne @ Simcoe Blues & Jazz, 926 Simcoe St. N., Oshawa
*7-11> open acoustic jam with Darren Smith & Shayne Thomas @ The Thirsty Monk, 21 Celina St., Oshawa
8:30-12:30> open mic with host Cheryl Stiles @ The Pearson Pub, 101 Mary St. W., Whitby
9> Kris Barclay @ The Corral, 433 Simcoe St. S., Oshawa ~Country Rock
*10> L&M Jam with host Emerson Ireland @ The General Pub, 21 Celina St., Oshawa
*10> open mic with Josh Beaven @ The Atria, 59 King St. E., Oshawa
905 NORTH
7-10> open song circle with Patti McLaughlin @ RCL 385, 105 Industrial Pkwy. N., Aurora
7> open mic with Bernadette Connors @ Lake Simcoe Arms, 21089 Dalton Rd., Jackson's Point
*8> open mic @ The Tickled Toad, 330 Steeles Ave. W., 905 North
*8-11> jam with Matthew Kane & The Brews Brothers @ The Crown, 9580 Yonge St., Richmond Hill
*8:30-12:30> open mic @ Falcon & Firkin, 10300 Yonge St., Richmond Hill
*9> open mic with Manny D, Andy Earle & Dave Breckels @ Big Chris BBQ, 17380 Yonge St., Newmarket
905 SOUTH
7> By Design @ Doc Magilligan's, 6400 Lundy's Lane, Niagara Falls ~acoustic Pop
*8> Blues & Jazz jam hosted by Wayne Janus & The Syncopaths @ Rebel's Rock, 537 King St. E., Hamilton
*9> open stage @ This Ain't Hollywood, 345 James St. N., Hamilton
*9:30-1> Traditional Irish jam @ Corktown Pub, 175 Young St., Hamilton
905 WEST
*8> The Phil & John Show @ Shore Grill, 71 Lakeshore Rd. E., Port Credit ~acoustic Pop Rock
*8> open stage (signup at 7:30) with host Neil McNaughton @ Moonshine Café, 137 Kerr St., Oakville; $2
*8> open mic night @ Fionn MacCool's Burlington, 2331 Appleby Line, Burlington
*8:45> open mic with Matt Zadkovich @ Cuchulainn's Irish Pub, 158 Queen St. S., Streetsville-Mississauga
9-1> Marshall Dane Duo @ Roc'n Doc's, 105 Lakeshore Rd. E., Port Credit ~Pop/Country originals & covers; $
*10> Chuck Coles of The Organ Thieves and Creepshow hosts open mic @ The Dickens, 423 Elizabeth St., Burlington
Copyright © 2016 Toronto Moon Magazine. All Rights Reserved