\ OSHAWA \
I first met Susan Latimer when the Roots-Pop songwriter and a companion came out to an open stage I was hosting at the late great Blues on Bellair in Yorkville for a couple of years at the dawn of the current millennium.
That might make us all sound pretty old and the last time I saw her, in March of last year at one of Boris Buhot's "In The Round" sessions at Hirut Café in east TO, I indeed noticed that, like me, she'd added a few greyish hairs to her look.  But she still exuded a radiant energy in her energetic performance that said he's still very young at heart —or as young in soul as a sometimes wistful songwriter can be, anyways.
Speaking of grey, I've spun tunes from her now ancient but still very loveable album Grey Matters at shows I emcee many, many times because her gift for clever and intimate, intelligently insightful lyrics about love and the human situation, endearing melodies and exquisite guitar playing all combine to make tunes that call out to you every now and then.
She's versatile in her musical moods.  While the title track of Grey Matters is a kind of simple but catchy Pop-styled number about figuring shit out, another track, "Doing Bad Things Again", is a sort of traditional Blues entry about addictions of the heart and "I Plan To Get Over You Soon" is an infectiously clever little ditty with a nursery rhyme feel about overcoming those aforesaid addictions.
Happily, I learned just today in preparation of this little article that Latimer has in fact in September just released another new album Over The Wall —her third after sophomore disc She Don't Mean No Evil.
A mainstay at Oshawa's Simcoe Blues & Jazz at 926 Simcoe St. N., next to the Long & McQuade store, (between Rossland and Taunton Rd.) she also has a day job teaching guitar at another area music retailer, Hands On Music in Bowmanville, where she appears to have also done some of the recording for the new release.
Latimer has been doing early evening and afternoon acoustic shows at the Oshawa diner for the past few years that I know of and tonight takes to the stage there at 7:30.  I would expect that she'll be prominently featuring songs from the new disc but you might ask her to play some of the older material I've mentioned too.
I don't believe there's a cover but I'd predict that after hearing her you'll want to have brought enough shekels pick up a copy of the new disc while you're there.
-Gary 17, TorontoMoon.ca
SHOW LISTINGS for Wednesday, December 14, 2021

Listings are organized by area in which the shows occur and within each area field shows are listed chronologically.
Listings preceded by an asterisk (*) are repeating weekly events. (Double asterisk indicates repeating event with different hosts/guest/etc.) Events preceded by question mark (?) usually take place but have not been confirmed. Admission prices followed by a slash and minus (/-) after the amount indicates door charge with availability of cheaper rates for some purchases. /+ indicates stated price is minimum.
Names of subscribers appear in bold and underlined and, where applicable, include a live link to their websites. Advertisers' listings are in larger, highlighted type, include live link to website and also have ad icon included in listings.
416 – TORONTO CENTRAL
5> Gordon Shawcross @ Graffiti's, 170 Baldwin St., TO
*5:30> Kama House Band @ Kama, 214 King St. W., TO ~Jazz
6-8> Whitney Ross-Barris @ 120 Diner, 120 Church St., TO ~Jazz; $10-20/pwyc
6> Golden Country Classics @ Cameron House (front), 408 Queen St. W., TO ~Country
6> Comhaltas Irish Slow Session @ Tranzac Club (Tiki Room), 292 Brunswick Ave. TO ~folk dancing
6:30> Brian de Lima's Bud Powell tribute @ The Rex, 194 Queen St. W., TO ~Jazz; $
*7> Jim Heineman Trio @ Nawlins, 299 King St. W., TO ~Jazz
7-11> League of Rock 20th anniversary showcase jam @ Hard Rock Café, 279 Yonge St., TO ~Rock 'n' Roll; $10
*7-10> Blues jam with Mark Stafford & Ken Yoshioka @ Alleycatz, 2409 Yonge St., TO North
7> Songwriters Association of Canada Toronto Regional Group showcase & open stage @ Free Times Cafe, 320 College St., TO ~eclectic songwriters; no cover
7:30 (sign-up at 7)> The Bridge on "Mystery" open stage on "mystery" theme and between-set showcase music, poetry, etc.; hosted by Lynn Harrison @ Imperial Pub, 54 Dundas St. E., TO
7:30> Brodie West Quintet @ Tranzac Club (Southern Cross), 292 Brunswick Ave. TO ~Jazz
7:30> Acta Recorder Quartet @ Heliconian Hall, 35 Hazelton Ave., TO ~early & modern era holiday music; $25
7:30> Tafelmusik Baroque Orchestra & Chamber Choir @ Koerner Hall, 273 Bloor St. W., TO ~(first of four nights) performing Handel's "Messiah"; $49-/+
*7:30> Jeff Willingham @ Lou Dawgs Ryerson, 76 Gerrard St. E., TO ~acoustic Pop
**8 (7 p.m. sign-up)> open stage with 9 p.m. feature by D'Arcy Wickham @ Fat Albert's, 25 Cecil St. (Steelworkers Hall), TO ~Roots
*8> open mic with host Jay Pollock & feature @ Touché Martini Bar, 669 College St., TO
8> Kitgut Old Time Stringband @ Graffiti's, 170 Baldwin St., TO
8-10:30> "Cocktails & Candy Canes Cabaret" @ Jazz Bistro, 251 Victoria St., TO ~seasonal favourites performed by various artists; $15
*8-11> YoYo Mama @ May Café, 876 Dundas St. W., TO Central ~R&B group
9> The Digs @ Reservoir Lounge, 52 Wellington St. E., TO ~Funk/Jazz/neo-Soul; $
9-1 > open jam with Wednesday's Child feat. Johnny Bootz Hutt @ Lola, 40 Kensington Ave., TO
9> Eric St. Laurent @ Cameron House (rear), 408 Queen St. W., TO
*9 (signup at 8:30)> open mic with Alan Carter @ Lowdown, 276 Augusta Ave., TO
*9-2> What's Poppin' indie jam @ Sneaky Dee's, 431 College St., TO
9> The Lad Classic; 12 Shot Tiger; Zachary Lucky; Greg Halpin @ Horseshoe Tavern, 370 Queen St. W., TO ~indie; $5
9:30> Virginia MacDonald Quartet @ The Rex, 194 Queen St. W., TO ~Jazz; $
10> Joshua Qaumariaq @ Cameron House (front), 408 Queen St. W., TO
10> second annual Hip-Hop food drive @ The Central, 603 Markham St., TO
10> Music By and For Ken Aldcroft @ Tranzac Club (Southern Cross), 292 Brunswick Ave. TO
10-2> Blues-Rock jam with tba @ Grossman's, 379 Spadina Ave. TO
*10:30> The LMT Connection @ Orbit Room, 580 College St. TO ~Funk/R&B; $10
416 – TORONTO EAST
7> Pup; The Hotelier; Chris Cresswell @ The Danforth Music Hall, 147 Danforth Ave., TO East
*7:30-10:30> The BTBs @ Relish, 2152 Danforth Ave., TO East ~Jazz; 0$
8> Piper Hayes @ Skwish Leslieville, 1192 Queen St. E., Ave., TO East ~original Pop
8:30-10:30> Gypsy Rebels @ Castro's, 2116 Queen St. E., TO East ~Gypsy Folk/Jazz
*9:30> open stage with Nicola Vaughan @ Black Swan (downstairs), 154 Danforth Ave., TO East
416 – TORONTO ETOBICOKE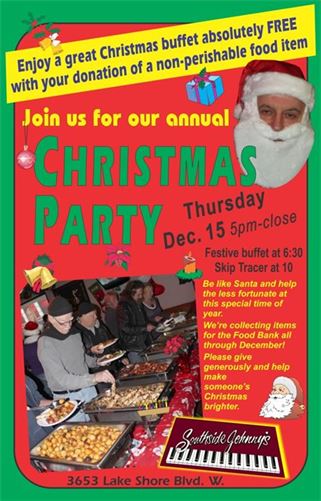 8-1> Christopher Plock Trio @ Timothy's Pub, 344 Brown's Line, Etobicoke South ~Jazz
*9-1> jam with full backline hosted by CS Eye featuring Alana Truda Edwards @ Etobicoke Local, 2961 Lake Shore Blvd. W., Etobicoke
9-12> Space Jazz jam with singer Meagan Luchko & guitarist Kevin Bolger & band with weekly guest tba @ Placebo Space, 2877 Lake Shore Blvd. W., Etobicoke ~Jazz ; $5/pwyc
416 – TORONTO WEST
5-8> Michelle Rumball and Kevin Quain @ Gate 403, 403 Roncesvalles Ave., TO West ~Blues
6-9> Amelia Curran @ Dakota Tavern, 249 Ossington Ave., TO West ~songwriter; $10/$15
*7:30> BackTrack Band featuring Marty Zatzman & guest Se'lah Genesis @ Cadillac Lounge, 1296 Queen St. W., TO West ~brassy R&B/Motown/Soul; 0$
8> Rich Knox @ The Piston, 937 Bloor St. W., TO West
*8> MFA open mic @ Remix Lounge, 1305 Dundas St. W., TO West
**8:30-10:30> Hump Night Blues with Dave McManus, George Baumann, Cleave Anderson + special guest tba @ On Cue Billiards, 349 Jane St., TO West ~Blues
8:30> Susan Aglukark Christmas album release for Dreaming of Home @ Hugh's Room, 2261 Dundas St. W., TO West ~seasonal favourites in English and Inuktitut; $40
8:30> Trevor Peverley; Shealagh Rose; Mermaid & The Bear  @ Burdock, 1184 Bloor St. W., TO West ~art Folk songwriter/Pop; $10
8:30> Space Case; Jabba the Hunk; Jiji Lives @ Smiling Buddha, 961 College St., TO West ~indie; $
**9-12> Blues Night with Julian Fauth & guests @ Gate 403, 403 Roncesvalles Ave., TO West ~original Juno-winning Blues
9> Peter Boyd & The Mutant Mariachis @ The Emmet Ray, 924 College St., TO West ~Roots-Rock
9> Louis Simao & Pedro Joel @ Mezzetta, 681 St. Clair Ave. W., TO West ~Jazz
9> Benj Rowland and Melissa Payne @ The Local, 396 Roncesvalles Ave., TO West ~Folk duo
10> Commotion @ Dakota Tavern, 249 Ossington Ave., TO West ~CCR covers; $10
*10:30> Luke Vajsar @ Motel Bar, 1235 Queen St. W., TO West ~Jazz
519
*6-8:30> ukulele jam @ Idea Exchange, 5 Tannery St. E., Cambridge
8-12> Song Circle acoustic jam @ Anaf Club 344, 32 Gordon St., Guelph
7:30> Blaise Moore; Local Only; more @ Maxwell's, 220 King St. N., Waterloo ~indie; $15
8> The Weber Brothers concert & movie release party for "When Christmas Falls On Peterborough" @ Kitchener Waterloo Little Theatre, 9 Princess St. E., Waterloo ~Blues band & movie; $
8-12> Mac n' Sleeze @ Dstrct, 10 Wyndham St. (main floor) ~Guelph indie band; 0$
9> Evan Moore; Jammer's Waffle House; Todd Jazxon @ The Cornerstone, 1 Wyndham St. N., Guelph ~indie all ages; pwyc
10> Mark Crissinger @ Zander's, 190 King George Rd., Brantford ~songwriter
705
*7-11> open jam with The Freacon Band @ The Beacon, 146 45th St., Wasaga Beach ~ Blues, Jazz; $5
8> various young bands @ Black Horse Pub, 452 George St. N., Peterborough
8> Graham Playford @ The Huron Club, 94 Pine St., Collingwood
10> Cellar Door @ The Garnet, 231 Hunter St. W., Peterborough
905 EAST
7:30> Susan Latimer @ Simcoe Blues & Jazz, 926 Simcoe St. N., Oshawa ~original Folk
*8-11> open mic @ Frank's Pasta, 426 King St. E., Cobourg
9> open mic @ The Moustache Club, 15 Simcoe St. N., Oshawa
*10> Two For The Show @ Tartan Tavern, 555 Rossland Rd. E., Oshawa ~Pop Rock
905 NORTH
6:30> Alessia Cohle @ Lone Star Milton, 1100 Steeles Ave. E., Milton
*7> open mic night with Tanya Joy Senior @ Col. McGrady's Pub, 44 Brock St. W., Uxbridge
*8-12> open mic with Kevin Ker @ Unionville Arms, 189 Main St., Unionville
*8:45> open mic jam with Matt Zady @ Magnums, 21 McMurchy Ave. N., Brampton
*9-1> open mic jam with Whiskey Birds @ Sweetz Lounge, 5289 Hwy 7, Woodbridge-Vaughan
*9:30> open mic with The Villagers @ Main's Mansion, 144 Main St., Markham
*10-2> jam night with Switchbeat Trio @ Maguires, 284 Queen St. E., Brampton
905 SOUTH
7> By Design @ Doc Magilligan's, 6400 Lundy's Lane, Niagara Falls ~acoustic
*7:30> open mic @ Donnelley's Pub, 54 Front St., Thorold ~eclectic
**8-1> Boogie N Blues jam with Ian Andrews & Friends @ Corktown Pub, 175 Young St., Hamilton
8> Terrie Petrie & band hosts Country Wednesdays @ Pub Fiction, 1242 Garner Rd. W., Ancaster ~Country
*8:30> Something Country @ The Endzone, 1900 King St. E., Hamilton ~Country
9> Singalong with Judy Marsales @ Coach & Lantern, 384 Wilson St E., Hamilton ~Rock/Top 40
9> Brock Zeman with guests Dave Pomfret, Scotty Bakalar @ This Ain't Hollywood, 345 James St. N., Hamilton ~Country-Rock originals; $?
905 WEST
8-1> Midnight Vesta; Limestone Chorus @ Moonshine Café, 137 Kerr St., Oakville ~indie acoustic; $7
*8:30> The Carson Freeman Diversion @ Shore Grill, 71 Lakeshore Rd. E., Port Credit ~Pop Rock
9-1> Jeremy & Jenn @ Roc'n Doc's, 105 Lakeshore Rd. E., Port Credit ~Rock/Pop; $
9> Sumo Cyco @ The Dickens, 423 Elizabeth St., Burlington
Copyright © 2016 Toronto Moon Magazine. All Rights Reserved