\ ETOBICOKE \
We all go to a bar to get something.  After all, they are in the business of holding out the inducement of providing various things we want, such as alcohol and other drinks with good food at affordable prices, entertainment to help get our minds off woes and the opportunity for some magic as we mingle with our peers and, of course, seek to flirt with the sexy server.
All of those things are on offer at a bar that knows what it's doing and Southside Johnny's at 3653 Lake Shore Blvd. W. near Brown's Line in Etobicoke's Long Branch area is an exemplar of a successful operation that does all that very well.  And on no night more than tonight do all those factors come together to create what you can reliably expect to be yet another memorable Christmas and customer appreciation party at the lively and welcoming room.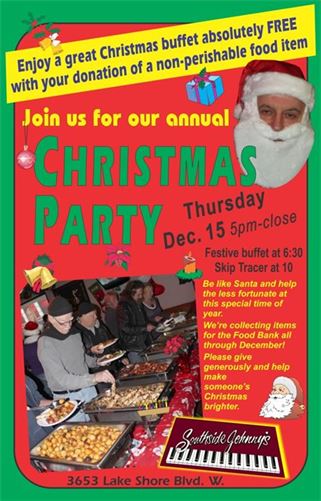 Owner John Theodore grew up in the restaurant/entertainment club industry and learned from his folks —including his mom Helen who eagerly worked with him in here in her final years before she passed away— how to pay attention to customers' needs and to the small details that make a place a pleasure to be at.  And on his own he's also developed quite a knack for putting on a party!
Tonight's cozy but animated event, which kicks off at 5:30, will include lots of merriment, a sumptuous buffet banquet spread of samples of many of the awesome eats coming from the kitchen at 6:30 and entertainment by one of the GTA's premier party bands, Skip Tracer, a little later on after everyone's had a chance to let their dinners settle and their drinks begin to assert themselves.
As always at Southside, there's no such thing as a cover charge so this is all free for the taking, John's holiday gift to regulars and locals.
BUT, he is asking you to give one thing in return:  bring a non-perishable food item for the club's food bank collection drive, which has been running all month and continues till when the room closes for New Year's Eve on December 31.
As John puts it: "the idea is: you get fed, you help feed."  Do that and you'll not only get as good as you give, you'll be giving back part of the good you get.  Whatever your faith, it's gotta feel like the right thing to do in the spirit of the season!
-Gary 17, TorontoMoon.ca
SHOW LISTINGS for Thursday, December 15, 2021

Listings are organized by area in which the shows occur and within each area field shows are listed chronologically.
Listings preceded by an asterisk (*) are repeating weekly events. (Double asterisk indicates repeating event with different hosts/guest/etc.). Events preceded by question mark (?) usually take place but have not been confirmed. Admission prices followed by a slash and minus (/-) after the amount indicates door charge with availability of cheaper rates for some purchases. /+ indicates stated price is minimum.
Names of subscribers appear in bold and underlined and, where applicable, include a live link to their websites or event page. Advertisers' listings are in larger type and highlighted, include a live link to their website and also have a copy of the ad included in listings.
ONLINE / ON AIR
9-10am> "The Bill King Show" with host Bill King & guests @ CIUT 89.5 FM ~Blues/Jazz
Noon-2> Blues on Rock Radio UK with Carolyn Fe
5:30-10:30> "Miapalooza" showcase of Music Industry Arts and Performance Program students @ Music Gallery, 197 John St., TO
6> Sam Ferraro acoustic @ Cameron House (front), 408 Queen St. W., TO
6-8> Tanya Gill, Shawn Nykwist & Beverly Taft @ 120 Diner, 120 Church St., TO ~seasonal Jazz/Frank Loesser covers; $10-20/pwyc
6:30> 36th anniversary open stage hosts and staff reunion + open stage @ Free Times Café, 320 College St. TO ~eclectic
*7> open mic with Derek Mok @ Kensington Lodge, 21 Kensington Ave., TO
*7:30-9:30> Bluegrass Thursdays with Houndstooth @ Tranzac Lounge (Southern Cross), 292 Brunswick Ave., TO
7:30> Tafeknysik Baoque Orchestra & Chamber Choir @ Koerner Hall, 273 Bloor St. W., TO ~Handel's "Messiah" concert; $
*8-12> Joe Bowden @ Nawlin's, 299 King St. W. TO ~Blues
8> Big Otter Creek; Dick Rodan @ The Cave, 529 Bloor St. W., TO ~indie; $
8> Carl Lorusso @ Graffiti's, 170 Baldwin St., TO
8> Koopa; Xephyr; Lady In Black; Woodwind @ Lee's Palace, 529 Bloor St. W., TO ~indie Rock; $6
8> Conversation Band; Thrifty Kids; more for SD Christmas party @ Sneaky Dee's, 431 College St., TO ~mystery; $10
8:30-1> open mic with Alicia Porter @ The Local Gest, 424 Parliament St., TO
8:30-12:30> Bad River; The Inanimates; The Ticks; Handsome Savages @ Silver Dollar 486 Spadina Ave., TO ~indie; $
8:30> Headstones; In Heat @ Phoenix Concert Theatre, 410 Sherbourne St., TO ~Can Rock icons; $35-85
8:30> Jee Jee Band @ Alleycatz, 2409 Yonge St., TO North ~Top 40
*8:30> Organic Groove open mic with host Dylan Hennessy @ Cannabis Culture, 461 Church St., TO
9> Benton Roark Band @ Cameron House (rear), 408 Queen St. W., TO
9> Belladonna @ Poetry Jazz Café, 224 Augusta Ave., TO ~Jazz/groove
9> Jazz Cartier @ Rebel, 11 Polson St., TO ~Hip Hop/Rap songwriter; $30
9> Olivia and the Creepy Crawlies; Birds of Bellwoods; JJ and the Pillars @ Horseshoe Tavern, 370 Queen St. W., TO ~indie; $13.50
*9-1> Blackburn @ Jo Mamas, 317 King St. W., TO ~Blues
*9:30> jam with host band The Regulators @ College St. Bar, 574 College St., TO
9:30> Norbert Botos @ The Rex, 194 Queen St. W., TO ~Jazz; $
*9:45> Stacey Kaniuk @ Reservoir Lounge, 52 Wellington St. E., TO ~Jazz/Blues; $
10> Jah Doo @ Cameron House (front), 408 Queen St. W., TO
10> Five and Tens @ Grossman's, 379 Spadina Ave., TO
10> Delaware String Band @ Tranzac Lounge (Southern Cross), 292 Brunswick Ave., TO
10> Felix and the Cats @ Amsterdam Bicycle Cub, 54 The Esplanade, TO ~original Roots-Rock
10> Death Cohen @ Bier Markt King, 600 King St., West, TO ~Pop Rock
10> Dixie Chicken @ Orbit Room, 480 College St. TO ~Little Feat tribute
10> Amberwood; The Modern Hearts; Running Violet; Clairvoyant @ Bovine Sex Club, 542 Queen St. W., TO
*10:30> Mike Barnes @ Pauper's Pub, 539 Bloor St. W., TO ~acoustic Pop
416 – TORONTO EAST
7-9> The Horables @ Relish, 2152 Danforth Ave., TO East ~Klezmer Jango-style Gypsy Polka/Jazz; no cover
*8:30-10:30> Jerry Leger & The Situation @ Castro's, 2116 Queen St. E., TO East ~Folk-Rock/Country
9> Redlight Ranch @ Linsmore Tavern, 1298 Danforth Ave., TO East ~indie; $10
9> Enzo Boldrini @ Murphy's Law, 1702 Queen St. E., TO East ~Pop Rock
9:30> The Monkey Fightin' Snakes; Fraz Milne Electical Band opens @ The Duke Live, 1225 Queen St. E., TO East ~indie; $?
*9:30> open jam with host Kar Wong @ Sportsters, 1430 Danforth Ave., TO East
*10-2> karaoke with Shane Taylor @ Relish, 2152 Danforth Ave., TO East
*10-1> open jam with host Michael Villamor @ Breakwall, 1910 Queen St. E.
*5-2> Christmas party with festive buffet (at 6:30) and Skip Tracer at 10 @ Southside Johnny's, 3653 Lakeshore Blvd., Etobicoke South ~Rock/Pop; non-perishable food item donation
7:30> Bob DeAngelis Trio @ Old Mill Inn, 21 Old Mill Rd., Etobicoke ~Jazz; min table charge
8> The Stew @ Timothy's Pub, 344 Brown's Line, Etobicoke South ~Pop Rock/R&B
9> Motorheadache; more @ The Rockpile, 5555 Dundas St. W., Etobicoke ~Motorhead tribute; $
416 – TORONTO SCARBOROUGH
8-12> jam night @ The Birchmount, 462 Birchmount Rd., Scarborough
9-1> The Tall Boyz featuring Tommy Rocker host acoustic open jam @ Winners, 2181 Lawrence Ave. E., Scarborough
9:30> The High Rollers @ Black Dog Pub, 87 Island Rd., Scarborough ~Pop Rock
416 – TORONTO WEST
5-8> Concord Jazz Quintet @ Gate 403, 403 Roncesvalles Ave., TO West ~Jazz
8> Yeomans single release with guests; Planet Creature; The Lord Almighty's @ The Piston, 937 Bloor St. W., TO West ~indie; $7
8:30> Quartette Christmas show @ Hugh's Room, 2261 Dundas St. W., TO West ~female vocal quartet singing seasonal covers & originals; $40
8:30-12> Jason Collette's Annual Basement Review @ Dakota Tavern, 249 Ossington Ave., TO West ~eclectic; $30
8:30> Emergency Musical Services featuring Jocelyn Barth @ Burdock, 1184 Bloor St. W., TO West ~Jazz; $15
9> Zoo Owl; Zones; Johan Seaton; Western Plates @ The Baby G, 1608 Dundas St. W., TO West ~indie; $
9-11:45> The Ben D'Cunha Trio @ The Piper's Pub, 782 St. Clair Ave. W., TO ~Jazz
*9-12> open mic night with Anthony Abbatangeli @ DeSoto's, 1079 St. Clair Ave. W., TO West
*9> open mic with Phil Hood @ The Roncy, 390 Roncesvalles Ave., TO West
*9-1:30> open stage with Jay Pennell @ Dave's On St. Clair, 730 St. Clair West, TO West ~eclectic
9-12> Root Down Trio @ Gate 403, 403 Roncesvalles Ave., TO West ~Roots/Blues
9> Blackened Blues; Dead Walls; Fire Rules @ Smiling Buddha, 961 College St., TO West ~indie; $
9> Fred Spek's Camp Combo @ Shameful Tiki Bar, 1378 Queen St. W., TO West
9> Ali McCormack @ The Local, 396 Roncesvalles Ave., TO West ~original Roots/Folk
9> The Holy Oak Family Singers @ Holy Oak Café, 1241 Bloor St. W., TO West ~Hejira tribute
519
*6-10> Lucas Stagg @ Argyle Arms, 210 King St. E., Cambridge ~Roots-Rock
*7:30-12> open mic with K.M. Smith @ Molly Bloom's Guelph, 91 Wyndham St. N., Guelph
7:30> Nicole Robertson @ Fionn MacCool's Orangeville, 75 Fourth Ave., Orangeville ~Pop Rock
*8> open mic with Mandippal @ Fionn MacCool's Guelph, 494 Edinburgh Rd., S., Guelph
8> open mic night @ M&M Bar, 475 Main St., Cambridge
*8-11> open mic with Sandy MacDonald @ Williamsburg Arms, 1187 Fischer Hallman Rd., Kitchener
8> Steve Strongman Band @ Dominion Telegraph Event Centre, 97 Grand River St., N., Paris ~original Blues
*8:30> acoustic jam hosted by Mike Mecher & Vic Freitas @ Kiwi Gastropub, 47 Dickson St., Cambridge
*8:30-12:30> acoustic jam night @ Fiddle & Firkin, 707 King St. E., Cambridge
9> Brock Zeman with Dan Walsh @ The Boathouse, 97 Jubilee Drive, Kitchener ~Blues; $10
*9:30> open mic night @ The Black Badger, 55 Water St., Cambridge
9:30> Mark Crissinger @ Churchill Arms, 355 Erb St. W., Waterloo ~Roots-Rock songwriter
10> Jennifer Castle; Lido Pimienta; Culture Reject @ ebar, 41 Quebec St., Guelph ~indie; $15/$12 with food bank item
*10-2> Mike Something @ Royal Electric, 52 Macdonell St., Guelph ~acoustic Pop
705
7-11> The Groove Project with guest @ Harbour Street Fish Bar, 10 Keith Ave., Collingwood ~Blues
*7:30> Rob Phillips Jazz/Blues Trio and Marsala Likianchuk @ Black Horse Pub, 452 George St. N., Peterborough
*8> The Joe Huron Trio @ Sticky Fingers, 199 Essa Rd., Barrie ~Jazz/Blues
8> Drew Wright @ The Huron Club, 94 Pine St., Collingwood
*9> jam with Ted Rusk @ The Sauble Dunes, 11 Southampton Parkway, Sauble Beach
9> Evan Moore; Laughed The Boy; The Muddy Hack; Todd Jaxon @ The Spill, 414 George St. N., Peterborough ~indie; $5/pwyc
10> Federico Pontani; Craig Paterson @ The Garnet, 231 Hunter St. W., Peterborough
905 EAST
*5-8> Nelson Denis @ Frank's Pasta, 42 King Street E., Cobourg ~eclectic mix (Folk, Jazz, soft Rock, Latin)
7:30> Joance @ Simcoe Blues & Jazz, 926 Simcoe St. N., Oshawa
8-11> tba @ Rum Diaries, 368 Bayly St. W., Ajax
8> Juggernaut Band Christmas jam with guests Tony Springer, Nicholas Walsh, Jesse Jack; more @ The Edge, 250 Bayly St. W., Ajax
8-12> George Craig @ Fionn MacCool's Ajax, 32 Kingston Rd. E. Ajax ~Pop
*?> jam with Darren Smith & Shayne Thomas @ The Corner Pocket, 45 Prince St., Oshawa
*9> jam @ The Wee Pub, 371 Wilson Rd. South, Oshawa
*9:30> jam with Billick @ Harp & Crown, 300 Kingston Rd., Pickering
*10> Karaoke with Rob MacArthur @ St. Louis Ajax, 11 Harwood Ave., Ajax
905 NORTH
*6:30-10:30> jam with Faces for Radio @ Coasters, 55 Rutherford Rd. S., Brampton
*7:30-11:30> jam with house band @ 52nd St. Tap & Grill, 30 Kennedy Rd., S., Brampton
7:30> Thom Allison: "Shut Up It's Christmas" revue @ Richmond Hill Centre for the Performing Arts, 10268 Yonge St., Richmond Hill; ~musical theatre/revue; $17.70
*8> open mic with host Kevin Kerr @ The Duchess of Markham, 53 Main St. N., Markham
*8-11> Jam with Jayme Lynn Reed @ Offsides Sports Bar, 200 Simcoe Ave., Keswick
9> open mic (signup starts at 8:30) @ The Barrel, 2180 Steeles Ave. W. Vaughan
905 SOUTH
8:30> Mohawk College Christmas party @ Corktown Pub, 175 Young St., Hamilton
*9> LMT Connection @ Doc Magilligan's Irish Pub, 6400 Lundy's Lane, Niagara Falls ~R&B/Funk
9> Doomsquad; Man Made Hill; Pucumber @ This Ain't Hollywood, 345 James St. N., Hamilton ~indie Punk/Grunge/art-Metal; $10+
*9> open mic night with rotating hosts @ Coach & Lantern, 384 Wilson St E., Hamilton
10> Strummers Union @ The Pheasant Plucker, 20 Augusta St., Hamilton
905 WEST
*6-9> Ric Jacobs @ Ivy Bar, 3330 South Service Rd., Burlington
*7-11> James Anthony Band & guest Soul Santa Jody Mac @ Black Swan Pub Burlington, 4040 Palladium Way, Burlington ~Blues
*8-12> jam hosted by The Personics @ Carrigan Arms, 2025 Upper Middle Rd., Burlington
8-12> Semi Tone @ The Purple Heather, 3600 Dundas St. W., Burlington ~Pop Rock
8> Susan Aglukark album release for Dreaming of Home @ Oakville Centre for the Performing Arts, 130 Navy St., Oakville ~seasonal favourites in English and Inuktitut; $
*8> Salsa band @ The Franklin House, 263 Queen St. S., Streetsville ~Latin
*8> Celtic Night @ Fionn MacCool's Burlington, 2331 Appleby Line
8:30> Sisters Euclid @ Moonshine Café, 137 Kerr St. Oakville ~Rock/Country/Jazz fusion; $20
9-1> Freedom Train @ Roc'n Doc's, 105 Lakeshore Rd. E., Port Credit ~Rock/Pop
9:30> Glenn Groves @ Shore Grill, 71 Lakeshore Rd. E., Port Credit ~Honky Tonk Country new & old
*9:30> jam with Jack B Nimble @ Abbey Road Pub, 3200 Erin Mills Parkway, Mississauga
9:30> Chris Partland @ Cuchulainn's Irish Pub, 158 Queen St. S., Streetsville-Mississauga ~Pop Rock
Copyright © 2016 Toronto Moon Magazine. All Rights Reserved