The GTA has long been blessed with a plethora of great Blues talents, including several artists who've won Juno album-of-the-year awards for the genre. Tonight one veteran 12-bar string-bender who's won two of them is featured downtown while a much younger man whom I predict will eventually win at least one is performing in the East York area.
Jack de Keyzer toiled for over 30 years as a famous low-profile guitarist who was admired far and wide by other players but who never seemed to get any formal recognition for his skills until finally copping a Juno for his brilliant 2002 6-String Lover album.  He followed that up with another win in 2010 for The Corktown Sessions live album, has been nominated for the award three other times, won first place in the International Songwriting Competition in '07, was voted best Blues player by CBC listeners in '09 and has won a handful of national Maples Blues Awards.
Prior to winning the first Juno, as I noted in a cover story in my bi-weekly to-nite magazine #246 in February 2002, when the album first came out, de Keyzer was very much under-recognized:
"One of Canada's great musical treasures — even if still, unaccountably, far too unheralded by the music business — Jack de Keyzer appears to be coming to middle age with confidence, poise and command of his art and craft in full bloom," I wrote.
I concluded the article with a prediction: "With more than a handful of catchy, memorable tunes among the 14 original offerings, this could be the album to finally garner Jack the recognition he's long overdue."
When that came true a year later, things changed a lot for de Kezyer, basically opening the floodgates for all the honours and opportunities that have followed. These days he plays all over the country and indeed world-wide and is finally able to make a decent living doing what he was born for.
In addition to festivals, concert halls and clubs near and far, for the past nearly seven years Jack has also been appearing with his band regularly, usually the last Thursday of each month, at the Monarchs Pub in the downtown hotel at 33 Gerrard St. E. nowadays known as the Eaton Chelsea. That includes tonight 8-12 and remarkably there's no cover for the show.
Also free of cover charge is another Blues show featuring a young tyro whom I confidently predict will eventually win national awards and broad acclaim as well.  Sam Taylor & The East End Love appears at 81-year-old Linsmore Tavern, 1298 Danforth Ave. steps from the Greenwood subway station.
I'm proud to say that I was responsible for bringing the 22-year-old up-and-coming star to the attention of the club last year, after seeing him tear up the stage several times at nearby Relish.  During a weekly Sunday afternoon series as the summer fill-in band at Linsmore that year he demonstrated stage poise, charisma and wide-ranging versatility doing classic Blues covers with his own twists and powerful originals like the sizzling "Live Till You Die".
Those shows started bringing in young fans and pleased longtime aficionados equally and since then, as we reported previously, he's been on a nearly meteoric rise, doing gigs in several prestigious downtown clubs. Although release of his debut album has been delayed, once that hits you can be certain that, thanks to the internet and YouTube (and TorontoMoon.ca, of course!) it won't be taking him three decades to be standing in the national limelight.
If you're a fan of scintillating Blues guitar and intelligently crafted songs, you can't go wrong choosing either of these two shows.
-Gary 17, TorontoMoon.ca
SHOW LISTINGS for Thursday, November 26, 2021
Listings are organized by area in which the shows occur and within each area field shows are listed chronologically.
Listings preceded by an asterisk (*) are repeating weekly events. (Double asterisk indicates repeating event with different hosts/guest/etc.). Admission prices followed by a slash and minus (/-) after the amount indicates door charge with availability of cheaper rates for some purchases. /+ indicates stated price is minimum.
Names of subscribers appear in bold and underlined and, where applicable, include a live link to their websites or event page. Advertisers' listings are in larger type and highlighted, include a live link to their website and also have a copy of the ad included in listings.
416 - Toronto Central
6> Corin Raymond @ Cameron House (front), 408 Queen St. W., TO ~Country/Roots-Pop
6-8> Michelle Lecce @ 120 Diner, 120 Church St., TO
6:30> Kevin Quain @ The Rex, 194 Queen St. W., TO ~moody Blues
7> Lifestory Monologue; Heavy Hearts; New Design; guest @ Sneaky Dee's, 431 College St., TO ~indie; $15
*7> open mic with Derek Mok @ Kensington Lodge, 21 Kensington Ave., TO
*7:30-9:30> Bluegrass Thursdays with Houndstooth @ Tranzac Lounge (Southern Cross), 292 Brunswick Ave., TO
*8-1> open mic with Alicia Porter @ The Local Gest, 424 Parliament St., TO
8-12> Jack de Keyzer @ Monarchs Pub (Eaton Chelsea Hotel), 33 Gerrard St. W., TO ~Blues
8-12> R&B/Blues @ Nawlin's, 299 King St. W. TO
8> Marshall Dane @ Musideum, 401 Richmond St. W., #133, TO ~Country-Pop; $20
8:30> Health; Pictureplane @ Horseshoe Tavern, 370 Queen St. W., TO ~$15
8:30> Zeus; Tuns; Stonetrotter @ Lee's Palace, 529 Bloor St. W., TO ~indie; $17.50
8:30> Brendon Gomez @ Fionn MacCool's Uptown, 1867 Yonge St., TO North
9> open mic hosted by Diane Baker Mason with Hold The Bus featuring Kevin Jeffrey, Phil Ciglen, Malcolm Gould and guest Nicola Vaughan @ Grossman's, 379 Spadina Ave., TO ~Country/Roots
9> Peter White @ Free Times Café, 320 College St. TO ~
9> Swamp Thing & Peter Project Planet Murk album release; guests Wordburglar; Ghettosocks; more @ Rivoli, 334 Queen St. W., TO ~indie; $5
9> Gruvoria @ May Café, 876 Dundas St. W., TO ~Jazz/Funk
9> Brian Cober @ Lola, 40 Kensington Ave., TO ~Blues
9> Pineville; Long Branch @ Cameron House (rear), 408 Queen St. W., TO
9> Jenna Glatt @ The Cavern Bar, 76 Church St., TO
9> Mostly Frank; The Anthony Terpstra Seventet; Colin Hunter @ Jazz Bistro, 251 Victoria St., TO ~Jazz; $
*9-1> Blackburn @ Jo Mamas, 317 King St. W., TO ~Blues
9> Tyler McGregor album release @ The Paddock, 178 Bathurst St., TO

9:30> Mike Murley Quartet @ The Rex, 194 Queen St. W., TO ~Jazz
*9:45> Stacey Kaniuk @ Reservoir Lounge, 52 Wellington St. E., TO ~Jazz/Blues; $
10> Kirty; Janes Party @ Cameron House (front), 408 Queen St. W., TO
10> Collette Savard & guests @ Tranzac Lounge (Southern Cross), 292 Brunswick Ave., TO
10> Pretzel Logic @ Orbit Room, 480 College St. TO ~Steely Dan tribute; $
10:30> The Maysides @ The Hideout, 484 Queen St. W., TO ~indie Rock
416 - Toronto East
7-9> Jenn Schaffer & the Shiners @ Relish, 2152 Danforth Ave., TO East ~songwriter
8> Sam Taylor & The East End Love also featuring David Macmichael; G Lazarus opens @ Linsmore Tavern, 1298 Danforth Ave., TO East ~original & cover Blues; free
*8:30-10:30> Jerry Leger & The Situation @ Castro's, 2116 Queen St. E., TO East ~Folk-Rock/Country
*9:30> open jam @ Sportsters, 1430 Danforth Ave., TO East
*10-2> karaoke with Shane Taylor @ Relish, 2152 Danforth Ave., TO East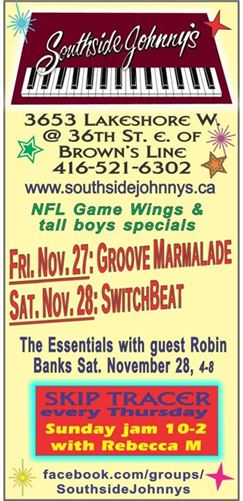 416 – Toronto Etobicoke
7:30> Terra Hazelton @ Old Mill Inn, 21 Old Mill Rd., Etobicoke ~Jazz; min table charge
9> Kimberley Wetmore band @ Timothy's Pub, 344 Brown's Line, Etobicoke South ~Pop Rock
*9:30-2> Skip Tracer @

Southside Johnny'

s, 3653 Lakeshore Blvd., Etobicoke South ~Rock/Pop
416 – Toronto Scarborough
7-11> jam night @ The Birchmount, 462 Birchmount Rd., Scarborough
*9> Tommy Rocker's Classic Rock Band host jam @ Centro Pizza, 3406 Kingston Rd., Scarborough
9:30> The High Rollers @ Black Dog Pub, 87 Island Rd., Scarborough ~Pop Rock
416 - Toronto West
5-8> G Street Jazz Trio @ Gate 403, 403 Roncesvalles Ave., TO West ~Jazz
7-9> Four Chords and the Truth @ Dakota Tavern, 249 Ossington Ave., TO West ~songwriters; $
*8-11> Tinderbox Thursdays open stage with Michael Keith @ La Revolucion, 2848 Dundas St. W., TO West ~eclectic
8:30> Jay Aymar album/book release @ Hugh's Room, 2261 Dundas St. W., TO West ~songwriter/author; $22.50
*9-12> open mic night @ DeSoto's, 1079 St. Clair Ave. W., TO West
9> Kirt Godwin @ The Roncy, 390 Roncesvalles Ave., TO West ~acoustic
*9-1:30> open stage with Jay Pennell @ Dave's On St. Clair, 730 St. Clair West, TO West ~eclectic
9-12> Angie Gunn @ Gate 403, 403 Roncesvalles Ave., TO West ~Western Swing
9> Chris Birkett; Blair Packham; Maria Ryan @ The Tennessee, 1554 Queen St. W., TO West ~songwriters
9> Merganzaer; EONS; Melody McKiver @ Burdock, 1184 Bloor St. W., TO West ~$
9> Palm; Junior Bob; Banned Books @ Smiling Buddha, 961 College St., TO West
9> Lisa Marie Kruchak; Gunner & Smith @ The Local, 396 Roncesvalles Ave., TO West ~Pop
9:30> Tyler Yarema @ Fat City Blues, 890 College St., TO West ~Blues
10> Lowlands with Alanna Gurr and Matt Moonigan @ Dakota Tavern, 249 Ossington Ave., TO West ~$
519
*7:30-12> open mic with K.M. Smith @ Molly Bloom's Guelph, 91 Wyndham St. N., Guelph
7:30> John MacKinnon @ Fionn MacCool's Orangeville, 75 Fourth Ave., Orangeville
*8-11> open mic with Sandy MacDonald @ Williamsburg Arms, 1187 Fischer Hallman Rd., Kitchener
705
*7:30> Rob Phillips Jazz/Blues Trio and Marsi @ Black Horse Pub, 452 George St. N., Peterborough
*9> jam with Ted Rusk @ The Sauble Dunes, 11 Southampton Parkway, Sauble Beach
10> Painted Forest @ The Garnet, 231 Hunter St. W., Peterborough
905 - East
*5-8> Nelson Denis @ Frank's Pasta, 42 King Street E., Cobourg ~eclectic mix (Folk, Jazz, soft Rock, Latin)
*?> jam with Darren Smith & Shayne Thomas @ The Corner Pocket, 45 Prince St., Oshawa
*9> jam @ The Wee Pub, 371 Wilson Rd. South, Oshawa
7> Garden Street Blues @ Simcoe Blues & Jazz, 926 Simcoe St. N., Oshawa ~Blues
*9:30> jam with Billick @ Harp & Crown, 300 Kingston Rd., Pickering
*10> Karaoke with Rob MacArthur @ St. Louis Ajax, 11 Harwood Ave., Ajax
905 - North
*8> open mic with Kevin Ker @ Duchess of Markham, 53 Main St., Markham
*9> open stage jam night @ Memphis North, 18947 Woodbine Ave., East Gwillimbury
9> Eddy C @ Fionn MacCool's Newmarket, 17315 Leslie St., Newmarket
905 - South
8> Taylor Knox @ Doc Magilligan's Irish Pub, 6400 Lundy's Lane, Niagara Falls
*9> open mic night with rotating hosts @ Coach & Lantern, 384 Wilson St E., Hamilton
905 – West
8-12> Freedom Train @ Roc'n Doc's, 105 Lakeshore Rd. E., Port Credit ~Rock/Pop
*8-12> open mic & jam @ Black Swan Pub Burlington, 4040 Palladium Way, Burlington
*8-12> jam hosted by The Personics @ Carrigan Arms, 2025 Upper Middle Rd., Burlington
*8> Celtic Night @ Fionn MacCool's Burlington, 2331 Appleby Line
8:30> Sarah Beatty hosts Songbirds monthly showcase of female artists @ Moonshine Café, 137 Kerr St. Oakville ~songwriters; $6
*8:45> open mic with Matt Zady @ Failte, 201 City Centre Dr., Mississauga
9> Katey Gatta @ Fionn MacCool's Clarkson, 970 Southdown Rd., Mississauga
9:30> Glenn Groves @ Shore Grill, 71 Lakeshore Rd. E., Port Credit ~Pop Rock
*9:30> jam with Jack B Nimble @ Abbey Road Pub, 3200 Erin Mills Parkway, Mississauga
Copyright © 2015 Toronto Moon Magazine. All Rights Reserved