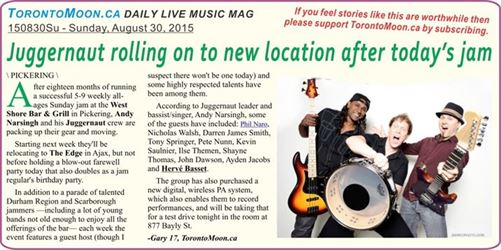 \ PICKERING \
After eighteen months of running a successful 5-9 weekly all-ages Sunday jam at the West Shore Bar & Grill in Pickering, Andy Narsingh and his Juggernaut crew are packing up their gear and moving.
Starting next week they'll be relocating to The Edge in Ajax, but not before holding a blow-out farewell party today that also doubles as a jam regular's birthday party.
In addition to a parade of talented Durham Region and Scarborough jammers —including a lot of young bands not old enough to enjoy all the offerings of the bar— each week the event features a guest host (though I suspect there won't be one today) and some highly respected talents have been among them.
According to Juggernaut leader and bassist/singer, Andy Narsingh, some of the guests have included: Phil Naro, Nicholas Walsh, Darren James Smith, Tony Springer, Pete Nunn, Kevin Saulnier, Ilse Themen, Shayne Thomas, John Dawson, Ayden Jacobs and Hervé Basset.
The group has also purchased a new digital, wireless PA system, which also enables them to record performances, and will be taking that for a test drive tonight in the room at 877 Bayly St.
-Gary 17, TorontoMoon.ca
SHOW LISTINGS for Sunday, August 30, 2021

:

Listings are organized by area in which shows take place and listed chronologically within each area field.

Listings preceded by an asterisk (*) are repeating weekly events. (Double asterisk indicates repeating event with different hosts/guest/etc.). Admission prices followed by a slash and minus (/-) after the amount indicates door charge with availability of cheaper rates for some purchases. /+ indicates stated price is minimum.

Names of subscribers appear in bold, are underlined and, where applicable, include a live link to their websites. Advertisers' listings are in larger highlighted type, include live link to website and also have ad icon included in listings.

416 – Toronto Central

11am-2pm> Gypsy Jive Band for Jewish brunch buffet @ Free Times Café, 320 College St., TO

12-3> Excelsior Dixieland Jazz Band @ The Rex, 194 Queen St. W., TO ~Jazz

*3-6> Michael Brennan @ Graffiti's, 170 Baldwin St. TO ~East Coast Rock/Blues Roots

3:30-6:30> Freeway Dixieland Band @ The Rex, 194 Queen St. W., TO ~Jazz

4-9> Little Peter & The Elegants @ Sir Winter Spencer Churchill Legion, 150 8th St., Etobicoke ~vintage Pop Rock/R&B; $9 ($5 for Legion members)

*4:30-8> New Orleans Connection All Stars & guests @ Grossman's, 379 Spadina Ave., TO ~New Orleans Jazz

5-9> Robbie Lane & The Disciples @ Seven44, 744 Mount Pleasant Road, TO North ~vintage Rock/R&B; $10

6> Early; The Mighty Cedar @ Rivoli, 334 Queen St. W., TO; $10

*7-1> Freefall Sundays open stage with hosts Steve York & Tony Rabalao (2 songs each -signup @ 7 or pre-sign online) @ The Supermarket, 268 Augusta St., TO

7-9:30> Tara Kannangara @ The Rex, 194 Queen St. W., TO ~Jazz

7:30> Mark Segger @ Tranzac Club (Southern Cross), 292 Brunswick Ave., TO

9> jam with Jay Pennell @ Scruffy Murphy's, 150 Eglinton Ave. E., TO North

9:30> Matthew Raitt Trio @ The Rex, 194 Queen St. W., TO ~Jazz

*10> Horshack feat. Chris Caddell @ Orbit Room, 580 College St., TO ~Bluesy contemporary & classic Rock

10> Steve Ward presents @ Tranzac Club (Southern Cross), 292 Brunswick Ave., TO

**10> Blues jam with Brian Cober, Bill Hedefine & guest bassist @ Grossman's, 379 Spadina Ave., TO

10:30> Don Campbell @ The Hideout, 484 Queen St. W., TO ~indie Rock

416 – Toronto East

11-2> Pat Malony for Jazz brunch @ Relish, 2152 Danforth Ave. TO East ~Jazz

*3-6> open mic with Nicola Vaughan @ Hirut, 2050 Danforth Ave., TO East

*3:30-7:30> jam @ Black Bear, 1125 O'Connor Drive, TO East

4> The Wanted @ Castro's Lounge, 2116 Queen St. E., TO East

*5-9> John Dickie/Pat Perez Band @ Linsmore Tavern, 1298 Danforth Ave, TO East ~R&B/Blues

*8-9> Sam Taylor & The East End Love @ Relish, 2152 Danforth Ave., TO East ~original Blues

8> One City Social Boogie @ The Only Café, 972 Danforth Ave., TO East

9> Watch This Sound @ Castro's Lounge, 2116 Queen St. E., TO East ~vintage Jamaican music

*9:30-1> jam with the Stir It Up Band featuring Bryan Van Dusen & David Macmichael @ Relish, 2152 Danforth Ave., TO East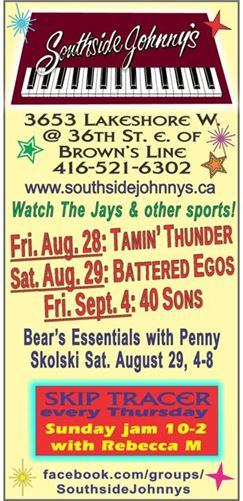 416- Toronto Etobicoke
4-8> Pie Guys with Gus Papas @ Timothy's Pub, 344 Brown's Line, Etobicoke ~Pop Rock
*10-2> jam with Rebecca Matiesen & Phoenix @ Southside Johnny's, 3653 Lakeshore Blvd. W., Etobicoke South
416 – Toronto Scarborough
*6-10> jam with Tommy Rocker @ Scarborough Junction, 646 Danforth Rd., Scarborough
*7-11> open jam @ McGradie's, 2167 Victoria Park Ave., Scarborough
416 – Toronto West
**11-2> live Jazz brunch @ DeSoto's, 1079 St. Clair Ave. W., TO West
*12-3> Julian Fauth's Blues brunch @ Axis, 3048 Dundas St. W., TO West ~Blues
* 12-3> The Cosmotones @ Dakota Tavern, 249 Ossington Ave., TO West ~Rockabilly
1-5> The Lazy Devils to Sept. 1 @ The Wine Garden, Canadian National Exhibition Grounds, Lake Shore Blvd. W., TO West ~classic Pop Jazz
1:30-5:30> Lost Patients @ Casino patio/stage Canadian National Exhibition Grounds, Lake Shore Blvd. W., TO West ~
3-6> Greg Wyard @ CNE Midway Stage, Canadian National Exhibition Grounds, Lake Shore Blvd. W., TO West ~Pop Rock
3-6> James Barker Band @ CNE Northern Comfort Saloon, Canadian National Exhibition Grounds, Lake Shore Blvd. W., TO West ~songwriter
**5-8> Isabel Fryszberg & Tony Quarrington & Rattlesnake Choir @ The Communist's Daughter, 1149 Dundas St. W. TO West ~Country/Roots
5-9> Pat Temple @ The Wine Garden, Canadian National Exhibition Grounds, Lake Shore Blvd. W., TO West ~Roots
5-8> Tim Bradford @ The Local, 396 Roncesvalles Ave., TO West ~Country songwriter
5-8> Cheryl White R&B Band @ Gate 403, 403 Roncesvalles Ave., TO West ~R&B
6:30-10:30> The High Rollers @ Casino patio/stage Canadian National Exhibition Grounds, Lake Shore Blvd. W., TO West ~Pop Rock
7:30-11> Moncada @ CNE Midway Stage, Canadian National Exhibition Grounds, Lake Shore Blvd. W., TO West ~Cuban group
7:30-11> Ty Baynton @ CNE Northern Comfort Saloon, Canadian National Exhibition Grounds, Lake Shore Blvd. W., TO West ~Country
7:30> The Last Waltz @ CNE Bandshell, Canadian National Exhibition Grounds, Lake Shore Blvd. W., TO West ~tribute to The Band
9-1> The Sleaper Group @ Gate 403, 403 Roncesvalles Ave., TO West ~Jazz
9> Alun Pigguns & The Quitters @ The Local, 396 Roncesvalles Ave., TO West ~original Roots-Pop
10> Rob Foreman; Jimmy Bowskill; Ian McKeown @ Dakota Tavern, 249 Ossington Ave., TO West
519
*9-1> jam @ Ivy Arms Pub, 201 Main Street East, Milton
705
*3-7> jam at CJ Barleys, 213 The Queensway, Keswick
905 East
4> Brian Richardson @ Simcoe Blues & Jazz, 926 Simcoe St. N., Oshawa
*5-9> All ages open jam (final show at this location) with Juggernaut @ West Shore Bar & Grill, 877 Bayly St., Pickering
*7-11> Karaoke with Rob MacArthur @ The Edge, 250 Bayly St. W., Ajax
*8:30-12:30> karaoke with The English Rose & The Mad Scotsman @ Pearson Pub, 101 Mary St. W. Whitby
905 North
**1-3> Joe & Frank with guest performer on the patio @ Lake Simcoe Arms, 21089 Dalton Rd., Jackson's Point ~Jazz
*3-7> open stage with Kevin Ker @ The Earl Of Whitchurch, 6204 Main St., Stouffville
*5-9> open mic with feature guest @ Sgt. Pepper's Aurora, Walmart Plaza (Hwy 404 & Aurora Rd.), Aurora
x> tba @ Stewart Maguire's Landing, 15 Allan Rd., Bolton
905 South
2-6> Bay City Blues Band & guest Joshua Miller @ Bay City Music Hall, 50 Leander Drive, Hamilton ~Blues; $5
3> Sunday Slamfest with Naamakh; The Boys; Belt Fight; The Cathartics @ This Ain't Hollywood, 345 James St. N., Hamilton ~Punk; Hard-Core; $6
*4> acoustic patio jam @ This Ain't Hollywood, 345 James St. N., Hamilton
9> Johnny Kerr @ Coach & Lantern, 384 Wilson St E., Hamilton
905 West
**2-6> Country matinee with host Colin Connors and guest Jaydee Bixby @ Carrigan Arms, 2025 Upper Middle Rd., Burlington ~Country
*4:30-8> Chuck Jackson's All Stars @ Roc'n Doc's, 105 Lakeshore Rd. E., Port Credit ~Blues
**5:30-8:30> The Stew @ Mulligan's, 2458 Dundas St. W., Mississauga ~R&B/Rock
**7-11> The Nomads @ Shore Grill, 71 Lakeshore Rd. E., Port Credit
*7> open jam with Mike Shotton & The Flying Squirrels @ Black Swan Pub Burlington, 4040 Palladium Way, Burlington
*7:30> open jam hosted by Troy Harmer @ The Brown Barrel, 1515 Upper Ottawa St., Hamilton
7:30> Oakville Improv Comedy @ Moonshine Café, 137 Kerr St., Oakville ~comedy; $7
*9-1> Gracie @ Roc'n Doc's, 105 Lakeshore Rd. E., Port Credit ~Rock/Top 40
*10:30> Adam Cooke & The Adams Family @ The Dickens, 423 Elizabeth St., Burlington