SHOW LISTINGS for Saturday, August 29, 2021
Listings are organized by area in which the shows occur and within each area field shows are listed chronologically.
Listings preceded by an asterisk (*) are repeating weekly events. (Double asterisk indicates repeating event with different hosts/guest/etc.). Admission prices followed by a slash and minus (/-) after the amount indicates door charge with availability of cheaper rates for some purchases. /+ indicates stated price is minimum.
Names of subscribers appear in bold, are underlined and, where applicable, include a live link to their websites. Advertisers' listings are in larger, highlighted type, include live link to website and also have ad icon included in listings.
416 - Toronto Central
*12-3> The Sinners Choir @ The Rex, 194 Queen St. W., TO ~Jazz
3> Jamzac @ Tranzac Club (Southern Cross), 292 Brunswick Ave., TO
3:30> Mr. Rick's Tin Pan Alley @ The Rex, 194 Queen St. W., TO ~Jazz
3:30> Christopher Butcher Quartet @ The Pilot, 22 Cumberland St., TO ~Jazz
4-7> Sin City Boys featuring Kevin Jollimore @ Graffiti's, 170 Baldwin St., TO ~original & cover rock with a Tex-Mex twist
*4-7> Climax Jazz Band @ Alleycatz, 2409 Yonge St., TO North ~Dixieland Jazz; $?
*4:40-7:30> The Happy Pals @ Grossman's, 379 Spadina Ave., TO ~New Orleans Jazz
6-8> Colonel Tom & The American Pour featuring Peter Hill on keys @ Cameron House (front), 408 Queen St. W., TO
7:30> Nick Teehan Group @ The Rex, 194 Queen St. W., TO ~ Jazz
7:30> No Angels Dancing (Alison Caron & D. Alex Meeks) @ Tranzac Club (Southern Cross), 292 Brunswick Ave., TO
8> The Brights; Alyssa Wright; Derek Olive; Don Bray @ Free Times Café, 320 College St. TO ~songwriters
9> Footprints @ Rivoli, 334 Queen St. W., TO; $10
9> Rebelljo @ Seven44, 744 Mount Pleasant Road, TO North ~Rock
9> Pink Wing @ Cameron House (rear), 408 Queen St. W., TO
9> Tommy Youngsteen @ Horseshoe Tavern, 370 Queen St. W., TO ~celebrating 40 years of Born To Run; $10
9:30> Lady Kane @ Alleycatz, 2409 Yonge St., TO North ~Funk/Soul/R&B; $
9:45> Dave Young Quintet @ The Rex, 194 Queen St. W., TO ~Jazz
*9:45> Tyler Yarema & His Rhythm @ Reservoir Lounge, 52 Wellington St. E., TO ~Jazz/Blues
10> Ride The Tiger @ Orbit Room, 480 College St. TO ~Funk/Soul; $
10> Janes Party @ Cameron House (front), 408 Queen St. W., TO
10> Drums Organ @ Tranzac Club (Southern Cross), 292 Brunswick Ave., TO
10-2> Caution Jam @ Grossman's, 379 Spadina Ave., TO ~Grateful Dead style jam band
10> For Those About To Rock; Gunslingers @ Lee's Palace, 529 Bloor St. W., TO ~Rock; $10
10:30> The Disco Rebels @ The Hideout, 484 Queen St. W., TO ~indie Rock
416 - Toronto East
*3:30-6> Johnny Wright @ Outriggers, 2232 Queen St. E., TO East ~R&B
*4-7:30> Ronnie Hayward Trio @ McQueen's, 993 Queen St. E., TO E. ~Blues/Roots
6-8> The Cosmotones @ Castro's, 2116 Queen St. E., TO East ~Blues/Roots
8> David Leask @ The Feathers, 962 Kingston Rd., TO East ~songwriter
8:30> Bidini Band @ Castro's, 2116 Queen St. E., TO East ~Blues/Roots
9:30-11:30> Cowboy Crashing @ Relish, 2152 Danforth Ave., TO East ~swampy Blues
9:30> Paul James Band @ The Duke Live, 1225 Queen St. E., TO East ~Rockabilly/Blues
9:30> Raised Emotionally Dead & openers Secret Society of Sorry Souls @ Linsmore Tavern, 1298 Danforth Ave., TO East ~original Hard Rock; $10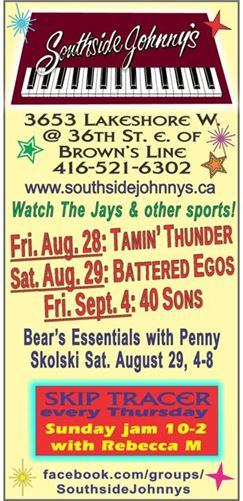 416 – Toronto Etobicoke
*3-6> Danny B Band @ Blue Goose, 1 Blue Goose St., Etobicoke South ~R&B/Blues
**4-8> The Bear's Essentials with guest singer Penny Skolski @ Southside Johnny's, 3653 Lake Shore Blvd. W. Etobicoke South ~Rock-R&B
*4-8> The Meteors with guest Aaron Solomon @ Timothy's Pub, 344 Brown's Line, Etobicoke South ~Blues/Rock/R&B
7:30> Mark Eisenman Trio @ Old Mill Inn, 21 Old Mill Rd., Etobicoke ~Jazz; minimum table charge
9> Al Reilly's Catalyst @ Maple Leaf House, 2749 Lake Shore Boulevard West, Etobicoke ~classic Rock
9:30> Motown Mania @ Timothy's Pub 344 Brown's Line, Etobicoke South ~vintage Pop Rock/Top 40; $
10-2> Battered Egos @ Southside Johnny's, 3653 Lake Shore Blvd. W. Etobicoke South ~Rock/Top 40
416 – Toronto Scarborough
9-1> Fraser-Daley @ Black Dog Pub, 87 Island Rd., Scarborough ~Rootsy Blues
*9:30-2> karaoke with The English Rose & The Mad Scotsman @ Winners, 2181 Lawrence Ave. E., Scarborough
9:30> City Soul @ Stone Cottage Pub, 3750 Kingston Rd., Scarborough ~Pop Rock
416 - Toronto West
*12-3> Julian Fauth's Blues Brunch @ Axis, 3048 Dundas St. W., TO West ~Blues
1-5> The Lazy Devils @ The Wine Garden, Canadian National Exhibition Grounds, Lake Shore Blvd. W., TO West ~classic Pop Jazz
1:30-5:30> tba @ Casino patio/stage Canadian National Exhibition Grounds, Lake Shore Blvd. W., TO West ~
**2-6> open mic with host Loren Hicks @ Magic Oven, 347 Keele St., TO West
2:30-4:30> Erin Ford & special guest Christine Gaidies @ Humble Beginnings, 3109 Dundas St. W., TO West ~acoustic Roots/Blues/Pop
3-6> Greg Wyard @ CNE Midway Stage, Canadian National Exhibition Grounds, Lake Shore Blvd. W., TO West ~Pop Rock
3-6> Ty Baynton @ CNE Northern Comfort Stage, Canadian National Exhibition Grounds, Lake Shore Blvd. W., TO West ~Country
**5-8> Jimmy Byron Band @ Gate 403, 403 Roncesvalles Ave. TO West –Jazz
5-8> Ken Whiteley @ The Local, 396 Roncesvalles Ave., TO West ~Roots/Blues icon
5-9> Pat Temple @ The Wine Garden, Canadian National Exhibition Grounds, Lake Shore Blvd. W., TO West ~Roots
6:30-10:30> Lost Patients @ Casino patio/stage Canadian National Exhibition Grounds, Lake Shore Blvd. W., TO West ~Rock/Blues
7> The Bettys @ The Painted Lady, 218 Ossington Ave., TO West
7:30-11> The Rattles @ CNE Midway Stage, Canadian National Exhibition Grounds, Lake Shore Blvd. W. TO West ~Beatles tribute
7:30-11> Cory Marquart @ CNE Northern Comfort Stage, Canadian National Exhibition Grounds, Lake Shore Blvd. W., TO West ~Country
7:30> Scott Weiland & The Wildabouts with openers The Glorious Sons @ CNE Bandshell, Canadian National Exhibition Grounds, Lake Shore Blvd. W., TO West
8:30> Luke & The Apostles @ Hugh's Room, 2261 Dundas St. W., TO West ~CanRock icons; $20
9-1> The Pearl Motel @ Gate 403, 403 Roncesvalles Ave., TO West ~ Jazz
9> Chris Staig & The Marquee Players @ The Local, 396 Roncesvalles Ave., TO West
10-2> Shane Murphy @ Dakota Tavern, 249 Ossington Ave., TO West ~Country
519
8> The O'Deadly's @ Fionn MacCool's Kitchener, 4287 King St. E., Kitchener
9> Matteo De Stefano; Dayfoot; Silvercreek Folk @ Fionn MacCool's Guelph, 494 Ediburgh Rd. S., Guelph
9:30> tba @ Fionn MacCool's Orangeville, 75 Fourth Ave., Orangeville
705
5> Rick & Gailie @ Black Horse Pub, 452 George St. N., Peterborough
8:30> Doug Dynasty @ Black Horse Pub, 452 George St. N., Peterborough
9:30> The Stephanie Gregg Band @ Sticky Fingers Dunlop, 150 Dunlop St. W., Barrie
9:30> Melted Fro @ Red Dog Tavern, 189 Hunter St. W., Peterborough
10> Diamond Dave & The Smoke Eaters @ The Garnet, 231 Hunter St. W., Peterborough
905 East
*4> PRJ @ Simcoe Blues & Jazz, 926 Simcoe St., Oshawa ~Blues
*9-1> karaoke with Rob MacArthur @ Tudor Rose, 700 Harwood Ave. S., Ajax
9> Steel City @ The Corral, 433 Simcoe St. S., Oshawa ~Country
9> Varga with Mokomokai @ The Atria, 59 King St. E., Oshawa ~Rock; $
905 North
12:30-6> Durham Region Music Society's Port Perry Music Festival with Susan Latimer; Jaime Leah Wren; Darren James Smith; Bobby Watson; The Durham All Stars; Jack de Keyzer @ Palmer Park, 175 Water St., Port Perry
8> Howard Ross & The Full Count Blues Band @ Old Flame Brewing Co., 135 Perry St., Port Perry
9:30> Red Boy Presents charity fundraiser for Logan's Hope with Devin Moody; Downturns; River Groves; The Shanks; The Red Boy @ Spot One, 289 Rutherford Rd. S., Brampton ~$15
9:30> Bianconscious @ Stewart Maguire's Landing, 15 Allan Rd., Bolton
9:30> Nine Times @ Jake's Boathouse Brampton, 59 First Gulf Rd., Brampton ~Pop Rock
9:30> Straight Shooter @ Aw Shucks, 15230 Yonge St., Aurora ~Pop Rock
905 South
**2> Brant Parker Band with guest tba @ Donnelley's Pub, 54 Front St., Thorold ~Blues
**2:30> special guest with The Mighty Duck Band, The Duck, 244 Ontario St., St. Catharines ~R&B/Blues
**2:30> tba @ Coach & Lantern (upstairs), 384 Wilson St E., Hamilton ~Blues
9> Uncorked @ Coach & Lantern, 384 Wilson St E., Hamilton
9> Frostbacks; The Nasties; Come Out Swinging; Let Downs @ This Ain't Hollywood, 345 James St. N., Hamilton
9> Los Chukos; Mike Williams Band; Song @ Corktown Pub, 175 Young St., Hamilton ~indie; $
**9> Niagara Rhythm Section @ The Old Winery, 2228 Niagara Stone Rd., Niagara-On-The-Lake ~R&B/Blues
9> Bon Jovi Forever @ Doc Magilligan's Irish Pub, 6400 Lundy's Lane, Niagara Falls ~Bon Jovi tribute
905 West
**2-6> Sil Simone Band with special guest Bob Adams @ Carrigan Arms, 2025 Upper Middle Rd., Burlington ~Rock/Blues
*2-6> jam w. Tom Finocchio @ Sam's Place, Barton-Chestnut Sts., Hamilton
**2-6> Saturday Blues Sermon with James Anthony & special guest @ Black Swan Pub Burlington, 4040 Palladium Way, Burlington ~Blues
*3-7> jam with Michelle Deneault & Redder @ Port Credit Legion, 35 Front St., Port Credit
*3-7> open stage jam with John Marlatt @ Moonshine Café, 137 Kerr St., Oakville; $2
*6-9> Victoria & Bobby Keys @ Roc'n Doc's, 105 Lakeshore Rd. E., Port Credit ~soft Pop
8-12> Paul Rooney Band @ Moonshine Café, 137 Kerr St., Oakville; $7
9> Children of The Damned featuring Anthony Cee @ Boston Manor, 4460 Fairview Ave., Burlington ~Iron Maiden tribute
9> Rainbow Dance @ Carrigan Arms, 2025 Upper Middle Rd., Burlington
9> Side B Vibe @ Tilted Kilt Mississauga, 285 Enfield Place ~Rock/Top 40
9> Molly's Chamber @ Fionn MacCool's Burlington, 2331 Appleby Line, Burlington
9:30> Peter Lafferty @ Shore Grill, 71 Lakeshore Rd. E., Port Credit ~Pop Rock/Top 40
9:30> Joe Vintage @ The Franklin House, 263 Queen St. S., Streetsville ~Pop Rock
10-2> Sonny Boy Mick @ Roc'n Doc's, 105 Lakeshore Rd. E., Port Credit ~Rock/Top 40
10:15> The Ballroom Babies @ Failte, 201 City Centre Dr., Mississauga
Copyright © 2015 Toronto Moon Magazine. All Rights Reserved