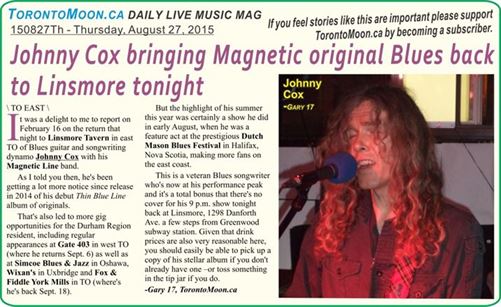 \ TO EAST \
It was a delight to me to report on February 16 on the return that night to Linsmore Tavern in east TO of Blues guitar and songwriting dynamo Johnny Cox with his Magnetic Line band.
As I told you then, he's been getting a lot more notice since release in 2014 of his debut Thin Blue Line album of originals.
That's also led to more gig opportunities for the Durham Region resident, including regular appearances at Gate 403 in west TO (where he returns Sept. 6) as well as at Simcoe Blues & Jazz in Oshawa, Wixan's in Uxbridge and Fox & Fiddle York Mills in TO (where's he's back Sept. 18).
But the highlight of his summer this year was certainly a show he did in early August, when he was a feature act at the prestigious Dutch Mason Blues Festival in Halifax, Nova Scotia, making more fans on the east coast.
This is a veteran Blues songwriter who's now at his performance peak and it's a total bonus that there's no cover for his 9 p.m. show tonight back at Linsmore, 1298 Danforth Ave. a few steps from Greenwood subway station. Given that drink prices are also very reasonable here, you should easily be able to pick up a copy of his stellar album if you don't already have one –or toss something in the tip jar if you do.
-Gary 17, TorontoMoon.ca
SHOW LISTINGS for Thursday, August 27, 2021
Listings are organized by area in which the shows occur and within each area field shows are listed chronologically.
Listings preceded by an asterisk (*) are repeating weekly events. (Double asterisk indicates repeating event with different hosts/guest/etc.). Admission prices followed by a slash and minus (/-) after the amount indicates door charge with availability of cheaper rates for some purchases. /+ indicates stated price is minimum.
Names of subscribers appear in bold and underlined and, where applicable, include a live link to their websites or event page. Advertisers' listings are in larger type and highlighted, include a live link to their website and also have a copy of the ad included in listings.
416 - Toronto Central
6> Jon Brooks @ Cameron House (front), 408 Queen St. W., TO ~Roots-Pop
6:30> Yuka @ The Rex, 194 Queen St. W., TO ~Jazz
7> Rob Warden @ Drums N Flats, 1980 Avenue Rd., TO North
*7> open mic with Derek Mok @ Kensington Lodge, 21 Kensington Ave., TO
*7:30-9:30> Bluegrass Thursdays with Houndstooth @ Tranzac Lounge (Southern Cross), 292 Brunswick Ave., TO
*8-1> open mic with Alicia Porter @ The Local Gest, 424 Parliament St., TO
8-12> R&B/Blues @ Nawlin's, 299 King St. W. TO
8-10> Tim Bartsch @ Musideum, 401 Richmond St. W., #133, TO ~Jazzy art Rock; $20
8:30> Gabe Salem @ Fionn MacCool's Uptown, 1867 Yonge St., TO North
8:30> House of Haunt; Retrievers; Fro Dope; Death Valley; Parkway @ Lee's Palace, 529 Bloor St. W., TO ~$6
9> Pilot Light; The Cardinal Dream; Art and Woodhouse; The Commoners @ Rivoli, 334 Queen St. W., TO ~indie; $
9> Kirty; Amos The Transparent; Eriksen @ Sneaky Dee's, 431 College St., TO ~indie
9> Josh Garbe; Bluebelle; Katey Morley @ Cameron House (rear), 408 Queen St. W., TO
9> Barbarosa; Loud City Streets; Radio Free Universe; Garrison Creek @ Horseshoe Tavern, 370 Queen St. W., TO ~indie; $6
9-1> Daniel Champagne @ Monarchs Pub (Eaton Chelsea Hotel), 33 Gerrard St. W., TO ~Rootsy Blues
*9-1> Blackburn @ Jo Mamas, 317 King St. W., TO ~Blues
9:30> Amhed Mitchel Quartet @ The Rex, 194 Queen St. W., TO ~Jazz
*9:45> Mary Mckay @ Reservoir Lounge, 52 Wellington St. E., TO ~Jazz/Blues
10> Stonetrotter @ Cameron House (front), 408 Queen St. W., TO
10> Bard From The Club @ Grossman's, 379 Spadina Ave., TO ~
10> The Special Interest Group @ Tranzac Lounge (Southern Cross), 292 Brunswick Ave., TO
10> Pretzel Logic @ Orbit Room, 480 College St. TO ~Steely Dan tribute; $
10:30> Drew Leith @ The Hideout, 484 Queen St. W., TO ~indie Rock
416 - Toronto East
7-9> Martin Saint @ Relish, 2152 Danforth Ave., TO East ~original
8> Lzrszn @ Hirut, 2050 Danforth Ave., TO East ~space Jazz
*8:30-10:30> Jerry Leger & The Situation @ Castro's, 2116 Queen St. E., TO East ~Folk-Rock/Country
9> Johnny Cox & The Magnetic Line @ Linsmore Tavern, 1298 Danforth Ave., TO East ~original & cover Blues-ROck
*10-2> karaoke with Shane Taylor @ Relish, 2152 Danforth Ave., TO East
416 – Toronto Etobicoke
9> jam with Kimberley Wetmore band featuring Dave Girdlestone on guitar @ Timothy's Pub, 344 Brown's Line, Etobicoke South ~Pop Rock
*9:30-2> Skip Tracer @ Southside Johnny's, 3653 Lakeshore Blvd., Etobicoke South ~Rock/Pop
416 – Toronto Scarborough
*7-11> Johnson & Cornell (Earl Johnson & Jim Cornell) on the patio @ The Loaded Dog, 1921 Lawrence Ave. E., Scarborough ~acoustic Blues-Rock duo
*9> Tommy Rocker's Classic Rock Band host jam @ Centro Pizza, 3406 Kingston Rd., Scarborough
9:30> Greg Wyard @ Black Dog Pub, 87 Island Rd., Scarborough ~Pop Rock
416 - Toronto West
1-5> The Lazy Devils to Sept. 1 @ The Wine Garden, Canadian National Exhibition Grounds, Lake Shore Blvd. W., TO West ~classic Pop Jazz
1:30-5:30> Danny Scott @ Casino patio/stage Canadian National Exhibition Grounds, Lake Shore Blvd. W., TO West ~songwriter
3-6> LMT Connection @ CNE Midway Stage, Canadian National Exhibition Grounds, Lake Shore Blvd. W., TO West ~Funk/Soul/R&B
3-6> Ty Baynton to Sept. 1 @ CNE Northern Comfort Stage, Canadian National Exhibition Grounds, Lake Shore Blvd. W., TO West ~Country
5-9> Pat Temple to Sept. 1 @ The Wine Garden, Canadian National Exhibition Grounds, Lake Shore Blvd. W., TO West ~Roots
5-8> Jacqueline Brown Jazz Band @ Gate 403, 403 Roncesvalles Ave., TO West ~Jazz
6:30-10:30> The High Rollers @ Casino patio/stage Canadian National Exhibition Grounds, Lake Shore Blvd. W., TO West ~Pop Rock
7:30-11> Big Rude Jake @ CNE Midway Stage, Canadian National Exhibition Grounds, Lake Shore Blvd. W. TO West ~Blues
7:30-11> Cory Marquart to Aug. 29 @ CNE Northern Comfort Stage, Canadian National Exhibition Grounds, Lake Shore Blvd. W., TO West ~Country
7:30> Leroy Sibbles with Jay Douglas opening @ CNE Bandshell, Canadian National Exhibition Grounds, Lake Shore Blvd. W., TO West ~Reggae Rock/R&B
*8-11> Tinderbox Thursdays open stage with Michael Keith @ La Revolucion, 2848 Dundas St. W., TO West ~eclectic
*9-12> open mic night @ DeSoto's, 1079 St. Clair Ave. W., TO West
9> Matt Morgan @ The Roncy, 390 Roncesvalles Ave., TO West
*9-1:30> open stage with Jay Pennell @ Dave's On St. Clair, 730 St. Clair West, TO West ~eclectic
9-12> Gary Cain Blues Band @ Gate 403, 403 Roncesvalles Ave., TO West ~Blues
9> Subject To Change; Hail Robot; Matthew & The Machine; Sweater Pants @ The Tennessee, 1554 Queen St. W., TO West
9> Sneak Eazy; Red Karavan; Braden Much; Bathurst Station @ The Painted Lady, 218 Ossington Ave., TO West ~indie
9> Nichol Robertson and his Honkytonk Boogaloo Boys @ The Local, 396 Roncesvalles Ave., TO West ~ Country
10> The Rucksack Willies; Marlon Chapman Band @ Dakota Tavern, 249 Ossington Ave., TO West ~Rockabilly/Country; $
519
*7:30-12> open mic with K.M. Smith @ Molly Bloom's Guelph, 91 Wyndham St. N., Guelph
7:30> Tony Paglia @ Fionn MacCool's Orangeville, 75 Fourth Ave., Orangeville
8> Ewan Doig @ Fionn MacCool's Kitchener, 4287 King St. E., Kitchener
*8-11> open mic with Sandy MacDonald @ Williamsburg Arms, 1187 Fischer Hallman Rd., Kitchener
705
*7:30> Rob Phillips Band and Chelsea Bennett @ Black Horse Pub, 452 George St. N., Peterborough ~Jazz
*9> jam with Ted Rusk @ The Sauble Dunes, 11 Southampton Parkway, Sauble Beach
10> Brock Zeman @ The Garnet, 231 Hunter St. W., Peterborough
905 - East
*5-8> Nelson Denis @ Frank's Pasta, 42 King Street E., Cobourg ~eclectic mix (Folk, Jazz, soft Rock, Latin)
7> Derek Lion and Friends @ Simcoe Blues & Jazz, 926 Simcoe St. N., Oshawa
*?> jam with Darren Smith & Shayne Thomas @ The Corner Pocket, 45 Prince St., Oshawa
*9> jam @ The Wee Pub, 371 Wilson Rd. South, Oshawa
*9:30> jam with Billick @ Harp & Crown, 300 Kingston Rd., Pickering
905 - North
**7-11> Rebelljo Band & guests @ Fionn MacCool's Brampton, 11 Ray Lawson Blvd., Brampton ~Pop Rock
*8> open mic with Kevin Ker @ Duchess of Markham, 53 Main St., Markham
*9> open stage jam night @ Memphis North, 18947 Woodbine Ave., East Gwillimbury
 905 - South
*9> open mic night with rotating hosts @ Coach & Lantern, 384 Wilson St E., Hamilton
905 – West
8-12> Freedom Train @ Roc'n Doc's, 105 Lakeshore Rd. E., Port Credit ~Rock/Pop
*8-12> open mic & jam @ Black Swan Pub Burlington, 4040 Palladium Way, Burlington
*8-12> jam hosted by The Personics @ Carrigan Arms, 2025 Upper Middle Rd., Burlington
8> Matthew King @ Fionn MacCool's Burlington, 2331 Appleby Line
8:30> Roger Marin Band @ Moonshine Café, 137 Kerr St. Oakville ~Country/Roots; $5
8:30> Brendon Gomez @ Fionn MacCool's Britannia, 825 Britannia Rd. W., Streetsville Mississauga
*8:45> open mic with Matt Zady @ Failte, 201 City Centre Dr., Mississauga
9> Tim Cassidy @ Fionn MacCool's Clarkson, 970 Southdown Rd., Mississauga
9:30> Glenn Groves @ Shore Grill, 71 Lakeshore Rd. E., Port Credit ~Pop Rock
*9:30> jam with Jack B Nimble @ Abbey Road Pub, 3200 Erin Mills Parkway, Mississauga
Copyright © 2015 Toronto Moon Magazine. All Rights Reserved