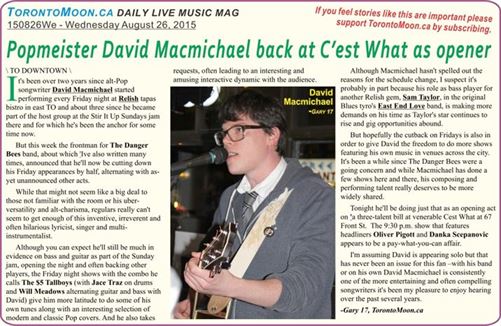 \ TO DOWNTOWN \
It's been over two years since alt-Pop songwriter David Macmichael started performing every Friday night at Relish tapas bistro in east TO and about three since he became part of the host group at the Stir It Up Sundays jam there and for which he's been the anchor for some time now.
But this week the frontman for The Danger Bees band, about which I've also written many times, announced that he'll now be cutting down his Friday appearances by half, alternating with as-yet unannounced other acts.
While that might not seem like a big deal to those not familiar with the room or his uber-versatility and alt-charisma, regulars really can't seem to get enough of this inventive, irreverent and often hilarious lyricist, singer and multi-instrumentalist.
Although you can expect he'll still be much in evidence on bass and guitar as part of the Sunday jam, opening the night and often backing other players, the Friday night shows with the combo he calls The $5 Tallboys (with Jace Traz on drums and Will Meadows alternating guitar and bass with David) give him more latitude to do some of his own tunes along with an interesting selection of modern and classic Pop covers. And he also takes requests, often leading to an interesting and amusing interactive dynamic with the audience.
Although Macmichael hasn't spelled out the reasons for the schedule change, I suspect it's probably in part because his role as bass player for another Relish gem, Sam Taylor, in the original Blues tyro's East End Love band, is making more demands on his time as Taylor's star continues to rise and gig opportunities abound.
But hopefully the cutback on Fridays is also in order to give David the freedom to do more shows featuring his own music in venues across the city. It's been a while since The Danger Bees were a going concern and while Macmichael has done a few shows here and there, his composing and performing talent really deserves to be more widely shared.
Tonight he'll be doing just that as an opening act on a three-talent bill at venerable C'est What at 67 Front St.  The 9:30 p.m. show that features headliners Oliver Pigott and Danka Scepanovic appears to be a pay-what-you-can affair.
I'm assuming David is appearing solo but that has never been an issue for this fan –with his band or on his own David Macmichael is consistently one of the more entertaining and often compelling songwriters it's been my pleasure to enjoy hearing over the past several years.
-Gary 17, TorontoMoon.ca
SHOW LISTINGS for Wednesday, August 26, 2021
Listings are organized by area in which the shows occur and within each area field shows are listed chronologically.
Listings preceded by an asterisk (*) are repeating weekly events. (Double asterisk indicates repeating event with different hosts/guest/etc.) Admission prices followed by a slash and minus (/-) after the amount indicates door charge with availability of cheaper rates for some purchases. /+ indicates stated price is minimum.
Names of subscribers appear in bold and underlined and, where applicable, include a live link to their websites. Advertisers' listings are in larger, highlighted type, include live link to website and also have ad icon included in listings.
416 – Toronto Central
6> Melanie Peterson with Chris Birkett @ Cameron House (front), 408 Queen St. W., TO ~original & cover Pop
6:30> Hannah Barstow Trio @ The Rex, 194 Queen St. W., TO ~Jazz
7> Brownman & Arecibo @ Monarchs Pub (Eaton Chelsea Hotel), 33 Gerrard St. W., TO ~Jazz
7> Comedy Brawl Comedy Quarterfinals @ Tranzac Club (Main Hall), 292 Brunswick Ave. TO
7:30> Comhaltas Irish Slow Session @ Tranzac Club (Tiki Room), 292 Brunswick Ave. TO ~folk dancing
7:30> Dust, The Quietest Big Band In The World @ Tranzac Club (Southern Cross), 292 Brunswick Ave. TO ~Jazz
7:30> Zella Day; Mickey Loves Mallory @ Lee's Palace, 529 Bloor St. W., TO; $
*8-1> open jam with Wednesday's Child feat. Johnny Bootz Hutt @ Lola, 40 Kensington Ave., TO
8:30> Franc'open mic @ Free Times Cafe, 320 College St., TO ~French songwriters open stage; free
8:30> Holy Mind Funk; Maybe Refuge; Vicious Cycle; Field Days @ Rivoli, 334 Queen St. W., TO ~indie; $10
*8:30> Crazy Strings host High Lonesome Wednesdays with opening acoustic act @ Silver Dollar 486 Spadina Ave., TO ~Bluegrass
*8:45> Bradley & The Bouncers @ Reservoir Lounge, 52 Wellington St. E., TO ~Jazz/Blues/R&B
9> The Birthday Massacre; Bloody Diamonds; A Primitive Evolution; Darkstone Crows @ Horseshoe Tavern, 370 Queen St. W., TO ~original Rock; $20
9> Whale Eye; Mattie Leon; Monica Maehew; David Dino White @ The Paddock, 178 Bathurst St., TO ~indie showcase; $6
*9> open mic with Sean Barker @ Monarch Tavern, 12 Clinton St., TO
9:30> Oliver Pigott; Danka Scepanovic with David Macmichael opening @ C'est What, 67 Front St. E., TO ~original Pop; pwyc
9:30> Amina Figarova Group @ The Rex, 194 Queen St. W., TO ~NYC Jazz
10> Callan Furlong @ Cameron House (front), 408 Queen St. W., TO
10> Sarah Greene & special guests Will Gillespie & Sandra Taylor @ Tranzac Club (Southern Cross), 292 Brunswick Ave. TO
*10-2> Blues-Rock jam with Bruce Domoney @ Grossman's, 379 Spadina Ave. TO
10:30> Chatty Cathy @ The Hideout, 484 Queen St. W., TO ~indie Rock
*10:30> The LMT Connection @ Orbit Room, 580 College St. TO ~Funk/R&B; $10
416 – Toronto East
*6-11> Rock jam with Scar-Bro Pete & Lee Van Leer @ Melange, 172 Main St., TO East
*7:30-10:30> The BTBs @ Relish, 2152 Danforth Ave., TO East ~Jazz
8> Larszn @ The Only Café, 972 Danforth Ave., TO East ~space Jazz
8:30-10:30> Jazz Money @ Castro's, 2116 Queen St. E., TO East
*9:30> open stage with Nicola Vaughan @ Black Swan (downstairs), 154 Danforth Ave., TO East
416 – Toronto Etobicoke
8-1> The Lazo Trio @ Timothy's Pub, 344 Brown's Line, Etobicoke South ~African/Latin Soul/R&B; $
416 – Toronto Scarborough
* 7> jam with Tommy Rocker's Classic Rock Band @ Fox at Scarborough Junction, 646 Danforth Rd., Scarborough
*8:30> Al Reilly's Catalyst @ Centro Pizza, 3408 Kingston Rd., Scarborough ~classic Rock
*8:30> open mic with Jadzia Skye & Michael Oesch @ Chez Helene's, 1437 Kingston Rd., Scarborough
416 – Toronto West
1-5> Des Sourcils @ The Wine Garden, Canadian National Exhibition Grounds, Lake Shore Blvd. W., TO, TO West
1:30-5:30> Danny Scott @ Casino patio/stage Canadian National Exhibition Grounds, Lake Shore Blvd. W., TO West ~singer-songwriter
3-6> The Nomads @ CNE Midway Stage, Canadian National Exhibition Grounds, Lake Shore Blvd. W., TO West ~Pop Rock
3-6> Livy Jean till 26 @ CNE Northern Comfort Stage, Canadian National Exhibition Grounds, Lake Shore Blvd. W., TO West ~Pop Rock
5-9> The Rucksack Willies till 26 @ The Wine Garden, Canadian National Exhibition Grounds, Lake Shore Blvd. W., TO West ~
5-8> Tim Shia Jazz Band @ Gate 403, 403 Roncesvalles Ave., TO West ~Jazz
6:30-10:30> Two For The Show @ Casino patio/stage Canadian National Exhibition Grounds, Lake Shore Blvd. W., TO West ~Pop & comedy
7:30-11> Wednesday's Engine @ CNE Midway Stage, Canadian National Exhibition Grounds, Lake Shore Blvd. W., TO West ~Pop Rock
7:30-11> Marshall Dane @ CNE Northern Comfort Stage, Canadian National Exhibition Grounds, Lake Shore Blvd. W., TO West ~Country Pop
7:30> Rick Springfield with Autumn Hill opening @ CNE Bandshell, Canadian National Exhibition Grounds, Lake Shore Blvd. W., TO West ~Pop icon
*8-12> Girls Night Out Jazz singers jam with Lisa Particelli, Peter Hill et al @ Chalkers, 247 Marlee Ave., TO North-West
8:30> Bruce Molsky with opening set by dobroist Ivan Rosenberg & guitarist Adam Shier @ Hugh's Room, 2261 Dundas St. W., TO West ~fiddling icon; $18/-
9-12> Blues Night with Julian Fauth & guests @ Gate 403, 403 Roncesvalles Ave., TO West ~original Juno-winning Blues
9> Suitcase Sam @ The Local, 396 Roncesvalles Ave., TO West
9> Been There, Dundas!; Ben Hermann; Ronley Teper's Lipliners; the quiet revolution; Good Bad Kid @ Dakota Tavern, 249 Ossington Ave., TO West ~indie; $
9:30> Bill Morton of Serenity Now; Cynthia Gould of High Heels Lo Fi; Wayne Kennedy; James Higgins @ The Painted Lady, 218 Ossington Ave., TO West ~songwriters
*10-1> Michael Keith @ The Hole In The Wall, 2867 Dundas St. W., TO West ~Blues/Rock/Jazz
519
*9> The Phil & John Show feat. Phil Naro @ Molly Bloom's Waterloo, 170 University Ave., Waterloo ~acoustic Pop Rock
705
*7-11> open jam with Wayne Buttery Band @ The Beacon, 146 45th St., Wasaga Beach
7:30> Cat Fish Willey and the Buckle Busters @ Black Horse Pub, 452 George St. N., Peterborough
9> Karen Andrews @ The Garnet, 231 Hunter St. W., Peterborough
905 East
*8> Howard Ross & Full Count Blues hosts "Big Mojo" Blues jam with guest performer tba @ Corner Pocket, 45 Prince St., Oshawa
7> Big Wind Band @ Simcoe Blues & Jazz, 926 Simcoe St. N., Oshawa
*8-11> open mic @ Frank's Pasta, 426 King St. E., Cobourg
*9-12> jam with Damage Control @ St. Louis Bar & Grill Ajax, 11 Harwood Ave. S., Ajax
905 North
*7> open mic night with Tanya Joy Senior @ Col. McGrady's Pub, 44 Brock St. W., Uxbridge
*8-12> open mic with Kevin Ker @ Aw Shucks, 15230 Yonge St., Aurora
*8:45> open mic jam with Matt Zady @ Magnums, 21 McMurchy Ave. N., Brampton
*9-1> open mic jam with Whiskey Birds @ Sweetz Lounge, 5289 Hwy 7, Woodbridge-Vaughan
905 South
*7> open mic night @ Donnelley's Pub, 54 Front St., Thorold ~Blues
*8:30> Something Country @ The Endzone, 1900 King St. E., Hamilton ~Country
**8-1> "Country Pubkin" Night with Country artists tba @ Corktown Pub, 175 Young St., Hamilton
9> Casey LaForet; Tyler Kyte; Dan Edmonds; Steve Heyerdahl; Wayne Petti @ This Ain't Hollywood, 345 James St. N., Hamilton
905 West
*8-12> All-ages jam with band & host Kevin Reid with special guest Chris Chambers @ Sixth Line Pub, 1500 Sixth Line, Oakville
*8-2> Paul & Curtis @ Roc'n Doc's, 105 Lakeshore Rd. E., Port Credit ~Rock/Pop
8-1> Steve Poltz @ Moonshine Café, 137 Kerr St., Oakville; $20
8:30> The Carson Freeman Diversion @ Shore Grill, 71 Lakeshore Rd. E., Port Credit ~Pop Rock
*9> open mic jam with Jack B Nimble @ Blarney's Gate, 1151 Dundas St. W., Mississauga
*9?> jam with Michael Zane or Pat Dowds @ Shakers, 580 Kerr St., Oakville