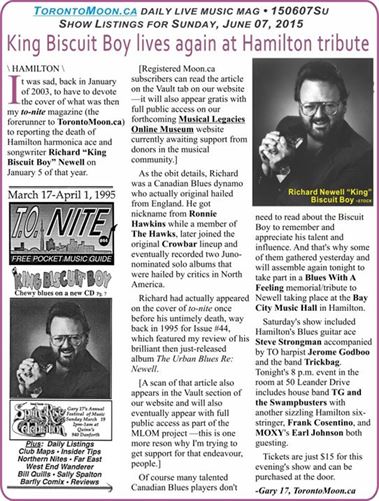 \ HAMILTON \
It was sad, back in January of 2003, to have to devote the cover of what was then my to-nite magazine (the forerunner to TorontoMoon.ca) to reporting the death of Hamilton harmonica ace and songwriter Richard "King Biscuit Boy" Newell on January 5 of that year.
[Registered Moon.ca subscribers can read the article on the vault tab on our website —it will also appear gratis with full public access on our forthcoming Musical Legacies Online Museum website currently awaiting support from donors in the musical community.]
As the obit details, Richard was a Canadian Blues dynamo who actually original hailed from England. He got nickname from Ronnie Hawkins while a member of The Hawks, later joined the original Crowbar lineup and eventually recorded two Juno-nominated solo albums that were hailed by critics in North America.
Richard had actually appeared on the cover of to-nite once before his untimely death, way back in 1995 for Issue #44, which featured my review of his brilliant then just-released album The Urban Blues Re: Newell.
[A scan of that article also appears in the Vault section of our website and will also eventually appear with full public access as part of the MLOM project —this is one more reson why I'm trying to get support for that endeavour, people.]
Of course many talented Canadian Blues players don't need to read about the Biscuit Boy to remember and appreciate his talent and influence. And that's why some of them gathered yesterday and will assemble again tonight to take part in a Blues With A Feeling memorial/tribute to Newell taking place at the Bay City Music Hall in Hamilton.
Saturday's show included Hamilton's Blues guitar ace Steve Strongman accompanied by TO harpist Jerome Godboo and the band Trickbag. Tonight's 8 p.m. event in the room at 50 Leander Drive includes house band TG and the Swampbusters with another sizzling Hamilton six-stringer, Frank Cosentino, and MOXY's Earl Johnson both guesting.
Tickets are just $15 for this evening's show and can be purchased at the door.
-Gary 17, TorontoMoon.ca
SHOW LISTINGS for Sunday, June 07, 2022

:
Listings are organized by area in which shows take place and listed chronologically within each area field.
Listings preceded by an asterisk (*) are repeating weekly events. (Double asterisk indicates repeating event with different hosts/guest/etc.). Admission prices followed by a slash and minus (/-) after the amount indicates door charge with availability of cheaper rates for some purchases. /+ indicates stated price is minimum.
Names of subscribers appear in bold, are underlined and, where applicable, include a live link to their websites. Advertisers' listings are in larger highlighted type, include live link to website and also have ad icon included in listings.
416 – Toronto Central
11am-2pm> The Light of East Ensemble for Jazz brunch @ Free Times Café, 320 College St., TO
12-3> Excelsior Dixieland Jazz Band @ The Rex, 194 Queen St. W., TO ~Jazz
1> No Angels Dancing @ Tranzac Club (Southern Cross), 292 Brunswick Ave., TO
2> acoustic Pop on the patio @ The Hideout, 484 Queen St. W., TO ~indie Rock
*3-6> Michael Brennan @ Graffiti's, 170 Baldwin St. TO ~East Coast Rock/Blues Roots
3:30-6:30> Club Django @ The Rex, 194 Queen St. W., TO ~Jazz
*4:30-8> New Orleans Connection All Stars & guests @ Grossman's, 379 Spadina Ave., TO ~New Orleans Jazz
5-9> Robbie Lane & The Disciples @ Seven44, 744 Mount Pleasant Road, TO North ~vintage Rock/R&B; $10
5> Monk's Music @ Tranzac Club (Southern Cross), 292 Brunswick Ave., TO ~Jazz
*7-1> Freefall Sundays open stage with hosts Steve York & Tony Rabalao (2 songs each -signup @ 7 or pre-sign online) @ The Supermarket, 268 Augusta St., TO
7> The Double Cuts @ Cameron House (front), 408 Queen St. W., TO ~Western Swing
7-9:30> Frank Rooney Group @ The Rex, 194 Queen St. W., TO ~Jazz
7:30> Obody; Within @ Tranzac Club (Southern Cross), 292 Brunswick Ave., TO
8> Singer's Edge unplugged session @ Free Times Café, 320 College St., TO ~free music school showcase
8:30> Songs On Repeat @ Seven44, 744 Mount Pleasant Road, TO North
9> jam with Jay Pennell @ Scruffy Murphy's, 150 Eglinton Ave. E., TO North
*9> Rob Hiemstra solo @ The Unicorn, 175 Eglinton Ave. E., TO North ~Rock/Pop
9:30> Jacob's Cattle @ The Rex, 194 Queen St. W., TO ~Jazz
*10> Horshack feat. Chris Caddell @ Orbit Room, 580 College St., TO ~Bluesy contemporary & classic Rock
10> The Woodchoppers Association @ Tranzac Club (Southern Cross), 292 Brunswick Ave., TO
10> Thelonius Hank @ Cameron House (front), 408 Queen St. W., TO
**10> Blues jam with Brian Cober, Bill Hedefine & guest bassist @ Grossman's, 379 Spadina Ave., TO
10:30> Geoff Willingham @ The Hideout, 484 Queen St. W., TO ~indie Rock
416 – Toronto East
11-2> The Pearl Motel for Jazz brunch @ Relish, 2152 Danforth Ave. TO East
*2-5> Shannon Butcher @ Morgan's, 1282 Danforth Ave., TO East ~Jazz
*3-6> open mic with Nicola Vaughan @ Hirut, 2050 Danforth Ave., TO East
*3:30-7:30> jam @ Black Bear, 1125 O'Connor Drive, TO East
4> Valley Boys @ Castro's Lounge, 2116 Queen St. E., TO East
*5-9> John Dickie/Pat Perez Band @ Linsmore Tavern, 1298 Danforth Ave, TO East ~R&B/Blues
*8-9> Sam Taylor & The East End Love @ Relish, 2152 Danforth Ave., TO East ~original Blues
8> Brian Passmore @ The Only Café, 972 Danforth Ave., TO East ~Folk
9> Watch This Sound @ Castro's Lounge, 2116 Queen St. E., TO East ~vintage Jamaican music
*9:30-1> jam with the Stir It Up Band featuring Bryan Van Dusen & David Macmichael @ Relish, 2152 Danforth Ave., TO East
416 – Toronto West
*12-3> Julian Fauth's Blues brunch @ Axis, 3048 Dundas St. W., TO West ~Blues
* 12-3> The Cosmotones @ Dakota Tavern, 249 Ossington Ave., TO West ~Rockabilly
**5-8> John Borra & Sam Ferrara w. guest @ The Communist's Daughter, 1149 Dundas St. W. TO West ~Country
5-8> Ryan Carr @ The Local, 396 Roncesvalles Ave., TO West ~Roots
5-8> Anything Goes Band @ Gate 403, 403 Roncesvalles Ave., TO West ~Jazz
6-9> The Good Family @ Dakota Tavern, 249 Ossington Ave., TO West ~Bluegrass/Roots icons; $20
9-1> Bartosz Hadala Group @ Gate 403, 403 Roncesvalles Ave., TO West ~Jazz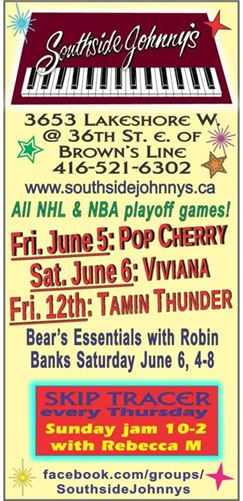 9> Suitcase Sam @ The Local, 396 Roncesvalles Ave., TO West
10> The Mercenaries @ Dakota Tavern, 249 Ossington Ave., TO West
416- Etobicoke
*10-2> jam with Rebecca Matiesen & Phoenix @ Southside Johnny's, 3653 Lakeshore Blvd. W., Etobicoke South
416 – Scarborough
11 a.m. – 3 p.m.> Carmen Toth & Friends with Nick Nobody + Jillian Bunting @ Rouge Valley Conservation Centre, 1749 Meadowvale Rd., Scarborough ~original Pop; $10 or pwyc includes lunch
*6-10> jam with Tommy Rocker @ Scarborough Junction, 646 Danforth Rd., Scarborough
*7-11> open jam @ McGradie's, 2167 Victoria Park Ave., Scarborough
519
*9-1> jam @ Ivy Arms Pub, 201 Main Street East, Milton
705
*3-7> jam at CJ Barleys, 213 The Queensway, Keswick
3> Bluegrass Menagerie feat. Mathew Fines @ Black Horse Pub, 452 George St. N., Peterborough
*7> open mic with Randy Hill @ Black Horse Pub, 452 George St. N., Peterborough
10> Josh Bravener & The Hypochondriacs; Mauno @ The Garnet, 231 Hunter St., W., Peterborough
905 East
4> Doug Dale @ Simcoe Blues & Jazz, 926 Simcoe St. N., Oshawa ~Jazz
*5-9> All ages open jam with Juggernaut @ West Shore Bar & Grill, 877 Bayly St., Pickering
*7-11> Karaoke with Rob MacArthur @ The Edge, 250 Bayly St. W., Ajax
*8:30-12:30> karaoke with The English Rose & The Mad Scotsman @ Gryphon Pub, 114 Dundas St. E., Whitby
905 North
*3-7> open stage with Kevin Ker @ The Earl Of Whitchurch, 6204 Main St., Stouffville
*5-9> open mic with feature guest @ Sgt. Pepper's Aurora, Walmart Plaza (Hwy 404 & Aurora Rd.), Aurora
905 South
2-6> Bay City Blues Band & guest George Olliver @ Bay City Music Hall, 50 Leander Drive, Hamilton ~Blues; $5
2-6> @ Bay City Blues Band & guest George Olliver @ Bay City Music Hall, 50 Leander Drive, Hamilton ~Blues; $5
8> Blues With A Feeling celebration of the life and music of Richard "King Biscuit Boy" Newell with TG & The Swampbusters featuring Frank Cosentino and Earl Johnson @ Bay City Music Hall, 50 Leander Drive, Hamilton ~Blues; $20
9> Dany Laj & The Looks album release; Flesh Rag; The Liggs @ This Ain't Hollywood, 345 James St. N., Hamilton
905 West
**2-6> with host Colin Connors and guest Kurk Bernard  @ Carrigan Arms, 2025 Upper Middle Rd., Burlington ~Country
2-4> Mary Simon @ Moonshine Café, 137 Kerr St., Oakville ~recital
*4:30-8> Chuck Jackson's All Stars @ Roc'n Doc's, 105 Lakeshore Rd. E., Port Credit ~Blues
**5-8> The Stew @ Mulligan's, 2458 Dundas St. W., Mississauga ~R&B/Rock
**7-11> The Nomads @ Shore Grill, 71 Lakeshore Rd. E., Port Credit
*7> open jam with Mike Shotton & The Flying Squirrels @ Black Swan Pub Burlington, 4040 Palladium Way, Burlington
*7:30> open jam hosted by Troy Harmer @ The Brown Barrel, 1515 Upper Ottawa St., Hamilton
7-10> Ukulele Jam Night @ Moonshine Café, 137 Kerr St., Oakville
*9-1> Love Supreme @ Roc'n Doc's, 105 Lakeshore Rd. E., Port Credit ~Rock/Top 40
*10:30> Adam Cooke & The Adams Family @ The Dickens, 423 Elizabeth St., Burlington